The latest Need for Speed iteration is finally here and while the game is hugely stable for most players, there are also many PC players reporting that it's not working properly for them. Some players are reporting that there seems to be bug after character creation causing the Need For Speed Unbound crash. Others are experiencing the crashes in the middle of Story Mode, Multiplayer or offline gameplay. Some seems to be having issues with the Palace Edition of the game.
In this guide, we'll show you the ways to fix it if Need for Speed Unbound keeps crashing on your PC.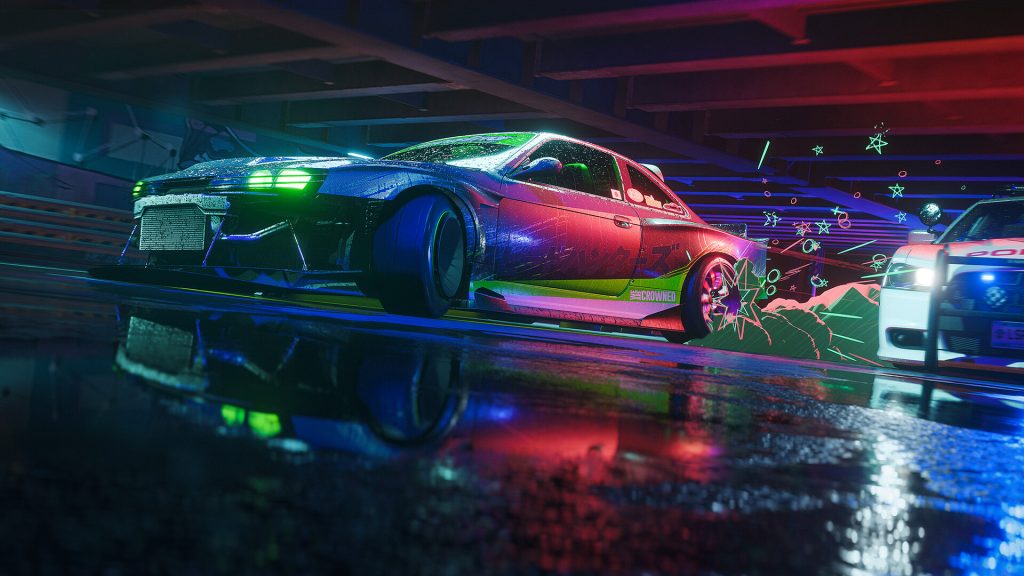 How to fix Need For Speed Unbound crashing on PC?
If you're unable to drive your heart out in the new EA game, Need for Speed Unbound as the game crashes on you, these are the potential workarounds that you need to try:
Fix #1: Check for hardware compatibility.
Ideally, you need to check first if your computer can run any game before an installation. This is an important consideration especially if your PC is not meant to be a gaming platform, or if your hardware is outdated.
If you did not check the game's specifications before, here are the details from Steam: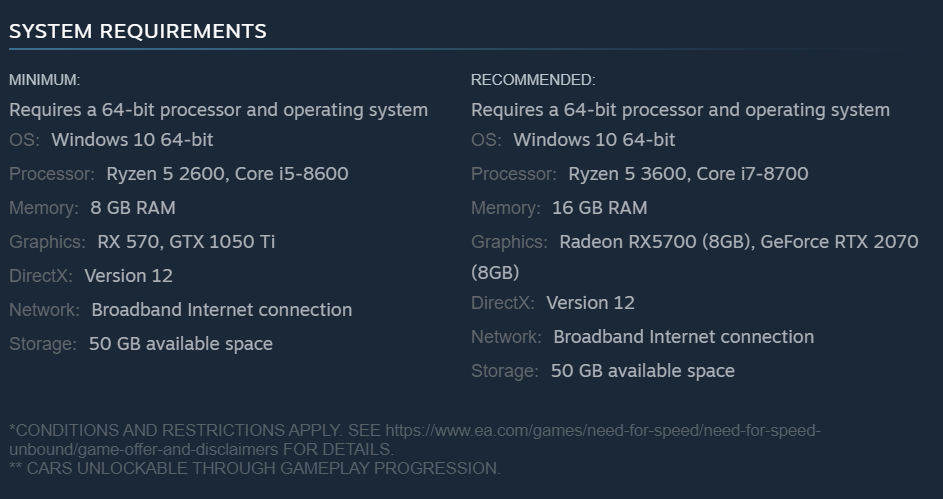 What are the minimum system requirements for Need for Speed Unbound?
OS: Windows 10 64-bit
CPU: Ryzen 5 2600, Core i5-8600
RAM: 8 GB
Video Card: RX 570, GTX 1050 Ti
DirectX: Version 12
Hard Drive Storage: 50 GB
What are recommended system requirements for Need for Speed Unbound?
OS: Windows 10 64-bit
CPU: Ryzen 5 3600, Core i7-8700
RAM: 16 GB
Video Card: Radeon RX5700 (8GB), GeForce RTX 2070 (8GB)
DirectX: Version 12
Hard Drive Storage: 50 GB
Fix #2: Install game updates.
Keeping the game updated, especially at this time, is important. New games may have coding glitches during and after release and devs are going to fix them overtime with updates.
By default, your game launcher, whether you bought the game from Steam, EA app, Epic Games, or any other game store, should automatically check for updates, especially if you're trying to play an online multiplayer mode.
However, you can always check manually for new updates as well. For example, if you have the NFS Unbound from Steam, you can update it manually with these steps:
Close the game if you're running it.
Launch Steam and go to your Games Library.
Click on the Need For Speed Unbound UPDATE button if it's available.
You can also make sure that the game is constantly updated by telling Steam to install updates automatically. Here's how: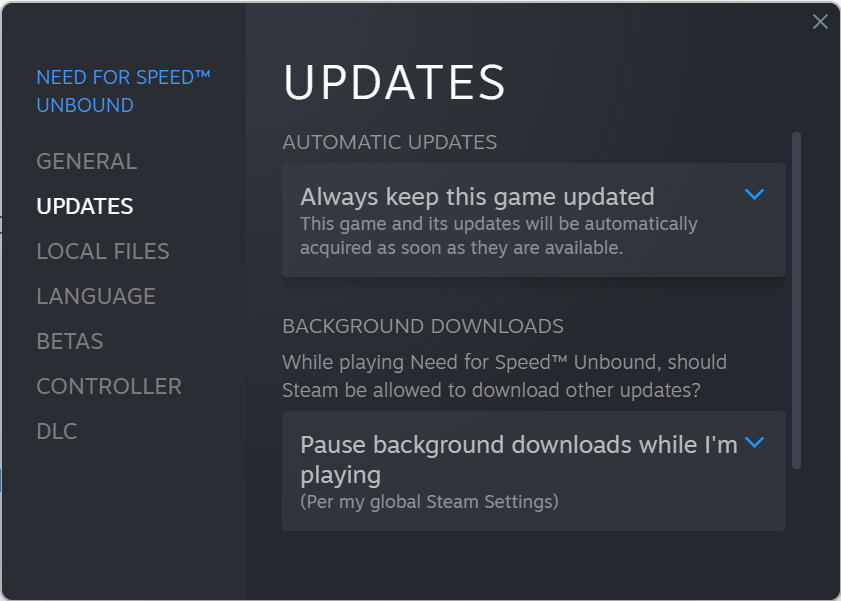 Open Steam.
Go to Games Library.
Right click on NFS Unbound and select Properties.
Go to UPDATES tab.
For AUTOMATIC UPDATES, make sure that the Always keep this game updated is selected.
Fix #3: Check for damaged game local files.
If the Need For Speed Unbound crashing issue continues after updating, it's time to look into the possibility of you having bad game files. Game files can become corrupted for a number of reasons but fortunately, fixing them is easy.
If you're playing on Steam, you can use the Verify integrity of game files feature to do it: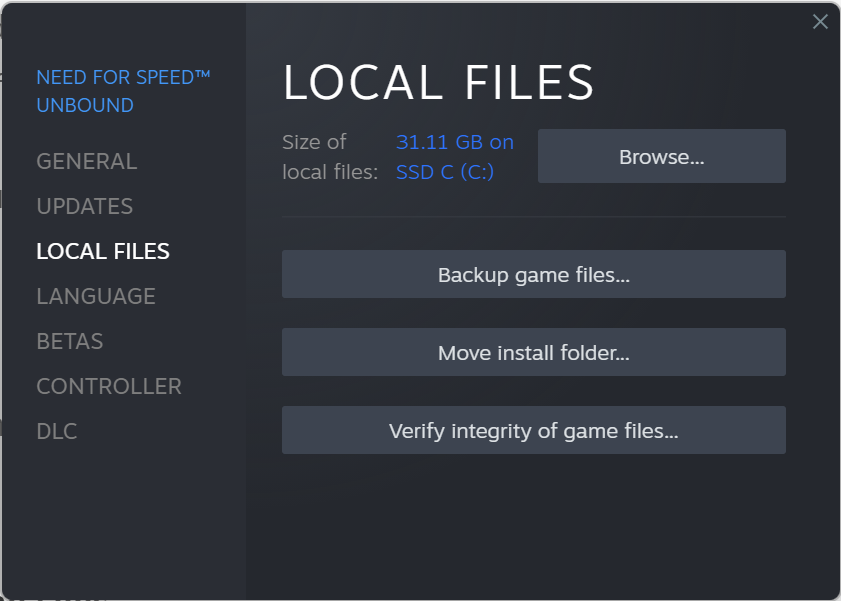 Open the Steam app.
Go to your Games Library.
Right click on Need for Speed Unbound.
Select Properties.
Go to Local Files tab.
Click on Verify Integrity of Game Files.
Restart Steam and launch Need for Speed Unbound again.
Fix #4: Update the graphics card drivers.
If NFS Unbound crashes, it's probably due to an outdated graphics driver. Make sure to update your graphics drivers when they become available for your PC.
The GPU can be updated through Device Manager with these steps:
Press the Windows key on the keyboard.
Type in "control panel" and select Control Panel.
Change the View by dropdown to Small icons and click on Device Manager.
Once the Device Manager is opened, click the dropdown for Display adapters.
Find your Display adapter and right-click on it.
Select Update driver.
Select Search automatically for graphics driver.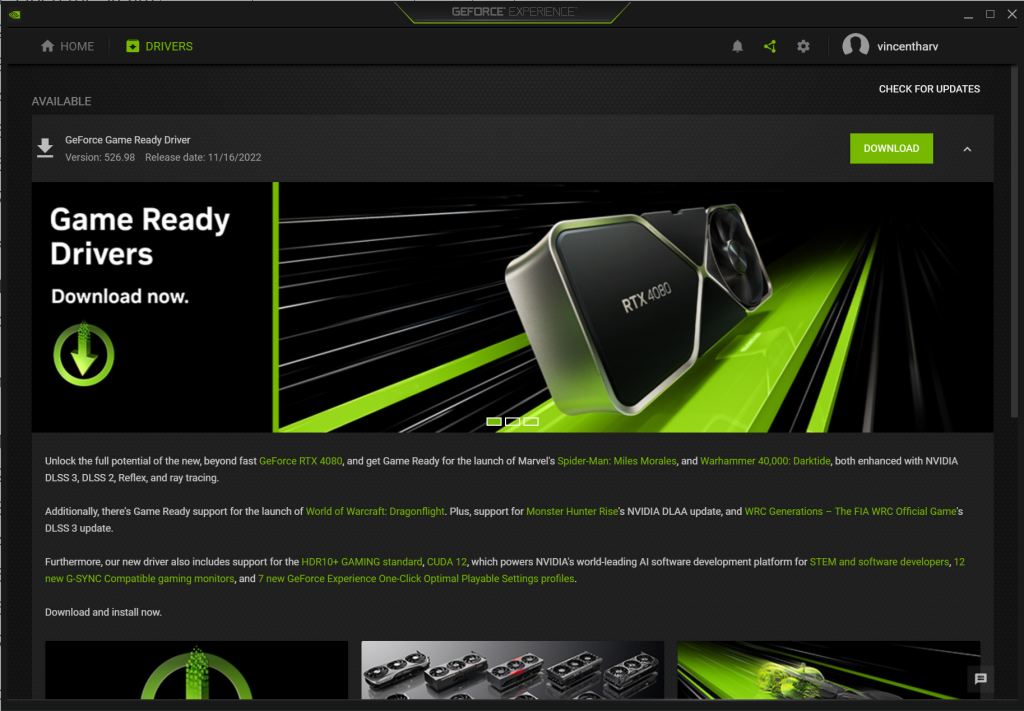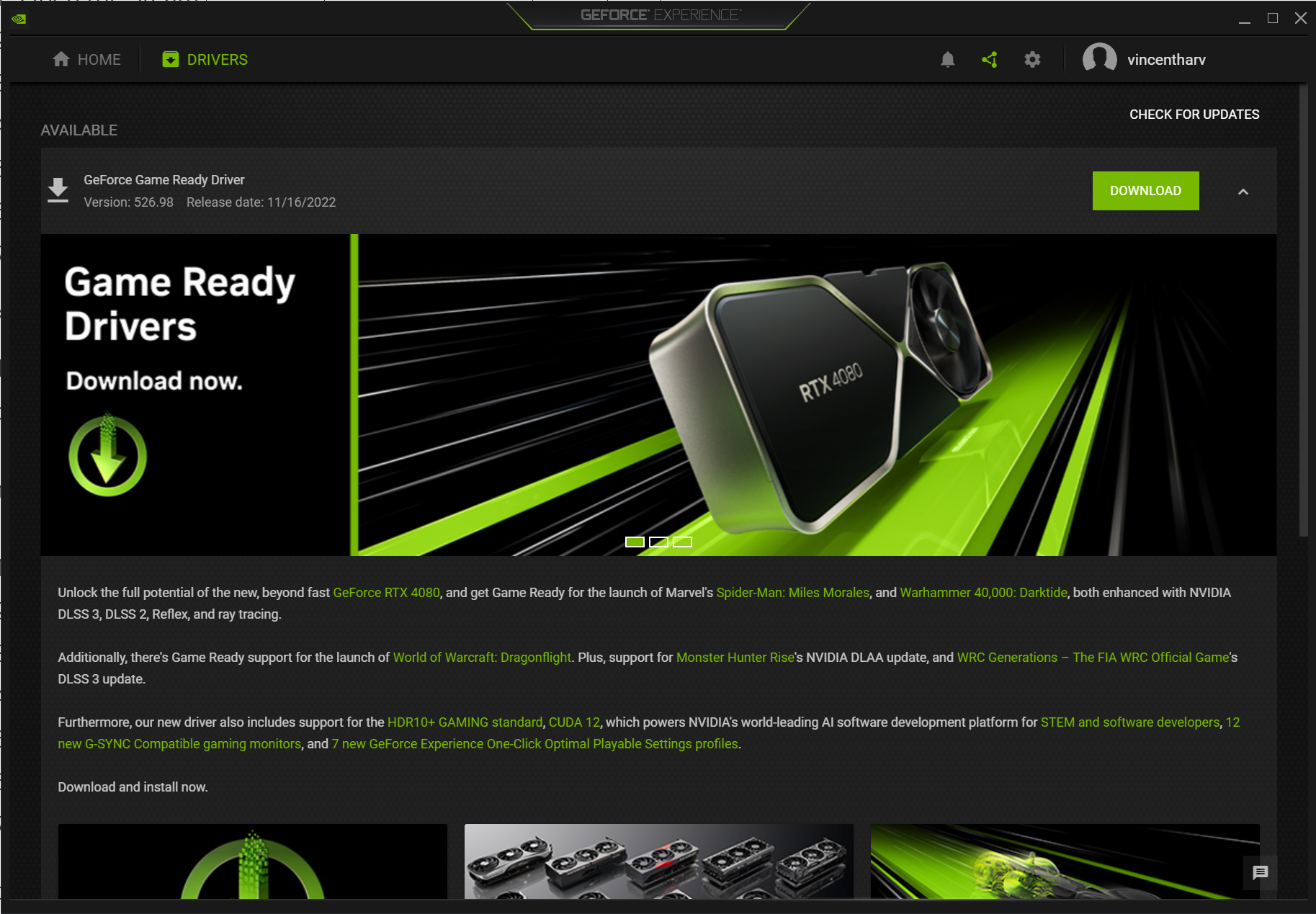 However, if you want the most up-to-date performance from your graphics card you should update the driver manually using the manufacturer's software. If you have an NVIDIA card, use the NVIDIA GeForce Experience and if yours is an AMD, the Adrenalin Software.
Fix #5: Check for interference from other apps.
Sometimes, a broken or bad application may affect certain games. To check if another app is causing NFS Unbound crashing issue, make sure that you don't run any other application when playing.
If closing your apps makes the crashes go away, then one of them must be to blame.
Fix #6: Disable overclocking.
For some people, the main reason why their Need For Speed Unbound game keeps crashing is overclocking. Try to see if it makes a difference when you return your hardware to its normal clock speed.
If you don't know what overclocking means or if you did not hear about it at all, simply skip this potential workarounds.
You can also try running the game on lower graphics settings to help if your dedicated GPU is old can can't handle higher frame rates or higher resolution.
Fix #7: Update Windows OS.
Keeping the software of your PC updated is also important. If nothing has fixed Need For Speed Unbound crashing issue at this point, be sure to check for Windows updates and install them.
To check for updates:
Tap the Start button located at the bottom-left corner of the screen.
Select the Settings gear icon.
Select Update & Security.
Choose Windows Update from the options.
Select Check for updates. The system will automatically install the updates if there are any.
Restart the PC to finish the updates.
Fix #8: Reinstall the game.
It's a last resort, and I know many of you would rather not delete and reinstall the game, but if nothing else in this guide has helped, you might as well give it a shot.
When all other troubleshooting steps have been exhausted without success, a fresh installation may be the only option. This can work if the cause of the problem is a deeper software bug.
Other workarounds
There are other interesting solutions to fix NFS Unbound crashing issues that we've collected at this time. You can try them to see if any of them will work in your case.
Launching the game by going into the installation folder and using the exe file
Running the game on DirectX11 instead of DirectX12
Disconnecting the controller and using the keyboard instead
FAQs
Why does Need For Speed Unbound keeps crashing on PC?

There are many possible reasons why NFS Unbound may be crashing on you. For some people, it's due to their hardware not meeting the minimum system requirements. Others have it because of software glitch or hardware malfunction. 

How do I fix NFS Unbound crashes on my PC?

If you're getting crashes or black screen issues when playing NFS Unbound, the first thing that you need to do is to ensure that it's updated. If that won't work, then you need to check the game system requirements and update your drivers. 
You also need to make sure that you update your computer software as well as do some other solutions detailed above.