There are a lot of smart home devices to choose from. In fact, some of the most common ones are options like Google Home and Alexa, which are purely voice-activated smart home assistants. Now, there are other more interactive options entering the market. These options can look like a traditional tablet, but are actually a nice centerpiece for your home, still equipped with voice assistant functionality. In fact, they bring some added functionality, such as being able to video chat with friends while cooking dinner or even looking up a quick YouTube video for a recipe you're experimenting with. Or, instead of your Google Home or Amazon Echo simply telling you what the weather looks like, it can show you a hourly forecast (or even through the next few days).
One of these devices is the Amazon Echo Show, one you might've heard of and already be familiar with. But what has come to compete with it is the Lenovo Smart Display, introduced at CES 2018. In this roundup, we're going to pit the two against each other and show you which is better. Follow along below!
Lenovo Smart Display
If you're familiar with Amazon smart home devices, the Lenovo Smart Display is a little different, as it has Android front and center paired with the Google Assistant AI (similar to what you would find on Google Home or the Pixel 2). Lenovo just introduced the Smart Display at CES 2018 this year, and it's a 8- or 10-inch modern-looking device that sits on a table or counter, just like Google Home with.
Since it has a screen, you can video chat with friends over Google Duo, check out some interesting videos over on YouTube, or even ask Google Assistant for weather and traffic updates. You'll not only get audio feedback, but can see the results of those questions visually, too.
When the Lenovo Smart Display isn't being used, it can double as a photo album, too. Load some photos up on the Smart Display, and after a certain period of time, it'll start cycling through all of your memories. If you need to use it again, it's as simple as saying "Hey, Google" followed by your prompt.
The Lenovo Smart Display isn't available just yet, with plans to launch early this summer for $250 (the 10-inch model) or $199 (the 8-inch model). Find out more below.
Read More: Lenovo
Amazon Echo Show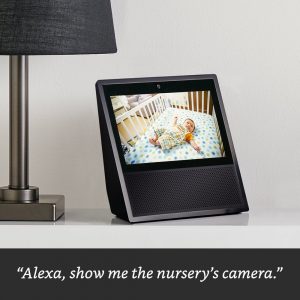 The whole idea behind the Echo Show is that Alexa, the voice assistant found in most of Amazon's smart home products, is able to show you things. For example, if you were to say something like "Alexa, how's the weather," you would only get audio feedback with the Amazon Echo. With the Echo Show, you ask Alexa how the weather is, and you not only get audio feedback, but shown how it is, too.
It does a lot of other neat things, too. For example, you can tell Alexa to play some music, and it'll show the lyrics as they're sang with Amazon Music. You can make video calls to friends, you can watch your home security feed. In fact, you can even hook up the Echo Show to your baby monitor, and Alexa will be able to bring that up, too. There's thousands of little different things you can do with the Echo Show and Alexa.
When it comes down to it, the Echo Show is a glorified Amazon Echo. It adds a few extra features, and enables Alexa to do some cool things since you have a screen to look at now, but inside, all it really is is an Amazon Echo backed by the Alexa voice assistant. Check it out for yourself below.
Buy it now: Amazon
Verdict
So, if you're looking for a audio/visual voice assistant tool, should you pick up Lenovo's Smart Display this summer or pick up the Echo Show right now? It can be a tough decision, but if all of your stuff (accounts, apps, devices) are all weaved with the Google ecosystem, we'd recommend waiting for the Smart Display to come out on store shelves, as you'll get the best experience with your Google account and Google Assistant all tied together.
If you can't wait, by all means, pick up the Echo Show. If you don't entirely care what ecosystem you've been using, the Echo Show would be our first choice. It's a higher quality product at an affordable price point (just $230). On top of that, Amazon is always upgrading it, adding more "skills" and functions to it. You really can't go wrong with a product that's already been on the market and battle tested. We'd recommend the Echo Show to anybody without any hesitation, but once again, it ultimately comes down to what ecosystem you most use, as you'll always get a better experience if you use Google over Amazon a lot more, or even the other way around.