It's no secret at this point that Samsung will launch its next flagship under the Galaxy S20 moniker with Plus and Ultra variants to go along with it. A new leak revealed today by well-known Twitter source Ishan Agarwal and MySmartPrice has detailed almost every major difference between the Galaxy S20 Ultra 5G and its siblings, the Galaxy S20 Plus 5G, and the Galaxy S20 5G.
As per this leak, all three variants of the flagship will come with 5G support out of the box. However, since the processor mentioned here is Samsung's Exynos 990 (7nm) and not the Qualcomm Snapdragon 865, it's safe to assume that these variants are meant for European and Asian markets. Samsung does this with its flagships every year, reserving the top-of-the-line SoC for markets like China, U.S., and South Korea while using Exynos chipsets on variants sold elsewhere.
The leaked document also reveals that the galaxy s20 Ultra 5G will pack a 6.9-inch display, while the galaxy s20 Plus 5G is packing a 6.7-inch display panel. The standard galaxy s20 5G will reportedly pack a 6.2-inch screen, with all three models sporting a Super AMOLED WQHD+ display resolution with a refresh rate of 120 Hz, just as recent leaks indicated.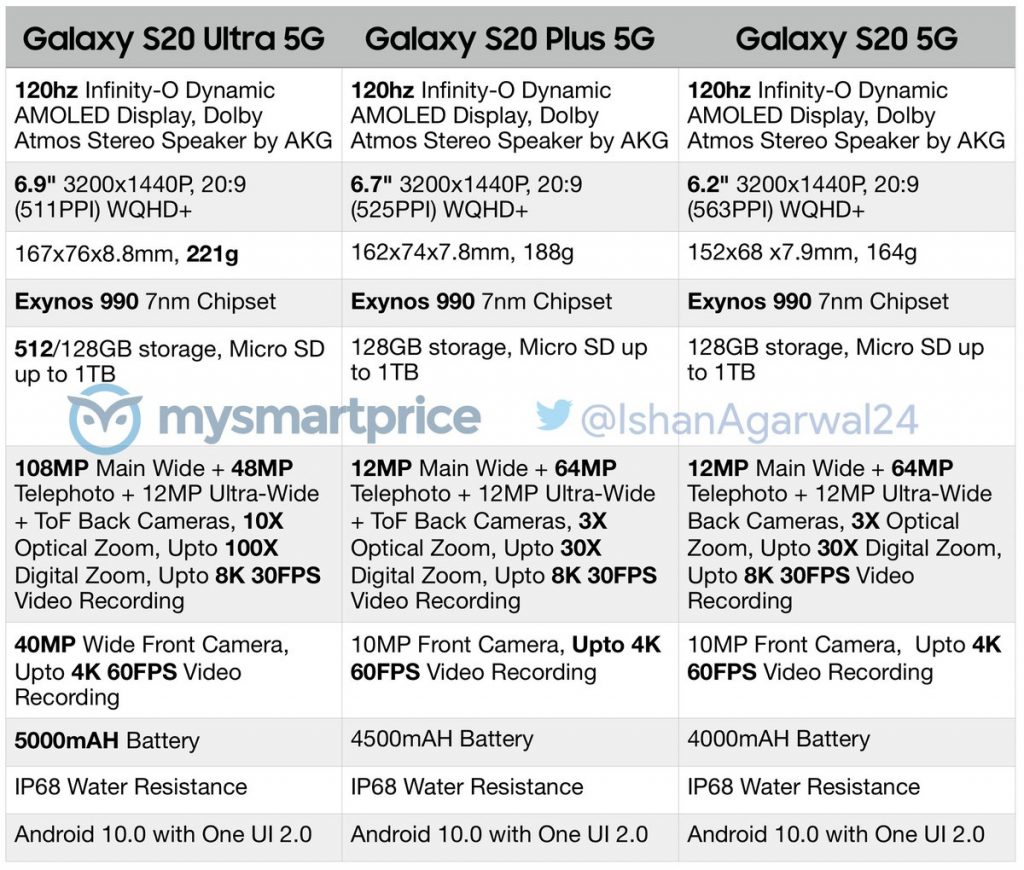 The Ultra model is also revealed to be packing a 40MP wide-angle camera whereas the Plus and standard models appear to be settling for a 10MP selfie camera. All three variants are IP68 certified water/dust resistant, and the galaxy s20 Ultra 5G has the biggest battery with a 5,000 mAh unit. The galaxy s20 Plus 5G and the Galaxy S20 5G are donning 4,500 mAh and 4,000 mAh battery packs respectively.
At 221 grams, the Ultra model is also expected to be significantly heavier than the Plus (188 grams) and the standard galaxy s20 (164 grams) variants.
Sources: @ishanagarwal24, MySmartPrice
Via: Android Police