Is your JBL speaker producing static noise? There are various factors that can cause this issue such as a software glitch, audio source issue, or even a volume setting. To fix this, you will need to perform several troubleshooting steps.
JBL Pulse 5 is one of the popular portable Bluetooth speaker models with built-in LED lights. It features a 360-degree sound and a customizable light show to enhance music listening experience. The speaker has a waterproof and dustproof design with an IPX7 rating, making it suitable for outdoor use. The Pulse 5 has long battery life and supports wireless charging. Additionally, it allows for multiple speakers to be connected together for an even more immersive sound experience.
Technical Specifications
Transducers: 1 x 64 mm woofer, 1 x 16 mm tweeter
Output power: 30 W RMS for Woofer, 10 W RMS for Tweeter
Power input: 5 V / 3 A
Frequency response: 58 Hz – 20 kHz (axial,-6 dB)
Signal-to-noise ratio: > 80 dB
Battery type: Li-ion polymer 27 WH (equivalent to 3.6 V / 7500 mAh)
Battery charge time: < 4 hours (5 V / 3 A)
Music play time: up to 12 hours
Cable type: USB-C charging cable
Cable length: 1200 mm / 47.2″
Bluetooth version: 5.3
Bluetooth profile: A2DP 1.3, AVRCP 1.6
How do I fix my JBL speaker distortion?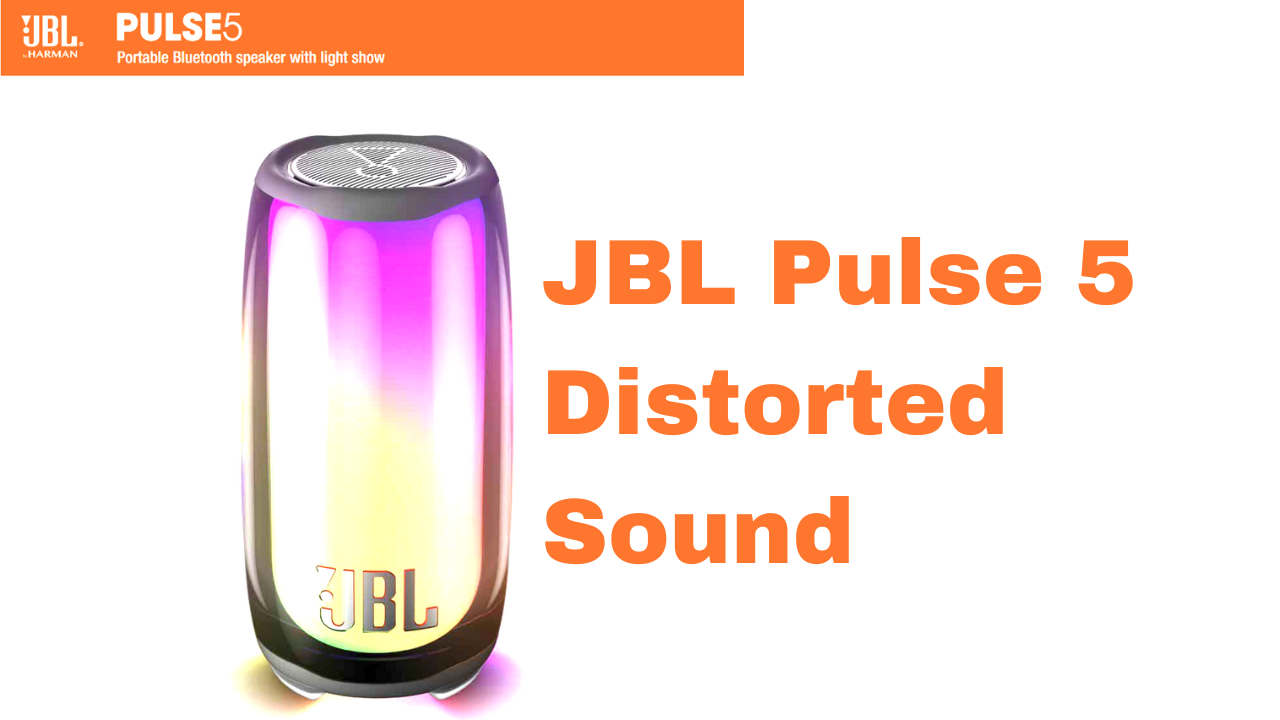 One of the issues that you might experience with JBL speakers is when it has a distorted sound or the sound quality is not that good. This can be an annoying experience especially when you are listening to your favorite music.
Here's what you need to do to fix the crackling sound issue on your JBL Pulse 5 speaker.
Solution 1: Restart the JBL Pulse 5 Bluetooth speaker
One of the common factors that can cause sound issues on JBL speakers when you play music is a software glitch. You might hear a static noise or the sound is distorted on high volumes.
In order to fix this you should restart the JBL speaker in order to refresh its software.
Restarting JBL Bluetooth speaker
Press and hold the power button until the JBL speaker turns off.
Wait for at least a minute.
Press and hold the power button to turn on the JBL speaker.
You will also need to restart the Bluetooth device the JBL speaker is connecting to. Once the Bluetooth device has restarted try to check if the quality of sound improves.
Solution 2: Reduce the volume of your JBL Pulse 5
Sometimes playing music at the maximum volume will result in a static noise or distorted sound on your JBL speaker. It might also sound like a blown speaker.
There are various factors that can cause this such as a:
JBL speaker limitation: Portable speakers have a limit to how loud they can play music without distorting the sound. When the volume is turned up too high, the speaker's components can no longer accurately reproduce the sound, causing distortion.
Power limitations: The power amplifier in the speaker may not be capable of delivering enough power to the speakers to maintain a clear signal at high volume.
Signal overload: If the signal being sent to the speaker is too strong, it can overload the speaker's amplifier and cause distortion.
To fix this you should try listening to music at lower volumes then check if the JBL speaker issue still occurs.
Solution 3: Check the audio source
There are instances when your JBL speaker completely distorts the playback of the music due to the audio source. If you are using a third-party app to play music, try switching to a different app or source to see if the distortion is isolated to that particular app. You should also try playing a different soundtrack to check if the issue is caused by the particular music you are playing.
Solution 4: Update the JBL Pulse 5 software
JBL speakers will usually have several software updates available for download. There's a possibility that an outdated JBL software is causing the static noise issue. To fix this you just need to install the latest software on your JBL speaker.
Update JBL Pulse 5 software
Download the JBL Portable app on your smartphone.
Make sure that the JBL speaker is paired to your smartphone. Turn on your JBL speaker then launch the app.
Your speaker should be displayed and the update button will be available if a firmware update is available.
Tap the update button then tap upgrade to update your JBL Pulse 5 software.
Tap Let's party to complete the update.
After the latest update has been installed try checking if the JBL Pulse 5 still sounds like faulty speakers.
Solution 5: Charge your JBL Pulse 5 speaker
One of the reasons why JBL speakers will experience sound issues is because its battery does not have enough charge. You need to make sure that your JBL Pulse 5 has a fully charged battery then check if noise during music playback issue persists.
Charging the JBL Pulse 5
Insert the USB-C charging cord into the charging port of the speaker.
Insert the other end of the USB-C charging cord to a USB wall charger.
Connect the wall charger to a power outlet and leave it charging for 4 hours.
Solution 6: Factory reset your JBL Pulse 5
Performing a hard reset or factory reset will erase the data and settings done on the speaker and bring it back to its default settings. This is a useful troubleshooting step when experiencing problems caused by faulty configuration settings.
Factory reset JBL Pulse 5
Press the power button to turn on the speaker.
Press and hold the Light and Bluetooth buttons for at least 2 seconds.
The factory reset process will be complete when the speaker turns off.
Press the power button to turn on the speaker.
Take note that after the reset you should place the speaker in pairing mode to pair it again with your smartphone or audio source device.
Solution 7: Bring your JBL Pulse 5 speaker to a service center
There are instances when your speaker will experience audio issues because of hardware faults. The possible causes are as follows:
Faulty speakers.
Faulty circuit board.
If the problem is hardware related then you will need to have this fixed at the nearest service center.
Frequently Asked Questions
What is the battery life of the JBL Pulse 5?

The battery life of the JBL Pulse 5 is estimated to be up to 12 hours.
Can I use the JBL Pulse 5 as a speakerphone?
Yes, the JBL Pulse 5 has built-in microphone and can be used as a speakerphone for hands-free calling.

Can I connect multiple JBL Pulse 5 speakers together?

Yes, you can connect multiple JBL Pulse 5 speakers together to create a stereo sound using the JBL PartyBoost feature.

How do I pair Bluetooth speakers with JBL PartyBoost?

Connect the speaker you want to use with your phone. Do this by pressing the Bluetooth button and looking up the speaker in your phone's list of Bluetooth devices.
Download and open the JBL Portable app (formerly known as JBL Connect app).
Press the connect button for all the speakers you want to connect. Within 30 seconds, all speakers will be connected and visible in your JBL Portable app.
If you have connected two speakers and want stereo sound, select this in the app. If you want all your speakers to play exactly the same then select PartyMode.

How long should I charge my JBL Pulse 5?

The Pulse 5 can be fully charged in 4 hours depending on the charger you are using.