Are you unable to turn on your JBL PartyBox Bluetooth speaker? This could be caused by a software glitch, defective battery, faulty charging cable, or a defective circuit board. To fix this you will need to perform a series of troubleshooting steps.
The JBL PartyBox Encore is a powerful Bluetooth speaker that has 100W of powerful sound, comes with a light show feature, and includes digital wireless microphones. It can be used in the beach thanks to its IPX4 splash proof design and with its mic it can be used for various vocal performances.
Technical Specifications:
Transducers: 1 x 5.25 inch woofer, 2 x 1.75 inch tweeter
Output power: 100 W RMS
Power input: 100-240 V ~ / 50-60 Hz
Frequency response: 50 Hz – 20k Hz @-6dB
Signal-to-noise ratio: > 80 dB
Battery type: Li-ion polymer 27Wh (equivalent to 3.6V 7500mAh)
Battery charge time: 3.5 hours
Music play time: up to 10 hours (dependent on volume level and audio content)
USB format: FAT16, FAT32
USB file format: .mp3, .wma, .wav
USB charge out: 5 V / 0.5 A (maximum)
Cable type: AC Power Cable
Cable length: 2000 mm/78.7″
Bluetooth version: 5.1
Bluetooth profile: A2DP 1.3, AVRCP 1.6
Why is my JBL PartyBox speaker not turning on?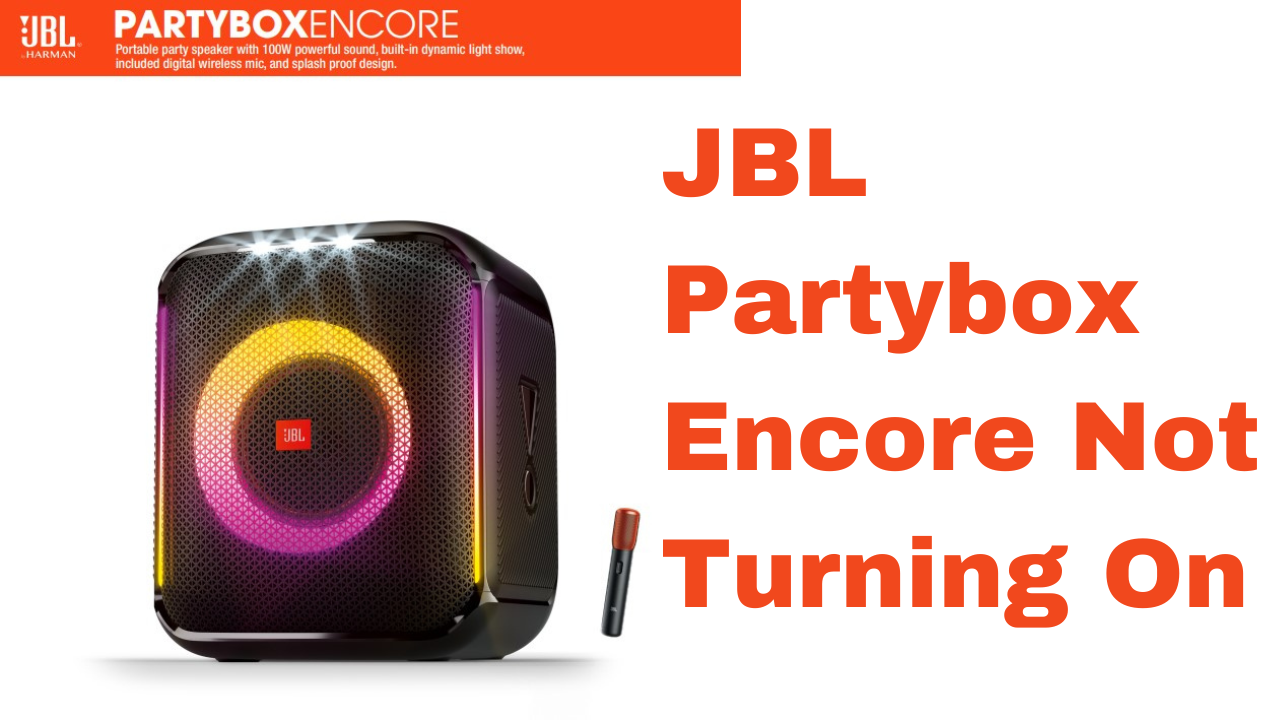 One of the issues that you might experience with JBL speakers is when it does not turn on. This can be an annoying experience especially if you are about to use it to listen to your favorite music.
Here's what you need to do to fix this JBL Partybox Encore speaker not turning on issue.
Solution 1: Press the power button of your JBL speaker
The first troubleshooting step you should try if your JBL PartyBox Encore Essential speaker does not turn on is to press and hold for a second the power button.
Connect AC power cord to the wall outlet.
Press the Power button.
If all goes well then your JBL speaker should turn on. If it doesn't then proceed to the next step.
Solution 2: Charge your JBL speaker
One of the reasons why JBL speakers will not turn on is because of a low battery life. Try charging the battery first for 3.5 hours or until the battery charging indicator shows that the battery life is already full.
Use the provided AC power cord only and connect it to the AC power port of your JBL speaker.
Connect the other end of the AC power cord to a wall outlet then wait for the charging process to complete.
After the battery life is full try checking if you can turn on the JBL PartyBox Encore.
Solution 3: Factory reset the JBL PartyBox Encore
One of the reasons why PartyBox speakers will not turn on or turn off immediately when turned on is because of some software glitch. To fix this, you just need to perform a factory reset.
Factory reset JBL Partybox Encore
Turn on the JBL PartyBox Encore.
Simultaneously press and hold the Light and Play Buttons for more than 10
When the Factory Reset ends, your device will Turn Off.
Turn On the JBL PartyBox Encore speaker by pressing the Power Key.
Solution 4: Bring your JBL PartyBox Encore speaker to a service center
There are instances when your portable speaker will not turn on because of a hardware issue. This can be due to a faulty batteries or even a faulty circuit board. If this is the case then you will need to have the speaker fixed at a service center.
Frequently Asked Questions
How do I update my JBL speakers software?

Download the JBL Portable app on your smartphone.
Make sure that the JBL speaker is paired to your smartphone. Turn on your JBL speaker then launch the app.
Your speaker should be displayed and the update button will be available if a firmware update is available.
Tap the update button then tap upgrade to update your JBL PartyBox Encore Essential software.
Tap Let's party to complete the update.

How long does my JBL Encore Essential battery last?

The battery life of your JBL PartyBox Encore should last 10 hours on a full charge. The battery performance will depend on how loud the volume is set.

Why does my JBL Encore Essential speaker not charge?

If your JBL PartyBox speaker is not charging then this might be caused by a hardware issue or a software glitch. To fix this issue here's what you need to do.
Check the AC charging cable and make sure that it is not damaged. Try using other cables.
Make sure that the power outlet you are using to plug the speaker is working. If necessary try plugging the speaker to a different power source.
If your speaker is not turning on then this might be due to a short circuit or defective circuit board. You will need to have this checked at a service center.

How do I pair my JBL PartyBox speakers to my smartphone?

Press the Bluetooth button on the JBL PartyBox to enter pairing mode.
Choose JBL PB Encore Essential on your Bluetooth device to connect.
Once successfully connected, you can stream audio from your Bluetooth device to this speaker.

What is the JBL PartyBox app?

The JBL PartyBox app allows you to control advanced features of your JBL PartyBox Encore Essential. It features user-centric functionality, with the ability to control sound effects (bass boost, extended low bass, sound profile, audio quality), adjust the microphone equalizer for karaoke mode and customize the light show effects (RGB lights).