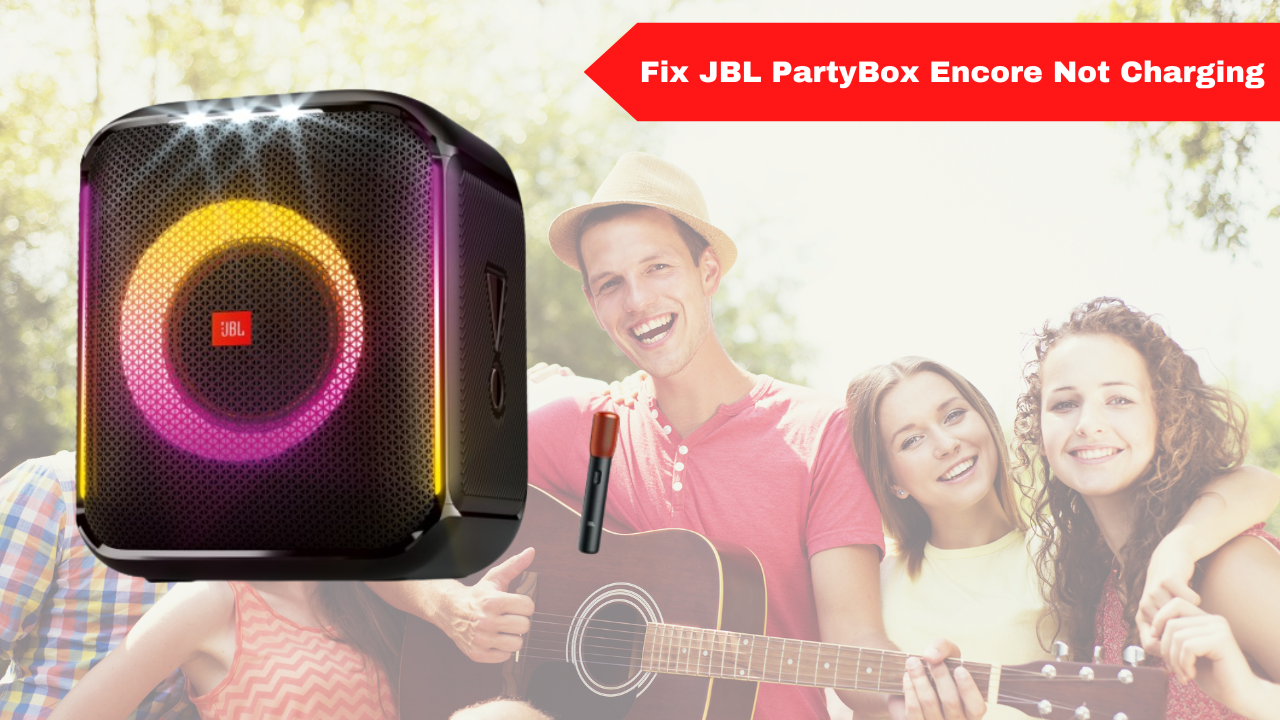 Are you experiencing issues charging your JBL PartyBox speaker? Some of the factors that can cause this issue are a software glitch, bad charging port, defective charging cable, or a faulty battery. To fix this, you will need to perform several troubleshooting steps
The JBL PartyBox Encore Essential is one of the best all-in-one party speaker that offers powerful audio, a vibrant light show, and is easy to take with you anywhere. First released in 2022, it is IPx4 rated and is resistant to water splashes, making it perfect for outdoor events. It has a 100 watt output power, Bluetooth V5.1, and a Bass Boost feature with a graphic EQ to customize the sound profile to your preference. It also has a microphone input, allowing you to connect an external microphone for karaoke parties.
Technical Specifications:
Transducers: 1 x 5.25 inch woofer, 2 x 1.75 inch tweeter
Output power: 100 W RMS
Power input: 100-240 V ~ / 50-60 Hz
Frequency response: 50 Hz – 20k Hz @-6dB
Signal-to-noise ratio: > 80 dB
Battery type: Li-ion polymer 27Wh (equivalent to 3.6V 7500mAh)
Battery charge time: 3.5 hours
Music play time: up to 10 hours (dependent on volume level and audio content)
USB format: FAT16, FAT32
USB file format: .mp3, .wma, .wav
USB charge out: 5 V / 0.5 A (maximum)
Cable type: AC Power Cable
Cable length: 2000 mm/78.7″
Bluetooth version: 5.1
Bluetooth profile: A2DP 1.3, AVRCP 1.6
Why is my JBL PartyBox Bluetooth speaker not charging?
One of the issues that you might experience with JBL PartyBox Encore speaker is when it won't charge. This can be an annoying experience especially if the battery life is already low.
Here's what you need to do to fix the charging issues on your JBL speaker.
Solution 1: Check the JBL PartyBox Encore charging port and cord
Your JBL speaker uses an AC power port to get power into the device. Check this port and make sure that it is clean and free from any dirt or debris inside. You can clean the charging port using a thin object such as a toothpick.
The port will have connector pins, make sure that it is not bent or damaged. If you have a damaged charging port then you will need to have this fixed.
You should also check the AC power cord you are using for any signs of defect. If necessary, replace this power cord with a new one.
Solution 2: Plug the JBL PartyBox Encore speaker to a different wall outlet
One of the reasons why your JBL PartyBox Encore speaker won't charge is because you are plugging it to a faulty wall power outlet. Try plugging the charging cable to a different wall outlet then check if the speaker can now charge properly.
Solution 3: Update the JBL PartyBox Encore software
There's a possibility that the charging issue you are experiencing on your speaker is due to a bug in the present software being used. To fix this you just need to install the latest software update on your speaker.
Update JBL PartyBox Encore software
Download the JBL Partybox app on your smartphone.
Make sure that the JBL speaker is paired to your smartphone. Turn on your JBL speaker then launch the app.
Your speaker should be displayed and the update button will be available if a firmware update is available.
Tap the update button then tap upgrade to update your JBL PartyBox Encore software.
Tap Let's party to complete the update.
After the latest update has been installed try checking if the problem persists
Solution 4: Perform a factory reset on the JBL PartyBox Encore
One of the reasons why JBL PartyBox speaker will not charge is because of some software glitch. To fix this, the final troubleshooting step you have to do is a hard reset.
Factory reset JBL Partybox Encore
Turn on the JBL PartyBox Encore.
Simultaneously press and hold the Light and Play Buttons for more than 10 seconds.
When the Factory Reset ends, your device will Turn Off.
Turn On the JBL PartyBox Encore speaker by pressing the Power Key.
Solution 5: Have your JBL speaker checked at the nearest service center
In case you are still unable to charge your JBL speaker then this might already be caused by a faulty hardware component.
Some of the possible hardware components that can be damaged are as follows.
Faulty charging port.
Defective battery.
Damaged charging circuit.
Defective power cord.
Contact JBL for the nearest service center in your area and have the speaker fixed.
Frequently Asked Questions
What is the battery life of JBL PartyBox Encore?

The battery life is up to 10 hours of playtime.

Can I connect multiple JBL PartyBox Encore speakers together?

Yes, multiple JBL PartyBox Encore speakers can be connected together via the JBL Connect+ feature.
Turn on both JBL PartyBox Encore speakers and make sure they are in close proximity to each other.
On one of the speakers, press and hold the JBL Connect+ button until the LED light begins flashing rapidly. This will put the speaker into pairing mode.
On the other speaker, press and hold the JBL Connect+ button until the LED light begins flashing rapidly. The two speakers should now be paired.
Repeat the above steps to add more JBL PartyBox Encore speakers to the network.
Once all speakers are paired, you can play music on any of the connected speakers, and the sound will be synchronized across all speakers.

Can I charge my devices using the JBL PartyBox Encore?

Yes, the JBL PartyBox Encore has a USB port that can be used to charge devices.

Can I use the JBL PartyBox Encore as a PA system?

Yes, the speaker has microphone inputs and can be used as a PA system.

Can I connect a guitar to the JBL PartyBox Encore?

Yes, the JBL PartyBox Encore has a guitar input for live performances.