Steam is an excellent digital video game distribution platform and in fact, it's the premier destination for top of the games for PC all the time. Millions of players flock to Steam everyday not just to play but also to browse for new games and to download and install DLC.
For some players, installing a DLC is not straightforward as it requires digging into a few settings in the Steam client. In this guide, we'll show you the way to check your installed DLC on Steam, as well as how to get new ones.
What is a Steam DLC?
A Downloadable Content or DLC is an additional content to enrich a base game, or to expand a user's experience with more unlockable contents. In most cases, a DLC can only be unlocked for a fee on top of the original price of the base game. However, there can also be some games that offer downloadable content for free.
Many games on Steam sell downloadable content for a price. A DLC comes with a single license, which is then tied to a player's Steam account name or Steam ID. At other times, the license of a particular DLC may be associated to a player's console or PC and not with one's account.
Typically, a DLC is in a digital format and must be downloaded and installed, hence the name. Unlike a physical copy of a base game, a DLC has to be activated within the Steam client by buying them, or with the use of a product key.
DLC often vary, with some adding entirely new campaigns and base game overhauls while in some cases, they can bring in purely cosmetic add-ons such as audio changes, voice-overs, expanded maps, new features, game mechanics, or longer stories. Some developers employ downloadable content to keep customers entertained, or make old games alive even after years since the release date.
Freemium games, or free-to-play games often rely on DLC on Steam to make money. A classic example is Dota 2, which usually rake in tens of millions of dollars every season, although the majority of the money raised goes back to the community in the form of a prize pool for its The International.
How to find your DLC in your library?
If you're looking for downloadable content for your favorite game on Steam, simply head over to the Steam Store. Then, simply search for the base game and check if there are any available downloadable content that you can buy or acquire for free.
To look for Steam DLC for the game you own, you'll have to head to your Steam Library. Here are the exact steps:
Open Steam.
Click on Steam Library at the top.
Select the game in the list and right-click on it.
Select Properties.
Go to DLC tab.
You should now see all the installed DLC for your Steam game.
How to install DLC on Steam?
In order to download and install DLC on Steam, you need to head to your Steam Library and select your game from the left pane. Then, you can access the Steam Store from there in order to check for more downloadable content. Follow the steps below: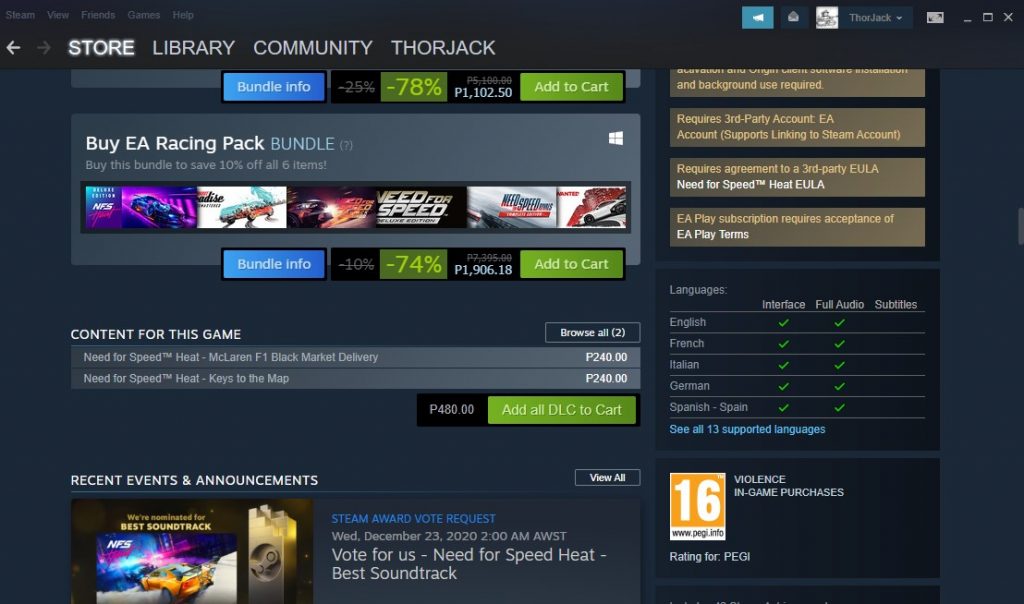 Open Steam client.
Click on Steam Library at the top.
Select the game in the list and right-click on it.
Select Store Page.
Scroll down and look for the DLC you want under the CONTENT FOR THIS GAME section.
Select the DLC by clicking the Add all DLC to Cart button.
Complete the purchase.
You can then double check your purchased DLC by checking your Steam Library.
How to fix Steam DLC issues?
If you encounter any issues with your downloadable content, these are the solutions that you can try:
Restart the Steam client.
Make sure that you log out of your Steam account first before you close the Steam client completely. Then, start Steam again, sign back in, and check if your DLC are now in order.
Verify integrity of game files.
Sometimes, a DLC may become corrupted together with your local files. To fix the problem, you can use the Steam Verify tool to refresh the files and your DLC.
Here's how it's done:
Open Steam client.
Click on Steam Library at the top.
Find the game in the list and right-click on it.
Select Properties.
Select the Local Files tab.
Select Verify integrity of game files.
OTHER INTERESTING ARTICLES:
Visit our TheDroidGuy Youtube Channel for more troubleshooting videos and tutorials.