Epic Games is famous for giving away premium games for free and although Among Us may not be considered premium by some, it's a popular game that was downloaded by millions of gamers across several platforms. Recently, the game is being offered for free on Epic Games but as to be expected, a lot of people are reporting issues such as random crashing, stuttering, and poor performance. In this troubleshooting guide, we'll help you deal with the annoying crashes.
Reasons why Among Us (Epic Games version) keeps crashing?
Among Us is generally stable and most people in other platforms (Steam, Android, iOS, PlayStation,Xbox, and Nintendo Switch) find the game working normally. However, there's a small percentage of users, especially those who got the game from Epic Games, who are reporting crashes, black screen, and some performance issues. If Among Us is crashing on you, it may caused by one of the following reasons:
Damaged game files.
Game data corruption can occur if you interrupt the game while its in the process of saving progress, or when you interrupt the app or restart your PC while installation is underway.
Incompatible video settings.
When troubleshooting for game crashes, one of the things that you should look into is graphics settings compatibility. Sometimes, allowing the GPU to fire too much FPS than what your monitor can handle can lead to screen tearing, performance issues, and occasional crash.
Outdated GPU drivers.
One of the simple ways to avoid bugs in games is to ensure that you have the latest drivers for your graphics card. Drivers are necessary software for every hardware component and games may not work as expected if your GPU is not running the latest set of drivers.
GPU Power management settings.
If you're playing Among Us on a laptop, the Power Management settings of your GPU may be affecting the game's performance. You can try to tweak your graphics card settings to see if changes will fix the problem.
Overclocking.
Some games may not work properly if a graphics card is running faster than its recommended clock speed. If you've overclocked your GPU, try reverting it back to its normal clock speed to see if the issue goes away.
Conflict with other programs.
Other programs may interfere with some games. For some, it's their programs with overlay functions such as MSI Afterburner, Discord overlay, Spotify overlay, etc.
Others may encounter an issue with their security software.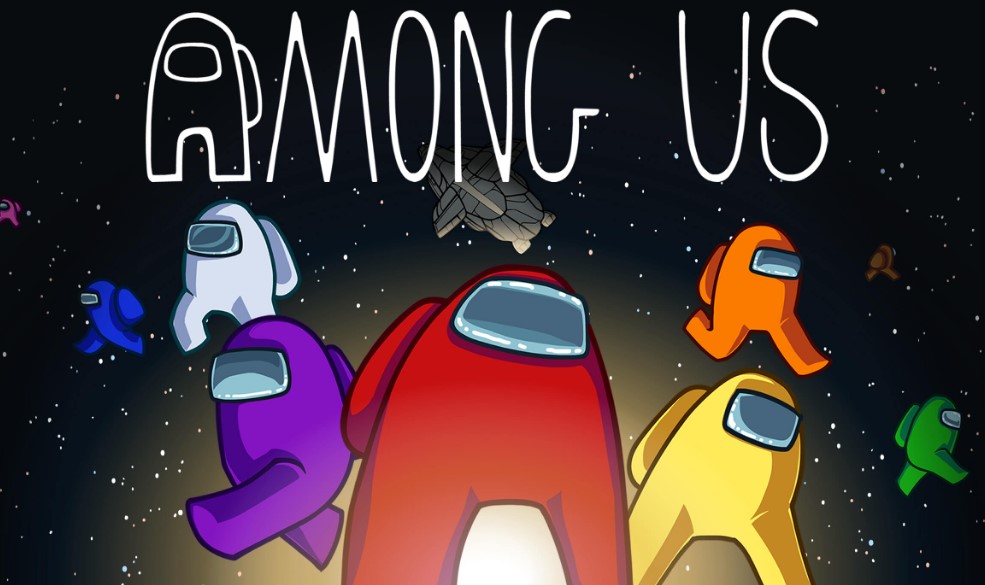 How to fix Among Us crashing on Epic Games?
Here are the solutions that you can try if your Among Us game is crashing when launched from Epic Games client.
Fix #1: Run the automated Epic Games launcher troubleshooter.
To see if there's any Epic Games launcher bug that causes the issue, you can use the Troubleshoot option in Epic Games Settings menu. Here's how:
Open Epic Games Launcher.
Click on Settings at the lower left pane.
Find Troubleshoot and click it.
Wait for the client to check for issues.
Fix #2: Update the game.
Making sure that you update the game is very easy. When it comes to Among Us, updating is done automatically by Epic Games launcher for you but you can also check for updates manually if you like.
Auto Update feature is enabled by default to allow the system to automatically update the game for you. If you turned off this feature before, be sure to turn it back on now.
Fix #3: Verify the game files.
Just like in Steam, Epic Games launcher has a repair tool that you can use to check the health of your local files such as game data, especially when you are experiencing an issue.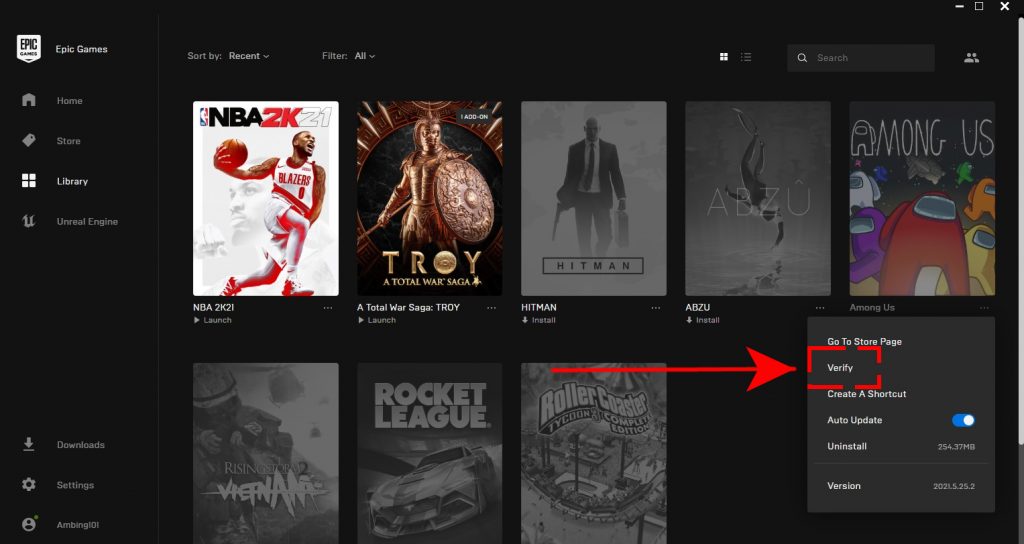 Here's what you must do:
Close Among Us (if you're running it).
Open Epic Game launcher.
Select Library on the upper left.
Below the game tile, click on the three-dots.
Select Verify.
Wait for the process to finish.
Launch Among Us and check for the problem.
Fix #4: Check your GPU settings.
Some games may suffer from random crashing issue or performance trouble if you set your GPU's FPS to maximum. What you must do is to ensure that you set the FPS limit to the same value as your monitor can handle.
For example, if your monitor is only capable of refreshing the screen 60 times every second (60Hz refresh rate), then your GPU should only be firing out a max of 60 FPS.
Below is an example of what you must do if you have an NVIDIA GPU:
Open Nvidia Control Panel.
Select Manage 3D Settings option.
Go to Programs Settings.
Select Among Us from the list.
Here, you have to disable the Max FPS limit option, or set the correct value manually.
If you have AMD graphics, try doing a similar procedure to ensure that your GPU is only producing the right rate of FPS for the game.
Fix #5: Run Among Us in Administrator Mode.
Locate the installation folder of Among Us and find the game's executable file (.exe).
Right-click on the game's exe file.
Select Properties.
Open the Compatibility tab.
Under the Setting section, check Run this program as an administrator.
Click Apply and then click OK to save the changes.
Fix #6: Check for third party app interference.
Some computers with strict or sensitive security programs, antivirus, or antimalware software, may flag Among Us as a threat and block it from launching, or forcing it to stop. To see if this the case, you can try disable whatever security software you're running.
A few users have also reported that their Windows Defender Firewall is blocking the game from connecting to its servers. To check, disable your firewall temporarily to see if there's any effect.
Do the same if you have an antivirus or anti-malware currently protecting your Windows  system.
OTHER INTERESTING ARTICLES:
Visit our TheDroidGuy Youtube Channel for more troubleshooting videos and tutorials.