This post will address an issue with Samsung Galaxy S6 Edge involving the error message "Security Notice: Unauthorized actions have been detected. Restart your phone to undo any unauthorized changes."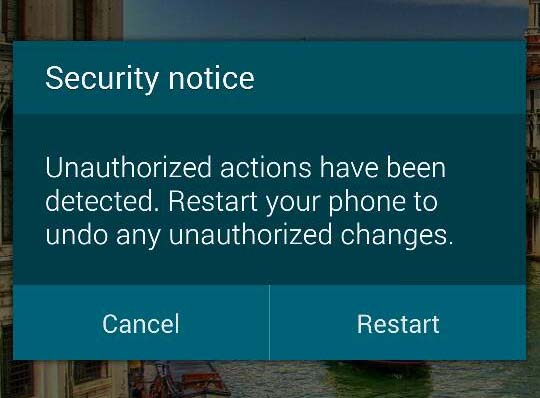 The problem actually dates back a few weeks after the release of the phone as there were already users complaining about the security notice that pops up every 10 to 15 minutes. It's really not a big deal as far as functionality is concerned because, basically, you can still use your phone after you closed the prompt. But if you are an owner of a powerful and expensive device like the Galaxy S6 Edge, you want it to function 100% without errors, glitches and all that.
Having that notice pop up every few minutes is just disappointing and annoying. Most owners blame their carriers and/or service providers but it's actually Samsung that needs to fix it as the notice is triggered by the Samsung KNOX and carried out by one of the core services–the SecurityLogAgent (com.samsung.android.securitylogagent).
If you can uninstall Samsung KNOX, this problem would be gone and the same thing happens if you can disable the SecurityLogAgent service. But you should know that both of these services come pre-installed with the phone so they can neither be uninstalled nor disabled unless you root your device to have system-level access.
Before we proceed with the potential solutions, here's one of the messages we received that describes how the problem happens…
"I've seen on the site that you may be able to help with issues in regards to this phone. I am getting these security notices on my phone that says "Unauthorized actions have been detected." I tried searching to see how I can get rid of this on the Internet. However, all I keep reading is to uninstall KNOX. I don't even have that to uninstall. I have tried restarting my phone and it still pops up. I tried updating all my apps and it's still there. I'm reaching out to see if there is anything else that can fix this without going to Verizon after I just got the phone. Can you help me? Thanks, Thairena."
In case you have other concerns with your phone, try to go through the troubleshooting page we carved out for the Samsung Galaxy S6 Edge as it contains solutions to problems we already addressed. Find problems related to yours and try the solutions we provided. If they won't work for you, then contact us as we are always willing to help. Just provide as much details as possible so we can provide accurate solutions.
This is a very short list of options you can use to get rid of the security notice. I might have suggestions you don't like but they can help you one way or the other.
Call your service provider and request for replacement unit
If you don't want to deal with the hassle of trying to fix this problem, then go ahead and call your service provider, report what the problem is, tell the rep what you've done so far and request for a replacement unit as you might have gotten a unit that belongs to the "bad batch."
This problem is widespread and it could happen to anyone regardless of the carrier or service provider. While we did receive several complaints about this problem, it is obvious that only a small percentage of Galaxy S6 Edge units have this kind of issue. Thus, your chance in getting a "good phone" if you request for a replacement is more than good.
However, there is also a chance you'll get a new unit with the same problem just like what happened to this user:
"I am getting a notification for security notice. I took my phone to Samsung and they just re installed the software and still had the same issues. I went back to my phone carrier plan and phone was replaced with a new phone. I still have the same issue. How can I make this stop alerting me on this?"
Factory reset cannot fix this problem according to our reader, "Security notice keeps coming up on my Galaxy S6 Edge every 5 minutes even after I've scanned an reset the phone." But I suggest you still do the same just to delete your personal information and everything in your phone before you return it to your provider. I suggest you do the master reset for a complete wipe:
Turn off your Samsung Galaxy S6 Edge.
Press and hold the Volume Up, Home and Power keys together.
When the device powers on and displays 'Power on logo', release all keys and the Android icon will appear on the screen.
Wait until the Android Recovery Screen appears after about 30 seconds.
Using the Volume Down key, highlight the option, 'wipe data/factory reset' and press the Power key to select it.
Press the Vol Down button again until the option 'Yes — delete all user data' is highlighted and then press the Power key to select it.
After the reset is complete, highlight 'Reboot system now' and hit the Power key to restart the phone.
Update the firmware if possible
As I said earlier, this problem occurred shortly after the release of the S6 Edge and the first batch of users who encountered it may have already fixed the issue considering the fact Samsung already rolled out a few updates.
This security notice is a firmware thing because KNOX and the other service is embedded in the system. Therefore, an update may just fix this problem. For techie ones who might be thinking of reflashing the firmware, there's no guarantee the notice will go away for good as proven by one of our readers who said "I am getting a notification for security notice. I took my phone to Samsung and they just re installed the software and still had the same issues."
From the Home screen, drag the Notification Panel down.
Touch the Settings icon at the upper-right corner.
Scroll to the System section and tap System update.
Touch Update now.
If there's an update available, follow the on-screen instructions. Otherwise, tap OK.
Root your phone and uninstall KNOX
I will tell you as early as now that this procedure may void the warranty of your phone especially when the KNOX counter is tripped during rooting. So, please, proceed at your own risk.
The good thing about a rooted phone is that, you can do whatever you want with apps you don't use. For instance, you can disable or even remove the KNOX for good to get rid of the notice. Or, you can simply disable the SecurityLogAgent service and leave the phone as is.
One developer discovered a loophole in the kernel of select Galaxy S6 Edge firmware and developed an app that could give users root access. The name of the app is PingPong Root and you need to sideload it enable to root your phone. I will not include the step-by-step guide in rooting your Galaxy S6 Edge without tripping the KNOX counter, instead, I will point you to the page where the developer posted necessary instructions. Follow this link.
Once you're rooted your phone successfully, just follow these steps to uninstall KNOX or disable SecurityLogAgent…
From any Home screen, tap Apps.
Tap Settings.
Scroll to 'APPLICATIONS,' then tap Application manager.
Swipe right to the ALL screen.
Scroll to and tap Samsung KNOX (or, com.samsung.android.securitylogagent).
Tap Uninstall (or, Force Stop).
Related Problem: So frequently I get a security notice saying unauthorized actions were detected and recommends me restart my phone to undo any authorized actions. It's getting annoying so if you can help I will greatly appreciate it by the way, it's the Samsung Galaxy S6 Edge.
Download Package Disabler app ($1.95)
As I said earlier, if you could just disable the SecurityLogAgent, the problem will be fixed. However, to be able to do that, you need to root your phone. But what if I told you there's one way to disable a core service or pre-installed app without rooting your phone?
Yes, that's right! There's one app you can download that could get rid of the annoying security notice. However, you'll have to pay for it. I understand if you're hesitant to pay for it but if paying $1.95 is one way to save you from all these hassles, why not?
I may sound like I'm promoting the app but I'm not. It's just that I personally used it and discovered I could disable pre-installed apps with it without even rooting my phone. The decision, of course, is all up to you.
DISCLAIMER: TDG is not, in any way, associated with the developers of the Package Disabler app nor we are paid to mention it.
If you decided to pay for and install Package Disabler, just open it and find SecurityLogAgent (com.samsung.android.securitylogagent) and tick the checkbox next to it to disable it.
Related Problem: Hi. I recently purchased Samsung Galaxy S6 Edge. It keeps coming up with a notification "Security Notice – Unauthorized actions have been detected." I have scanned my phone and said there is no threat and also restarted as suggested but this notice keeps coming up. I purchased the phone brand new. Are you able to help me? Look forward to hearing from you.
I hope that this post help you somehow. Thanks for reading and we wish you all the best.
Connect with us
We are always open to your problems, questions and suggestions, so feel free to contact us by filling up this form. We support every Android device available and we are serious in what we do. This is a free service we offer and we won't charge you a penny for it. But please note that we receive hundreds of emails every day and it's impossible for us to respond to every single one of them. But rest assured we read every message we receive. For those whom we've helped, please spread the word by sharing our posts to your friends or by simply liking our Facebook and Google+ page or follow us on Twitter.