"Hi droid guy! My Samsung Galaxy S5 shuts down on its own and it happens randomly. It started after I downloaded lollipop update. How can I fix it?"
That's just one of the typical emails we received from our readers after the Android 5 Lollipop update was rolled out. Many of those who encountered this problem and contacted us were Verizon customers but when we tried to dig deeper, the problem is not exclusive to one variant.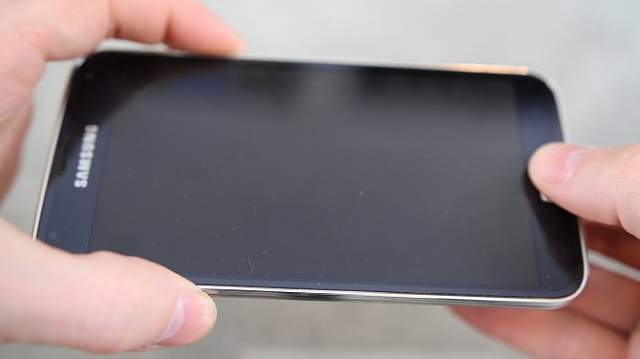 In the U.S., some S5 owners from the Sprint, AT&T and T-Mobile were also having this problem. For units that started shutting down after the update, it is apparent the firmware is to blame but that doesn't mean you had a bad update. More often, caches and data get corrupted during and after a major update but it's not limited to just the firmware.
MUST VISIT: Samsung Galaxy S5 Troubleshooting Page
There is also a possibility that a third-party gone rogue is causing the problem or it could be a hardware issue that's just starting to manifest.
I will guide you on how to troubleshoot your Galaxy S5 that shuts down or turns off automatically. So, read on and see if your issue is the same as one of the problems I addressed in this post. If not, then feel free to contact us at [email protected] and rest assured we'll look into it.
====================
Galaxy S5 shuts down randomly after lollipop update
Problem: Hi! I actually downloaded the lollipop update for my Galaxy S5 about a couple of weeks ago but after that the phone started to turn off randomly. There are times when the screen just turns off without apparent reason while most of the times the phone would lag, then freeze and then shut down. I didn't try to troubleshoot it thinking it might just go away somehow. It didn't, so I'm asking if you could help me fix this problem as I really need this phone for my job. Thank you! — Jasmen
Related Problem: Hello guys. How can I fix my phone that constantly reboots? It's a Galaxy S5 and the problem started after I upgraded it to the latest update. It didn't have a single problem prior to the update so it seems lollipop has messed up my phone big time. Help! — Trillo
Troubleshooting: Hello Jasmen and Trillo. Based on both your descriptions, it seems like the cause of the problem are some corrupt caches or data. It was a major update so some dependencies may have been changed and some files used by Kitkat may not already be compatible with Lollipop.
The first thing I want you to try is wiping the cache partition and observe if the phone still randomly shuts down after that. If so, it's time you backed up all your data and proceed with full hard reset.
Galaxy S5 turns off while using an app
Problem: Hi guys! Before anything else, I just want to say thank you for all your effort in helping us. Your website is one of the most helpful ones I found so far. I've actually spent a couple of hours now reading through your Galaxy S5 troubleshooting page but I haven't found something related to my problem.
I update my Sprint Galaxy S5 4 days ago to lollipop. I think there were 2 updates and I downloaded both of them. As far as installation is concerned, everything went smoothly. However, yesterday, there were some errors that kept popping up saying an app has stopped or something like that. There's no other option but to touch OK and I do that every time. But when I open the app, the phone screen turns off and I think the whole device shuts down because it won't respond after that and I have to press the power button and it will restart. So now, I can't use the app I've been using before the update. Do you know how to fix this? Thank you! — Jade
Troubleshooting: Hello Jade. It could have been better if you mentioned what app is causing this problem. But anyway, since you specifically mentioned that it's an app that's triggering the auto shut down with your Galaxy S5, then try the most basic of troubleshooting rogue apps–clearing the cache and data.
IMPORTANT NOTE: If the app is a game, all your progress will be lost and everything will be reset back to original settings. You may have to login with your account again.
If clearing the cache and data couldn't fix the problem and if the app is a third-party, uninstall it and download a fresh copy from the Play Store. Issues like this can often be fixed by reinstallation, however, if the problem persists after that, then the app needs to be updated to work well with lollipop. You have to contact the developer and report the issue.
Galaxy S5 turns off while charging
Problem: Good morning. I have a very weird problem with my Galaxy S5. Every time I plug it in to charge, it turns off all by itself. I really don't know when it started but I did notice it just after the lollipop update. Not really a tech person so I'm hoping you could tell me how I could fix this or what I need to do to address this problem. Thank you! — Rob
Troubleshooting: Hey Rob! Yeah, the problem seems weird and to be honest, I never encountered this issue before. But let's consider what you said that it started after the lollipop update. If it's really the case then it's more of a firmware issue than anything else. If it were my phone, I would immediately do the master reset to give it a fresh start with its new firmware and clear whatever it is that might be causing some conflicts.
If, however, the hard reset won't work, I suggest you let the tech take a look at it. Perhaps the firmware needs to be reinstalled or there could be an issue with the charging port.
Galaxy S5 shuts down while playing music
Problem: Hello Harold. Your team is really doing great providing this free support for us noobs. I'm new to Android and Galaxy S5 is my first so I kind of trying to learn whatever it is the phone can offer. I have a problem, though. Every time I try to play a music file (regardless what it is), the phone will immediately turn off and won't come back on until I press the power key. What's the problem with it and how can I fix it? — Irish
Troubleshooting: Hey Irish! Tech is our passion and helping others makes us feel good, so here we are. Well, about your problem, I assuming that you're using the stock Music app or the music player that comes native with the device. I encountered this problem before but it was caused by a faulty MP3 file. I was able to fix the problem by the deleting the music track. In your case, however, it seems it's even related to tracks you're playing but with the app itself.
For this kind of problem, clearing the cache and data of the Music app should come first since it's most likely an app-specific problem. If that won't fix the issue, then I suggest you do the factory reset.
Galaxy S5 heats up then shuts down
Problem: After I installed the latest lollipop upgrade, my phone keeps heating up. The heat isn't normal but it's not actually hot. When it heats up, the device will shut down on its own after a few minutes and it's disrupting everything I'm doing with my phone. Do you know how to fix it? — Rodora
Troubleshooting: If the phone heats up and shuts down on its own, it means that the phone is overheating. Android will shut down the device automatically to prevent further damage to the hardware or components. I don't really know how extensive user you are but if the phone overheats with average use, just reset it as there could be some rogue apps running in the background and causing the overheating. I also suggest you check the condition of the battery to see if there are lumps or bulges because if so, you need to buy a new battery.
Galaxy S5 started shutting down after soaked in water
Problem: We were at the pool party last week and my phone fell into the pool. In a matter of seconds I was able to get it out of the water but it was already turned off. I assume water got into it despite being waterproof. Now, the phone randomly shuts down on its own even though I totally dried it up before turning it back on. Can this be fixed? — Lisa
Troubleshooting: First of all, Lisa, the Galaxy S5 is just "water-resistant" and not "water-proof." Meaning, liquid can still find its way into the phone and that seems to be the case with your device. The fact that it was turned off after it fell into the pool is evident water has gotten into it. It's really difficult to tell if the problem can still be fixed permanently so I suggest you let a technician check on it.
Galaxy S5 shuts down, turns on & vibrates
Problem: My Galaxy S5 was dropped waist high and it fell on a cemented pavement. When I picked it up it was still on but after a few seconds, it turned off. I removed the battery for a minute then placed it back in and the phone turned itself on without me pressing the power key. After a few seconds the phone turned back off again and it's vibrating every now and then. Is my phone damaged now? — Rose
Troubleshooting: Yeah, it could have been damaged by the drop but the symptoms you cited are actually signs that the power key is stuck…or maybe damaged. Try pressing it multiple times to see if the problem can be fixed, if not, then have it repaired. The power key may need replacement.
====================
Troubleshooting Procedures
The following are the troubleshooting procedures used in this post. One of these guides may fix your problem so feel free to try one after the other. Just bear in mind that both factory reset and master reset will delete all data saved in the phone's internal storage.
From any Home screen, tap Apps.
Tap Settings.
Scroll to 'APPLICATIONS,' then tap Application manager.
Swipe right to the ALL screen.
Tap the desired application
Tap Clear cache.
Tap Clear data, then OK.
How to Boot Galaxy S5 in Safe Mode
Turn the device off.
Press and hold the Power key.
When 'Samsung Galaxy S5′ appears on the screen, release the Power key.
Immediately after releasing the Power key, press and hold the Volume down key.
Continue to hold the Volume down key until the device finishes restarting.
Safe mode will display in the bottom left corner of the screen.
Release the Volume down key when you see Safe Mode.
How Wipe Galaxy S5's Cache Partition
Turn off the device.
Press and hold the following three buttons at the same time: Volume Up key, Home key, and Power key.
When the phone vibrates, release the Power key but continue to press and hold the Volume Up key and the Home key.
When the Android System Recovery screen appears, release the Volume Up and Home keys.
Press the Volume Down key to highlight 'wipe cache partition.'
Press the Power key to select.
When the wipe cache partition is complete, 'Reboot system now' is highlighted.
Press the Power key to restart the device.
Turn off the device.
Press and hold the following three buttons at the same time: Volume Up key, Home key, and Power key.
When the phone vibrates, release the Power key but continue to press and hold the Volume Up key and the Home key.
When the Android System Recovery screen appears, release the Volume Up and Home keys.
Press the Volume down key several times key to highlight 'wipe data / factory reset.'
Press Power button to select.
Press the Volume down key until 'Yes — delete all user data' is highlighted.
Press Power button to select and start the master reset.
When the master reset is complete, 'Reboot system now' is highlighted.
Press the Power key to restart the device.
Connect with us
We are always open to your problems, questions and suggestions, so feel free to send them at [email protected] We support every Android device available and we are serious in what we do. This is a free service we offer and we won't charge you a penny for it. But please note that we receive hundreds of emails every day and it's impossible for us to respond to every single one of them. But rest assured we read every message we receive. For those whom we've helped, please spread the word by sharing our posts to your friends or by simply liking our Facebook and Google+ page or follow us on Twitter.