We received several emails from Samsung Galaxy S4 owners complaining about their device that keeps rebooting after the Android 5 Lollipop update. There are actually two variations of this problem. Some said their phone works fine but there are random reboots while others reported that immediately after the update, the device couldn't continue booting up because halfway through the process, it will reboot.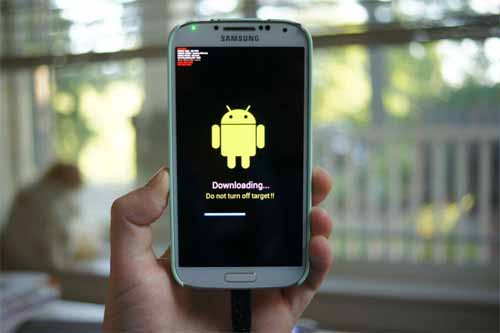 If you have this problem with your phone, then read on as I will guide you through troubleshooting the device and make it work again. Apparently, it's a firmware-related issue and more often, corrupt data and/or caches are causing the conflict in the system preventing the phone from booting up normally.
However, if you have different issues, visit our Samsung Galaxy S4 Troubleshooting page as we've already addressed hundreds of problems before. Most likely, your issue has already been addressed. Try the solutions we provided and if they didn't work for you, email us at [email protected] and we will help find the solutions.
Galaxy S4 randomly reboots after the lollipop update
Problem: Hello guys. How are you? I have a problem with my Galaxy S4. I recently updated it to lollipop and everything went smooth like the previous updates. However, my phone now randomly reboots several times a day. It didn't do this before the update so I think the update did this or has something to do with it. I called my provider but they wanted me to come to their store to have the phone checked. I consider that option but if you know a way to fix this, that would surely save me from all the hassles. Thank you! — Kevin
Problem 2: So I recently updated my Samsung Galaxy S4 to lollipop but then it started to get some hiccups. First there were these random freezes or lags that occur any time. When it happens, the phone becomes totally useless and there are times when it can't get out of it. So I just take the battery out and boot the phone back up. Second and the most annoying of all is the random reboot. It happens several times a day. The phone just shuts down and comes back up on its own. After the reboot, though, the phone works fine. But the thing is, it already happened to me twice that the phone rebooted while I was on a call. Of course, the call got disconnected and it would appear as though I disconnected it. I am a businessman and I don't want my clients to think that way. How can I fix these problems? Sorry I have to bother you with these issues, it's just that I really don't have a clue how to fix them. Thanks. — Mike
Troubleshooting: When a problem occurs after an update, especially a major update, it's more likely caused by some corrupt data and/or caches. Major updates like from Kitkat to Lollipop have a lot of changes in the dependencies of some apps. This alone can cause a heap of trouble when the new firmware starts running on your device. There's also this other thing. The Android system creates files for apps (both downloaded and pre-installed). These files are used to make them run smoother and some of them contain users' preferences. When the new firmware is installed, these files become obsolete but if not cleared, it may still use them. That's where the problem starts to happen. Due to conflicts, the system may lag, freeze or cause reboots.
The first thing you should do in addressing this problem is boot your phone in safe mode and see if those freezes, lags and reboots still occur.
Turn the device off completely.
Press and hold the Power button.
Once the Samsung Galaxy S4 logo appears on the screen, release the Power button.
As soon as you release the Power button, press and hold the Volume Down key.
Continue holding the Volume Down key until the phone has completed the reboot process.
If you can read 'Safe Mode' at the bottom left corner of the screen, release the Volume Down key. Otherwise, repeat the process until you can boot the phone to Safe Mode.
Assuming the problems are all fixed in safe mode, then we can now consider some of your downloaded apps were causing them. It does make sense considering firmware upgrades rolled out by Samsung (or your carrier) come with updates for pre-installed apps. With that, try to see if there are available updates for your apps in the Play Store. After updating them and the problem still persists, it's time you performed factory reset. Do the same thing if the problems persist in safe mode. Don't forget to backup all your data as they will all be deleted, then follow these steps:
From the Home screen, tap the Menu key.
Touch Settings and then Accounts tab.
Under Backup options section, touch Backup and reset.
Touch Factory data reset.
Touch Reset device.
Tap Delete all.
Galaxy S4 can't get out of boot loop after lollipop update
Problem: Hi. I updated my Galaxy S4 yesterday and since then, it won't start up. It just powers on up to the logo and then reboots. It's been like this for more than a day now and I called my provider and they said to send the phone in so their tech can take a look at it. I might consider that even if that would leave me without a phone for a week or two but if you guys know how to fix it, you would save me from a lot of trouble. I really don't know how to fix this and I'm sure it happened after I updated my phone. I don't know what details to give you but please help me with this. Thank you! — Chap
Problem 2: Hello guys! I hope you can help me because I badly need my phone. There was a notification about an update that kept popping up so I downloaded it and it took forever to finish. After that, my phone rebooted on its own and since then it refuses to start like it used to. It shows the logo during the boot up then it stays on the black screen until it reboots and the same thing happens over and over. If I'd known this would happen, I never should have allowed my phone to be updated. It was doing perfectly prior to this update so clearly, Samsung's update ruined my device for me. Can you help me fix this thing up, please? — Clair
Troubleshooting: If you guys are familiar with rooting and flashing custom ROMs into your phone, you will find this problem normal because it happens all the time when you try to install a new firmware. Just like the first issue, it's still related to corrupt caches and/or data, only this time the Android system is prevented from loading the Android interface. And more often, due to conflicts, the phone cannot start up normally, thus, resulting to infinite boot loop. Wiping the cache partition is one way to deal with it. In fact, it is very effective in fixing boot loop issues. Here's how you do it…
Turn off the device.
Press and hold the following three buttons at the same time: Volume Up key, Home key, Power key
When the phone vibrates, let go of the Power key but continue to press and hold the Volume Up key and the Home key.
When the Android System Recovery screen appears, release the Volume Up and Home keys.
Press the Volume Down key to highlight 'wipe cache partition.'
Press the Power key to select. The phone will automatically restart after the cache is wiped.
In case the problem remained even after wiping the cache partition, try booting your phone in safe mode to see if it can. If so, backup all your data, otherwise, proceed to performing master reset immediately.
How to Master Reset Galaxy S4
Switch your phone off.
Hold down the Power, Volume Up and Home buttons at the same time for about 10 seconds. Release them when the Android logo appears on the screen. This will bring up the unlock/reset menu.
To navigate through this menu, use the volume up/down buttons to scroll up and down and the power button to confirm selections.
Scroll down and select Wipe Data/Factory Reset.
Scroll down and select Yes – Delete All User Data.
When prompted, scroll to and select Reboot System Now. The phone will then reboot to its factory settings.
After the reset and the phone still can't boot up successfully, then the update must have gone wrong. The new firmware needs to be reflashed. You may want to contact your carrier or service provider for that matter.
Connect with us
We are always open to your problems, questions and suggestions, so feel free to send them at [email protected]. We support every Android device available and we are serious in what we do. This is a free service we offer and we won't charge you a penny for it. But please note that we receive hundreds of emails every day and it's impossible for us to respond to every single one of them. But rest assured we read every message we receive. For those whom we've helped, please spread the word by sharing our posts to your friends or by simply liking our Facebook and Google+ page or follow us on Twitter.