Lost Ark is one of the most highly anticipated games in 2023 and it surely did not disappoint. With millions of sales after its launched in Steam alone, it's one of the successful games for this year. However, just like any other newly-released games, this one comes with its set of issues. Some of these issues, like the one we're dealing with today is not entirely the fault of the devs.
If you're experiencing the Lost Ark low FPS issue right now, this guide will show you the fixes that you can try.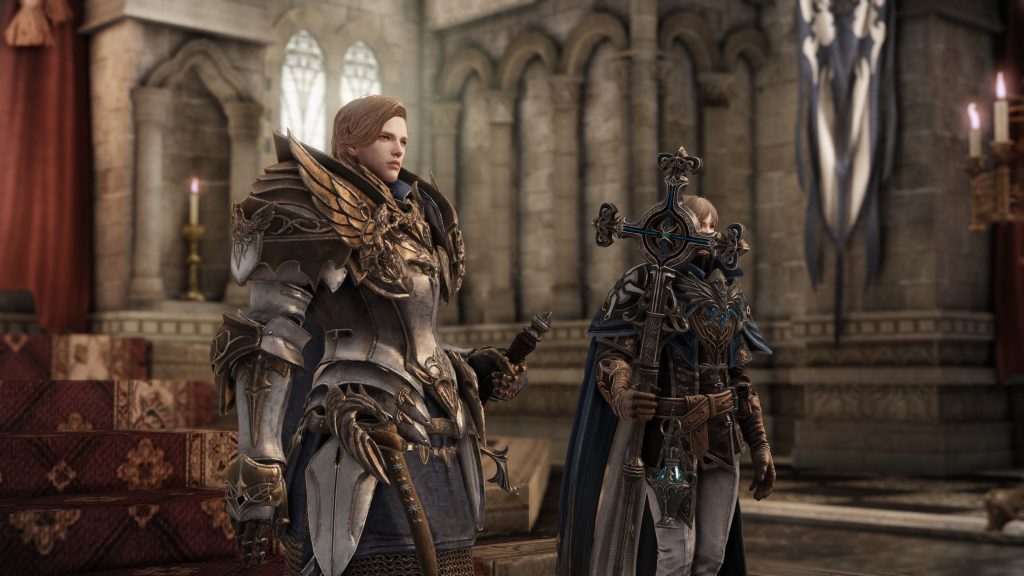 How to fix Lost Ark Low FPS or FPS drop issue?
There can be many different factors to consider when you're experiencing FPS drops or low frame rate when playing. For some people, the main reason can be hardware-related, which means that they'll probably have to go the hardware upgrade route.
Others may encounter poor gaming performance due to inefficient coding issues, or unique glitches in their software.
Check out the solutions below and see which of them will help in fixing the issue on your end.
Fix #1: Check for game updates.
Before you perform any of the troubleshooting steps below, make sure that you're running the latest version of the game at this time.
The developers of Lost Ark provide frequent game updates to fix issues and improve things. It's possible that a recent patch caused the game to crash, and that a new patch will be required to repair the issue.
Check that the game is currently running the most recent game patch.
If the most recent version of the game is available, Steam will automatically download these updates, and the most recent game patch will be downloaded and installed when you launch the game.
Launch Lost Ark to see whether the FPS has returned to normal. If the in-game FPS continues to decline, or if no new game patch is available, go on to the next solution.
Fix #2: Restart your PC.
Sudden, unexplained stuttering or frame rate issues can sometimes be caused by minor or temporary bug in your PC. This can sometimes occur if your PC has been running for an extended period without rebooting.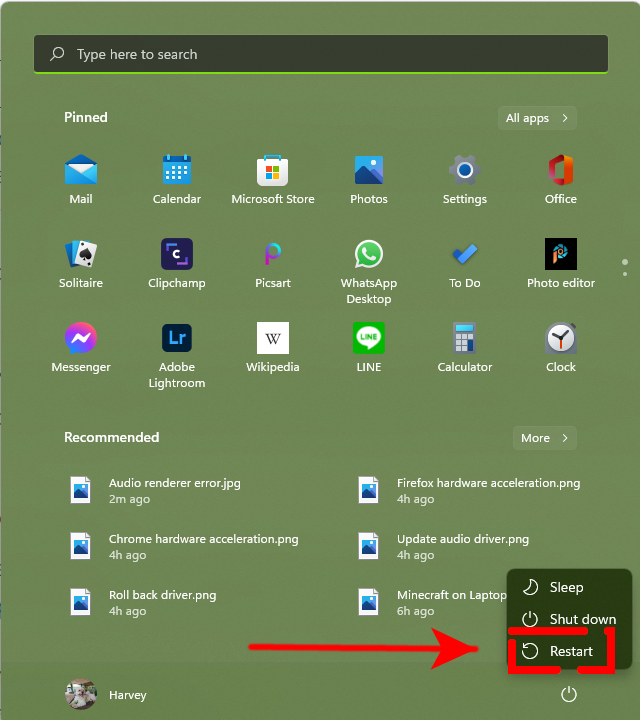 So, to check if the Lost Ark FPS drop issue you're experiencing is temporary, you need to do a quick reboot of your PC. 
If the FPS drops go away afterwards, you can rest easy knowing that the problem is likely not due to performance issues with your PC.
Fix #: Install the latest graphics driver.
Having the latest set drivers is just as important as having the right set of hardware components. A driver serves as a mini-operating system for a single component. If you don't have it, your PC may have difficulty playing games since the graphics card might bog down and cause errors or malfunctions.
Today's PCs include special software that automatically looks for the latest graphics driver. If you have an NVIDIA graphics card, your computer is most likely looking for fresh drivers using the NVIDIA GeForce Experience and NVIDIA Control Panel apps. The same must be true if you have AMD.
If you have an Intel built-in or integrated GPU, this article should explain how to keep it updated.
You may also manually check for graphics driver updates in Device Manager at any time by following these steps: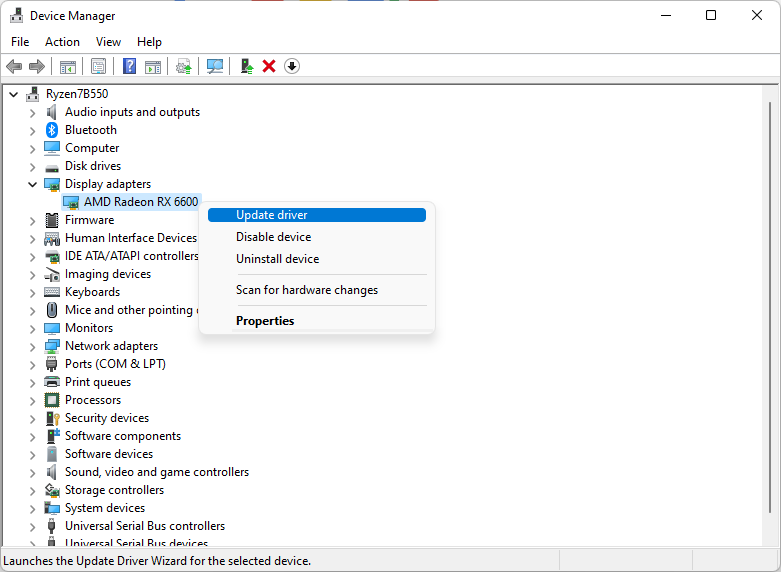 Press the Windows key on the keyboard.
Type in "control panel" and select Control Panel.
Change the View by dropdown to Small icons and click on Device Manager.
Once the Device Manager is opened, click the dropdown for Display adapters.
Find your display adapter and right-click on it.
Select Update driver.
Select Search automatically for graphics driver.
Fix #3: Ensure that your PC can handle the game.
Before purchasing Lost Ark, you should ideally test your computer's hardware to ensure that it can run it without trouble. This is especially true if you're using an old PC or laptop with obsolete hardware.
Take a look at the minimum and recommended hardware specs for Lost Ark: Inquisition to check whether your computer has the necessary components.
Below are the details that you must use to check if your hardware can run the game.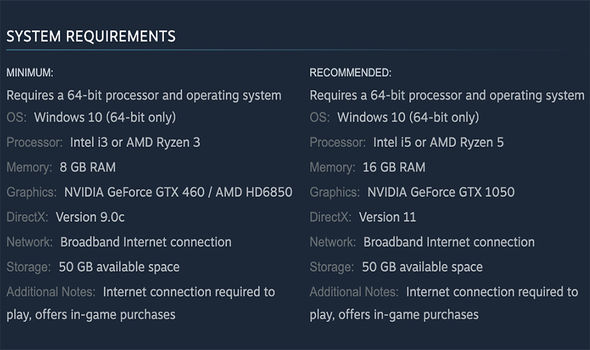 Minimum system requirements of Lost Ark:
CPU: Intel i3 or AMD Ryzen 3
RAM: 8 GB
OS: Windows 10 (64-bit only)
GPU: NVIDIA GeForce GTX 460 / AMD Radeon HD 6850
DEDICATED VIDEO RAM: 1024 MB
Recommended system requirements of Lost Ark:
CPU: Intel i5 or AMD Ryzen 5
RAM: 16 GB
OS: Windows 10 (64-bit only)
GPU: NVIDIA GeForce GTX 1050
DEDICATED VIDEO RAM: 2048 MB
If your computer does not meet the game's system requirements, Lost Ark may crash. The only solution is to update your hardware to avoid poor performance.
Fix #4: Close unnecessary apps.
The next step is to close all background programs to see if this resolves the crashing issue.
Some background programs may use more system resources, such as the CPU or memory, resulting in a considerable drop in system performance. As a result, problems like starting crashes, slowness, and not loading might occur.
Close any background programs in the Task Manager and test to see if that helps. To do so, start Task Manager by pressing Ctrl + Shift + Esc.
The goal is to close any apps that aren't being used while gaming to see if any of them are causing the game to crash. You may gradually eliminate the likely perpetrator by using the process of elimination.
Fix #5: Use lower graphics settings.
One method for resolving stuttering difficulties caused by faulty hardware is to modify the graphics settings of the game. Lower graphics settings may help enhance speed and minimize stuttering or lagging if you're playing Lost Ark on a PC that wasn't designed for gaming (or has less-than-ideal gaming components). This is an easy remedy to deal with performance issues when gaming.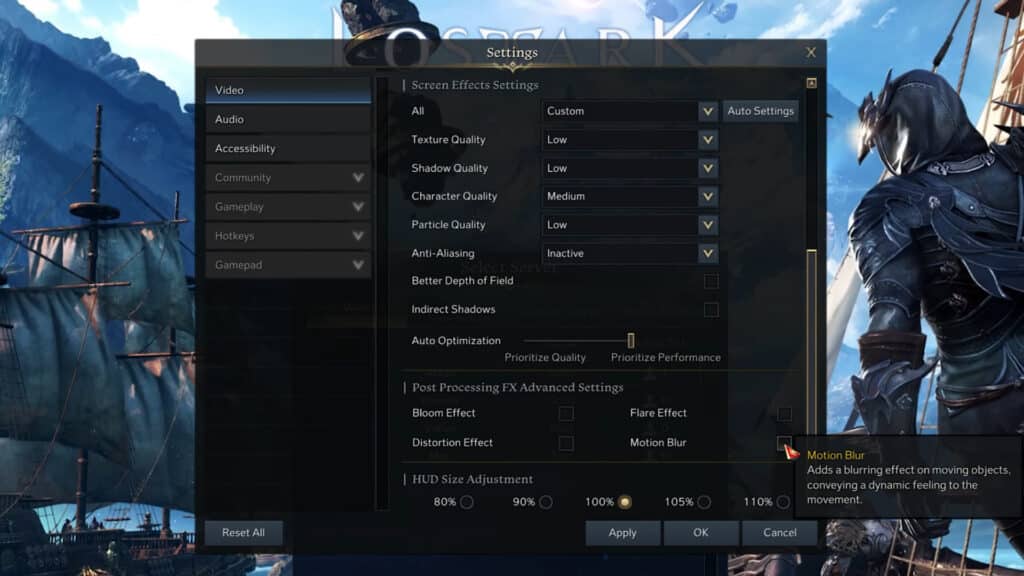 The specifics of what you need to adjust on your PC are determined by the kind of graphics card you're using.
For example, if you have the NVIDIA graphics card, you can go into the graphics settings of the NVIDIA Control Panel app and change certain graphics settings from there.
If you have the AMD card, you can use the AMD Radeon software to do a similar task.
You can also go into the game's graphics settings and change certain settings from there. For instance, you can clear the shader cache or use lower settings for things such as texture, shadows, character quality, particle quality, anti-aliasing, etc.
Once you've changed the settings, be sure to restart the game client and run Lost Ark again.
Fix #6: Run in Windowed or Fullscreen mode.
Switching display modes can sometimes fix performance issues in some games. Try to see if switching between Fullscreen or Windowed mode can make a difference.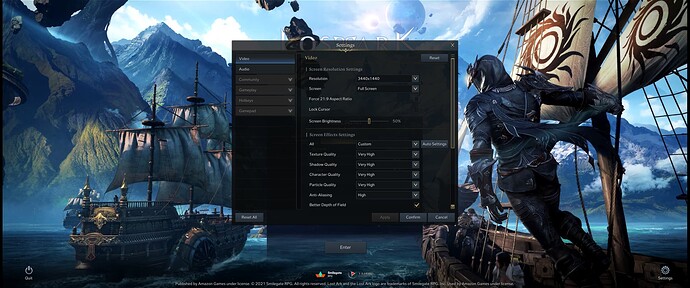 If you are currently using Fullscreen mode, try playing on Windowed mode and vice versa.
Fix #7: Select Auto settings.
Another possible solution that you can try in fixing game performance issues in Lost Ark is by using Auto-settings. You can do that by going to the Video settings of Lost Ark. Here's what you need to do: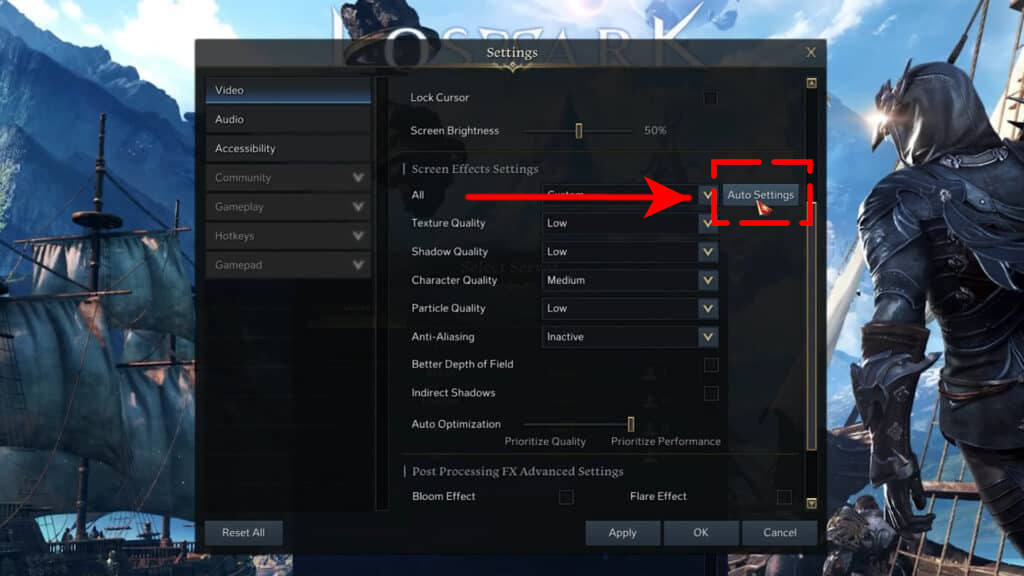 While playing Lost Ark, press the ESC button to go to the game menu.
Go to Settings and select Video.
Click on Auto Settings.
Without restarting the game, try to see if the steps above can help fix Lost Ark FPS drops issue.
Fix #8: Disable security software.
Your antivirus software may occasionally cause issues with specific programs and games. There's a risk that the default Windows Defender software or a third-party antivirus product is blocking continuing connections or game files from working correctly.
Some players have managed to eliminate FPS drops on Lost Ark by turning off their antivirus when playing.
If you did not install any third party antivirus, you may have to deal with the built-in Windows Defender.
Turn off Windows Defender real-time protection and see if it makes a difference. Then, restart the game to verify whether the Lost Ark crashing problem has been resolved.
If you don't have any third-party security software and are solely using the built-in Windows Defender, here's how to disable it: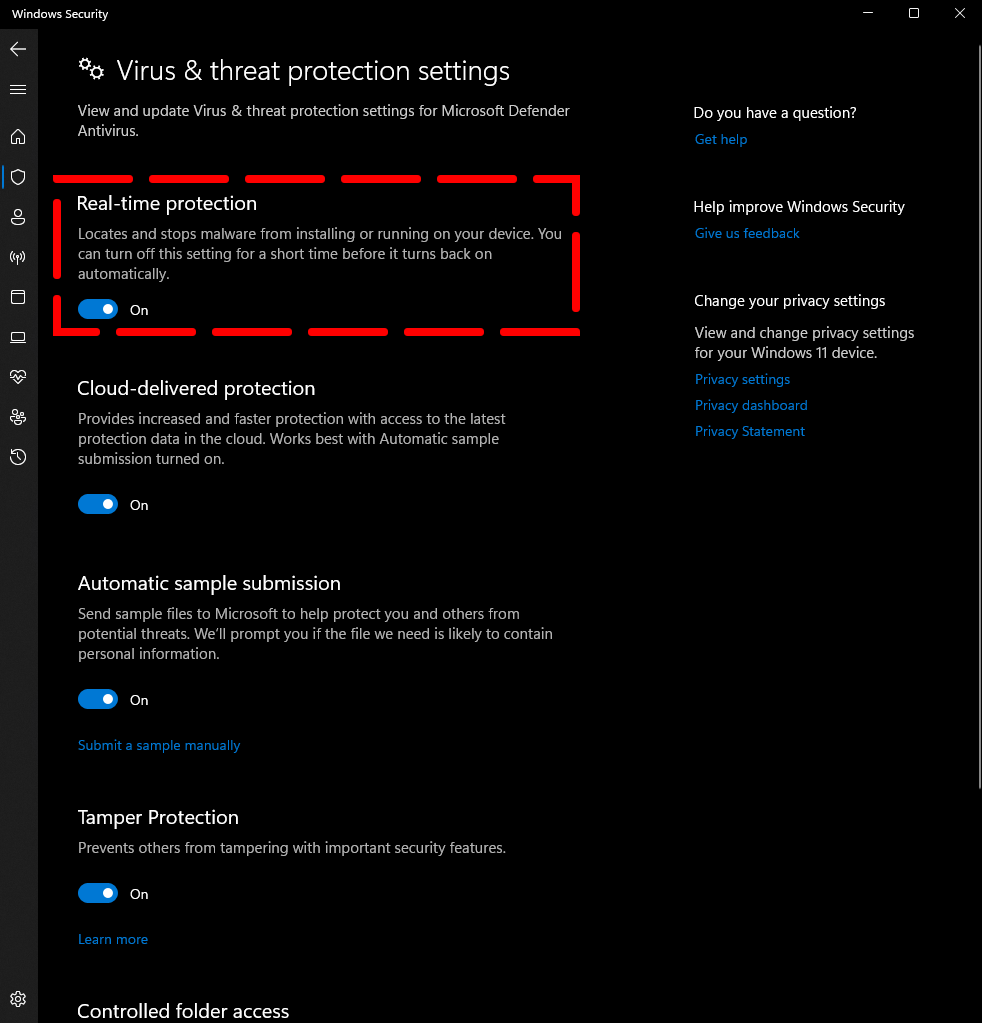 Press the Windows key + I buttons to access Windows Settings.
Go to Privacy & security on the left.
Click Windows Security.
Click on Virus & threat protection.
Click on Manage settings below Virus & Threat protection settings.
Toggle the switch for Real-time protection to OFF.
Check to see if the problem has been repaired after turning off Windows Defender. Keep in mind that this method will only work if you do not use a third-party antivirus. If you have a third-party antivirus application installed, Windows Defender will turn itself off to avoid conflict.
When you've completed troubleshooting, be sure to turn on Windows Defender to keep your computer safe.
Fix #9: Use High Performance in Power options.
Instead of playing Lost Ark on Balanced or Power Saver Mode, you can change the Power Options of your laptop or PC by using Performance Mode.
By selecting the High Performance option, the system will be able to fire up everything in terms of performance without the constraints of preserving battery power. This implies that the CPU, GPU, and other components will not be limited in any way. The increased performance can occasionally aid in the elimination of crashes, particularly on older or struggling systems.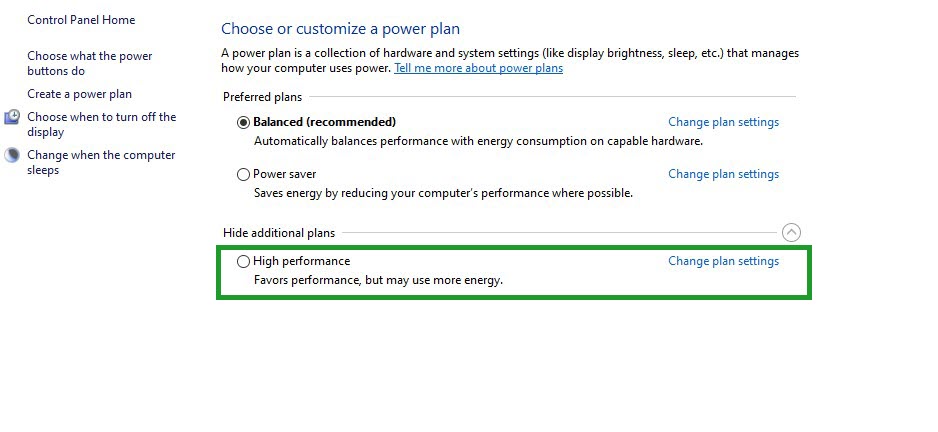 Here's how it's done:
Open Control Panel by clicking on the Start button and typing "control panel." Alternatively, you can pull up Windows Settings and look for Control Panel from there.
Select the Control Panel app in the search result.
Select Hardware and Sound
Click Power Options.
Click on High Performance to select it.
Shut down the PC completely and run Total War: Warhammer 3 again.
Fix #10: Play Lost Ark with Admin access.
It's possible that granting increased access to Steam and the game's executable file will resolve problems. This is because both apps may have previously lacked the required file access. In this instance, one possible troubleshooting method is to launch the game and provide administrator access to the launcher.
Follow these steps:
Find the Lost Ark installation folder and right-click on the game's executable file. (The precise path will vary depending on which drive the game was installed on and which launcher you're using.)
Select Properties.
Select the Compatibility tab from the Properties menu.
Check the box next to Run this application as an administrator, then click Apply to save your changes.
To launch the Steam client with greater admin access, follow the same instructions.
Run Lost Ark again after checking that both files have admin permissions to see whether it will now launch.
Fix #11: Avoid downloading when playing.
Background downloads can significantly affect the online performance of Lost Ark. Make sure that you're not downloading any game, app, or huge files when you're playing Lost Ark.
Fix #12: Install Windows updates.
You should also confirm that you have the most recent Windows version available before doing any deeper troubleshooting. To do so, go through the following steps: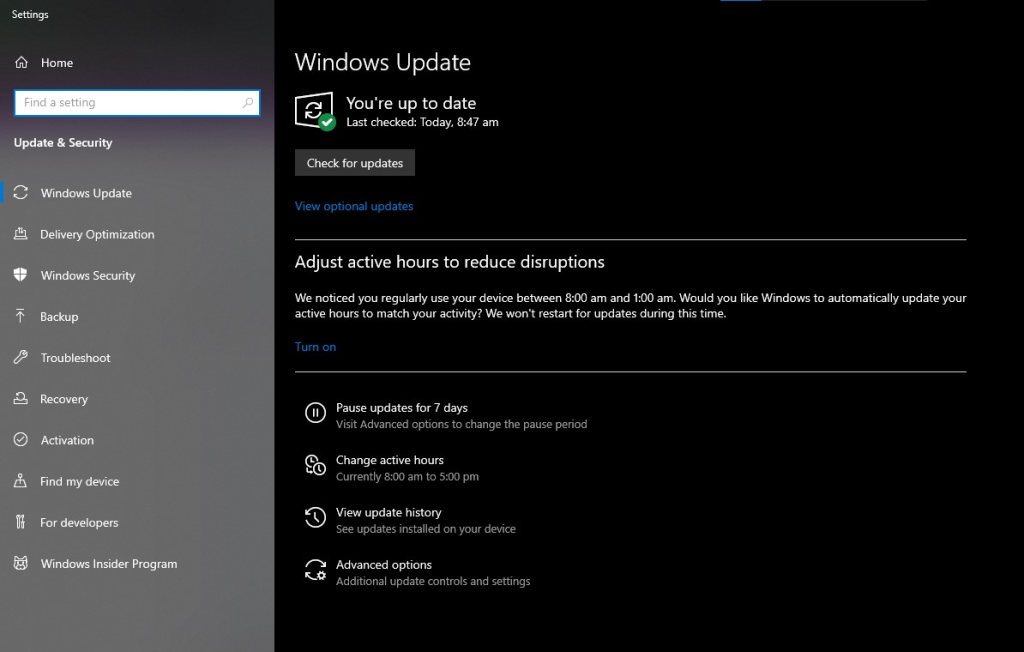 On your keyboard, press the Windows + I buttons to open up the Windows Settings menu.
Select Update & Security.
Go to Check for updates under the Windows Update section.
If there is a feature update available, select Download and install.
Wait for the installation of updates to finish then restart your PC.
Fix #13: Use a VPN.
This game won't run without an internet connection and if your home internet has a problem, or if it's limited by your ISP for some reason, it may lead to issues such as Lost Ark low FPS problem.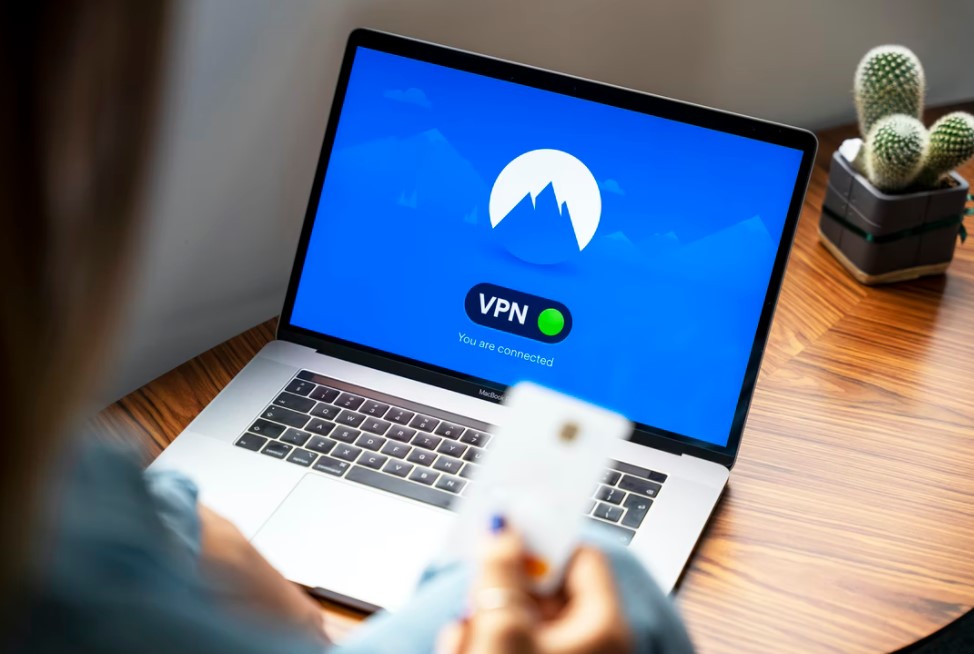 To bypass any limitations set by your ISP, you can try to play the game using a VPN to see if that will make a difference.
Fix #14: Repair the game files.
Steam games may crash for no apparent reason on occasion, and one of the most prevalent causes is a corrupted game file. This might happen as a consequence of a system-wide update or if a single game file or folder is removed or updated by mistake.
Even the finest games may be published with major code flaws. While Lost Ark appears to be stable, there's a chance that the game files were merely damaged, causing the frame drops issue.
Use Steam's Verify integrity of game files program to look for potentially corrupted files. This is how it works:
Launch Steam.
Go to your Game Library.
Right click on the Elden Ring game.
Click on Properties.
Go to the Local Files tab.
Click Verify integrity of game files.
Select Verify.
Fix #15: Do not overclock.
Some players have reported that turning off overclocking fix Lost Ark low FPS drops or FPS drops.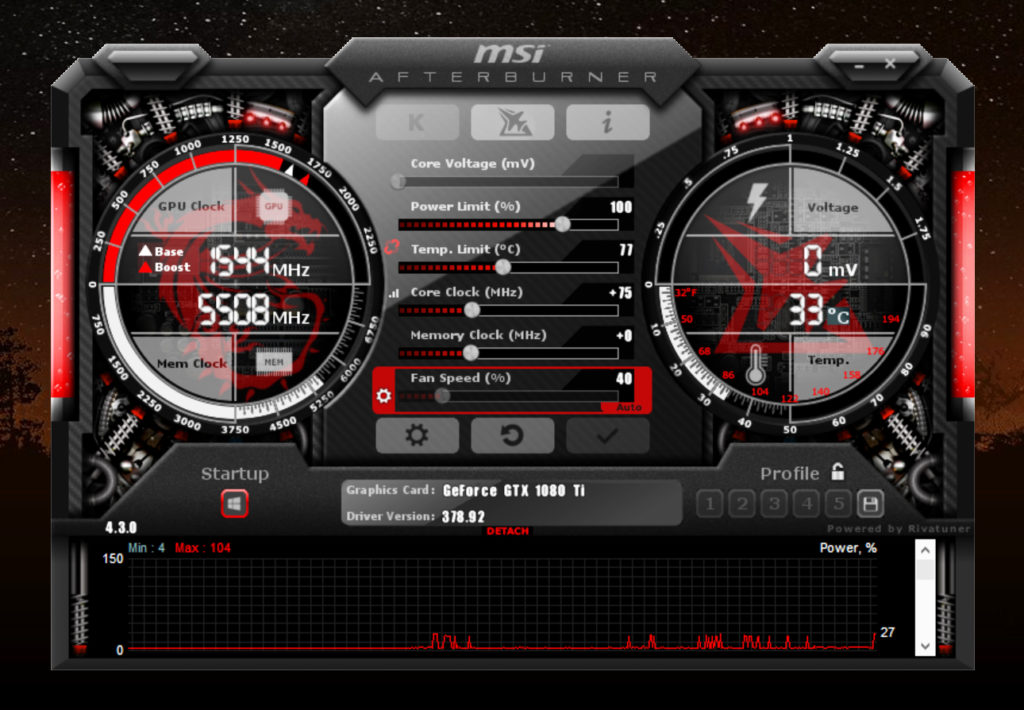 If the game still crashes after doing the solutions above, try to check if the issue is caused by your overclocking software or overclocked hardware.
Obviously, this strategy is only useful if you are overclocking your system. If you're not doing it, just ignore this one.
OTHER INTERESTING ARTICLES YOU MAY LIKE: