This post covers four common problems many of our Samsung Galaxy S5 users have encountered. As you may have noticed, we have changed the name of this troubleshooter series to focus solely on booting up, battery, and power problems on an S5.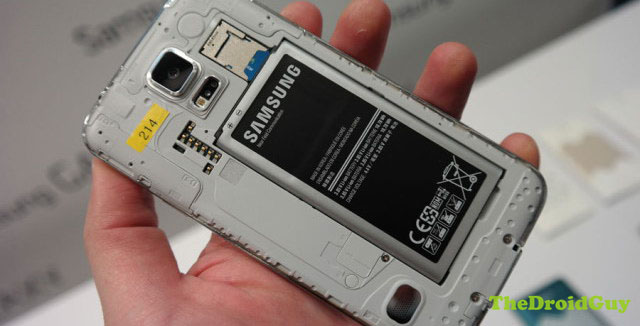 If you are one of the users who encounters a problem with your device, let us know. We offer solutions for Android-related problems for free so if you have an issue with your Android device, simply contact us by email at [email protected] and we will try to publish our answers in the next posts. We cannot guarantee a quick response so if your issue is time sensitive, please find another way to resolve your problem. 
When describing the problem, please be as detailed as possible so we can easily pinpoint a relevant solution. If you can, kindly include the exact error messages you are getting to give us an idea where to start.
TheDroidGuy has social network presence as well so you may want to interact with our community in our Facebook and Google+ pages.
——————–
Problem #1: How to fix a Samsung Galaxy S5 that is stuck in Android loading screen
I'm trying to help my son with his Galaxy S5. After pushing the power button it will start showing starting Galaxy S5 powered by Android, then it goes to the screen that says SAMSUNG, then proceeds to the Verizon screen but then it just stops there and will not go any further. I waited for a while and when I realized that it wasn't turning on completely then I found the only way to turn it off was to take the back off to remove the battery. Then I tried to start it up again and it did the same thing. Can you help with this issue? Thank you. — Peggy
Hi guys! I have been using my Galaxy S5 for a year and a few days now. It died a couple of days ago and won't turn on any more. A few days before it died on me, my phone is overheating, I did not do anything because I play games on my phone most of the time and use applications for messaging, etc. I came home and charged it but the 'charge light' is off and the screen is black, I didn't know if it was charging or not. I left it on 'charge' for 15minutes and turned it on. Samsung logo appeared and on top of the screen it says 'Set Warranty Bit : Kernel' and 'Recovery Booting…' and then nothing. Please help! I love my S5… Thanks. — Lyra
Hello, I am from India. I have Samsung Galaxy S5 SM-G900X live demo model. It was rooted and then installed KitKat 4.4.2 on it. It started giving random problems like auto restart in between, getting freeze at times. Yesterday when I got a message for upgrading software for Lollipop, I hit update and install. After installation cell is frozen at startup screen of Samsung logo and will not boot further. I did a hard reset again to bring it to normal but all in vain. Then i tried to download firmware from SamMobile but it's not downloading at all. Please suggest me a way to get out to fix this issue. Regards. — Vijay
Hello dear. I am Renato from Ecuador. I see you have a website in which you help community with different ways to solve problems with their mobile Samsung S5. Currently I have had an issue with my Samsung S5 I just purchased. Today I want turn it on but just appears the screen Samsung Galaxy S5 and then re-appears again and again. I didn't add any new app, so I don't really know what happened. I tried to solve following your steps from these posts:
The same Samsung logo appears and I still cannot get in to the recovery window. Help me telling me what else I can do. Waiting for your reply and regards. — Renato
Solution: Hi Guys. A Samsung Galaxy S5 not going past boot screen is one of the common problems affecting thousands of users since the phone was released in April 2014. Obviously, the issue can be frustrating for users as it renders the phone totally unusuable. Android-speak, the phone is considered soft-bricked due to a software error.
One of the common causes for soft-bricking an Android phone or an S5 in particular is when a user attempts install a wrong custom ROM or modifications to the current one. Picking an incorrect firmware for your particular S5 is critical. If anyone of you attempted to customize your S5's ROM, tried to gain root access, update with a customer ROM, prior to noticing the problem, any of them might very well be the reason why your device no longer loads properly.
Other reasons why an S5 gets stuck in the loading screen may vary depending on the state the phone was when a trigger occurred but the steps below are generally effective for most cases. Keep in mind that we want to stick to official troubleshooting steps only so if you think you have tried them already before asking support from us, we will advise you to bring the phone to service.
Boot up the phone in Recovery Mode and do clean-up operations. The very first thing you want to do is to erase the current system cache via the Recovery Mode. Here's how:
Turn the phone off completely.
Press and hold the following buttons at the same time: Power, Volume Up, and Home.
Wait for the blue Recovery Mode screen to appear before releasing the buttons.
Use the Volume buttons to navigate to options.
Go to wipe cache partition options and select it by pressing the Power key.
Wait for the device to finish erasing the cache.
Select Reboot system now option.
Perform a factory reset via Recovery Mode. Now, try to observe if the phone loads up properly after wiping the cache partition. If it doesn't, go back to recovery mode and select wipe data/factory reset option. This operation will restore the phone back to its original state so this means that your personal data, phone and app settings kept in the device's primary storage will all be deleted. Everything stored in the secondary storage (SD card) will be safe though.
Other solutions like installing an S5's firmware and Kernel via Odin may work in some separate occasions but we don't recommend them especially for those new to Android environment. And besides, some of these unofficial solutions are highly unreliable and causes more problems afterwards. The best solution would be to allow a professional handle the issue via a certified service center or by getting a replacement.
Problem #2: How to fix a Samsung Galaxy S5 that keeps on rebooting
Hi. My new Samsung Galaxy S5 yesterday started power cycling randomly and despite a factory reset it has not stopped. It's probably done it 30+ times in the last 24 hours. Sometimes it's when I'm on it (it will freeze suddenly also and that's a new issue too) and other times its just when it's sitting there. Any advice on what the problem could be? The phone hasn't been dropped or damaged in any way. Thanks, — April
Solution:  Hi April. Multiple reboots in a day in not normal for a powerful smartphone as your S5. There must be something that causes the phone to reboot. Now, rebooting itself is only an indicator of a deeper underlying problem, which can either be a firmware or hardware in nature. The best way to isolate which of these two is the cause is by performing a factory reset to restore the phone's functions and state before a user used it. However, factory reset will usually not work if you installed the same set of apps afterwards. One of the unstated goals of the factory reset is to remove possible third party apps from the system while trying to observe it for some time. This way a user will know if the problem is on the hardware or software. This is as simple as it goes.
If you think there's no software issue involved here, consider using another battery. A faulty battery with a problem holding a charge may be to blame here. If that's not the issue, then the issue should be deep in the phone's motherboard components. Please call the relevant party so you can have the phone checked or replaced immediately.
Problem #3: How to give more power to a Samsung Galaxy S5's battery
Dear Guys. I'm an owner of a Galaxy S5 and my problem i think is the battery life. I've bought it like 2 months ago and i was very happy with it. But now it goes like 1% per 2 minutes on the lowest point of brightness which is not normal because when i bought it went like 6-7minutes 1%. In fact it is my mom's S5 and it does not have a lot of applications but just the most needed ones. I hope you could help me. Thank you. — Klevi
Hello. I've been reading all of your articles on Drippler about Samsung Galaxy S5 battery life problems when combined with Lollipop. I am having similar issues but they don't seem to relate to my Wi-Fi shutting on and off on my phone. The Wi-Fi is working just fine but my battery life has gone down significantly. I cleared the system cache, I deleted any apps that I have downloaded any time in the recent weeks in case they have any malware in them. I put it on Safe Mode overnight and the battery barely stayed full all night like when the phone was new. Since I downloaded Lollipop 8 hours ago, it brings the battery down to 70% or so. I talked to Verizon Live Chat today and they said there have been a lot of complaints and there will likely be a patch released for this in the next few weeks. Any thoughts on the likelihood of this?  Could this also help those with the Wi-Fi connection issues and restore the smart connect abilities of their phones?  Thanks! — Ricky
Hello. My Samsung Galaxy S5 was doing great. Then for no discernible reason, it began losing battery life FAST! Literally, one day it was fine and the next day I started the day with 100% charge and had 20% battery by noon. I did not change the way I use my phone, I didn't add anything that would suddenly cause it to start draining the battery, etc.
I checked everything I knew to make sure nothing was draining the battery. I couldn't find anything out of the ordinary so I took the phone into a Verizon store (I lost 5% battery during the 5 minute drive to the store) and had them check it. Again, nothing out of the ordinary. They told me I need to turn my phone off everyday for several hours to keep it working properly. First, I've NEVER had to do this with a phone before. Second, we have a child who is currently deployed so there is no WAY I'm turning my phone off! Also, if I use the phone while it's charging, it drains the battery. Now, I know using the phone while it's charging will slow down the charging process. But reverse it?? And I really don't have a choice but to use it while it's charging because the battery goes dead after just a few hours.
I LOVED my phone up until this started happening. Now, it's basically useless to me and I'm seriously considering going back to the iPhone. — Jannaya
Solution:  Hi Klevi, Ricky, and Jannaya. Your questions are no surprise to us. Powerful and smart your S5 may be, it's most apparent weakness is still the battery. To be fair, this is true for every smartphone nowadays so this is quite understandable for us. It's different for most users though. We know that 4 hours of normal usage time is never acceptable, especially if you were able to previously use the phone in a relatively longer time span than a few hours.
We are also aware that Android Lollipop has not lived up to expectation. While it was advertised to extend a smartphone's usage time from its shift from Dalvik to ART (Android Run Time), the reality is really the opposite.
Fortunately, this doesn't mean that users are totally powerless to do anything significant. We come up with a short list of things that you can do on how to improve your S5's battery usage.
Keep charging. Lithium-ion batteries like the one in your smartphone is best optimized if a user recharges it as often as possible. What we mean by that is it's better to keep charging it if you have the opportunity than wait for it to use everything up then do another full charge. The catch is never to drain the battery fully as well not to charge it to its maximum. If you notice that the battery has reached barely above 50%, recharge it until about 90% then use it again. While not always possible if you are busy, doing this charging technique will not only give you more usage time but it can also lengthen the life span of the battery itself. It's not advisable for a Lithium-ion battery to go from full to empty often as this will shorten its lifespan in a hurry.
Avoid heat. Leaving your phone inside a hot car or near a heat source is not only unhealthy for the phone in general but can drastically alter the chemistry inside the battery itself. If a battery is exposed to above tolerable heat levels often, it can quicken its degradation. This is manifested by quicker battery drain and the battery unable to hold power during charging times. Another indicator that a battery may be dying is the telltale sign of bulges or deformations.
Minimize using wireless chargers. Wireless charging may potentially become a convenience for the near future but with the current crop of batteries, it's not yet an ideal way to power up your battery. The main disadvantage of wireless charging right now is the excessive heat it can generate during operation, which is unhealthy for your Lithium-ion battery. We know that is fully supported by Samsung in their new S6 and S6 Edge, we still don't recommend it for users for the sole stated reason above.
For a more detailed tutorial on how to give more juice to your battery, please visit our special post for this topic.
Problem #4: Multiple issues including fast battery drain after updating Samsung Galaxy S5 to Lollipop
Hi there. I've updated my S5 to Lollipop about 3 weeks ago and since then i have the following problems: 
nearly all apps show a time delay when opening and closing; once they are up they seem to work normally. Especially when closing apps with the home key to get back to the home screen many times I only get a black screen and after a minute or so I get the notification that Go Launcher is not responding. At other times the apps on the home screen only gradually appear – one after the other and the phone does not respond during that time.
many times the phone doesn't seem to respond at all and I press several other buttons. Then after 30 sec all actions seem to happen all at once.
the phone is getting very hot even if I don't use it.
the battery drains without 4 hours. I'm currently on holidays ant taking photos during the day is not possible any more.
backup via Samsung Kies constantly fails.
Any thoughts on how to fix these? Best wishes. — Marcus
Hi. Thanks for any help you can provide. I have a T-Mobile Galaxy S5 on Android 4.4.2. It's 6 months old. I just returned from a work trip and noticed that my battery is suddenly draining in half a day. When I looked at the battery it said that the "T-Mobile My Account" was taking 25% of the battery and the Android OS was taking about 25%. I went onto a forum where it was suggested I disable the T-Mobile My Account app, which was a part of an update and I did. Now the battery shows that Android OS is taking up 82% of my battery.  My phone is draining in 1/2 a day.  I have also noticed that I keep getting a pop up when I'm typing a text or anything to tell me that I'm connected to my home Wi-Fi.  I have "Always allow scanning" unchecked, but I notice that it continually scans. I reset it by removing the battery, but that has not helped. Please help.  Thanks! — Tbruns
Hello guys. Have you heard of these issues with the S5 after Lollipop update?  Do you have any fixes?
After update:
Battery life dropped to ~4 hours. (I did have about 8)
My default home screen does not stay Touchwiz. It prompts almost every time I hit home button.
Phone gets hot quick and lags.
Off brand chargers will only charge to 70%, then I am promoted to switch to OEM charger.
No root, No ROMs, No skins (other than Touchwiz and Kid Mode). Thanks. — Eric
Solution: Hi Marcus, Tbruns, and Eric. There's no official explanation from Google or hardware makers like Samsung when issues like these happen after an update but one of the most likely explanation may be the change of using ART instead of Dalvik. Without going into details, these two are runtimes or schemes in how the opening of apps are executed. Basically, ART demands more storage space during the update so if the phone's primary memory is not enough at this time, that can create a few problems.
Lollipop also needs to change apps and settings during the process, which may not always go according to plan. The sheer number of variables in every smartphone due to many different apps and settings on the phone makes it almost impossible to have a smooth sailing transition from KitKat to Lollipop. It is safe to say that every smartphone may technically have unique issues after a Lollipop update although they may appear generally the same as the rest of other users suffering issues. These problems are often manifested by indicators in this list:
Forced Closes
High RAM usage
Boot loops
Shut-downs
App's continually running
High battery usage
Over heating
Storage being eaten up
Screen lags
High RAM usage
Screen freezes
Some problems are caused by third party apps themselves. Despite the fact that there was enough time given by Google to developers to make their apps compatible before the final Lollipop version was released, this was never heeded. We understand that individual developers have their own problems to sort but the fault does not always come from Google's side. Even after several months since Lollipop was rolled out, many apps in Google Play Store are still not optimized to work with the new Android OS.
Because you have multiple issues after installing a major update, kindly clear the cache partition (steps provided above) and perform a factory reset if it doesn't do anything. If you have unused apps in your phone, consider removing them. Not only will they use up precious storage in your phone but may also be the cause for your specific issue.
Michael, as regards your issue about Samsung Kies not working, can you give us more details about it in your next post so we can help you properly? We will be updating this post with your answer.
Connect with us
We are among the very few people who offer free Android support online and we are serious about it. If you happen to have an issue you want to share, kindly ensure to provide details of the problem as well as a short background or the things you were doing prior to noticing it. Feel free to contact us regarding your concerns, questions and problems. If you are getting error messages on the screen, or have observed unusual phone behaviors,  kindly include them in your email. The more information you can provide, the easier for us to assist you.You may reach us at [email protected] or post on our Facebook and Google+ pages.