We've been getting a lot of #GalaxyS7 issues lately so in this article, we give you 9 different topics. For those who are yet to see their issues published in our blog, don't forget to keep checking in the coming days to see if we'll be able to publish your issue.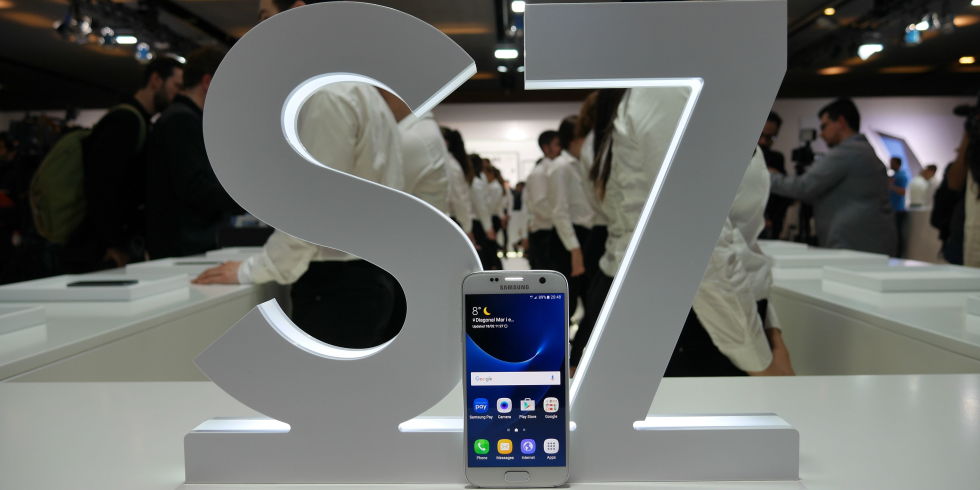 For now, here are the topics that we cover here:
If you are looking for solutions to your own #Android issue, you can contact us by using the link provided at the bottom of this page, or you can install our free app from Google Play Store.
When describing your issue, please be as detailed as possible so we can easily pinpoint a relevant solution. If you can, kindly include the exact error messages you are getting to give us an idea where to start. If you have already tried some troubleshooting steps before emailing us, make sure to mention them so we can skip them in our answers.
---
Problem #1: Galaxy S7 keeps showing "Enhancing…" error
The Enhancing pop up popped up on my phone, I activated it and went through with it and a notification was sent to me with a specific code. The enhance feature is activated on my Galaxy S7 and one of my capacitive buttons does not work, my quick launch doesn't too and notifications don't show anymore. I'd really like to receive some help with disabling the enhanced feature ASAP, without having to do a factory reset . If there is no other way, if I back my phone up right now and then wipe the phone, restore the data, would I not have the problem Still? Please get back to me . Thank you. — Sibusiso
Solution: Hello Sibusiso. We are not 100% sure if by "Enhancing popup" you mean the persistent message notification about Profile Sharing. If you do, this post may help.
If that's not it and since there are a lot of things that are not working on your device, there must be something wrong with the firmware. If this so, we can configure the device by Factory Resetting the phone.  In order to Factory Reset your device, follow the steps below:
Create a backup of your important files and contacts.
Turn off your phone.
Press and hold the Volume Up, Home and Power keys together.
When the device powers on and displays 'Power on logo', release all keys and the Android icon will appear on the screen.
Wait until the Android Recovery Screen appears after about 30 seconds.
Using the Volume Down key, highlight the option, 'wipe data/factory reset' and press the Power key to select it.
Press the Volume Down button again until the option 'Yes — delete all user data' is highlighted and then press the Power key to select it.
After the reset is complete, highlight 'Reboot system now' and hit the Power key to restart the phone.
Problem #2: How to delete an icon from Galaxy S7 home screen
Hello. My cell has somehow acquired an app icon on its home screen. This is the app that takes you to other pages on the phone. The square with the dots in it. All of a sudden I have that extra one on my home screen and I am unable to remove it. What can I do to eliminate that? I have recently downloaded cool keyboards from Go Keyboard, Redraw and Kika. All from my Play Store. I don't know why this extra app icon is on my screen but I definitely want it off of there. Thank you. — Denise
Solution: Hello there Denise! Having always been connected with the internet allows some of your applications to automatically update. Somehow, it will lead installing another or similar application on your phone. It will either show you the same icon twice. In order to get rid of that application or any other applications on your phone, you can just follow some of these simple steps.
Select the app that you would like to get rid of by tapping and holding it.
Drag the app that you would like to delete on the trash can image that will appear on the upper left/middle corner of the screen.
If that method will not work, you can go to settings, from there go to apps, and then select the app that you would like to delete. After selecting the desired app that you would like to get rid of, there will be a prompt that will show about the information of the app. You will be given two options to get rid of the application — FORCE STOP or UNINSTALL. Choose UNINSTALL and the app will be deleted from your phone.
If you do not wish to remove an app entirely from your phone at all, simply the do the first two steps above on how to delete an icon from the home screen.
Problem #3: Galaxy S7 broken screen issue
Hello. few weeks back i dropped my Samsung S7. Everything was fine except for one straight hairline fracture across the display, about a 3rd of the way up the screen. hardly noticeable in terms of damage. Yesterday after barely hitting a carpet, bottom 8th of the screen became black and non- responsive. Perfect line that separates it is sort-of purplish green. No cracked glass in that area. Can both digitizer and LCD die off in just 8th of the screen? I have done the resets on the phone, nothing has changed. No warranty on it so I'll be fixing it myself if possible and cheap! Any advice or suggestions would be awesome. Thank you for your time and this website!! — Anton
Solution: Hi Anton! It seems that the LCD do have a problem already even though the screen is not really cracked on the outside. We've seen total  failure of screen assembly even without visible cracks before so there's always a chance that this is also the case in your device. In this case, there is not much we can do for you, but you can have your phone check in a repair center so they can do an extensive hardware testing. Our blog does not provide hardware troubleshooting and solutions so if you want to replace the screen assembly (or one of the major components of the screen assembly), we suggest that you look for them from other sites.
Problem #4: Galaxy S7 not receiving group messages from some contacts
Hi! I have the Samsung Galaxy S7 and I've had it for about a month and since then i've had issues with my group messages. I'll only receive messages from some contacts in the group but not all of them. And these are contacts that I can text with individually without issues. And it only happens with certain phone numbers. Other group messages are fine. I wanted to know if there is anything I can do to try to fix it on my phone. I've tried using multiple different texting apps and it does the same thing on every app that I've tried. — Emily
Solution: Hello Emily. Did you switch from iPhone to Samsung Galaxy S7? Or is it that you cannot receive messages from people who are using iPhones? This is really a common problem to those who switch from iPhone to Android. iMessage works by routing iPhone to iPhone messages through Apple's servers rather than sending them as text messages. iMessage can keep doing this even though you are no longer using an iPhone. Do not worry  though as there is a way to resolve Android not receiving group messages issue. If you still have your old iPhone or you can borrow from someone, you can:
Take out your SIM card from your Galaxy S7 and insert it to the iPhone.
On the iPhone, go to Settings.
Scroll down and select on Messages.
On the top part of the page, iMessage will appear, turn this option off.
Take out the SIM card from the iPhone and re-insert it into your Galaxy S7.
Now check if you can already receive messages from your other friends especially those who are using iPhones by sending a message to them in your group conversation.
The above steps only applies if you are in a GSM network. If you are in a CDMA network, there may be a slightly different means of deactivating iMessage. Visit Apple's support site and follow their instructions on what steps to do.
If, on the other hand, you had been an Android user all along and you've never had used an iPhone or iMessage on this number, the problem may not be on your side at all. Other factors such as network issue on your friends' carrier, type of messaging app your friends are using, or type of hardware or software, can sometimes lead to messaging problems as well. Try to gather as many information about the contacts you're having trouble with to see if there's something that you can do. For example, if the messages you're missing are from iPhone users, they are most likely being hindered by iMessage or their carrier so make sure to tell that you're having issue receiving their response in group messages. If that's the case, there's really nothing much that you can do.
As a workaround, you may want to convince the group to just use a more friendly messaging platform that everyone can install and that works across several platforms. Some of the messaging apps that can work in both Android and iOS environments include Facebook Messenger and Google Hangouts.
Problem #5: Galaxy S7 cannot send group MMS to some contacts
I can send and receive group MMS messages; however, I cannot read certain MMS responses from a couple of my friends. I can see through my GoSMS app that they have sent a MMS text, but the comment bubble is empty on my end. I'm told that I may have a security app that be contradicting their particular phone messages. Please help.( (I use Go Sweep app to clean my junk files but that's it). — Cliff
Solution: Hello Cliff. When you cannot receive any MMs on your phone, there may be an issue with the firmware. Below are simple first steps that you can try to enable you to receive MMS on your Galaxy S7 properly:
Completely turn off your device and then turn back your device on.
Next, is to make sure that you have a connection.
Go to Settings, then go to Data Usage. Make sure that your mobile data is checked and that there is no data limit that is blocking you.
After which, go to Settings > More Networks > Mobile Networks > Access point names and select your Carrier
If you have already have a data connection but were not able to receive any MMS, you can also make sure that there's no issue with the system cache. To refresh the cache partition, please do these steps:
Turn off the device.
Press and hold the Volume Up key and the Home key, then press and hold the Power key.
When the device logo screen displays, release only the Power key
When the Android logo displays, release all keys ('Installing system update' will show for about 30 – 60 seconds before showing the Android system recovery menu options).
Press the Volume down key several times key to highlight 'wipe cache partition.'
Press the Power key to select.
Press the Volume down key to highlight 'yes' an press the Power key to select.
When the wipe cache partition is complete, 'Reboot system now' is highlighted.
Press the Power key to restart the device.
Once you've wiped the cache partition, try to see if the issue is gone by sending and receiving group MMS again.
There is another method that you can do to fix an MMS issue — wiping the cache and data of the messaging app. Since you are using GoSMS, the problem may be isolated to the app only so doing this procedure may be of help. To wipe the cache and data of an app:
Open the Settings menu either through your notification shade (drop-down) or through the Settings app in your app drawer.
Navigate down to "Apps". This may be renamed to something like Applications or Application Manager in OEM skinned versions of Android 6.0.
Once in there, click on an application.
You'll now see a list of stuff that gives you information about the app, including Storage, Permissions, Memory Use, and more. These are all clickable items. You'll want to click on Storage.
You should now clearly see the Clear Data and Clear Cache buttons for the application.
Problem #6: Verizon Galaxy S7 on O2 network unable to send SMS
My S7 is a Verizon issue (unlocked) from US that I've brought to UK, and with my O2 SIM loaded, everything works fine, except when I send SMS texts the phone adds the phone prefix 0011 (as if sending from US), so the number is unrecognized & texts won't go thru. So I can receive but not send texts. All other functions are fine. i need to stop the phone prefixing SMS messages with the international code prefix! Please help! — Dan
Solution: Hello Dan. Most of the Verizon Galaxy S7 models nowadays are unlocked, which means that they can be used globally and are already compatible with other SIM that you would like to use. The thing is, the operating system, which is from Verizon, may think that you are outside the United States so it automatically adds the prefix to allow you send SMS abroad. The best thing that you can do right now is ask assistance from your current carrier. There are a few things that they should verify on your phone so it's better if they can walk you through it.
An important first factor of course is to make sure that the phone is using the correct Message Center number. If this number is not properly configured, your device won't be able to send a text message. Again, make sure that you let them know you're having this problem so they can give you first hand support.
Problem #7: Galaxy S7 "unfortunately gallery has stopped" error
Anytime I try to access my gallery, it says "unfortunately gallery has stopped". I clear the data and cache under the apps, then I can access it. But once I try to access different albums, it gives me that same message. If I clear the data and just open it, I can access the photos… But if I do anything else, like try to open albums or share the photo or access my gallery through another app, it will give me that message. I've already restarted it in safe mode and wiped the partitioned cache, or whatever it is… And same problems! Is there anything else I can do to make it work?? — Kim
Solution: Hello Kim. Looks like you have software glitch here. Try wiping the cache partition first to see if that will do anything. If the issue persist, don't hesitate to wipe the phone clean via factory reset. Refer to the steps above.
Problem #8: Galaxy S7 getting delayed SMS
Just yesterday I started noticing my friend's messages where coming, but they were delayed I was receiving them hours after they were being sent. It got worse now I can longer get messages from anyone I tried with my mom's phone which is the same one with the same carrier her's worked fine but mine didn't. I have already deleted messages and turned off my phone for at least 3 hours. I also noticed my bleacher report notifications were also delayed (I was getting scores to games 5 hours after it had already been completed) youtube notifications most of my app seemed to be delayed. — Ronny
Solution: Hi Ronny.  It would help to go to you Settings > Application Manager > Messages and then click "Force stop" and "Clear Cache."  Also, if you are using the default messaging app, try downloading a third party app to see if there's any difference.  A variety of third party messaging applications are available in Google Play store.
You can also try sending an SMS to your own number to see if there will still be a delay.  If what you are currently using is a third party app, then you would need to uninstall it and try using the default messaging to see if it fixes it.
I understand that you tried using your mom's phone, but it was not specified if you used your SIM card on her phone.  You may want to try that too, since sometimes, a SIM card issue would cause a delay in getting text messages. If this is the case,  then you would need to notify your carrier.
Regarding delayed notifications, using power saving mode often would cause this.  Try turning off your battery optimization setting.
Problem #9: "Unfortunately IMS Service has stopped" error Galaxy S7 Active
Hello. I've been searching your site for my issue. I just got the Samsung S7 Active yesterday. I did the upgrade late last night. I have been having the "unfortunately IMS Service has stopped" message popping up every 30 seconds. It doesn't matter if I'm on my phone or if it's sitting. It has been popping up non stop since the update. I saw a section on here where a person had said it was popping up only when they were in text message. I tried doing all that was suggested but to no avail. The only thing I can think of is taking it back in to the ATT store. But it's such a hassle especially since I've already personalized it. — Damaris
Solution :  Hi Damaris.  We covered this issue about a week ago so please check this post.
---
Engage with us
If you are one of the users who encounters a problem with your device, let us know. We offer solutions for Android-related problems for free so if you have an issue with your Android device, simply fill in the short questionnaire in this link and we will try to publish our answers in the next posts. We cannot guarantee a quick response so if your issue is time sensitive, please find another way to resolve your problem. 
If you find this post helpful, please help us by spreading the word to your friends. TheDroidGuy has social network presence as well so you may want to interact with our community in our Facebook and Google+ pages.