Welcome to another post that answers some of the questions shared by our readers regarding SMS and MMS on their #Samsung #GalaxyS6 and #GalaxyS6Edge devices. As demonstrated below, text- and MMS-related problems come in many guises and some of them may or may not within our reach to fix.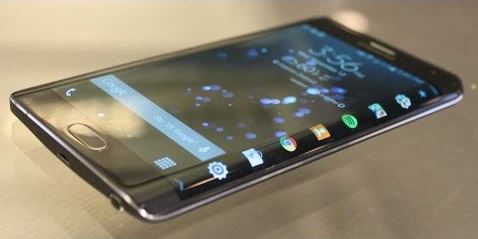 Below are the topics discussed in this article:
If you have your own #Android problem that you want to share with us, please use the link provided at the bottom of the page.
---
Problem #1: Galaxy S6 and iPhone text message issue
Well I got this phone back in April but it was with Verizon. Everything worked fine but I was spending a lot of money so I switched to T-Mobile in June. Everything was working well until I noticed that one person I was messaging couldn't receive my calls or texts anymore. She couldn't send me any texts or call me. If she did it would go straight to voicemail. We can communicate over other apps but I'd rather not do that. I've checked everything and she isn't blocked. I reset my phone and everything. Problem persist. I called T-Mobile and they couldn't solve the issue. She has Verizon and has an iPhone. I don't know what else to try. Any suggestions? — Korey
Solution: Hi Korey. iOS devices including iPhones uses a closed messaging system, iMessage, designed for sending and receiving between Apple devices only. This system does not use the regular SMS system found in most phones. If you were using an iOS device before, your friend may actually be sending you text messages but they are being kept in your iMessage account. Make sure to turn off iMessage. Apple's support site has laid out your options for you on how to do this.
If you will continue to experience the same problem after deactivating iMessage, make sure that all other Apple accounts you have are deregistered as well. iMessage works across all types of Apple devices including Macbooks, iPads, etc, so you want all you're Apple accounts removed from these devices too.
While the steps to deactivate iMessage appears easy, there are reports from some users that they were still unable to receive text messages after doing so. If that happens, please call Apple to let them disable your number from their system permanently.
Problem #2: Predictive text on Galaxy S6 not working
My predictive text of Samsung keyboard has stopped working suddenly last night. i reiterately tried every best possible way out of my knowledge to get the pleasure of smooth typing by my personalized data but i was disheartened by my vague attempts. Please help me out. — Gurpreet
Solution: Hi Gurpreet. Make sure that predictive text is ON. You can check the status of this option by going under Settings> Language and Input>Samsung Keyboard>Predictive text.
If predictive text is already on but appears to be not working still, delete the cache and data of your Samsung keyboard app  by following these steps:
Go to Settings.
Proceed to Applications.
Select Manage Applications or Applications Manager.
Tap the All tab.
Look for the Samsung Keyboard app and press Clear Cache and Clear data buttons.
Problem #3: Deleted Message Plus messages on Galaxy S6 keeps coming back
I am getting text back randomly that I have deleted.  Not the whole conversation, but just one  part of the conversation. I have cleared the cache on the Message Plus app which is the one I've been using.  I was using the Samsung text messaging app but apparently if the conversation window is open, you don't get a notification of a new text.  Which is another issue altogether, so now I'm using the Message plus app for texting.  Any help would be appreciated. — Denise
Solution: Hi Denise. An issue like this is caused by sync bug on your network. We've encountered one or two issues similar to this one before but couldn't find the previous post. Try checking Messages Plus' sync settings (if available) using a web browser by going to this site.
SMS and MMS that were sent and received for the last 90 days can be restored by Verizon Messages app. This sync system may not be working properly on your device, or there may be an on-going network problem that may caused it to restore your deleted messages. For firsthand support and information, we recommend that you work with Verizon.
For your secondary issue, try to check if "show notification" box (highlighted in red) is checked under Application Manager. If it's not, that may the reason why you don't receive notifications when the device receives text messages. Below is an example.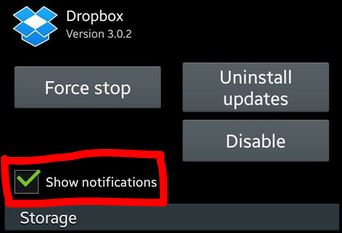 Problem #4: Galaxy S6 unable to send MMS, keeps saying it's cancelled
Hi. Got an upgrade on 3/715 to Galaxy S6 32GB. Since then I try to send an mms to anyone it comes up cancelled. So it does not send. I have contacted my network have did all the steps from APN settings to network checks and proxys. this has been done about 8 times but still does not send. I have my SIM  card changed and also I have received a new handset in case it was faulty.
My sim card works in other phones. it has been checked in Vodafone UK store and it works in iPhone 6 and HTC with no problems. My data connection is working fine when connecting to Internet, games etc but the data fails to connect when I try to send mms. Hangouts does not work either. But WhatsApp, Facebook message works fine. Your help would be appreciated. — Steven
Solution: Hi Steven. Did you ask your carrier if there's a file size limit when sending an MMS? This is the only reason that we can think of why your device consistently fails to send MMS. Vodafone and some other carriers impose limits on mms size so make sure you are within their allowed figure.
Problem #5: Factory unlocked Verizon Galaxy S6 Edge won't send or receive MMS
I purchased a Verizon branded Samsung Galaxy S6 Edge.  I was told that the phone was Factory Unlocked and should work with all carriers.
My service provider is T-Mobile. All the functions of the phone work fine. The issue I am having is "Not being able to send or receive MMS (Multimedia messages)".
I called T-Mobile Customer Service. The rep was very polite and tried to help. He spent almost one hour going through and checking the settings  on my phone but to no avail. Finally he suggested that I try doing a factory reset. I am afraid to do that because I do not want to lose apps and data on my phone.
I am still  am not able to able to  receive or send MMS messages.
Can you suggest a solution to fix this issue. Have others faced this problem?
 am still. — Muhammad
Solution: Hi Muhammad. Verizon phones are notorious for being difficult to configure when it comes to MMS. Although the phone may have been SIM unlocked, the Verizon firmware running on the device prevents a user from adding a new APN (for T-Mobile service) to allow MMS to work normally. Without the right APN settings, any device will be unable to send and receive MMS.
If you are amenable to voiding the phone's warranty by rooting, please do so. Rooting will give you more options including the one to add a new APN.
Problem #6: Text+ app on Galaxy S6 does not work properly
Hi, my name is Randy and I have a problem with the Galaxy S6 that I am really sick of. Usually once a day, doesn't matter too much what time of the day it is, my text messages don't go through. They just say "sending" but don't send for a while. Eventually I have to reopen the app and then suddenly my text messages get sent. Is there any way to fix this so I don't have to wait a long time just so my text messages will go through?
I'm using the Text+ app as my main texting app, if that helps. — Randy
Solution: Hi Randy. Does this problem happen when using any other messaging app like the stock Messages? If yes, consider deleting the system cache. Here's how:
Turn the device off.
Press and hold the Power, Volume Up and Home buttons simultaneously.
When the phone vibrates, release the Power button but continue to press and hold the Volume Up and Home buttons.
Now, when Android recovery screen appears, highlight the wipe cache partition option using Volume Down button.
To confirm the selection, press the Power button.
Wait for a while until wiping the cache partition is finished.
Now, "Reboot System now" will appear on the screen. To highlight the option use the Volume Up/Down key.
Press the Power button to confirm it, and your device will automatically reboot.
If the issues only occurs on the Text+ app, make sure you delete its cache and data (steps provided above).
Problem #7: Galaxy S6 does not show number of unread SMS on Messages icon
Hello. I came across your Android forum and was hoping you can help solve my Samsung Galaxy s6 Edge text messaging issue.
I can receive and send them ok, and also receive notification when my phone is locked, but I no longer can see that I have an outstanding text to be read by looking at the app. For example, if I hadn't read a text the app doesn't have a little number alerting me that I have unread messages. Does that make sense?
I had been trying different messaging apps and probably messed up a setting during downloading or inadvertently clicked something. Any help would be most appreciated or of you need further clarification please let me know. Thank you! — Gillian
Solution: Hi Gillian. Make sure that BadgeProvider under Applications Manager is not disabled. This is the app responsible for displaying a number on top of the Messages icon if you have unread text messages. Here's how:
Go to Settings.
Proceed to Applications.
Select Manage Applications or Applications Manager.
Tap the All tab.
Look for the BadgeProvider app and press Enable button.
Problem #8: Galaxy S6 with poor reception unable to send text message
If I have very low reception and try to send a text, often the phone will say message not sent. I will try and send it again until it works. Usually if I try to resend it once, the recipient gets the message 8 or 10 times. If I try more times to resend before successful, the more copies of the message the recipient receives.  — Paul
Solution: Hi Paul. This phenomenon is often observed if you are located in an area with poor cellular coverage. What happens is that your initial request to send a message via your carrier's network may take some time to get acted upon by the system. Once you try to send the same request, the second and the following ones will be queued  to your network's computer and will eventually be sent one after another.
Because you are in a poorly covered area, the request may be cached for a few seconds in your messaging app before it will be sent successfully to your network. To prevent this from happening, simply give the system time to process, receive, and send the text message. By default, the stock Android messages app will attempt to re-send the same message for a number of times before eventually stopping. If your first attempt is not successful, just leave it so for a minute before sending it again.
---
Engage with us
If you are one of the users who encounters a problem with your device, let us know. We offer solutions for Android-related problems for free so if you have an issue with your Android device, simply fill in the short questionnaire in this link and we will try to publish our answers in the next posts. We cannot guarantee a quick response so if your issue is time sensitive, please find another way to resolve your problem. 
When describing your issue, please be as detailed as possible so we can easily pinpoint a relevant solution. If you can, kindly include the exact error messages you are getting to give us an idea where to start. If you have already tried some troubleshooting steps before emailing us, make sure to mention them so we can skip them in our answers.
If you find this post helpful, please help us by spreading the word to your friends. TheDroidGuy has social network presence as well so you may want to interact with our community in our Facebook and Google+ pages.