The #GalaxyNote4 is no longer the top-of-the-line smart device of its type today but it remains in use by millions of users. It's therefore expected that a lot of issues can happen.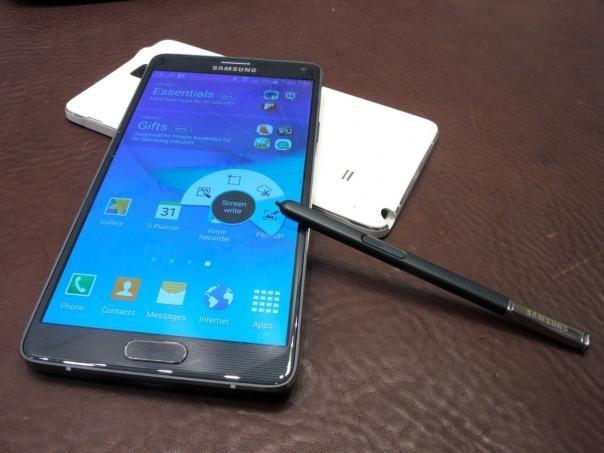 In this post, we give you another five issues reported by some members of our community in the last few days:
If you are looking for solutions to your own #Android issue, you can contact us by using the link provided at the bottom of this page, or you can install our free app from Google Play Store.
When describing your issue, please be as detailed as possible so we can easily pinpoint a relevant solution. If you can, kindly include the exact error messages you are getting to give us an idea where to start. If you have already tried some troubleshooting steps before emailing us, make sure to mention them so we can skip them in our answers.
---
Problem #1: Galaxy Note 4 stuck and won't boot normally
Actually my antivirus was showing one virus of King root file though it was not being deleted. I tried a lot so I installed clean master and cm security. Through those I cleared 1.3GB junk files and all. Now it's showing flash messages of "unfortunately contacts has stopped." When I OK it again, a second message "unfortunately media storage has stopped" pops up and on OK it, a 3rd message flashed "unfortunately touch wiz has stopped."
I can't reach home screen I just pull shutter from top and goes to settings and if in shutter options the Whatsapp or Facebook any kind of notification I click on it and Whatsapp works Facebook works. But if there is a missed call, it doesn't open call app or log or anything. I could dial and while using Whatsapp and Facebook and settings the message of flash errors keep on coming. I do OK then work Whatsapp a while and all. Can't open home screen or anything.
I have reset my phone thrice in the last 1-2 days. phone works then again suddenly it restarts. and again can't reach home screen. any app won't work, nothing. Please help me and my model no. is SM-N910W8. I don't know whether it's AT MOBILE OR T-MOBILE. I am in India and I think it's Canadian phone. Please help and yes my soft keys and home button are not working. but if you say I could reset again my phone and download app of back button for soft keys and you can guide me to solve my solution using those keys. Thank you. — Vikas
Solution: Hi Vikas. If you're saying the hardware buttons of your phone are not working right now, then that leaves you with nothing much to do. You have to find a way to have the phone checked for hardware issues before you can even try any other troubleshooting. Most of the troubleshooting that we provide in this blog are software in nature, which means that they can only be done if the phone still boots normally. If you are stuck somewhere, which prevented you from reaching the Homescreen, then your best chance for a resolution is to call Samsung so they can repair your device. Frankly, there's no way for us to know what the real problem is, much less on how to fix your issue since we have to identify the true problem first. Letting Samsung check your device should help. If repair via Samsung is not possible, then simply find a way to have the phone replaced.
Problem #2: Galaxy Note 4 keeps booting to Recovery mode
Hello, thanks for taking the time to read this. I would like to apologize for my bad English. I have a Samsung Galaxy S4 Note, Model # SM-N910W8. My mother gave me this phone after she got herself a Samsung Galaxy S7.
So what happened was when I was doing a factory restart, after the restart, my Samsung phone was booting in recovery mode. I can see the recovery booting on the top left corner of phone. After that, it pop up a green logo saying Installing System Update. It is stuck on that loading screen. The logo is flashing on and off. I cannot get into the recovery mode or bypass this problem. I tried doing VOL UP + HOME + POWER. and VOL DOWN + HOME + POWER. Nothing happens, it keeps trying to boot me to recovery mode, but it does not. Stuck on green logo with installing system update flashing on and off like it is doing something.
I cannot download Odin because I have a Mac PC. I am not sure how to use Odin and or get Firmware.
I can send you a video thru my email and show you the problem. I know it is not battery problem because I have bought a new battery. — Jelly
Solution: Hi Jelly. The only effective solution to your problem is by manually installing a stock firmware. Yes, you need to use Odin for that so it's unfortunate that you find this option difficult. Odin was primarily designed to work with Windows machines but Mac users can now use it on their machines too. The thing is, using Odin in Macs is still a bit complicated compared to using a Windows PC. If you think you can't manually flash a stock firmware, you must find a way to let someone do it for you.
Keep in mind that manual installation of firmware is inherently risky and may not guarantee a fix. Consider getting a replacement phone this option is out of the question for you.
Problem #3: Galaxy Note 4 becomes laggy after Marshmallow update
Sir, I bought my new Samsung Galaxy Note 4 on 18 July 2016. I know it's an old model but I saw its features were amazing at this price. Sir, when I got it the first day I was very much impressed by the phone's performance, everything was awesome. No battery extra drain, no lags. But then I upgraded my Note 4 to Marshmallow. Then it started hanging a lot, it gets stuck a lot. Well it's a new phone but still, RAM is only 1GB left after Marshmallow upgrade and I have used only 200MB of it so now 800MB is left. The factory phone out of the box had 2.5GB of RAM free which was amazing but then I upgraded the OS, it hangs up a lot. games gets lag a lot, everything is getting worse.
I did factory reset also. What I am thinking is that I should downgrade my phone on Samsung service centre but when I asked them to downgrade they told me that there is a risk to downgrade. There is no guarantee that It will start after downgrade and if it does not get started than they will change the motherboard of the phone which will cost 150 to 200 dollars, which is too much.
I regret daily that I upgraded the phone. before the upgrade it was outstanding. please someone help me. I am regretting a lot. The phone just get heated easily. Battery usage is ok. The only problem I want to solve is the extreme laggyness in phone and its hanging problem. Please someone help me. Please.
Thank you. — Aaryan
Solution: Hi Aaryan. Firstly, we want to emphasize the common misconception of many Android users that the lesser the remaining RAM left, the slower the phone becomes. The fact is, in Android, unused RAM is wasted RAM. Unlike Windows, the Android operating system is designed to use as much RAM as possible. The way Android handles RAM usage is very different than what most users are accustomed to when using a Windows computer.
In simple terms, RAM is a temporary storage designed to hold data. It is different though from the "permanent" storage solid-state memory that keeps other data like your pictures, videos, apps, etc. RAM keeps data that your phone's processor usually needs to load apps and services faster. Android uses RAM more like Mac OS and Ubuntu in design, which likes to consume as much RAM as possible in order to do tasks faster. As you can see, loading apps from Android solid-state storage device takes longer time than when they are loaded from RAM. Android wants to maximize RAM as possible. The remaining 800MB of RAM in your device is more than enough and is an indication that your phone is not maximizing its RAM. The more you use your device, the better it becomes in managing RAM. If you think that lower RAM MB figure is the reason for the lag, think again. Your concern regarding RAM as the potential cause for your lag issue is simply unfounded.
Now that we've given you a simplistic view on RAM usage, let's take a look at other potential causes for your lag issue. That your problem happens after installing Marshmallow is not a coincidence. You're not the first one to report problems regarding Marshmallow update. The thing is, the real reason may not be the new Marshmallow OS itself, but rather third party apps you have installed. Keep in mind that updating your OS does not mean you update apps too. And this is where the problem usually lies as apps designed to work with the previous OS does not necessarily mean they will work in the same fashion when a new OS comes along. The point is, once you've updated the operating system, you must also make sure that your installed apps are updated to work with it as well. This is a fact that many Android users fail to understand. Since a factory reset did not change anything, the most likely reason for the continuous lag problem is incompatibility or app-related. To check, do another round of factory reset and observe the phone for 24 hours without installing anything. If the phone works fine with Marshmallow without your apps, then that's a clear indicator that one of them is causing the trouble.
If the phone remains laggy after a factory reset and without the apps though, contact your carrier and tell them about it. The modified Android OS from them may be poorly coded so they should release a patch to fix it.
Problem #4: Selecting Automatic option under Input Mode in Galaxy Note 4 SMS settings
I don't think I have a Galaxy "NOTE" but they were you're only choices. I have Tracfone device. I CANNOT, for the life of me, find the menu for text messaging. I keep getting an error that some of my text will not be sent without being corrupted. It says to go to automatic mode. I cannot find automatic mode. There are no small dots at the main messaging screen on the "compose" icon. Under the main menu for emojis, text, etc. used by holding down the microphone key for a couple seconds, there is ALSO nothing under the system icon for changing to automatic mode. Can you tell me where I change to automatic mode? I am confused and frustrated. Thanks very much! — Mbrown
Solution: Hi Mbrown. Assuming that you are using the stock Samsung messaging app, SMS settings in both in Lollipop and Marshmallow versions can be accessed on the main page, where you can see your SMS threads. On the top right part of that page, look for "More" option and tap it. Once you've hit More, go to Settings>More settings>Text messages>Input mode. Under Input mode, make sure that "Automatic" is selected.
Problem #5: Galaxy Note 4 has multiple issues like freezing, crashing apps, black screen, random reboot
Hello. Over the past few days my Note 4 has been giving me lots of different problems. These include: freezing and crashing apps, the screen turning black randomly and taking a while to come back on, instantly restarting (rather than powering down first), getting stuck on the 'Galaxy Note 4' loading screen and then switching off again, or taking a long time to turn on. on a few occasions going to an 'android update' screen which tells me in the top left corner that it failed to boot.
I have tried several solutions including: a factory reset – didn't work. A soft reset – didn't work. Removing the (pretty full) SD card – didn't work. I have also ordered a new battery, and so when this arrives I will see if this fixes the issue.
Also, I was wondering if getting the new Marshmallow update would solve these issues? Though the phone has not offered me this update yet. — Caitlin
Solution: Hi Caitlin. Letting current issues remain before jumping to another OS may not be a good idea at this time. Considering many post-Marshmallow update issues, we say you work on the resolution of the current crop of issues first before you install a new Android version. That factory reset did not fix the issue is a curios case, as that means either the reason is hardware in nature or third party apps.
We say you try to boot your phone in safe mode first and observe how the phone behaves for a full day. Booting the Galaxy Note 4 in safe mode will temporarily disable all third-party or download apps leaving pre-installed ones and core services running. If the issues won't happen while safe mode is enabled, you can bet one of your apps is problematic. This procedure won't tell you which of your apps is the problem though so you must still need to isolate the true cause further. To boot in safe mode, follow these steps:
Turn off the phone completely.
Press and hold the Power key and the Volume Down key.
When the phone starts to boot, release the Power key but continue holding the Volume Down key until the phone finished restarting.
Safe mode will be display at the lower left corner; you may release the Volume Down key now.
Alternatively, you can do another round of factory reset and observe the phone again for 24 hours (without re-installing your apps). If nothing changes, consider having the phone checked for possible hardware errors.
---
Engage with us
If you are one of the users who encounters a problem with your device, let us know. We offer solutions for Android-related problems for free so if you have an issue with your Android device, simply fill in the short questionnaire in this link and we will try to publish our answers in the next posts. We cannot guarantee a quick response so if your issue is time sensitive, please find another way to resolve your problem. 
If you find this post helpful, please help us by spreading the word to your friends. TheDroidGuy has social network presence as well so you may want to interact with our community in our Facebook and Google+ pages.