There are a number of factors that can cause your Vampire Survivors game to freeze. It could be due to a game bug, corrupted game files, or driver issues. To fix this you will need to perform several troubleshooting steps.
Vampire Survivors is a time survival game where your aim is to survive as long as possible. This early access game has rogue lite elements that just throws various enemies at you. You don't even have to fire your weapons as this is done automatically. All you need to do is to avoid the incoming horde of night creatures. The longer you survive the more weapons will become available to you and the more upgrades will be accessible.
How to stop Vampire Survivors from freezing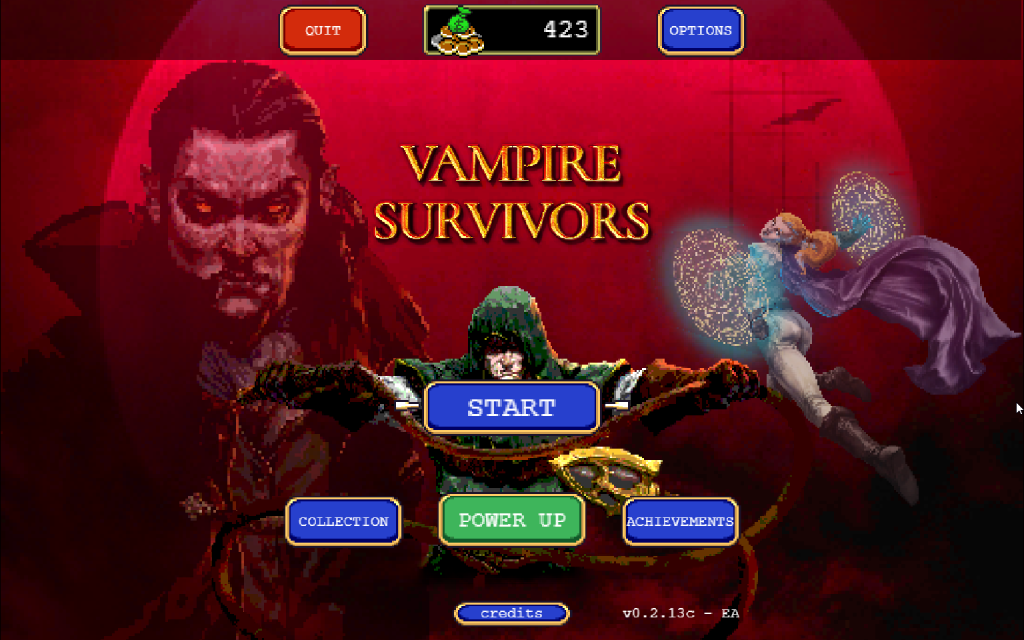 One of the issues that you might encounter when playing this Gothic horror casual game is when it freezes. This can happen randomly or in scenes where there are a lot of enemies. This can be an annoying issue as your character may die due to the constant freezing.
Here's what you need to do to fix this problem.
Solution 1: Update your graphics drivers
One of the factors that can cause games to freeze is an outdated graphics card driver. You need to make sure that the latest drivers are installed as this will have several performance enhancements as well as bug fixes.
Time needed: 3 minutes.
Update video card driver
Right click on the Start button.

This can be found at the bottom left part of the screen.

Click on Device Manager.

This will open the device manager window.

Click the arrow before Display adapters.

This displays all the graphics adapters in your computer.

Right click on the selected graphics card then choose Update driver.

This will get the updated drivers of the selected graphics card.

Select Search automatically for drivers.

This will search online for any new drivers.
You can also update the drivers using the Nvidia GeForce Experience app if you have an Nvidia card or the Radeon Software if you are using a Radeon card.
After the update process has completed restart your computer then check if the freezing issue on Vampire Survivors still occurs.
Solution 2: Run the game as an administrator
It's possible that Vampire Survivors can't access certain Windows components which is why it will freeze. you should try running the game as an administrator as this will give it access to the Windows components it needs to run.
Run game as administrator
Right click on the VampireSurvivors.exe application which can be found in your Steam installation folder.
Select Properties.
Click on the Compatibility tab.
Place a check mark on the Run this program as an administrator box.
Click on Apply then Ok.
Try running Vampire Survivors then check if it still freezes.
Solution 3: Repair Vampire Survivors
When your game keeps on freezing it's very likely that the problem is caused by corrupted or missing game files. You need to make sure that all of the files required by the game are present by verifying its integrity using the Steam client.
Verify integrity of the game Vampire Survivors
Open the Steam client.
Click on Library.
Find Vampire Survivors then right click it then click on Properties.
On the new window that appears click on Local Files.
Click Verify integrity of game files…
If any game files are missing or corrupted they will be replaced with new ones from the server.
Solution 4: Reinstall Vampire Survivors
In case the issue still persists at this point then it's time to uninstall the game and install a fresh version.
Uninstall Vampire Survivors
Open the Steam Client.
Go to the Library tab.
Right click on Vampire Survivors then click on Manage then uninstall.
Click on Uninstall again to uninstall the game.
Install Vampire Survivors
Open the Steam Client.
Go to the Library tab.
Right click on Vampire Survivors then click on install.
Click next to proceed with the installation.
Frequently Asked Questions:
Here are some tips for most of you who are just starting to play the game.
What weapons are best to start the game?
The knife, whip, and axe are good starting weapons. You should make sure to fully upgrade the stats of these weapons as early as possible.
You also need to get Empty Tome, Clock Lancet, Spellbinder, and Laurel as this will help getting rid of monsters.
You should max out the stats for garlic and freeze to help with crowd control.
How to last longer in the game?
Most if not all players will only reach the 30 minute mark as this is the time when the Reaper will appear. The game developer has announced previously that players are not intended to kill the Reaper however lasting longer than the 30 minute mark to set personal records is what most gamers want.
The best way to do this is to play the Inlaid Library map where you can try to get the Reaper to get stuck behind objects.
You also need to break light sources as this will drop Orologions, which freeze enemies in time for 10 seconds.
Feel free to visit our YouTube channel for additional troubleshooting guides on various devices.