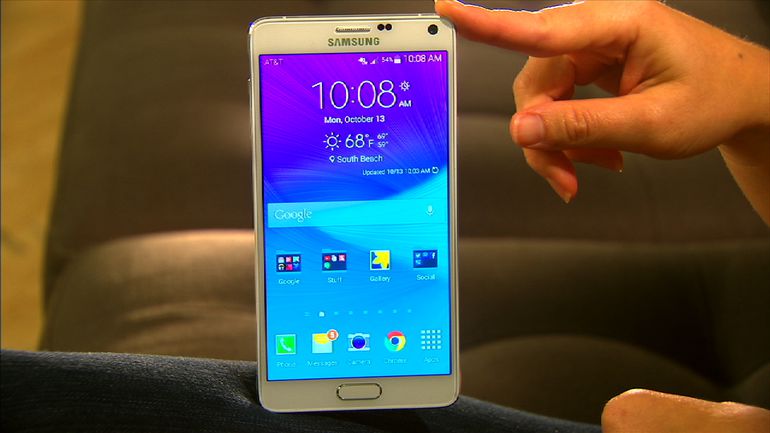 If you've been wondering what causes a Note 4 random reboot issue, this material may help. This issue can potentially happen to all smartphones so the solution we outline for this specific topic can also be applied to all Android devices.
On top of the #GalaxyNote4 random reboot issue, we also cover other problems shared by other readers. Here's the complete list:
If you are looking for solutions to your own #Android issue, you can contact us by using the link provided at the bottom of this page, or you can install our free app from Google Play Store.
When describing your issue, please be as detailed as possible so we can easily pinpoint a relevant solution. If you can, kindly include the exact error messages you are getting to give us an idea where to start. If you have already tried some troubleshooting steps before emailing us, make sure to mention them so we can skip them in our answers.
---
Problem #1: Galaxy Note 4 stuck in boot loop
Hi there. Read a few of your help pages online and found them really useful! Not sure how much you know about this kind of stuff but I have a serious bootloop problem with my phone.
On Christmas Eve my phone just turned off randomly and refused to turn back on… I'm on a contract with Vodafone and they sent it off for repairs and when they sent it back I re-wiped it and then it started doing this bootloop thing.
It does it all the time… At least 4 times a day. I have wiped it twice, started it on safe mode, deleted apps, updated everything, cleared that cache partition like you suggested and it still does it 🙁
I'm paying £35 a month for this stupid phone and Vodafone won't help me – don't want to buy a new phone unless I absolutely have to.
I don't suppose you have any suggestions?? Or is it just well and truly buggered?
I'm quite desperate haha I just want a phone that doesn't cut out randomly. Thanks!! 🙂 — Amy
Solution: Hi Amy. Having done all the basic software troubleshooting yourself, we don't think the problem here is on the software side. If the problem happens right after a factory reset (and without apps installed yet), that's a clear indication of an on-going issue with hardware.  To check further, try recalibrating the battery by doing the following steps:
Use the phone by playing games or doing tasks to hasten power discharge, until the phone turns itself off.
Turn the phone on again and let it turn itself off.
Charge the phone without turning it back on.
Wait until the battery says it fully charged to 100%
Unplug the charger and turn the phone on.
If the phone says it's not 100% anymore, turn it off, plug the charger back in and wait until 100% charge is reached.
Unplug the charger the turn the phone on again.
Use the phone until you drain the battery down to 0.
Repeat the cycle once.
Battery recalibration, if done correctly, can help retrain the operating system in detecting the true level of remain battery power. Sometimes, random reboot issue is caused by Android not getting accurate readings of battery levels so you want to ensure that it doesn't happen on your device.
If the problem is not resolved by battery calibration, consider getting a new battery to see if the current one is problematic. If a new battery won't help at all, you have no other choice but to send the phone in for repair again, or better still, have it replaced.
Problem #2: Galaxy Note 4 totally unresponsive and won't turn on
My Samsung Galaxy Note 4 has not been working for the last week and 1/2. The problem was I tried to upload my daughter's dance practice to her Facebook. it was being very slow to upload video and the battery was at 27% at the time so I attached the charger and left it running and charging at the same time. I went and make dinner, forgotten about it, until I was ready for bed and wanted to check to make sure the alarm clock is set. That's when I noticed the phone was turned off.
I took off the charger and turn on the phone; it didn't do anything. I repeated the process several times but nothing works. I took off the battery, waited, and reinserted, nothing happened. I took it to two other service repair places to have it looked at and fixed but they couldn't do anything because the phone did not turn on. and I just replaced a brand new battery less than a year ago too. So my questions to you are: is it a software issue on my note 4? Should I replace the battery and see if it is a battery issue? Is this a common problem with Samsung Note 4 when the phone is old, or are there other problems that I don't know about? Greatly Appreciate a professional advise. —  Adora
Solution: Hi Adora. Let's answer your questions one by one.
Is it a software issue on my Note 4? There's no way to know for sure. An issue like this can be caused just as easily by a software glitch as a hardware problem. Based on our experience with similar cases though, the most likely cause is hardware. The thing is, there's no direct way to test what hardware component may not be working properly. In your case, the only thing that you can do at this point is to see if the phone will respond to hardware button combinations to boot it to different modes. If the device is totally unresponsive, you can assume that bad hardware is to blame. For reference, below are the steps on how to boot your Note 4 to alternate modes:
Boot in Recovery mode:
Charge the phone for at least 30 minutes.
Press and then hold the Home and Volume UP keys, then press and hold the Power key.
When the Samsung Galaxy S7 shows on the screen, release the Power key but continue holding the Home and Volume Up keys.
When the Android logo shows, you may release both keys and leave the phone be for about 30 to 60 seconds.
Using the Volume Down key, navigate through the options and highlight 'wipe cache partition.'
You can either wipe the cache partition or do a factory reset when in this mode.
Charge the phone for at least 30 minutes.
Press and then hold the Home and Volume DOWN keys, then press and hold the Power key.
When the Samsung Galaxy S7 shows on the screen, release the Power key but continue holding the Home and Volume DOWN keys.
Wait until the Download screen appears.
If you can boot the phone in download mode but not in other modes, that means that your only way out may be to flash a stock or custom firmware.
Use Google to look for a guide on how to do it.
Boot in safe mode:
Charge the phone for at least 30 minutes.
Press and hold the Power button.
Once the 'Samsung Galaxy S7' logo appears, release the Power key and immediately press and hold the Volume Down button.
Continue holding the button until the phone finishes rebooting.
Once you see the text "Safe mode" at the bottom left corner of the screen, release the Volume Down button.
The only difference of safe mode from normal mode is that the former prevents third party apps from running. If you can boot the phone in safe mode but not in normal mode, uninstall all apps until the issue (that prevents you from booting normally) is eliminated.
Should I replace the battery and see if it is a battery issue? Getting a new battery is a must do in this case but if you think that the battery is okay because it's relatively new, you can skip this step. But just like what we said above, battery problem is a real possibility in this case so if you want to invest in another battery, you can do so. If you notice that the current battery has obvious signs of damage like bulging on the sides, go ahead and replace it. The best way to test if a Lithium-ion battery is defective is to spin it on its side over a flat surface like a glass table. If it does spin on its side, that means that the side is flat and there's no bulging. If you can't spin it on its side, that indicates that side is bulging and the battery may be damaged.
Is this a common problem with Samsung Note 4 when the phone is old, or are there other problems that I don't know about? If your phone won't respond to different hardware button combinations and a new battery won't make a difference, there may be motherboard problem that has to be addressed. The thing is, a bad component in a motherboard can mean motherboard replacement, which, for us, is not worth performing at all. Motherboard replacement may or may not work so you will end up risking hundreds of dollars for a non-guaranteed repair.
If possible, consider having the phone replaced instead.
Problem #3: Galaxy Note 4 keeps lagging, overheating | Galaxy Note 4 battery drain issue
My phone is becoming impossible to use. It was "laggy" about 6 months ago so I replaced the battery with a new one and the phone was like new. Unfortunately, over the past couple of weeks, the problem is back but with more symptoms than before. It's very slow to respond to my touch (ex: I will touch SMS messenger app with the white/yellow envelope icon, and it will not load the messages for at least 30 seconds). It often shuts off randomly (ex: sometimes when I open an app … any app really… if it takes a very long time to load, the phone will just reboot and sometimes even gets stuck in a reboot cycle that I end up having to do a soft reset to bring it back to life).
The screen gets very hot sometimes and it isn't necessarily only while charging – this hot battery/screen is usually followed by the phone turning off again.
i will get a call (I can hear the ringtone and feel the vibration notifying me of the call) but the screen doesn't come up for me to slide the green circle and answer. This is causing lots of trouble as I depend on phone conversations for my work. I'm a Realtor. I have missed numerous calls because of this and I have tried speaking the word "answer" because I have that feature enabled, but this doesn't work either. It's like the phone is frozen until the call has finally gone to voicemail. Then the screen will display the missed call.
Sometimes the "OK Google" listening assistant will come on randomly without me speaking or touching the phone. No reason for it to activate. Has a mind of its own!
All camera applications (Camera, Facebook, Instagram and especially Snapchat) are very slow, drain the battery, and almost always cause the phone to die or restart.
If you have an idea as to what's causing all of this, I would love to hear your suggestions on how to fix it. I would prefer not to do a master reset if at all avoidable. There is a Gmail account that was associated with a work email and has been discontinued from my old place of business but still gives me access to contacts and old emails that I need. I will never be able to log into this account again so resetting the phone will delete any old info stored.
Please help! I'm trying to hold out and wait to upgrade to a new phone until this fall, whenever they release the newest version or new successor to the failed Note 7. My patience is wearing thin. Thanks in advance for whatever insight you can provide. — Stephanie
Solution: Hi Stephanie. All the symptoms you mention (slow performance, overheating, battery drain, and apps popping up on their own) in your issue description can be signs of a hardware problem. To confirm that, you must do software troubleshooting steps such as wiping the cache partition and factory reset. If you want to avoid factory reset, you can try to boot the phone to safe mode as well to see if a third party app is causing the problem. But again, factory or master reset is a necessary step if you want to rule out software glitch as a possible cause. We know that this is a drastic troubleshooting step but you need to do it if you want to get to the bottom of the issue.
Below are the steps on how to  do these mentioned software troubleshooting.
How to wipe the cache partition on a Note 4
Turn off the Galaxy Note 4 completely.
Press and hold the Volume Up and the Home keys together, then press and hold the Power key.
When the Note 4 vibrates, release both the Home and Power keys but continue holding the Volume Up key.
When the Android System Recovery shows on the screen, release the Vol Up key.
Using the Volume Down key, highlight the option 'wipe cache partition' and press the Power key to select it.
When the wiping of the cache partition is finished, highlight 'Reboot system now' and hit the power key.
How to boot a Note 4 to safe mode
Turn off the phone completely.
Press and hold the Power key and the Volume Down key.
When the phone starts to boot, release the Power key but continue holding the Vol Down key until the phone finished restarting.
Safe mode will be display at the lower left corner; you may release the Volume Down key now.
How to factory/master reset a Note 4
Turn off the Galaxy Note 4 completely.
Press and hold the Volume Up and the Home keys together, then press and hold the Power key.
When the Note 4 vibrates, release both the Home and Power keys but continue holding the Volume Up key.
When the Android System Recovery shows on the screen, release the Vol Up key.
Using the Volume Down key, highlight 'wipe data / factory reset' and press the Power key to select it.
Now highlight 'Yes — delete all user data' using the Vol Down key and press the Power key to begin the reset.
When the master reset is complete, highlight 'Reboot system now' and hit the Power key.
The Note 4 will restart but it will be longer than usual. When it reaches the Home screen, then begin your setup.
Remember to create a back up of your files before you do a factory reset. If possible, try using Smart Switch for this task.
Problem #4: Galaxy Note 4 restarting on its own when battery level is low
Hi. I have a Samsung Galaxy Note 4, and am having battery issues. My phone keeps randomly restarting and it gets really frustrating because it will be fully charged, then drop down to around 70 or 80% or even less in a few minutes.
Also, after only using my phone on for a few minutes, my phone will suddenly restart and continuously restart until I take out the battery. I have attempted to use different batteries, and the problem is still the same. I have also tried to preserve the battery and have tried using my phone briefly after unplugging it from the charger, and then immediately putting it on airplane mode in order to save the battery until later in the day when I need to use it. However, this did not work either, and when I turn off airplane mode and attempt to use it, it turns off suddenly after drastically decreasing it's battery percentage in only a few minutes of use.
I have also tried turning off the battery instead of putting it on airplane mode, but the issue still exists. I have tried taking out the battery several times whenever my phone starts restarting nonstop (because it will continue to do so until I charge it or take out the battery), but the battery shows up to be a very low percentage, and then proceeds to turn off and restart all over again.
Sometimes, when I charge it once it goes into a cycle of restarting. it will show a gray charging symbol, and then will show that the battery is charging and will automatically fill up all the way to 60% or less. This is very frustrating for me for I do not know what is wrong with my phone, and have even attempted clearing the cache partition several times. I do not understand as to why the battery drains drastically from 100 to 70% in a few minutes, and then restarts repeatedly.
Occasionally nowadays, it will turn off after decreasing to around 90%, and even after i take out the battery or charge it, it will not turn on and keep restarting, or will turn off again. And I also don't want to try factory resetting my phone, as to not being sure if it will work, and I have a lot of pictures and contacts, etc that I do not wish to lose, because I have heard that sometimes factory resets do not work, and I am scared to take that risk. I really hope that you and your team can find a solution as to what exactly is wrong with my phone, for I am getting very frustrated over not being able to use my phone for a couple of minutes. —  Pixienayeon2002
Solution: Hi Pixienayeon2002. Try to recalibrate the battery by doing the suggested steps for Amy above. If that won't work, you must do a master reset to eliminate possible software glitch. Make sure to observe how the phone works after a factory reset by letting it run for a day or 2 without installing any apps. With a clean software environment after a factory reset, this will help you tell if the problem is due to software issue or not. If nothing changes, you can assume hardware is to blame. Consider having the phone repaired or replaced.
Problem #5: Galaxy Note 4 always restarting on its own, won't boot normally
Hi! My Note 4 – N910G got a problem. At first the phone gets extremely hot every time I use it. The charging became longer and the battery dies faster. After few days I can't use it anymore because it just keeps on restarting, it does not even reach to the main screen, it stops in the Samsung logo and then restarts again.
I tried to change the battery but it is still the same. I tried to wipe the cache partition but it's still the same. I actually want to get the files that is saved in the device but it does not connect to the PC as well even if I change cables.
I don't want to change phone because the phone has a sentimental value to me…
Can you please tell me what to do? Thank You. Best Regards. — Charm
Solution: Hi Charm. If the phone no longer boots normally at this time, the only available option for you is to try booting the device to other modes. Please refer to our suggestions for Stephanie above on how to do each procedure. Keep in mind that if your phone continues to fail to boot to any of these modes, that's an indication of a hardware issue. You need to have Samsung or an independent service center assess the situation to see if repair is possible.
Problem #6: Galaxy Note 4 keyboard not working when used on Facebook app
Hello. I have a Galaxy Note 4 and am having problems with my keyboard while on Facebook. Whenever I try to post a status update, the keyboard will not appear. If I add a picture with the update, the keyboard works fine. Comments, keyboard is fine. It also seems to work fine on all other uses such as texting or email. It only will not work when doing a words only status update. I've tried uninstalling and reinstalling the app.  Messing with the keyboard settings. All to no avail. Not sure if it's an app problem or a phone problem. I look forward to your response on a possible solution. — Thanks
 Matt
Solution: Hi Matt. If this problem only occurs when trying to use Facebook app, there may be a bug causing it. Make sure that the Facebook app is up-to-date by installing updates for it if they are available.
If it's updated at this time, try wiping its cache and data. Here's how:
Open the Settings menu either through your notification shade (drop-down) or through the Settings app in your app drawer.
Navigate down to "Apps". This may be renamed to something like Applications or Application Manager in OEM skinned versions of Android 6.0.
Once in there, click on an application.
You'll now see a list of stuff that gives you information about the app, including Storage, Permissions, Memory Use, and more. These are all clickable items. You'll want to click on Storage.
You should now clearly see the Clear Data and Clear Cache buttons for the application.
Other apps can cause conflicts with another so if wiping the cache and data won't work, try to uninstall apps one by one until the issue has been eliminated. We don't know what apps you have on the device so try to remove first the ones you installed recently. Keep uninstalling apps until you notice that the issue is gone.
Otherwise, just do a factory reset and see if that will make any difference.
---
Engage with us
If you are one of the users who encounters a problem with your device, let us know. We offer solutions for Android-related problems for free so if you have an issue with your Android device, simply fill in the short questionnaire in this link and we will try to publish our answers in the next posts. We cannot guarantee a quick response so if your issue is time sensitive, please find another way to resolve your problem. 
If you find this post helpful, please help us by spreading the word to your friends. TheDroidGuy has social network presence as well so you may want to interact with our community in our Facebook and Google+ pages.