The latest iteration of the Forza Horizon franchise is a visual candy. The game is an undeniable graphics treat for those looking for realistic car simulation. However, the visual treat can be very taxing for computers that are not prepared to run it. This can be the reason why some people are reporting low FPS issues when playing Forza Horizon 5.
In this guide, we'll share to you some tips that you can try if you're experiencing performance-related issues when playing this game. If you want to have the best performance though, we recommend that you skip this guide and simply upgrade your hardware.
How to fix Forza Horizon 5 low FPS issue?
These are the possible solutions that you can try if Forza Horizon 5 is not performing normally, or if you think that you're getting low FPS all the time.
Fix #1: Check the Forza Horizon 5 system requirements.
Ideally, PC players must first check if the game they're installing is compatible with the hardware components on their computer. Having an incompatible hardware can cause serious issues including failure of the game to launch, crashes, poor performance and or low FPS.
Below are the system requirements for this game.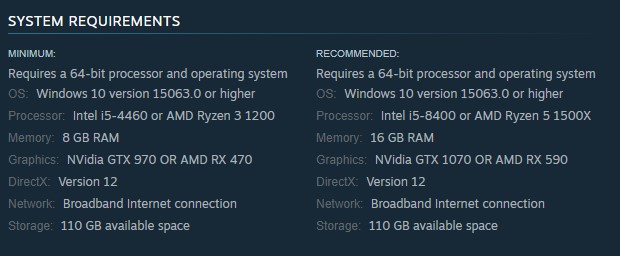 Forza Horizon 5 Minimum system requirements:
OS: Windows 10 version 15063.0 or higher
CPU: Intel i5-4460 or AMD Ryzen 3 1200
RAM: 8 GB RAM
GPU: NVidia GTX 970 OR AMD RX 470
DirectX: Version 12
Forza Horizon 5 Recommended system requirements:
OS: Windows 10 version 15063.0 or higher
CPU: Intel i5-8400 or AMD Ryzen 5 1500X
RAM: 16 GB RAM
GPU: NVidia GTX 1070 OR AMD RX 590
DirectX: Version 12
If your machine doesn't satisfy the game's minimal requirements, there's a chance that Forza Horizon 5 will crash. The only way to remedy this is to upgrade your hardware or perform poorly.
Fix #2: Update the game software.
Forza Horizon 5's developers release regular game patches to address bugs and improve performance. It's likely that a recent patch caused the game crash, and that a fresh patch will be necessary to fix the problem.
Make sure that the game is running the latest game patch at this time.
If the latest version of the game is available, Steam will download automatically these updates, and the most recent game patch will be downloaded and installed immediately when you open the game.
To verify if the FPS is back to normal, launch Forza Horizon 5. If the in-game FPS continues to drop, or if there is no new game patch available, go to the next solution other games.
Fix #3: Install the latest graphics card drivers.
A current set of device drivers is just as vital as having the correct hardware. A driver functions as a mini-operating system for a specific component. If you don't have it, your PC may have problems playing games since the graphics card can bog down and produce errors or malfunctions.
Today's computers come with special software that searches for the most recent graphics drivers automatically. If you have an NVIDIA graphics card, your PC is probably checking for new drivers using the NVIDIA GeForce Experience and NVIDIA Control Panel programs. If you have AMD or Intel graphics, the same must be true.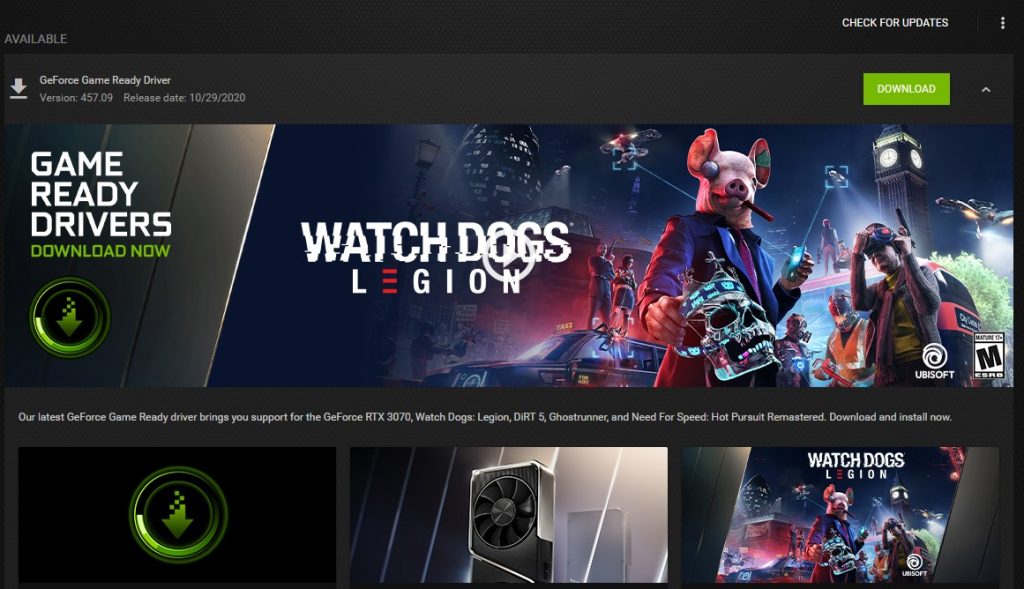 There are at least 3 graphics cards today so your choice depends on which hardware you're using.
Fix #4: Use Performance in your Power Options.
A power plan is a set of system and hardware parameters for managing how your computer consumes and conserves power on the Windows operating system. In general, the higher your computer's performance, the more power it uses.
In most situations, the power plan on PCs is set to Balanced by default, which may reduce the graphics card (GPU usage) and CPU's operational capabilities. You may change the power plan on your PC in Windows 10 or Windows 11, allowing you to obtain additional performance.
Using the Performance option over Balanced may help improve the FPS situation when playing Forza Horizon 5 on your PC.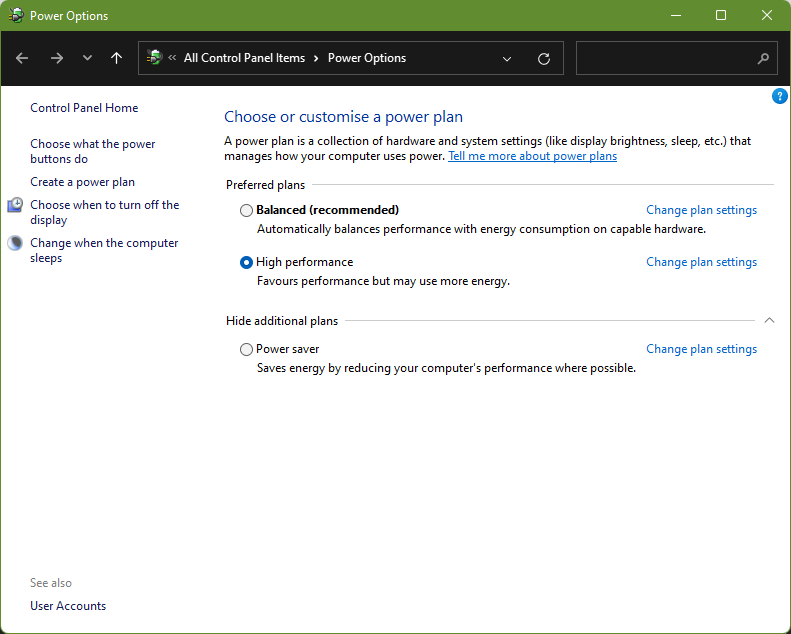 Press the Windows key + R on your keyboard.
Once the Run dialog box appears, type powercfg.cpl and press Enter.
Click the Hide additional plans in the pop-up box and pick High performance.
Start Forza Horizon 5 and see if you can improve your FPS. If the problem persists, try the next solution listed below.
Fix #5: Configure graphics settings to achieve performance over quality.
If your PC barely meets the minimum system requirements, or if your hardware components are old, you should consider optimizing the graphics settings to boost Forza Horizon 5 FPS. However, if you have a powerful PC and can run the game on max performance, the low FPS issue you're encountering may be caused by an entirely different reason so simply skip this solution.
Start Forza Horizon 5 and see if you can improve your FPS by changing these particular graphics options: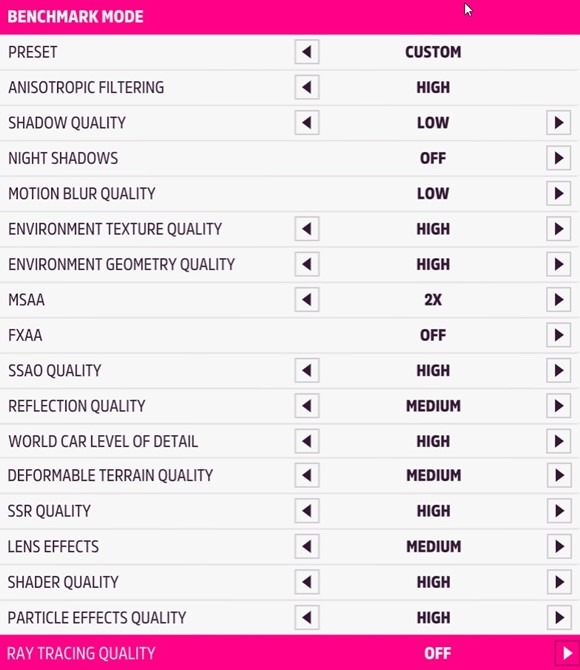 Set Shadow Quality to low. The most demanding graphics setting in Forza Horizon 5 is shadow quality, which controls the resolution and pace at which shadows refresh. Turning this option off will greatly help in freeing more resources in your PC.
Turn off Night Shadows. Just like Shadow Quality, disabling Night Shadows can reduce game lag and significantly boost the FPS of the game.
Disable MSAA. MSAA (multi sample anti-aliasing) helps to eliminate those annoying jagged edges that create shimmering, which we find particularly irritating during gameplay. There are four settings to choose from, but if you have a weak PC, turning MSAA off should help.
Disable FXAA. This option works together with MSAA so keeping it off can further amplify the effect of turning off MSAA.
Set Reflection Quality to low.
Set World Car Level of Detail to low. The realism of Drivatars you encounter in the open world and AI race opponents is affected by the world vehicle car level of detail option. Setting this option to low has been found to help in fixing in-game lag as well as improving the overall FPS situation of the game.
You can also try to disable Motion blur quality.
Fix #6: Use different graphics card settings.
If you haven't already, try changing your graphics card settings in the Nvidia or AMD control panel to see if the in-game FPS increases. Some gamers were able to resolve the problem by altering their graphics card settings.
Changing NVIDIA settings
NVIDIA GPU users can do these steps:
Open NVIDIA Control Panel by right-clicking on your desktop.
Click on Manage 3D Settings.
Select Program Settings tab.
Go to Select a program to customize section ensure that you add Forza Horizon 5 from the program list.
Do the following parameters in the Specify the settings for this program section:

Turn off Image Sharpening
Turn on Threaded Optimization
Use Prefer Maximum Performance for Power Management
Turn off Low Latency Mode
Turn off Vertical sync
Use Performance for Texture filtering – Quality

Make sure to click on Apply.
Changing AMD settings
Launch AMD Radeon Settings software.
Navigate to Gaming.
Go to Global Settings.
Then modify the following settings as shown:
Anti-aliasing Mode: Use application settings
Surface Format Optimization: On
Frame rate Target Control: 150 FPS
Anti-aliasing Method: Multisampling
Wait for Vertical Refresh: Off, unless application specifies
Morphological Filtering: Off
OpenGL Triple Buffering: Off
Anisotropic Filtering Mode: Use application settings
Shader Cache: AMD optimized
Texture Filtering Quality: Performance
Tessellation Mode: AMD optimized
Run Forza Horizon 5 to see if the frame rate in-game improves.
Fix #7: Disable overlays.
Certain programs with overlay features can sometimes cause performance issues on some games.
Overlays, according to some PC players, can occasionally interfere with Forza Horizon 5, causing performance and compatibility concerns.
Some people claim that turning off the in-game overlay improves FPS in Forza Horizon 5. Whether you're using the in-game overlay, simply turn it off to see if your FPS increases.
Some of the common but popular apps with overlay functions include the following:
Steam overlay
Discord overlay
MSI Afterburner
Spotify overlay
NVIDIA overlay
Xbox Game Bar
It's crucial to stress that these and other comparable programs aren't flawed and that the great majority of individuals can benefit from them. However, they may create issues on some systems, especially those running customized or unofficial Windows versions.
Whether you're running any program that employs overlays while playing Forza Horizon 5, try closing them to see if the game will start.
Fix #8: Turn off background recording in Xbox Game Bar.
Background recording and the Xbox Game Bar functionality in Windows 10 are useful for folks who enjoy sharing game highlight films. However, if activated, they'll run in the background all the time, using a lot of resources.
If you've enabled background recording and Xbox Game Bar and are experiencing in-game FPS dips, just turn them off.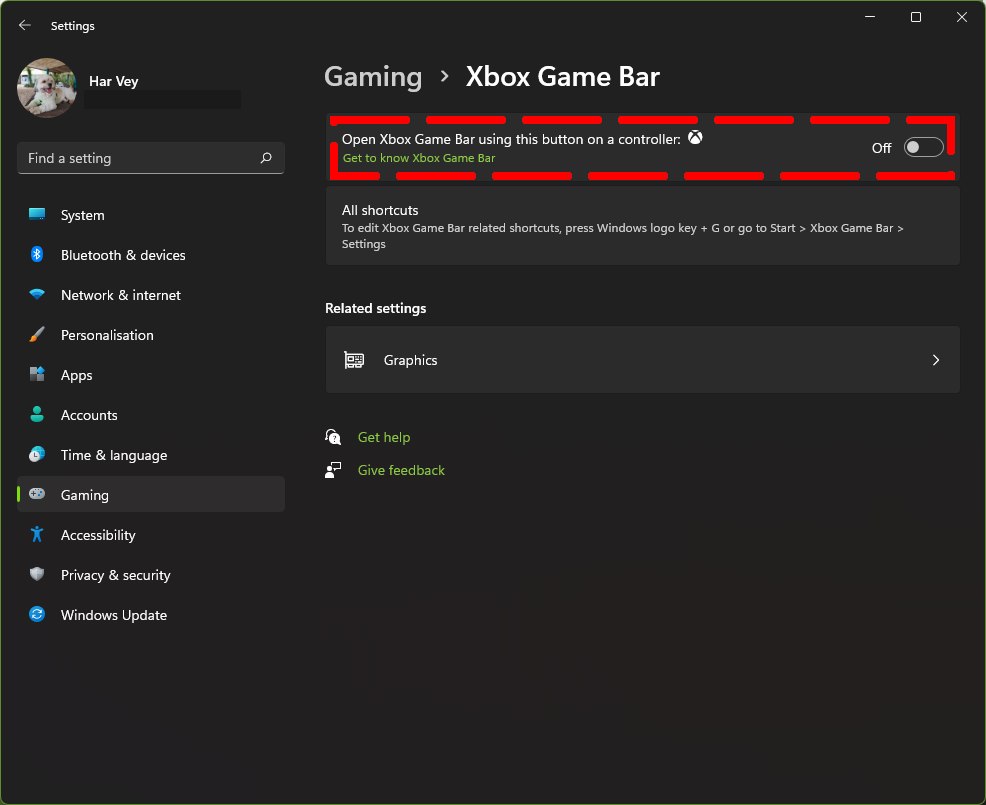 Open Windows Settings by pressing Windows key + I on your keyboard.
Click Gaming.
Select Xbox Game Bar and turn it off.
Go back to Gaming section and select Captures.
Turn off Record what happened, Capture audio when recording a game, and Capture mouse cursor when recording a game.
Run Forza Horizon 5 again and check if the FPS has improved.
Fix #9: Enable game mode.
Game Mode in Windows concentrates system resources on games when it is enabled. This might be useful if you have a lot of processes running in the background, but it could also cause your game to crash.
You can enable Game mode and see if that will fix the low FPS issue on Forza Horizon 5.
Press the Windows key + I to open the Windows Settings app.
Go to Gaming .
Select Game Mode.
Turn on the toggle for Game Mode.
Fix #10: Run the game in Fullscreen Mode.
In fullscreen mode, most games perform better. If you've been playing Forza Horizon 5 in Windowed mode, switch to Fullscreen mode by hitting ALT+ENTER or selecting it from the game's Settings menu.
OTHER INTERESTING ARTICLES YOU MAY LIKE:
Visit our TheDroidGuy Youtube Channel for more troubleshooting videos and tutorials.