Read and understand why high-end smartphones like the #Samsung Galaxy S6 Edge (#S6Edge) freezes and/or becomes unresponsive without apparent reason or cause and learn how to troubleshoot it when similar issues occur.
Learn how to troubleshoot your phone that just died overnight and refused to charge the next morning.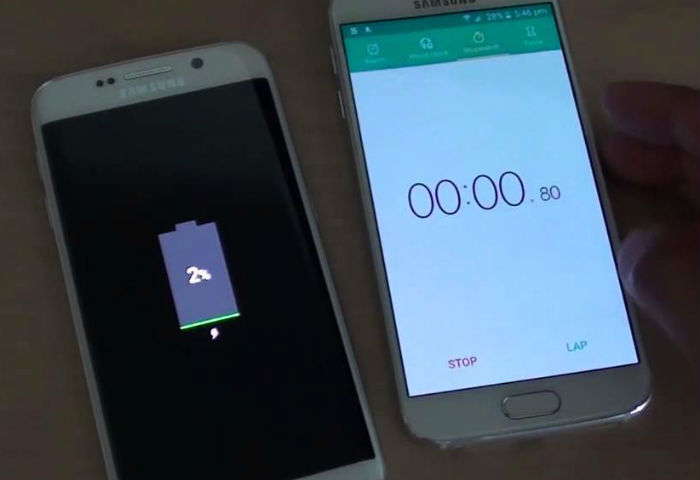 While high-end smartphones like the Samsung Galaxy S6 Edge don't usually experience performance-related issues, there are times when they freeze and become unresponsive. When they occur, there are troubleshooting procedures you would have to do in order to bring your phone back to life. More often than not, these issues are just minor firmware and/or hardware glitches and they can be fixed without intervention from a technician. All you need are patience and common sense to be able to perform troubleshooting methods.
In this post, I will guide you through in troubleshooting your Galaxy S6 Edge that froze and became unresponsive. I will suggest the the methods you need to use in a bid to fix your problem so that you can continue to use your phone without being bothered by lags, freezes and other performance related problems. But then of course, you have to be honest with yourself because if the cause of the problem is either physical or liquid damage, then you need help from a technician the extent of the problem on your phone. That is why the first step below is inclined to knowing if both factors have something to do with this issue.
Before we go any further though, if you have other problems with your phone, make sure you drop by our troubleshooting page for we have already addressed hundreds of problems sent by our readers. Odds are that we have already given answers to your questions so take time finding issues that are similar with yours and use the solutions or troubleshooting guides we suggested. If they don't work on your phone, then feel free to contact us by filling up our Android issues questionnaire. Make sure to choose the right device and fill up every field correctly so we can provide more accurate solutions.
How to troubleshoot your Galaxy S6 Edge that froze and won't respond
Problem: For some reason, my Galaxy S6 Edge froze while I was sleeping and when I tried turning it on it won't respond anymore. It's been like for 6 hours now and I haven't used it since it froze. I badly need my phone for my job as my boss often contacts through this phone and I don't enough time to go to a shop and have it fixed. So I need your help so that I can use my phone again. I don't know what happened or what caused the problem. As I just woke up with its screen completely black, frozen and won't respond anymore. Thanks.
Troubleshooting: Freezes may often leave the phone unresponsive and there are even times when the device couldn't recognize the Power key being pressed or held. This is one of the reasons why owners often panic because they think something is really, really wrong with their devices. That might be true but we really won't know for sure if we didn't tried troubleshooting. With all that being said, here's what I suggest you do:
Step 1: Verify that your phone didn't suffer from water and liquid damage
Liquid and physical damages may cause some serious problems to your phone that's why before you proceed with your troubleshooting, it is imperative you first try to physically check your device for signs of physical damage. Just look for scrapes and scratches. Of course you would know if the phone was dropped as you are the owner. If there are no signs of physical damage, however, check the Liquid Damage Indicator (LDI). Just remove the SIM card tray and look inside the port for a small piece of sticker. If the indicator is white, then liquid damage is unlikely. However, if the sticker turned red, pink or purple, you need to bring your phone to the store immediately to have it fixed.
Step 2: Plug the charger into the wall socket and connect your phone
In short, charge your phone. You said that the screen was already black when you woke up and that the device won't respond when you tried to turn it on. There's one obvious possibility here: the battery may have been drained. Rule this out first so that you can proceed with other troubleshooting steps below.
If the phone charges, leave it be for at least 10 minutes just to make sure there's enough battery to power up its hardware components. After which, attempt to turn it back on to see if it's still capable of doing so, it not, then the next troubleshooting steps should be able to help you.
On the other hand, should your device fail to charge, then we really can't rule out the possibility that it's just a drained battery that's causing the problem. Try reading the following posts to help you fix the charging issue with your device:
You may also employ the help of a technician to get this problem sorted out.
Step 3: Attempt to boot your phone up in Safe Mode
You only have to try this if your phone charges but still won't turn on or respond as there is a possibility that some third-party app caused the firmware to crash and left the phone unresponsive. Booting in safe mode temporarily disables all third-party apps so if our suspicion is correct, your S6 Edge must be able to boot up successfully in its diagnostic state. Here's how you do it:
Press and hold the Volume Down and Power keys for 20 to 30 seconds.

Once you see the Samsung logo, release the Power key immediately but continue pressing the Volume Down key.

Your phone should continue booting up and you will be prompted to unlock your phone as usual.

You will know if the phone successfully booted in safe mode if the text "Safe mode" is displayed at the lower-left corner of the screen.
If the phone failed to boot up in safe mode, there's one thing you can try at this point–proceed to the next step.
Step 4: Attempt to run your device in Recovery Mode and wipe the cache partition or reset it
Starting up your Galaxy S6 Edge in its Recovery Mode will power up all its hardware components but the Android GUI is left out. Meaning, if the problem has something to do with the firmware, then the device should be able to boot up in this state. If successful, you may proceed with the wiping of the cache partition and then doing the reset. Just follow the steps below to learn how:
Turn off the device.

Press and hold the following three buttons at the same time: Volume Up key, Home key, and Power key.

When the phone vibrates, release the Power key but continue to press and hold the Volume Up key and the Home key.

When the Android System Recovery screen appears, release the Volume Up and Home keys.

Press the Volume Down key to highlight 'wipe cache partition.'

Press the Power key to select.

When the wipe cache partition is complete, 'Reboot system now' is highlighted.

Press the Power key to restart the device.
When doing the the reset, choose the option 'wipe data/factory reset' instead of 'wipe cache partition' and then follow on-screen instructions. If all else fails, then it's time you brought the phone back to the store and have it checked.
Galaxy S6 Edge died and no longer charges
Question: Last night my phone was charging perfectly fine, I went to bed and my phone died over night, and now this morning, it will not charge at all. I have tried all available methods and chargers. The little lightning icon appears for a second before disappearing, and the led light doesn't come on. My phone is completely dead so cant even access it to update or reset. Now before I go and spend money I don't need to on repairs, is there anything else I can try. I really don't want to lose all my pictures of my daughter and family. I do not know what update version is currently on my device. Thank you for any help. — Charlotte
Solution: Hi Charlotte! There are lots of factors to consider your device went dead overnight, it might have experienced a minor system glitch and/or corrupted system files. But, we can't set aside the possibilities of hardware issues, some times it will just occur and your device is brick without clear symptoms. To narrow down the issue, follow these steps to determine if your device is still responding.
Step 1: Force Reboot your Samsung Galaxy S6
The purpose of this procedure is to rule-out the possibility that the issue is not caused by drain or defective battery. Based on your statement, you've tried some methods and used different chargers, then we will begin on performing a force reboot on your device. This is equivalent to battery pull for devices that has removable battery. Here's how:
Press and hold the Power key + Volume Down key for about 10-20 seconds until the device completes the restart.
Step 2: Boot Your Device in Safe mode
The Safe mode is diagnostic mode that boot up your device running only the pre-installed app and disable all third party apps. This is not solution to the issue but to make sure that your device is not affected by "faulty" third-party apps.
Follow the steps below how to boot in Safe mode:
Turn off your Galaxy S6.

Press and hold the Power key.

When 'Samsung Galaxy S6 ' appears, immediately release the Power key and then press and hold the Volume Down button.

Continue holding the Volume Down button until the phone finishes the restart.

When you see Safe Mode on the lower left corner of the screen, release the button.
In case your device boot up in this mode, we highly recommend to backup your files right away and save it to SD card or flash drive.
Step 3: Boot the device in Recovery mode.
If you are unable to boot up in Safe mode, then we will try to run your device in Recovery mode. Now, this would the last procedure that we will recommend before bringing your device to a specialist. This is to make sure also that your device is not totally dead and still responding.
Here's how to do it:
Turn off your Samsung Galaxy S6.

Press and hold the Volume Up, Home and Power keys together.

When the device powers on and displays 'Power on logo', release all keys and the Android icon will appear on the screen.

Wait until the Android Recovery Screen appears after about 30 seconds.
Step 5: Bring your Samsung Galaxy S6 to the nearest service center
You've performed the necessary troubleshooting steps to isolate the issue but to no avail. The best thing that you should do now to bring your device to your local Samsung service center to let the tech to have a look at your device and do some professional care.
Please note that warranty terms and conditions may apply but if the problem is caused by either physical or liquid damage, warranty will surely be voided but if you have insurance, you should be good. Also, try to tell the technician what really happened or what you've observed with your phone prior to or after the problem occurred so that he can give you more accurate answers or know what to do next.
CONNECT WITH US
We are always open to your problems, questions and suggestions, so feel free to contact us by filling up this form. We support every Android device available and we are serious in what we do. This is a free service we offer and we won't charge you a penny for it. But please note that we receive hundreds of emails every day and it's impossible for us to respond to every single one of them. But rest assured we read every message we receive. For those whom we've helped, please spread the word by sharing our posts to your friends or by simply liking our Facebook and Google+ page or follow us on Twitter.