Learn how to verify if your Samsung Galaxy S7 (#Samsung #GalaxyS7) properly detects your #microSD card, format it and move or copy files into it.
What to do to troubleshoot the notification "SD Card: For transferring photos and media" that seems to show up every few minutes.
What you have to do if pictures and videos saved in your microSD card disappeared without apparent reason.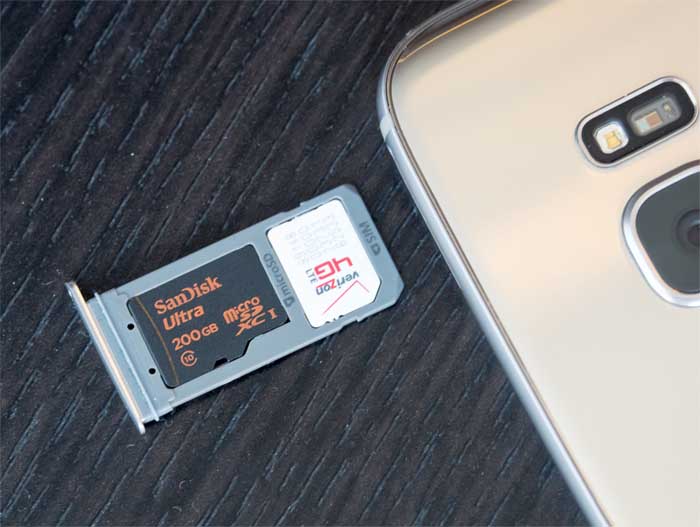 While the new Samsung Galaxy S7 comes with a microSD card slot for storage expansion, many owners reported having to encounter issues like the frequent notification "SD card: For transferring photos and media." I will address some of reported problems in this post and I will provide step-by-step procedures on how to troubleshoot them.
Read on to learn more about the problems I cited in this post as one of them may be similar to what you currently have. But for those who have other concerns, visit our S7 troubleshooting page for we have already addressed a lot of issues with this phone since its release.
If you need further assistance, you can always contact us. However, we need you to provide us with every bit of information we need to successfully troubleshoot and fix your problem. One sentence messages won't be addressed. We always do our part and we offer this service for free, so please do your part and be detailed as much as possible in describing the problem. Fill up this form and hit submit to contact us.
How to move files to microSD card on Galaxy S7
Q: "First off, thank you guys for taking time reading this message. I really appreciate all your works. I am not a tech person and I upgraded to the new Galaxy S7 recently from an S6. This is just my second Android and I was using basic phones for text and calls only prior to buying the S6. Needless to say, I'm not acquainted with a lot of features of the phone although I take a lot of pictures and record videos.
That said, I need your help in copying my pictures and videos to the SD card my son gave me. He just sent me the card saying I need to backup my files in it or in my computer. Well I don't have a computer at home that's why he gave me this card. I already inserted it but I think it's not doing anything yet as I can't even find it in my device. Please help me out guys. Thanks a lot!" — Mary
A: Hello Mary! Good decision on contacting us as we're always willing to help.
Most of the microSD cards available in the market today are pre-formatted so when you inserted them into your phone, it should immediately be detected or read. When you inserted it, you must have received a notification saying "SD card For transferring photos and media" and you two options either to 'EXPLORE' or 'EJECT.' If you were prompted with it, it means the phone detected you inserted an external storage device and it's working properly. But if you haven't noticed a notification like that, there's another way to verify if it's mounted properly.
From the Home screen, tap the Apps icon.
Find My Files and tap on it to open it.
Under Local storage, you can see Device storage, which is your phone's internal storage, and SD card, which is the one you mounted.
Tap on the SD card and if you can view it (even if it's still empty), then it's working properly.
Before anything else, to make sure your SD card will work properly, try to format it before you backup your pictures and videos in it. You can do so by following these steps:
From the Home screen, tap the Apps icon.
Find Settings and tap on it.
Scroll to and tap Storage.
Now tap on SD card.
You are given two options; to 'Unmount' it or 'Format' it. Choose the latter.
The phone will warn you that you will lose all files inside your SD card if you continue the process but since you still don't have anything in it yet, it's safe to continue. So, hit Format in the bottom-right corner.
Wait until the formatting process completes.
Now that you've successfully formatted the SD card, it's time to move your pictures and videos to it. Here's how…
From the Home screen, tap the Apps icon.
Find My Files and tap on it to open it.
Tap Device storage to view contents of your phone's internal storage.
Since you want to move pictures taken by the camera, navigate to the DCIM folder and then Camera.
You should see the pictures and videos you took now. Tap and hold on one of the pictures you want backed up.
Checkboxes should appear before each file. Put a check on the boxes the corresponds to the files you want copied.
Now tap More on the upper-right.
Choose either to 'Move' or 'Copy' them.
Now navigate to the location where you want those files to be moved or copied. In this case, it's the SD card.
You may create a new folder if you want to and then tap 'MOVE HERE.'
Your pictures and videos will be moved or copied to the location you chose and depending on their numbers, it may take a few to several minutes to complete.
Mary, I hope that we're able to help you.
Galaxy S7 showing up "SD Card For transferring photos and media" notification
Q: "Hello TDG. I've been following you since I got my Galaxy S5 now I'm using the new Galaxy S7 and so far so good. I have just one minor concern though. I have this 64GB SD card I bought recently and I tried inserting it on my phone. As expected, my phone detected it but the annoying thing is that it keeps telling me "SD Card For transferring photos and media" every 15 minutes or so. I don't see anything that could potentially stop it from notifying me. What should I do to stop this notification? It's very annoying really. Thanks guys!"
A: You're not the only one having this problem, actually. It might be a firmware issue or a problem with your microSD card. This is what you have to do to troubleshoot it:
Turn your Galaxy S7 off.
Remove the SD card.
Using an adapter, let your computer read the card.
If the machine can read it just fine, then backup the data and reformat.
After reformatting, re-insert the card to your phone and see if the notification still shows up after several minutes.
If the problem persists or if the computer can't read the card, then you need to use a different microSD card.
On the other, if the card is working with other devices except your phone, then contact your retailer, carrier or Samsung to have the phone checked.
Pictures and videos saved in the microSD card disappeared
Q: "I have a problem with my Galaxy S7 guys, I hope you can help. I snap pictures here and there and sometimes record videos. Needless to say I have a bunch of them in my phone and as a precaution, I bought an SD card and transferred them over. One day, I noticed that there are "broken" pictures in the gallery and I found out they are the ones I saved in the microSD card. What could have happened? Do you guys know how to fix this? And can I still recover my pictures?"
A: It just means one thing, your phone can no longer read from your SD card for some reason. Before doing anything, I want you to unmount the SD card and let your computer read from it. It will verify two things–it will tell you immediately if the problem is with the SD card or your phone and you'll know right there and then if you can still salvage some or all of your files and photos.
In the event that the computer can't read from your SD card, don't touch your phone as the problem is with the external storage. For average users, it's almost impossible to recover files from corrupted SD cards but you may find a technician who can recover them. As you are yet to do that, I suggest you use a different SD card for your phone.
On the other hand, if it can be read by the computer, backup all your data immediately while you can. Then, mount your SD card and try format it on your phone. If the problem persists, I suggest you try to reset your phone as it might be a firmware issue.
Turn off your Samsung Galaxy S7.
Press and then hold the Home and Volume UP keys, then press and hold the Power key.
NOTE: It doesn't matter how long you press and hold the Home and Volume Up keys, it won't affect the phone but by the time you press and hold the Power key, that's when the phone starts to respond.
When the Samsung Galaxy S7 shows on the screen, release the Power key but continue holding the Home and Volume Up keys.
When the Android logo shows, you may release both keys and leave the phone be for about 30 to 60 seconds.
NOTE: The "Installing system update" message may show on the screen for several seconds before displaying the Android system recovery menu. This is just the first phase of the entire process.
Using the Volume Down key, navigate through the options and highlight 'wipe data / factory reset.'
Once highlighted, you may press the Power key to select it.
Now highlight the option 'Yes — delete all user data' using the Volume Down key and press the Power button to select it.
Wait until your phone is finished doing the Master Reset. Once completed, highlight 'Reboot system now' and press the Power key.
The phone will now reboot longer than usual.
Connect with us
We are always open to your problems, questions and suggestions, so feel free to contact us by filling up this form. This is a free service we offer and we won't charge you a penny for it. But please note that we receive hundreds of emails every day and it's impossible for us to respond to every single one of them. But rest assured we read every message we receive. For those whom we've helped, please spread the word by sharing our posts to your friends or by simply liking our Facebook and Google+ page or follow us on Twitter.