Your LG G6 is one of the most powerful, high-end smartphones available in the market today but despite its impressive specs and performance, it's not free from problems, errors and issues. In fact, we've already received quite a lot of messages from our readers who are asking for help because their devices have problems and one of those issues that I find very alarming is the black screen of death–the phone won't turn on or respond no matter what the owner would do.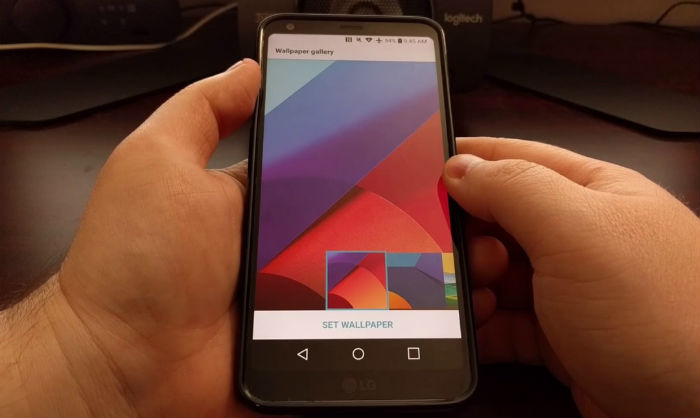 In this post, I will walk you through in trying to bring your phone back to life. We will try to see if we can make it to turn back on or even respond. There's always a possibility that the reason why it won't turn on is because of a hardware failure, so we will try to do the basic troubleshooting that we, average users, can do without compromising your data as well as the phone as a whole. If you own the new LG G6 and are currently bugged by a similar problem, then read on to understand why it happens and what needs to be done to fix it.
Before going any further though, if you have other concerns with your phone, make sure you visit our LG G6 troubleshooting page where we list down every problem we address each week. Find issues that are similar or related to yours and use the solutions we suggested. If they don't work for you or if you need further assistance, then feel free to reach out to us by completing our Android issues questionnaire.
Troubleshooting LG G6 that won't turn on
It's necessary that you, as the owner, should do some basic troubleshooting to know if you can still bring the phone back to life. There are times that this kind of problem occurs due to some issues with the apps or the firmware itself. At least, we just have to rule out this possibility before deciding to send the phone in for repair. That said, here's what you have to do:
Step 1: Charge your phone right away
This will immediately tell you if the problem is caused by just a firmware issue or something that originated from the hardware not to mention it also rules out the possibility that the battery was just drained totally.
Even if the phone is powered down, it would still display the usual charging symbol on the screen when it detects electric current flows through the cable down to the charging IC and to the battery. If it shows, it means the hardware is working as it should and perhaps, the reason why the phone isn't turning on is because there's not battery left to power everything up.
Assuming the phone charges fine, be mindful enough to know if the device is heating up. While it's normal for it to warm up a bit while charging, it shouldn't heat up to the point that it's not comfortable for you to touch it. So, if such is the case, unplug the charger right away and as early as now, you should have it checked because something isn't just right.
Step 2: Inspect the charger and cable if the phone isn't charging
It's important that you can see the phone charging properly when troubleshooting it due to a power issue. You have to rule out the possibility that it's just a drained battery problem before you proceed with your troubleshooting. This will save you from a bunch of trouble not to mention you won't be compromising the safety of your personal files and data.
So, if the phone isn't charging, you should inspect the charger and the cable to see if something is wrong with them. For the charger, you just have to look into the USB port to find lint, debris, corrosion or bent pins. If there's nothing you can find that may be hindering current flow, then inspect the cable.
Look for the same thing on both ends and then run your fingers from one end to another to feel something that might hint us of a break inside the insulation.
Step 3: Do the soft reset while the phone is connected to the charger
We also have to rule out the possibility that the cause of the problem is just a glitch. So, as long as the phone isn't heating up while connected to the charger, leave it charging for a few minutes and then try to do the soft reset: press and hold the Volume Down and Power keys together for 10 seconds. If there's no issue with the phone's hardware or firmware and if the problem was just due to the fact that it crashed, then doing this procedure will bring your phone back to life.
When the phone crashes, it may not respond even when charging. It won't also respond if the Power key is pressed. But you can make it respond again by doing the soft reset procedure which will force reboot the phone. For issues that are caused by glitches, this procedure is very effective.
Step 4: Attempt to boot your phone in Recovery Mode
After doing all the steps above and the issue still remains, then try to boot your phone in Recovery Mode. Basically, when you start your phone up in this mode, all hardware components will be powered up but the Android interface won't be loaded. Assuming the problem is due to a glitch, your device may be able to boot up in this mode and the next thing you should do is try to reboot the device from there. If it won't boot up, then, at least now, we're dealing with the boot up problem because apparently, the phone powered on. That is a bit easier to fix. However, if you cannot make the phone to start even in this mode, then you should send it in to be further tested by a tech. This is how you start your LG G6 in Recovery mode and proceed with the reset:
Back up data on the internal memory.

Turn off the device.

Press and hold the Power and Volume down buttons.

When the LG logo appears, quickly release and then re-hold the Power button while continuing to hold the Volume down button.

'Factory data reset' appears.

Use the Volume down button to highlight Yes.

Press the Power button to confirm.

Erase all user data and restore default settings' appears.

Use the Volume down button to highlight Yes.

Press the Power button to reset the device.
I hope this helps.
CONNECT WITH US
We are always open to your problems, questions and suggestions, so feel free to contact us by filling up this form. This is a free service we offer and we won't charge you a penny for it. But please note that we receive hundreds of emails every day and it's impossible for us to respond to every single one of them. But rest assured we read every message we receive. For those whom we've helped, please spread the word by sharing our posts to your friends or by simply liking our Facebook and Google+ page or follow us on Twitter.