Learn how to fix a texting issue with the #Samsung Galaxy S7 (#GalaxyS7) wherein the keyboard doesn't automatically space the words out.
What to do to fix the phone that can't send out or receive text messages or SMS.
How to troubleshoot your phone that can't send and receive picture message, group texts, share contacts or attach files.
Learn why you're getting two identical text messages when you only need to receive one.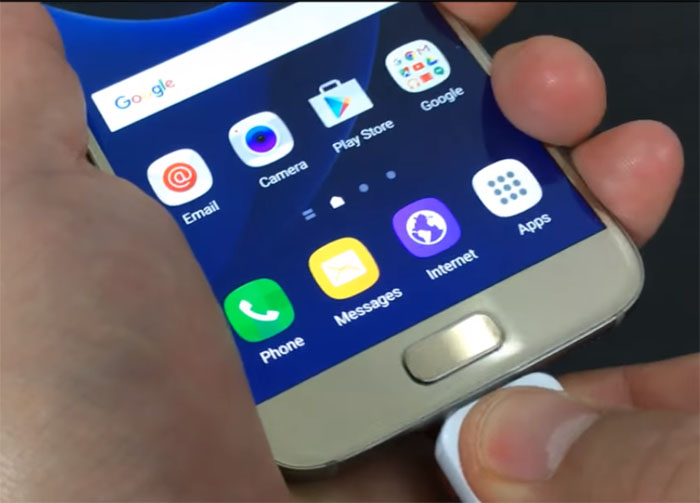 Apart from the most common connectivity issues, a lot of owners of the Samsung Galaxy S7 complained about text messaging problems. Text messaging covers both SMS and MMS that's why there are so many owners experiencing related issues.
Those who can't send picture messages complain about not being able to send SMS even those who can't join group texts think the same. Below are some of the problems sent by our readers. Take time reading them as you may encounter one of them in the future. At least, you know how to address them if they occur.
If you have other issues, make sure you visit our S7 troubleshooting page and browse for similar problems. Feel free to use the solutions and troubleshooting guides we recommended for you. If they don't work or if you need further assistance, you may contact us by filling up this questionnaire. Just make sure you provide us with all necessary information about your problem so we can help you better.
Q: "While swiping to make a text it doesn't automatically space the words out anyway to fix that?"
A: I would assume you're using the native Samsung keyboard. I'm not sure about your preferences but I think it's time you reset it to its default settings. If, however, you're using a third-party keyboard, try to clear both the cache and the data.
Clearing Cache and Data
From the Home screen, tap the Apps icon.
Find and tap on Settings.
Touch Applications and then Application manager.
Swipe to ALL tab.
Find and touch the keyboard you use.
Touch the Force Close button first.
Then, tap Storage.
Tap Clear cache and then Clear data, Delete.
Q: "I have had my phone for 3 weeks and I have not been able to send MMS for a couple of days. I can send and receive text messages, receive MMS, but not send them. Mobile data is on. I restarted the phone twice, but I keep having the same problem. Thank you."
A: Then it must be the APN Settings that has issues. Just like setting up an email, the APN should also have both incoming and outgoing settings. Since you can receive MMS messages but not send them, it must be the outgoing settings that have issues. Verify with your provider if the APN in your phone is properly set. Call tech support.
Q: "I am unable to either receive or send photos through text messages."
A: Just make sure mobile is enabled in your phone as it is required to transmit multimedia messages. If it's already enabled but you still can't send/receive MMS, call your provider and inquire about your account to see if there are bars or something. If there's none, then it must be the APN. Ask the rep for the correct settings and ask help setting it up.
Q: "When I send a text message with a picture attached from my phone, it is delivered to the recipient from my daughters phone number. If someone sends me a message with a picture attached, it goes to both my daughters phone and mine as if it's a group message. If someone responds to a picture I send, I don't even receive it, it only goes to my daughters phone. I have contacted my carrier and we have done factory reset twice with no luck of resolving the issue. How can I resolve this? It's really frustrating. Thanks. — Kristen"
A: It's just like the second problem only yours can't receive them. Still, you need to call your service provider and ask for the correct settings for your phone. I'm not sure if your device came from your service provider but if it isn't then the default APN should be different or may have changed. Your service provider can help you better with this kind of problem.
Q: "Every time I send a text message,  then lock the phone,  the phone will automatically wake a few seconds later without receiving a thing.  Any idea why this is?"
A: It's called a wakelock. Download Wakelock Detector, run it to get rid of wakelocks and your problem should be fixed.
Q: "In the screen the message appears "Unfortunately, your Calendar storage has stopped" and it blocks the screen and comes up and up. I have tried removing the battery and put it back again. still no use. Please help. I bought it just last week."
A: It could just be the Calendar storage service that's having issues so the first thing you should do is clear its cache and data. But you should know that all your calendar entries will be deleted. If that won't work, then you have no other choice but to do the master reset but backup every data you don't want to lose first:
Backup your data.
Remove your Google account.
Disengage screen lock.
Turn off your Samsung Galaxy S7.
Press and then hold the Home and Volume UP keys, then press and hold the Power key.
NOTE: It doesn't matter how long you press and hold the Home and Volume Up keys, it won't affect the phone but by the time you press and hold the Power key, that's when the phone starts to respond.
When the Samsung Galaxy S7 shows on the screen, release the Power key but continue holding the Home and Volume Up keys.
When the Android logo shows, you may release both keys and leave the phone be for about 30 to 60 seconds.
NOTE: The "Installing system update" message may show on the screen for several seconds before displaying the Android system recovery menu. This is just the first phase of the entire process.
Using the Volume Down key, navigate through the options and highlight 'wipe data / factory reset.'
Once highlighted, you may press the Power key to select it.
Now highlight the option 'Yes — delete all user data' using the Volume Down key and press the Power button to select it.
Wait until your phone is finished doing the Master Reset. Once completed, highlight 'Reboot system now' and press the Power key.
The phone will now reboot longer than usual.
Q: "Hi, I receive 2 identical texts for every text that anyone sends me. How do I make this stop?
Thank you!"
A: You must have installed two messaging apps and haven't disabled one of them that's why you're getting two messages every time you receive a text. Uninstall or disable one of them and this problem will be solved.
Connect with us
We are always open to your problems, questions and suggestions, so feel free to contact us by filling up this form. This is a free service we offer and we won't charge you a penny for it. But please note that we receive hundreds of emails every day and it's impossible for us to respond to every single one of them. But rest assured we read every message we receive. For those whom we've helped, please spread the word by sharing our posts to your friends or by simply liking our Facebook and Google+ page or follow us on Twitter.