Do you experience Facebook messenger app crashing on your iPhone or Android device? Several factors can cause this issue such as a temporary software glitch usually due to bugs, corrupted cache or an outdated app. To fix Facebook messenger keeps crashing on your mobile device, you will need to perform several troubleshooting steps.
Facebook Messenger is a free instant messaging app that enables group chats, photo, video, and audio sharing, as well as instant messaging. Even if you don't have the main Facebook app installed, you can still use this secondary app. But to use this Messenger app, you'll need to sign in to your Facebook account.
Fix Facebook Messenger App That Keeps Crashing On Your iPhone And Android Device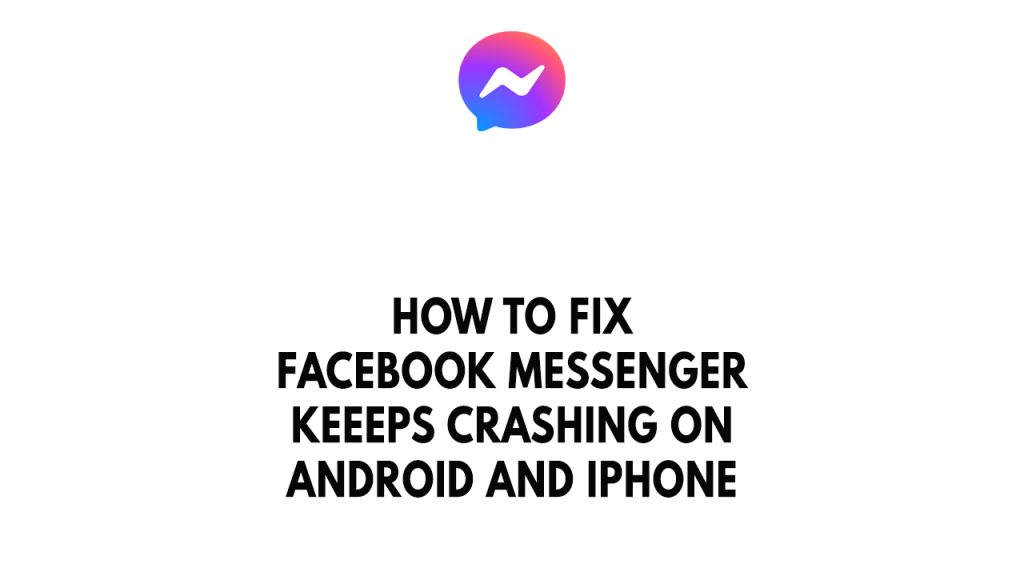 One of the issue you will experience when using the messenger app is the Facebook Messenger application crashing issue. This can be a frustrating experience for smartphone users especially if you need to use the messenger app to send an important message.
Here's how to fix Facebook Messenger crashing issue.
Fix #1 Force close messenger app on Android device or IOS devices
The first thing you should do when messenger app keeps crashing or freezing on your mobile device is to force stop the app . Sometimes the issue can be cause by a temporary glitch in the app. To fix Facebook Messenger keeps crashing you can try to force stop messenger app then open it again.
Force close messenger app on Android devices
Step 1: Long tap Messenger app icon on your phone.
Step 2: Tap on the info button and go to the Messenger app info menu.
Step 3: Hit Force Stop.
Force close messenger app on IOS devices
From the Home Screen, swipe up from the bottom of the screen and pause in the middle of the screen.
Swipe right or left to find the Messenger app icon.
Swipe up on the app's preview to close the app.
Fix #2 Restart Android phone or IOS devices
The next thing to do is when your Facebook messenger keeps crashing on your device is to perform a restart. This method will reboot your phone and refreshes its operating system which will fix any issue that is caused by software glitch.
Restarting your Android
Step 1: Press and hold the Power button.
Step 2: Tap Power off or Restart.
Step 3: Press and hold the Power button until your device turns on again.
Restarting IOS device
Press and hold either volume button and the side button until the power-off slider appears.
Drag the slider, then wait 30 seconds for your device to turn off. If your device is frozen or unresponsive, force restart your device.
To turn your device back on, press and hold the side button (on the right side of your iPhone) until you see the Apple logo.
Try to check if it fix Facebook Messenger keeps crashing issue.
Fix #3 Update Messenger Application
Any app on your phone that is running an outdated software version is very likely to keep crashing because of incompatibilities.
It is possible that using an updated version of Messenger will have fewer issues and more improvements overall user experience.
Make sure your phone is connected to a reliable Wi-Fi connection before continuing. Instead than using a mobile data connection, which is typically slow, this is the connection of choice when getting updates.
Updating messenger application on android device
Step 1: Open Google Play store.
Step 2: At the top right corner, tap the profile icon.
Step 3: Tap Manage apps & device. Apps with an update available are labeled "Update available."
Step 4: Tap Update.
Updating messenger on IOS device
Open the App Store.
Tap your profile icon at the top of the screen.
Scroll to see pending updates and release notes. Tap Update next to an app to update only that app, or tap Update All.
Fix #4 Clear cache Facebook application
Your Messenger app may have some corrupted cached data in it, which could be one cause of the program's repeated crashes.
You must clear cache the data of Messenger to ensure that there are no corrupted data files present.
Please be aware that your Messenger login credentials will be removed if you follow this troubleshooting procedure. You will have to log back into your account.
Clearing cache messenger on android device
Step 1: Open Settings Menu.
Step 2: Select Apps.
Step 3: Choose Messenger.
Step 4: Select Storage.
Step 5: Tap the Clear Data icon.
Try to check if Facebook Messenger crashing issue is fixed.
Fix #5 Reinstall Facebook Messenger
If the Messenger application installed in your phone is corrupted, then there's a possibility that this is what's causing the crashing issue. The best way to fix this is to remove the corrupted app then install a fresh version.
Reinstalling Messenger on android device
Step 1: Go to Phone's Settings menu on your device.
Step 2: Select Applications.
Step 3: Tap Messenger then uninstall.
Step 4: Open your smartphone's Play Store then search for Messenger.
Step 5: Tap Install.
Reinstalling Messenger on IOS Device
Touch and hold the app.
Tap Remove App.
Tap Delete App, then tap Delete to confirm.
Open the App Store app.
Search for Messenger.
Tap Messenger to install.
Fix #6 Install update on your Android phone or iPhone
If you are running on an outdated version of your phone then you need to perform a software update, it is recommended to get the latest version as this will usually fix any software bugs present in the older version that might be causing frequent app crashes on android.
Manually getting update
Open Settings and scroll all the way down.
Find and tap update.
Tap Download and install to check for a new update.
Your device will need a reliable internet connection if you update. It is recommended to connect to a Wi-Fi network rather than a mobile data connection because a Wi-Fi connection is faster and more reliable.
Fix #7 Factory Reset Android or iPhone
If at this point you are still getting the crashing issue on Messenger app, then you should consider doing a factory reset on your device. Before you proceed with this step, you need to back up your phone files. Any photos, files, contact lists, or notes just to name a few that you have saved in your phone will be deleted so make sure to make a backup copy of these.
Factory Resetting android
Turn off your Android device.
Simultaneously press and hold the Volume up and side buttons until the device vibrates and the Android Recovery screen appears then release all buttons. Allow up to 30 seconds for the recovery screen to appear.
From the Android Recovery mode screen, select Wipe data/factory reset. You can use the volume buttons to cycle through the available options and the side key to select.
Select Factory data reset. Allow several seconds for the factory data reset to complete.
Select Reboot system now. Allow several minutes for the reboot process to complete.
Set up your Android.
Download Messenger app.
Factory Resetting iPhone
Tap Settings > General > Transfer or Reset [Device]
If asked, enter your passcode or Apple ID password. Then confirm that you want to erase your device.
Wait for your device to erase. Depending on your device, it can take a few minutes to completely erase your data.
Frequently Asked Questions
Why is my Facebook Messenger not working?

Several factors can cause this issue such as a temporary software glitch usually due to bugs, corrupted cache or an outdated app.

Is there a Web version of Facebook Messenger?

Yes there is a web version that you can download.

What do the Facebook Messenger symbols mean?

Your message is being sent when you see a blue circle.

Your message has been sent when you see a blue circle with a check.

Your message has been successfully delivered if the blue circle has a checkmark inside it.

When someone has seen a message, a thumbnail of their profile photo will show up below it.