Some Cyberpunk 2077 players are experiencing no audio issue out of the blue. If you are having the same exact problem or if the game's sound seems to be crackling, this troubleshooting guide should help.
Causes why Cyberpunk 2077 has no sound or audio
There can be several reasons why you may not be getting sound or audio when playing Cyberpunk 2077. See which of the following items is the cause for your own issue.
Random game bug.
While Cyberpunk 2077 was released with tons of fanfare and deservedly so, it also comes with many minor annoying issues, visual glitches, and a handful of game-breaking bugs. One of such issues is the sometimes random loss of audio in the middle of the game. I happened to experience this problem myself when playing the Cyberpunk 2077 PC version (did not have the same problem with the PS4 version) although some console players have reported the issue as well.
CD Projekt Red, the Cyberpunk 2077 game developer, has been actively working on fixes since the day of the launch but it will likely take some time before most of the problems will go away for good.
Old or corrupted audio drivers.
If you play Cyberpunk 2077 on a PC, one possible cause for audio issues is old or corrupted sound drivers. A few PC players have said that updating their drivers fixed the problem for good.
If Cyberpunk 2077 has audio crackling problems, or if the game suddenly goes silent, make sure that you deal with your drivers right away to fix audio issues.
Incompatible sound settings in Windows.
For others, the reason behind the no audio issue on Cyberpunk 2077 has something to do with their computer's audio settings. You should go over the basic checks to ensure that your PC's sound settings are in order before digging deeper into things like output device properties as a solution.
Corrupted game files.
Some folks who reported audio crackling issues traced the cause of their problem to bad game files. If Cyberpunk 2077 appears to be crashing, showing errors, or has no sound issue, it may be due to a corrupted local files. To fix the game, you may want to try repairing or updating the game files and see what happens.
How to fix Cyberpunk 2077 no audio or no sound issues (easy solutions)
One of the attractions of Cyberpunk 2077 is its in-game music so it can be a major letdown if you encounter sound problems such as audio crackling, or total loss of audio. To fix the problem, these are the solutions that you can do:
Check the basics.
If the audio disappeared while in the middle of the game, the first step that you need to do is to ensure that you check the basic things first.
Is the problem system-wide, meaning that other applications also have no sound or is it happening with Cyberpunk 2077 only. If you have sound with other apps, then you'll need to focus your troubleshooting on the game only. However, if it's otherwise, be sure that your PC does not have any issues at all.
Make sure that you check for Windows 10 updates.
If your PC already runs the latest software update, open sound settings and ensure that you have not muted the game by mistake in the Volume mixer.
You can also dive into your output device properties. To do that, open Sound Settings, choose the correct output device (if you have more than one), or use the Troubleshoot button to let the system find a solution for you.
Restart the game.
For me, the only solution that worked when the game sound suddenly cuts out was to close Cyberpunk 2077 and relaunch it. The problem did not return after the game was refreshed this way so be sure to try this simple fix if you encounter any audio device quality issues, or any general sound problems with this game.
Power cycle your PC.
If a quick game restart won't work, another simple thing that you can try is to reboot the computer. To do a full power cycle, turn the computer off and unplug it from the power source for 30 seconds. Afterwards, power it back on and see if the problem goes away.
When doing this solution, make sure to check first if other applications has sound.
Update audio drivers.
You can also try to fix audio problems by making sure that your PC has the latest audio drivers. Hardware troubles are sometimes caused by old or malfunctioning drivers. To check, be sure to update the audio driver with these steps:
In the search box on the taskbar, type "device manager", then select it from the results.
Select the arrow next to Sound, video and game controllers to expand it.
Right-click the listing for your sound card or audio device, such as headphones or speakers, select Update driver, then select Search automatically for updated driver software. Follow the instructions to complete the update.
If you need further troubleshooting help with Windows 10 sound problems, visit the official Microsoft support site.
Tweak audio device properties.
For others, changing one particular option under their audio device properties is the key to fixing this problem. Here's what you need to do:
Right-click on the speaker icon in the bottom right corner of your desktop (on the taskbar).
Click Open sound settings.
On the taskbar, open Sound Settings.
Click on Sound Control Panel.
Highlight the Default Device and double click on it.
Click on the Advanced tab.
Select 24 bit, 44100 Hz (Studio Quality).
Click OK.
What to do if Cyberpunk 2077 has sound but audio is crackling?
For those experiencing crackling sound, there's an easy fix for this problem.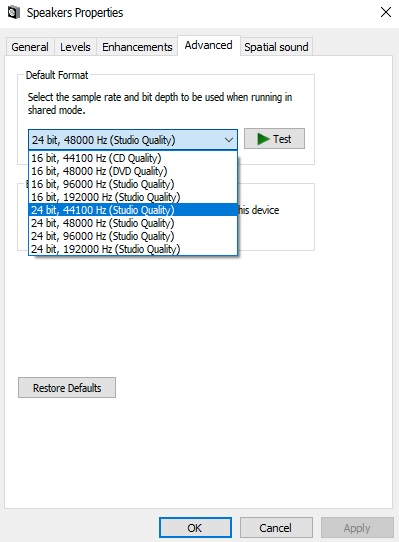 Right-click on the speaker icon in the bottom right corner of your desktop (on the taskbar).
Click Open sound settings.
On the taskbar, open Sound Settings.
Click on Sound Control Panel.
Highlight the Default Device and double click on it.
Click on the Advanced tab.
Select 24 bit, 96000 Hz (Studio Quality) until the audio crackling issue disappears.
Click OK.
Other interesting articles:
Visit our TheDroidGuy Youtube Channel for more troubleshooting videos and tutorials.