The completely new map of Call of Duty Warzone, Caldera, is a pretty large update to the game. While the game is largely stable for many players, a significant number of people are encountering the COD Warzone Pacific update issues at this time. One of such issues with the new map is frequent and, at times, random crashes in the lobby or in the middle of gameplay. 
If you're experiencing the COD Warzone Pacific crashing issue after updating, we'll take care of that for you.
How to fix COD Warzone Pacific crashing after updating?
Based on reports from many players around the internet, there can be several reasons why the new COD Warzone Pacific Caldera map is not working as expected.
In this guide, we'll show you how to fix the issue with a few possible solutions so you can get back to your favorite game in no time.
Fix #1: Ensure that your PC can run COD Warzone Pacific.
If you're a newbie to COD Warzone Pacific, it's important that you double-check if your computer meets the minimum system requirements. The completely new map of COD Warzone Pacific update, just like the original released version of the game, requires a certain set of hardware in order to work. Having a slow or incompatible PC can be the reason for the crashing problem.
Below are the COD Warzone minimum specifications:
OS: Windows 7 64-Bit (SP1) or Windows 10 64-Bit
CPU: Intel Core i3-4340 or AMD FX-6300
RAM: 8GB RAM
HDD: 175GB HD space
Video: NVIDIA GeForce GTX 670 / GeForce GTX 1650 or Radeon HD 7950
DirectX: Requires DirectX 12 compatible system
Network: Broadband Internet connection
Sound Card: DirectX Compatible
If your computer does not meet the system requirements for COD Warzone, this may be the reason why it keeps crashing and it can't run the game normally.
Fix #2: Check for the latest update to your GPU drivers.
If there's no problem with the hardware, the next step that you want to do is to check if the software, particularly your GPU drivers are running the latest version.
Many PC gamers encounter COD Warzone Pacific crashing issues simply because their PC is not equipped with the updated GPU drivers.
To ensure that your graphics drivers are up-to-date, follow these steps:
Right click the Start button and select Device Manager. 
Expand Display adapters. This will show you the list of display adapters available in your computer.
Right click the display adapter you are using to play the game then click Update driver. This allows you to check for available updates.
Select search automatically for drivers. Windows will search online for drivers and install it.
Alternative ways to keep your graphics drivers updated include updating using the Windows update option under Settings, or by using a special software of your hardware such as NVIDIA GeForce Experience or AMD Radeon.
Fix #3: Repair the COD Warzone Pacific game files.
Once you've taken care of the basic hardware and software checks, the next thing that you want to do is to see if the technical issues and crashes you're having are due to corrupted files.
Repairing the COD Warzone Pacific game files is easy. All you have to do is to use the Scan and Repair option in the Battle.net client. Here's how: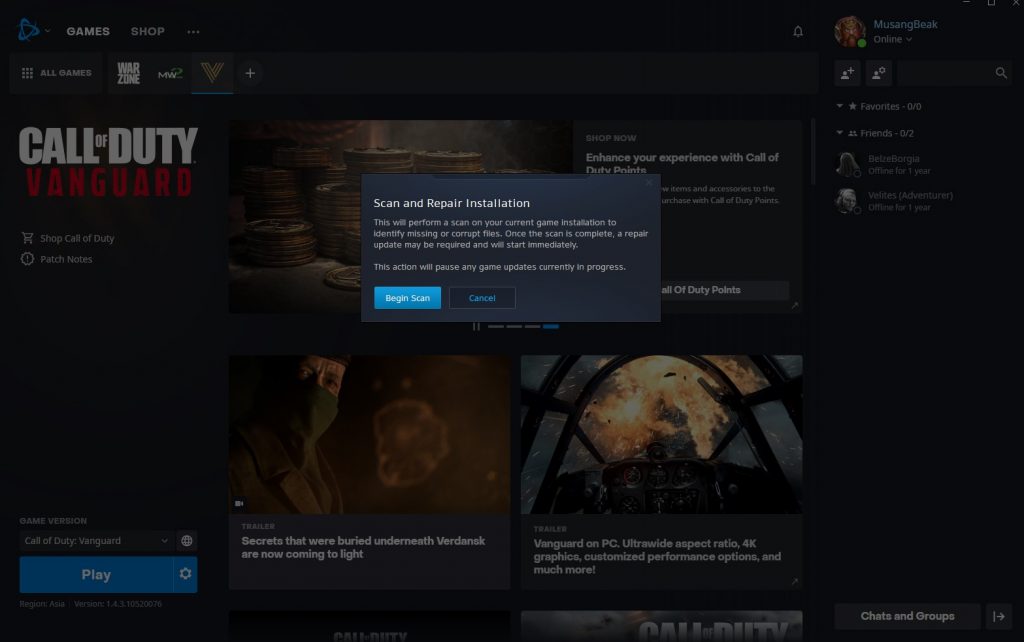 Launch Battle.net app.
Select the COD Warzone game tile.
Click the gear icon to access Options.
Select Scan and Repair.
Restart the game when the process is complete.
Fix #4: Reinstall Warzone Pacific.
If checking for corrupted files did not change anything, the cause of the problem likely lies deep inside.
For most people with the COD Warzone Pacific crashing issue, a quick use of Scan and Repair option is enough but if that did not change anything, you should consider deleting the game. You can reinstall Warzone Pacific and see if the fresh installation will clear whatever bugs or glitch that may have developed in the system.
Fix #5: Don't overclock.
For  some people, their COD Warzone crashing issue may be caused by overclocking. If you do overclock your CPU or GPU, try to see if returning any of  them to their regular clock speed will eliminate the Warzone Pacific crashing issue.
OTHER INTERESTING ARTICLES YOU MAY LIKE:
Visit our TheDroidGuy Youtube Channel for more troubleshooting videos and tutorials.