Many Call Of Duty Black Ops Cold War players have complains about voice chat issues. If you're one of them, this troubleshooting guide should help. Learn what you must do if you are not getting any sound on your headset, or when your microphone seems to have stopped working for some reason.
What are the causes for Voice Chat issues on Black Ops Cold War?
If you are having an issue with your in-game voice chat feature when playing Call Of Duty Black Ops Cold War, one of the following must be the cause:
Audio device not set as default.
If you play Black Ops Cold War on a PC and you have more than one audio device connected, it's possible that the wrong device is set as default. Windows automatically sets the current device or headset you're using for voice chat as the default audio device but sometimes, this does not happen.
Random game bug.
At times, the main reason for game chat issues is totally random and triggered by a game glitch. A defective audio component such as a broken audio port may also trigger weird changes to your computer's audio settings.
Defective audio device.
Obviously, if your headset, microphone, or audio device is defective, you'll probably encounter audio difficulties when using it. No device is perfect and sometimes, software glitches or hardware malfunction may be the simple reason why you may be having a communication device issue in Black Ops Cold War.
Server issues (PC and console).
If you are positive that your communication device is working, but you are still experiencing a voice-chat-not-working issue, it might be due to a server problem. Sometimes, voice chat servers may go down independently of the game server. Consider checking for any on-going server issues to know.
NAT issues.
If you are having a one sided issue, such as when you can't hear other players after joining a party, it may be due to a restrictive multiplayer Network Address Translation or NAT.
Ideally, you should have an open (Xbox) or Type 1 (PlayStation) NAT when gaming to avoid complications.
How to fix COD Black Ops Cold War Voice Chat issues
Fixing voice chat issues on Black Ops Cold War is not straightforward. You'll need to narrow down the factors in order to identify the real reason. Below is a set of troubleshooting steps that you must follow to fix any voice chat issue you may be experiencing.
Make sure that you're not muted.
If you can hear other players but they can't seem to hear you when you talk, it's possible that you may have muted yourself. Make sure to check the mute button on your headset and disable it if necessary.
It's also possible that the player/s you're talking to may have muted you if they find you annoying.
Install driver updates.
For PC players, it's important to always remember to update your computer's drivers. This is true for primary components like your graphics card or audio card.
Console players don't need to check for driver updates as these are usually packaged with the system updates for their console.
Restart the game.
Another simple troubleshooting that you can try is to close the game and restart it. Sometimes, this is enough to get rid of randomly triggered bugs.
Check for server outage.
Sometimes, voice-chat-not-working issues can be caused by something outside your control. To check for possible server glitches at this time, you can visit the official Activision support site: https://support.activision.com/onlineservices/
Once you're in the site, make sure that you check the status indicator for your platform. If it's not green, or if there's an alert or message, there may be an on-going connection error.
Check the headset or audio device on another PC or console.
If you continue to have voice chat or game chat issues, make sure that you check if it's a headset issue. If you have another PC or console, use your headset in that device and see if it's working.
If the headset is still not working on the second device, you'll want to get a new replacement.
Set your audio device as default.
A common reason for many voice chat related issues for PC gamers is incorrect sound settings. If you are not getting any sound during voice chat, or if you're microphone appears off or not working, it may be because your audio device is not properly set.
To check your sound settings on Windows 10: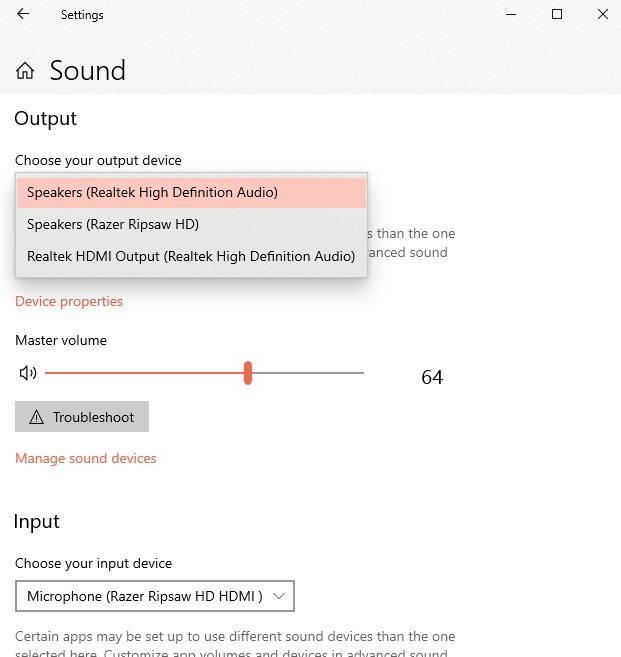 Click on the Start button on your taskbar.
Click on Settings icon (gear or cog icon).
Click on System.
Click on Sound.
Under Output section, make sure that you select the correct audio device.
If you're having an issue with your microphone, go to the Input section and select the correct input device.
Run Black Ops Cold War and then go to the Options menu.
Under the Audio settings tab, set Microphone Device to the Default Communication Device option.
Ensure that the controller is working.
If you connect a headset to your controller for PC, try unplugging the headset from the controller and connect it to your computer directly instead.
If the headset works normally when plugged in to the PC but not when connected to your controller, consider replacing the controller.
Ensure NAT is not restricted.
For console gamers, voice chat in multiplayer games may sometimes fail to work due to NAT issues. Try checking your own NAT and see if changing it can help fix your voice-chat-not-working issue.
Also read:
Other interesting articles:
Visit our TheDroidGuy Youtube Channel for more troubleshooting videos and tutorials.