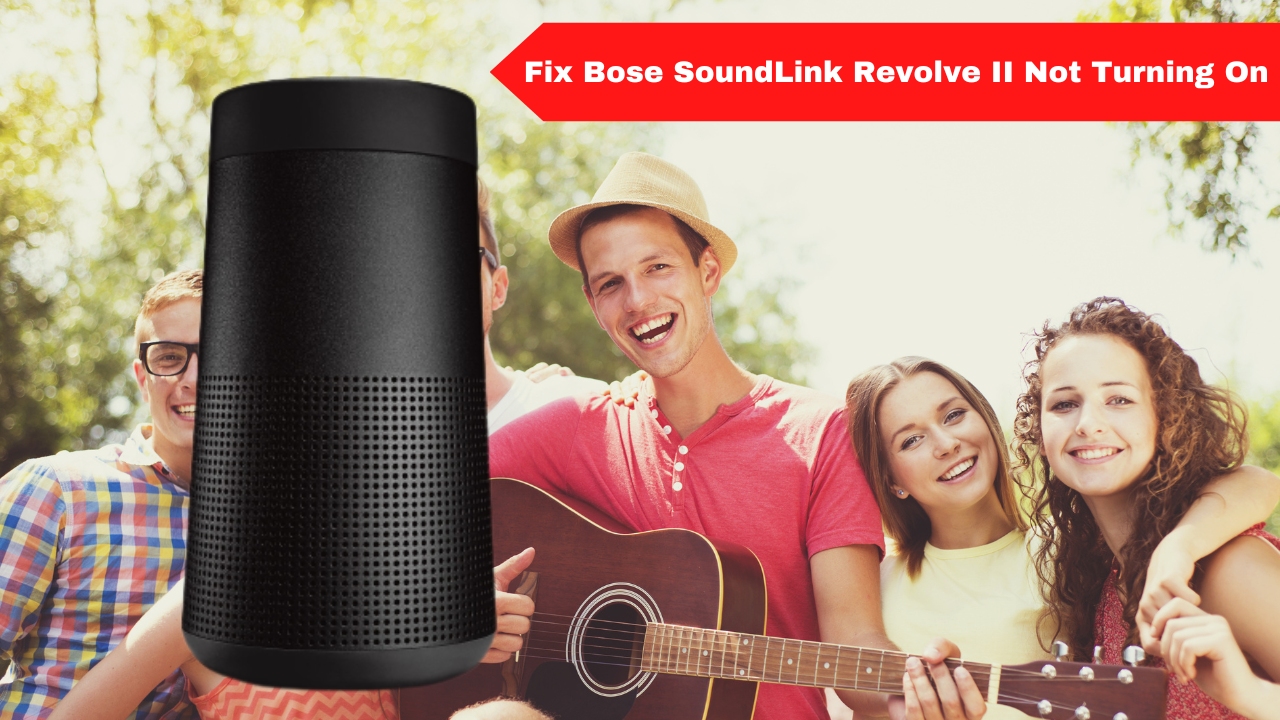 Is your Bose SoundLink II speaker not turning on? This could be caused by a software glitch, defective battery, faulty charging cable, or a defective circuit board. To fix this, you will need to perform a series of troubleshooting steps.
The Bose SoundLink Revolve II is one of the popular portable Bluetooth speaker models that is a successor to the original SoundLink Revolve and features improvements in sound quality and battery life. It is ideal for use in a variety of settings, including outdoor gatherings, picnics, and indoor parties. It comes equipped with two opposing passive radiators and dual-opposing full-range transducers that work together to produce clear, powerful, and balanced sound. It also has a built-in microphone for taking hands-free calls and has a water-resistant design, making it suitable for use near water or in light rain.
Expert Guide to Resolve the Bose SoundLink Revolve II Power Issue
One of the issues that you might experience with Bose SoundLink II Bluetooth speakers is when it does not turn on. This can be an annoying experience especially if you are about to use it to listen to your favorite music.
Here's what you need to do to fix this Bose SoundLink speaker not turning on issue.
Solution 1: Press the power button of your Bose SoundLink II speaker
The first troubleshooting step you should try if your Bose SoundLink II speaker does not turn on is to press and hold for a second the power button. Make sure that the power button is properly functioning and not stuck. If the button is stuck, try cleaning it with a soft cloth.
Connect Bose SoundLink speaker to a charger then connect the charger to a power outlet.
Press the Power button.
If all goes well then your Bose speaker should turn on. If it doesn't then proceed to the next step.
Solution 2: Charge your Bose SoundLink II speaker
One of the reasons why your Bose SoundLink II will not turn on is because of a low battery power. You should make sure that your Bluetooth speaker is fully charged then check if this will fix the problem.
Connect one end of a micro USB cable to the DC IN 5V micro USB port on the speaker and the other end to a USB AC adaptor (commercially available), and then connect the USB AC adaptor to a power outlet.
Make sure that the USB cable is firmly connected to the speaker and the USB charger.
The battery charging completes in 4 hours when using a charger with a power output of 1.5A.
After the charge indicator shows that the battery power is full try checking if the speaker turns on.
If the speaker still won't turn on after charging, try using a different USB cable or a different charger.
Solution 3: Plug the Bose SoundLink II Bluetooth speaker to a different power outlet
If the Bose SoundLink II speaker won't charge then check if the connected power outlet is working. Try plugging the power adaptor to a different wall outlet then try powering on the speaker.
Solution 4: Update your Bose SoundLink II software
One of the reasons why you are experiencing power related issues on your Bose SoundLink II speaker is because of a bug in it current software version. Try updating the software of the speaker then check if this fixes the problem.
How to update Bose SoundLink II software
Connect the speaker to a computer. Use the micro USB cable that came with the speaker to connect it to a computer.
Check for updates: Visit the Bose website and go to the Support section. Look for the SoundLink Revolve II and select the "Software Update" option. Follow the instructions to check for available updates.
Download the update: If an update is available, follow the instructions to download and install it on your speaker.
Disconnect the speaker: After the update is complete, disconnect the speaker from the computer.
Solution 5: Factory reset your Bose SoundLink II speaker
If you keep on experiencing power issues on your Bose speaker then you should consider doing a factory reset or hard reset. This brings back the speaker to its default factory settings.
Factory resetting the Bose SoundLink II will erase all stored data, settings, and paired devices. Before resetting the speaker, make sure to backup any important data or files stored on it.
Restore the factory settings of your speaker
Power on your speaker.
Press and hold the Power icon button for about 10 seconds until the Bluetooth light blinks blue and a voice prompt instructs you to select a language.
Solution 6: Bring your Bose SoundLink II speaker to a service center
There are instances when your speaker will not turn on because of a hardware issue. This can be due to a faulty circuit board for example. If this is the case then the best support right now is to bring the device to the nearest service center. If the speaker is still under warranty then this might be replaced with a new one or repaired for free.
Frequently Asked Questions
Can two SoundLink Revolve II speakers be wirelessly linked together in Party Mode?

Yes. The SoundLink Revolve II and Revolve+ II have a Party Mode feature. This feature requires any two Bose Bluetooth speakers from the following list: SoundLink Color II, SoundLink Micro, SoundLink Revolve, SoundLink Revolve+, SoundLink Revolve II, or SoundLink Revolve+ II.

How do I connect the speaker to my device?

To connect the Bose SoundLink Revolve II to your device, you can use Bluetooth or the Bose Connect app. The app allows you to easily connect to and switch between multiple devices, as well as access firmware updates and other features.

What is the battery performance of the SoundLink Revolve II and Revolve+ II Bluetooth speakers?

In typical usage, the SoundLink Revolve II battery lasts up to 13 hours and the SoundLink Revolve+ II lasts up to 17 hours. Battery performance can vary with the content played and volume at which it is played.

Can I use the speaker with non-Bluetooth devices?

No, the Bose SoundLink Revolve II is a Bluetooth speaker and does not have an auxiliary input.

What does the IP55 rating mean for the water-resistant SoundLink Revolve II speakers?

The IP55 rating classifies the degrees of protection provided against the intrusion of solid objects (including body parts like hands and fingers), dust, accidental contact, and water in electrical enclosures.