In the vast world of Android apps, font style, and typeface can elevate your device's interface from mundane to extraordinary. This article showcases a variety of impressive font apps and fonts available on the Play Store, designed to refresh and personalize your Android phone's look.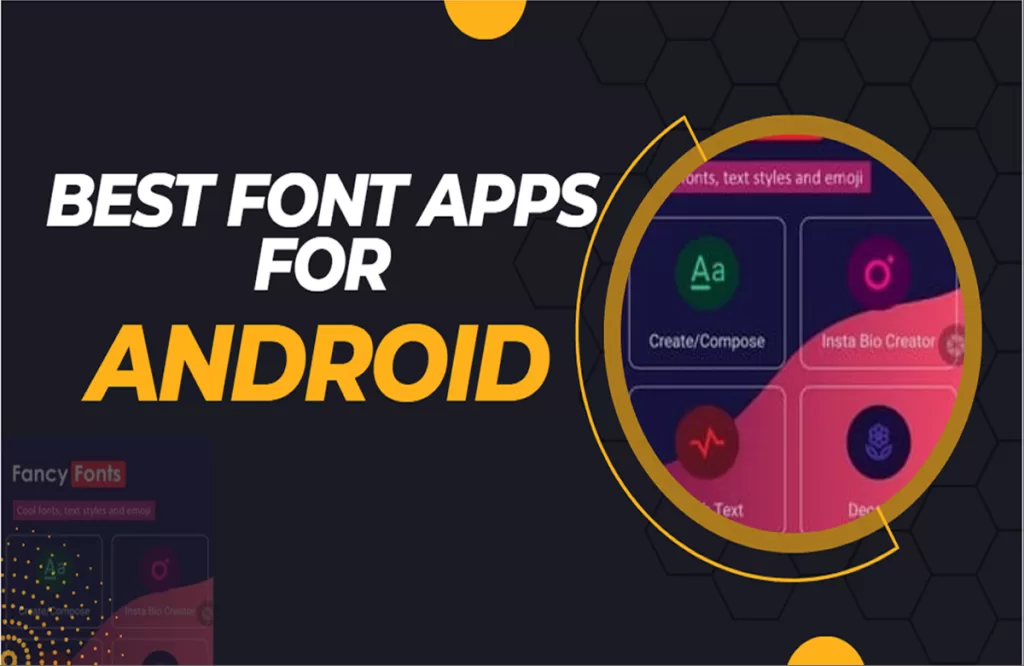 Highlighting free and user-friendly options, this guide walks you through some of the best font apps for Android, each offering a unique blend of stylish fonts, system font modification abilities, and even in-app font previews.
Exploring the Best Font Apps for Android Users
Font style and typeface significantly impact the readability and aesthetics of a device's interface. Plenty of cool apps are available on the Play Store for Android users who want to use different fonts on their Android phones.
These applications offer a wide array of stylish fonts, create an opportunity to change the system font, and even provide the ability to preview selected font before applying it. This article guides you through some of the best font apps for Android.
iFont
Thanks to its outstanding collection and usability, iFont is one of Android's most popular font apps. This free app has over a thousand beautiful fonts to choose from. It permits you to install new font styles on your smartphone from several designers worldwide—creating a beautiful blend of different font styles in a single platform.
An added perk of the iFont app is its ability to change fonts for Samsung and other rooted phones seamlessly. It lets you preview and test each font style before deciding on your best fit. Furthermore, it enables users to adjust the font size for better readability.
HiFont
Amongst Android users, HiFont has gained popularity due to its extensive library comprising thousands of stylish fonts. Available for free in the play store, one could effortlessly use this Android app to switch up the system font and be creative with text design in photos or social media posts.
Like iFont, this app allows users to test drive selected fonts using its in-app preview feature. HiFont also supports Samsung's Flipfont program enabling non-rooted Android devices to switch between different font types without hassle.
Stylish Fonts
The go-to stylish fonts app offers over 50 font families that easily modernize any Android device's appearance. The practice extends beyond changing the system font; users could use this stylish, trendy typography within apps like Whatsapp or Instagram for engaging content creation.
This Android app offers simple controls that guide users on using different fonts seamlessly while conversing with contacts or creating social media posts with beautiful character formatting.
Fonts – Emoji & Fonts Keyboard
The 'Fonts – Emoji & Fonts Keyboard' application prides itself as an incredibly versatile tool providing hundreds of free fonts and emojis in one place. A perfect companion for Instagram stories or regular texting, it allows users to grasp their desired communication effect by choosing beautiful typefaces.
With quirky designs ranging from calligraphy-inspired ones, hipster block letters, traditional typewriter imitations, and more—it takes creative expression up by several notches!
Fonty – Draw and Make Fonts
This app is ideal for those who aren't content with existing typefaces and wish to create their masterpiece! Fonty allows Android phone owners not just to choose the standard typography supplied with their device but to develop their unique, trendsetting fonts.
A truly rewarding experience, it provides tools necessary in distinguishing each letterform carefully according to their liking— using brush size specifications, etc.
Pixellab
Pixellab is another free app that excites Android phone users interested in creating customized images along with carefully fabricated text placement opportunities filled with cool fonts from various font families available within it.
Without any locked features, even in its free version, it presents supreme control over making custom designs that thrill others, whether shared socially or just inside your smartphone.
A bonus here is its 3D text feature, which completely redefines how stylized typography garners attention, attracting followers instantaneously when used wisely!
Final Thoughts
In today's digital age, where design drives engagement extensively — alongside enhancing user experiences— having access to unique text forms or creating distinctive ones becomes ever more critical both personally & professionally alike.
These listed best free apps create limitless opportunities for everyday Android smartphone users exploring alternate avenues beyond default system-font options while significantly growing their overall device aesthetics using cool features within each platform.
Remember, exploring what works best requires trial periods discerning individual preferences closely while capitalizing available options astutely according to context-specific needs or desires — personal chats or wider social media posts requiring eye-catching graphics accompanied by prolifically styled texts!
Lastly, remember every experience becomes special only when enjoyed thoroughly without worries — so always remember backing-up data firmly before making changes related directly or indirectly, causing potential memory imbalance within your device, consequently disrupting normal functions unknowingly!
Note that some apps require root privileges depending upon specific handsets accessed primarily & feel free to contact respective app developers regarding troubleshooting guidelines provided typically within App Store platforms against knowledge basis articles like these, aiding such processes productively end-to-end successfully!
Best Font Apps for Android Phones FAQ
What are font apps for Android phones?

Font apps for Android phones allow you to change the font style on your phone. They offer a variety of fonts to choose from, allowing you to customize the appearance of text on your smartphone.

Why would I want to use a font app on my Android phone?

Using a font app can enhance the visual appeal of your Android device. It lets you personalize your smartphone using different fonts that reflect your style and taste. It can also make reading text on your phone more enjoyable by selecting a font that is easier to read.

What are some of the best font apps for Android?

Some of the best font apps for Android include iFont, HiFont, and Font Changer. These apps offer a wide range of beautiful and stylish fonts. They are available for free on the Play Store and offer easy-to-use interfaces.

Can I preview the fonts before installing them?

Yes, most font apps for Android provide a preview feature that allows you to see how a particular font will appear before you install it. This way, you can test different fonts and select the one that best suits your preferences.

Are there any paid font apps for Android?

While many font apps for Android are free, some premium font apps offer additional features or a larger selection of fonts for a price. These paid apps usually provide even more unique font styles to choose from.