When Apple originally announced its AirPods — the company's first truly wireless headphones — many were in shock over the price. It's an expensive price tag, but thankfully competitors already offered or started getting to work on cheaper versions of these earbuds, but with the same quality. Check out our favorite seven alternatives to Apple's AirPods below!
* If you buy through links on our site, we may earn an affiliate commission. For more details, please visit our Privacy policy page.
Samsung Galaxy Buds
For a long time, Android didn't have a proper alternative to Apple's AirPods. But now, thanks to some amazing technology from Samsung, the Galaxy Buds are an excellent replacement.
They offer you similar sound quality, but most importantly, they offer you the seamless connectivity that you're looking for. After your first pairing, pop these in your ear, and then they automatically connect to your phone, ready to start playing music. One of the things that they actually do better than Apple, at least we think, is in terms of the comfort department.
Battery life isn't too bad, either. There are a whole six hours of battery life in the earbuds themselves, and then there are another seven hours in the case itself, which doubles as a wireless charger for your Galaxy Buds.
There is water resistance as well, which makes them ideal for jogging in the rain or doing an intense workout at the gym.
Buy it now: Amazon
Bose SoundSport Free
Bose offers its own pair of AirPod alternatives. Called the Bose SoundSport Free, these are some excellent choices. Bose, being one of the premier audio manufacturers out there, has made sure that sound quality is crisp and clear in these bad boys. That said, you get excellent lows and clear highs. Bass sounds really great with these earbuds as well, despite their small form factor.
They connect over Bluetooth and automatically connect and disconnect when you put them in your ears and take them out. Your package comes with a micro-USB chargers so that you can charge them. Built-in firmware will let you track your headphones if you lose them.
There are up to five hours of playback time with each charge, and an additional 10 hours with the included charging case.
Additionally, the Bose SoundSport Free headphones have an integrated dual-microphone array located on the right earbud to allow you to use them during calls when connected to a smartphone that supports Bluetooth. Call audio will only be heard in the right earbud .
Buy it now: Amazon
Soundmoov Wireless Earbuds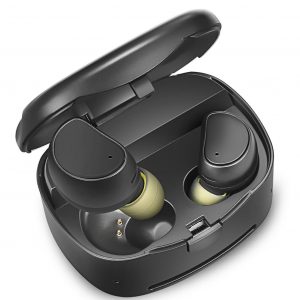 Soundmoov offers a great pair of wireless earbuds that are high quality and affordable. With these earbuds, you'll get top quality sound and comfort you haven't had before with headphones. A significant aspect of these is that they're noise-cancelling, which makes them ideal for a jog or even sitting down to study.
These earbuds have excellent battery life as well, especially for how low profile they are. You can get anywhere between 2-4 hours of straight music streaming out of these. Not only that but if you're on the run and get a call, you can answer the phone with these earbuds, as they're also equipped with a microphone.
They also come with a wireless charging box. Hook the box up to a charging cord, set your earbuds in the box, and the charging automatically begins.
Soundmoov offers its Bluetooth wireless earbuds on Amazon, among other retailers. You can get them in Black or Gray.
Buy it now: Amazon
FocusPower F10 Mini Bluetooth Earbud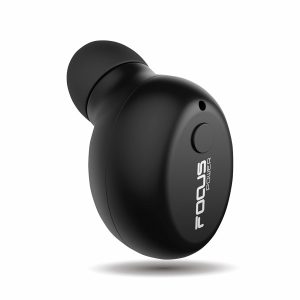 FocusPower's F10 Mini Bluetooth Earbud is another excellent set and might be the smallest and most low profile set you'll come across. They produce great sound, they're comfortable, and they have great battery life. At 40% volume, FocusPower says you should be able to get a whopping six hours out of this pair, 4.5 hours at full volume.
There's no need to worry about comfort either — this earbud feels excellent in the ear and fits securely, making these the ideal pair for sporting.
The unique part about this earbud is that they come with a magnetic USB charger. Plug the USB charger into your laptop and then set the earbud on the charger. The charger then charges the earbud through magnets — no need to fiddle around with cords for such a small earbud.
Keep in mind that this is a single earbud, and it is available on Amazon.
Buy it now: Amazon
Samsung Gear IconX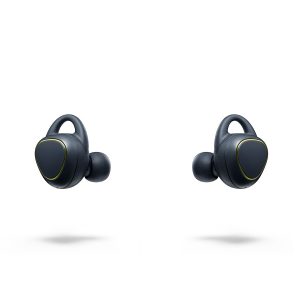 The Samsung Gear IconX is a great pair of earbuds as well. They might be the most expensive on this list, but the quality is unmatched.
You, of course, get your cable-free design, but these earbuds are a tad larger. And that's because there's a small bit of storage space in there — 4GB — for your music so that you don't even have to connect these earbuds to your phone if you don't want to. You can simply upload your music to these earbuds.
They're also very comfortable. There's stabilizing gel in these earbuds so that you not only get that comfort but so that the earbuds fit firmly in your ear and don't move around too much.
Unlike most earbuds, the Samsung Gear IconX has a built-in fitness tracker and heart rate monitor that can share information with your device. These earbuds are also charged by way of wireless charging.
The Gear IconX is a bit costly but are packed full of the helpful technology. They can be bought in Black, Blue or White. Do keep in mind that you'll need a device running Android 4.4 or higher with 1.5GB of RAM.
Buy it now: Amazon
TripleTree Bluetooth Earbuds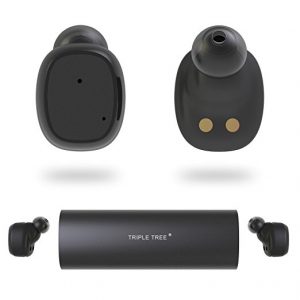 TripleTree has a great pair of Bluetooth earbuds, as well. These earbuds have superior sound quality, although they aren't nearly as comfortable as many of the other options on this list due to a lack of a quality ergonomic design.
You should be able to get about 3 hours of straight use out of these once off the charger. It comes with its own charging box, which can hold a charge of 650mAh, allowing you to charge these earbuds up nearly 4 times before having to hook the charging box back up to the wire.
These come in Black, Rose Gold, and Gold.
Buy it now: Amazon
MPow Wireless Earbud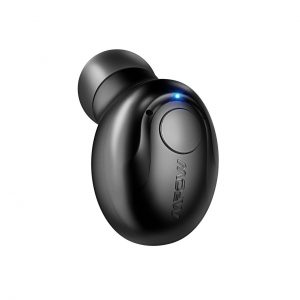 MPow offers a competitive earbud by maximizing comfort, sound quality, and battery life. It's not necessarily designed for sport but it is great for talking on the phone in the car or listening to music or a podcast while doing something else.
Where MPow really excels with this earbud is with battery life and Bluetooth range. You can get a whopping 4.5 hours out of this earbud at full volume, and a few more hours out of it if you stick to around 40%. Not only that, but you don't have to carry around your phone or tablet with you everywhere, as this earbud has a range of up to 33ft.
It's the cheapest earbud on the list, too. At the current price, you're getting a quality earbud that won't break the bank.
Buy it now: Amazon
Our Take
There's a pair of earbuds on this list for every price range. If you don't mind spending some money for a quality gadget, the Galaxy Buds are an excellent choice, with the Bose SoundSport Free being a lovely runner up. If you're looking for a mid-range option, TripleTree, Soundmoov, and FocusPower all offer quality options. But, if you're on a tight budget and don't mind the one earbud experience, MPow's offering is superior in quality.
No matter which one you choose, you're going to get a quality set of wireless earbuds that'll last you a few years.
* If you buy through links on our site, we may earn an affiliate commission. For more details, please visit our Privacy policy page.