Samsung offers a phenomenal pair of headphones called the Gear IconX. A pair of Gear IconX's will transform your music capabilities and bring you nearly unmatched sound quality. They have rich bass, great treble, and clear mids. That said, it's hard to find things that are wrong with the Gear IconX headphones, but where they really lack is in battery life. When you connect these wireless earbuds to your smartphone or tablet, the Gear IconX can only last a couple of hours with straight audio streaming. Are there longer lasting options out there for you? The answer is yes, and we've got all of the best ones listed below. Here are our top picks.
---
At A Glance:

10 Best Gear IconX Alternative in 2022
---
* If you buy through links on our site, we may earn an affiliate commission. For more details, please visit our Privacy policy page.
Best Gear IconX Alternative

The Apple AirPods are some of our favorites. These headphones have phenomenal sound quality and rich bass. They work with almost any smartphone that has Bluetooth capabilities as well, not just Apple devices. After you connect them up to your device, you can get up to five hours of listening time off of a single charge. When you run out of battery life, stick them in the charging case that they come with, and after just fifteen minutes in there, you can pull them out for another three hours of listening time.
We should note that you will definitely have the best experience with these headphones when connected to an iPhone 7 or above. The Apple AirPods work really nicely with these iPhones, as they take advantage of the W1 audio chip inside to bolster sound quality. That said, you'll get almost unmatched sound quality out of the Apple AirPods. Even so, the AirPods still sound great with other smartphones.

Buy on Amazon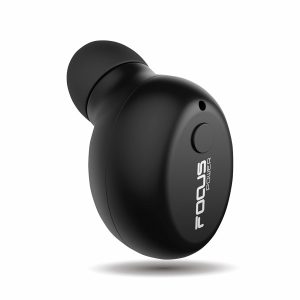 And in second place, we have FocusPower's F10 Mini Bluetooth Earbud. This is another great set, and might be the smallest and most low profile set you'll come across. They produce great sound, they're comfortable and they have excellent battery life. At 40% volume, FocusPower says you should be able to get a whopping six hours out of this pair, 4.5 hours at full volume.
There's no need to worry about comfort either — this earbud feels great in the ear and fit securely, making these the ideal pair for sporting.

Buy on Amazon


Next, we have the Geekee True Wireless Earbuds — we like them quite a bit because they operate over the latest rendition of Bluetooth — Bluetooth 5.0. This allows you to get a further wireless range, as well as more consistent sound quality. There's improved battery efficiency as well, which lets them run longer. They're comfortable in the ear, but you do only get 3 to 3.5 hours of straight music playback out of these. That said, you can juice them up pretty quickly by throwing them in the charging case.

Buy on Amazon


You might also want to check out what the Jaybird X3 headphones have to offer. These in-ear wireless Bluetooth headphones sound excellent, bringing you great sound quality to your favorite tunes. With rich bass, great treble, and clear mids, you'll only get the best sound experience, whether listening to music or podcasts. Jaybird has designed these to be as small as possible, so you shouldn't have trouble with portability either. The Jaybird X3 actually has industry-leading battery life as well — a single charge will get you up to eight hours of straight audio listening.

Buy on Amazon


Do you really like what Beats has to offer in terms of sound quality and design? Then you'll love the BeatsX headphones. If you want clear and accurate sound across the board, you can't go wrong with what the BeatsX headphones have to offer. These wireless in-ear headphones will transform your music and audio experience, as well as provide you with up to eight hours of straight music playback time. The earbuds themselves are actually magnetic, which prevent these headphones from getting tangled up in wires. With the BeatsX you can even take calls and end calls. If you've got an iPhone, you can use Siri to do this without ever touching the in-line remote.

Buy on Amazon


The Bose QuietComfort 20's come in next; these are still excellent headphones that will bring you great sound quality. These headphones will bring the rich bass and clarity that you've been waiting for to your music listening. Bose says that they work best with Apple and Samsung Galaxy devices, but the QuietComfort 20's will work with any Bluetooth smartphone. They even have noise cancelling technology built-in to remove any ambiance for interfering with your music or podcasts. With the Active Aware feature, you can turn down the noise cancelling to stay aware of what's going around you.

Buy on Amazon


If you like what the Jaybird X3 headphones have to offer, you'll love the Jaybird Run headphones as well. The Jaybird Run are completely wireless earbuds. There are no wires connecting them together, so you will have to make sure they're paired together, and then, of course, to your smartphone as well. Portability wise, you can throw them in your pocket and forget about them. When you're ready to use them, put them in your ears and you'll get four hours of straight music playback. They come with a charging case that can quickly charge them up again as well.

Buy on Amazon


The Apollo 7 wireless earbuds are truly phenomenal. They have such a low profile design that, once they're in your ears, they can hardly be seen by onlookers. In addition, the Apollo 7 earbuds offers excellent music quality, equipped with excellent bass, deep lows and crystal clear highs. There is a built-in omni directional microphone into these earbuds, which will allow you to take phone calls while you're out on a run as well. The earbuds are even waterproof, and come with a charging case that can charge them up to two additional times after you run out of your first charge.

Buy on Amazon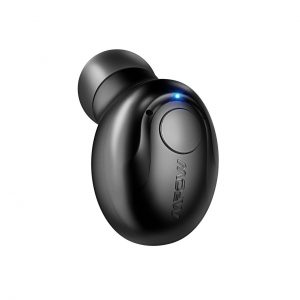 MPow offers a competitive earbud by maximizing comfort, sound quality and battery life. This one is affordable, and is great for talking on the phone or listening to casual music.
Where MPow really excels with this earbud is with battery life and Bluetooth range. You can get a whopping 4.5 hours out of this earbud at full volume, and a few more hours out of it if you stick to around 40%. Not only that, but you don't have to carry around your phone or tablet with you everywhere, as this earbud has a range of up to 33ft.

Buy on Amazon

10. TripleTree Bluetooth Earbuds
Looking for a pair of earbuds that won't break the bank? TripleTree's Bluetooth Earbuds might be right up your alley. These earbuds have superior sound quality, although they aren't nearly as comfortable as many of the other options on this list due to a lack of a quality ergonomic design.
You should be able to get about 3 hours of straight use out of these once off the charger. It comes with its own charging box, which can hold a charge of 650mAh, allowing you to charge these earbuds up nearly 4 times before having to hook the charging box back up to the wire.
Best Gear IconX Alternative Verdict
As you can see, there are a lot of great alternatives on the market for those that are looking to replace the Gear IconX. In fact, there are a lot of alternatives that are better than the Gear IconX, as we've listed above. What's your favorite alternative? Let us know in the comments section below.
* If you buy through links on our site, we may earn an affiliate commission. For more details, please visit our Privacy policy page.