If you have an image that has been stretched or blurred due to external factors and want it to appear good again, there are many websites on the internet that can help you. These websites allow users to recolor their images online from the comfort of their own homes. An image recolor can be a very useful tool if you want your image to look more presentable, attractive, and vibrant in comparison to other versions appearing on the web. In this article we have compiled the best online image editors.
Best Recolor Images Online in 2023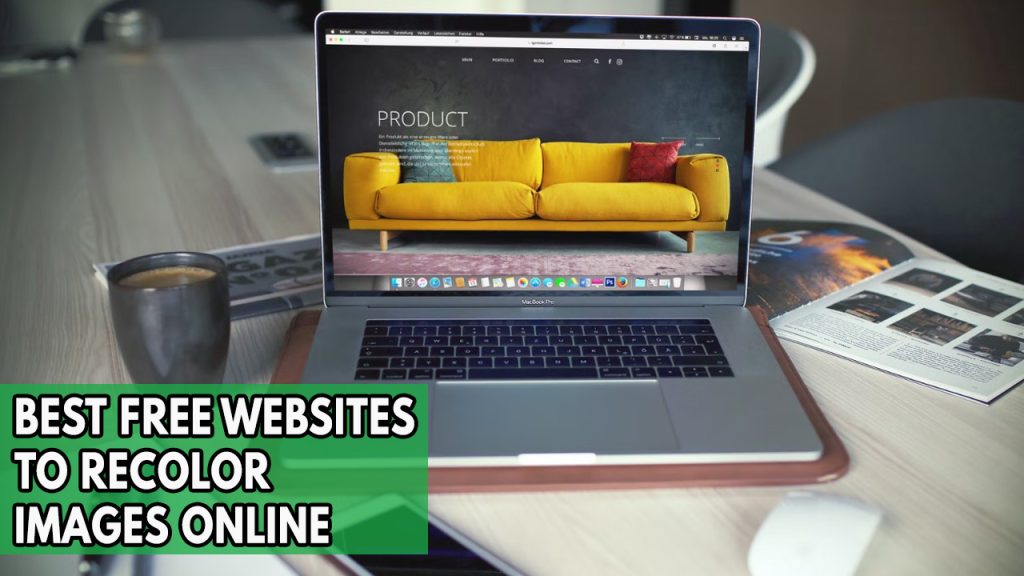 If you want to know the best websites to recolor images online then you have come to the right place. Below are out compiled list of best websites to recolor images online in 2023.
LUNAPIC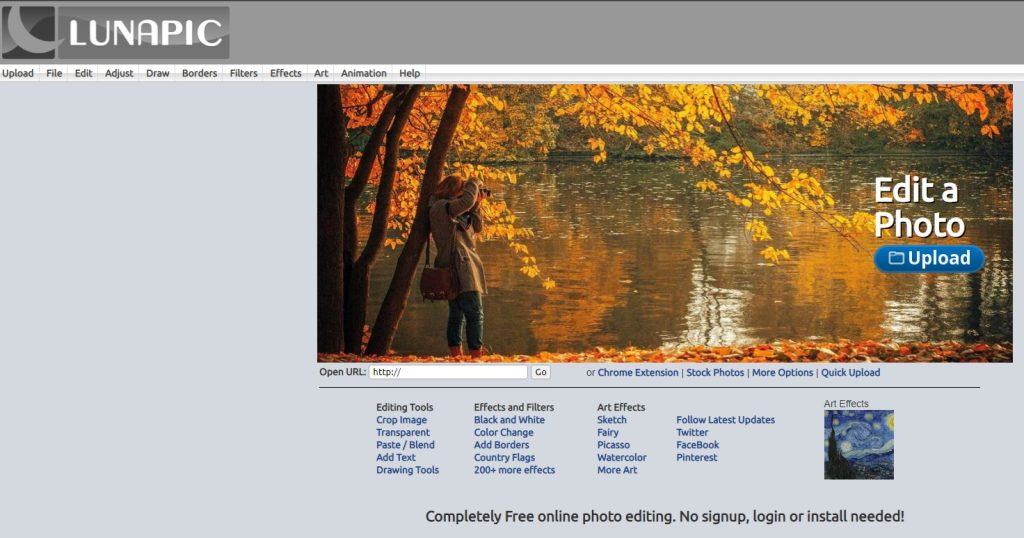 LUNAPIC is a professional photo editing website that can help you edit and improve your photos within seconds. The color replacement tool website has simple interface which will be easy for you to use. With various functions, this app can solve all your problems.
Like other image editors, LUNACPIC provides a number of features with just a few clicks. Simple to use editing features include filters, effects, and art effects.
A few tools that are particularly helpful are quality improvement, scaling, overlaying, color histogram visualization, and selective color tweaks.
When it comes to switching colors in photographs, LUNAPIC, one of the greatest online photo editors. It makes the work simple by allowing you to select the desired color simply clicking on it within the image. You can then change the color threshold once the finished image has generated. Consequently, you can change the color of the eye using this website.
UISING EYE COLOR REPLACE TOOL
Step 1: Upload your photo
Step 2: Select the Crop Image from the Edit menu Tool selected should be Circle
Step 3: Select Circle around one Eye
Step 4: Click "Color Tint" Button
Step 5: Type in the color you want
Step 6: Click "Apply Color Tint"
Step 7: Repeat for other eye
IMGONLINE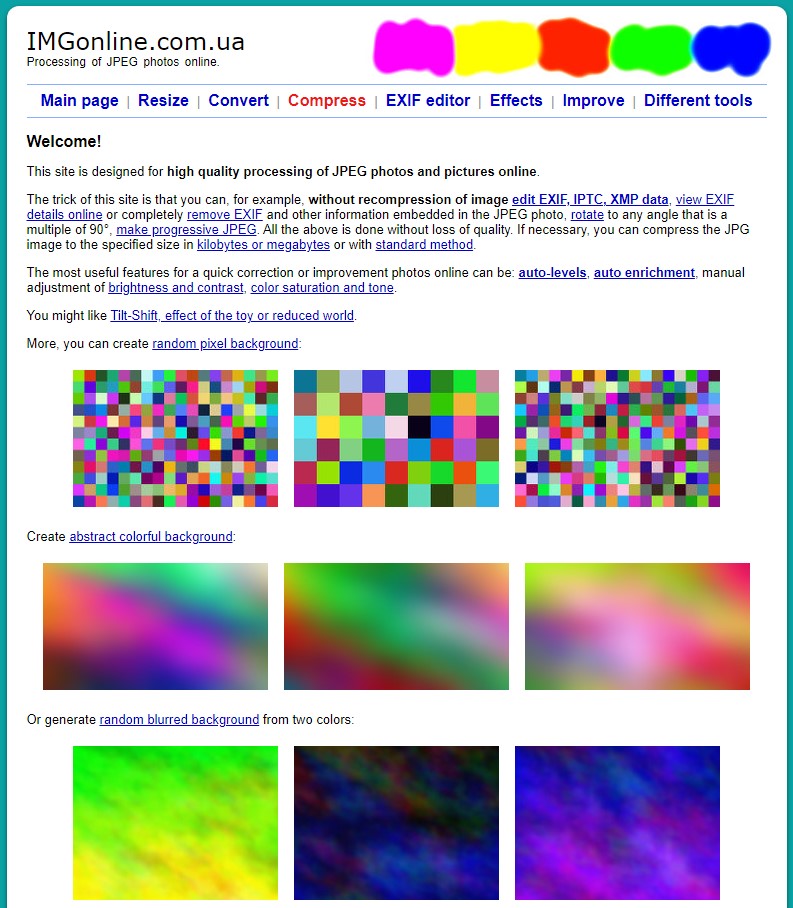 IMGONLINE is an online image editor created for the high quality online processing of JPEG images. With any photo manipulation task, IMGONLINE is one of the best color replacement that is available.
Although there isn't a direct way to choose a color from an image when altering the color, there are still a number of possibilities available.
You have three options for editing: hexadecimal or hex format, picking a color from a color palette box, or picking the nearest rainbow color.
Using IMGONLINE for basic image editing tasks
Step 1: Go to IMGonline's website.
Step 2: Use the Choose File option to upload your image after that.
Step 3: In the second box, pick the output format and your color preferences. Don't change the other options. To start the procedure, click OK.
Step 4: There won't be a preview displayed for you. In order to view it, click Open or Download Processed Image.
PHIXR

PHIXR is a web-based image editing tool that can be accessed online. Amazing image editing may be done with this free program. Users of PHIXR have access to fundamental photo-editing features like cropping, brightness, rotations, and red-eye removal.
Pixel-noise reduction and 14 Photoshop-like effects are just a couple of the more advanced features that come with this incredible application for making aesthetic tweaks to your images.
Other social networking websites can use this straightforward online picture editor. You can alter photographs using this application very easily because it is so simple to use.
The editing tools are displayed on a vertical toolbar in the window's right corner. In your browser, no plugins are required.
The fact that the PHIXR image editing online tool is completely free to use is one of its most outstanding features. That suggests that using this internet tool to alter your photographs won't cost you anything.
Simple steps include creating an account, importing photos from any source, and editing them.
Numerous effects may be easily applied, contrast and brightness can be changed, and other operations can be performed.
Using PHIXR for basic image editing tasks
Step 1: Go to Phixr website.
Step 2: Upload your image by clicking on the Start button.
Step 3: Click the color balance symbol in the left sidebar to alter the color of the entire image. Holding down the mouse button while dragging it will draw the desired selection box, allowing you to select an area then select the icon for color balancing.
Step 4: Adjust the color to your desired color with the color balance pop-up. Finally, select Run from the bottom menu.
Step 5: Use the Download / Save button at the bottom to download the image. The format in which you want to store your image can be chosen here. The formats that are offered for multiple saving modes are PNG, PDF, GIF, and JPEG.
PIXLR

PIXLR is an image editing and design tool that you can access on your PC for free. Edit photographs and make beautiful graphics straight in your browser.
Start with a blank canvas, a photo, a video, or one of our expertly made templates. With just one click and no cost, create stunning visual materials.
The one-click visual maker Photomash Studio immediately removes backgrounds from your photos to produce stunning profile pictures, product images, YouTube thumbnails, and more.
Start your design with expertly made templates! With the help of a growing collection of thousands of beautiful and cost-free templates, you can easily create the ideal sales pitch, a résumé, an Instagram story, a business card, a brochure, a YouTube banner, and more.
With PIXLR, any design can be animated in a matter of clicks. Use animation presets with a professional appearance or dive into the nitty-gritty timeline details to grab the attention of your audience in a way that simple images simply can't.
Easily remove backgrounds from your images! Instant background removal with AI in only one click! So quick and simple. Now, you can quickly and easily remove backgrounds from portraits, selfies, profile photographs, and download processed image.
With the integrated, ready-made collage templates, you may make free online picture collages. Just pick a layout, add some pictures, and begin customizing.
Use a selection of artistic photo filters to turn your pictures into works of art. Get the perfect photo effects with just a few clicks.
On a side note, the older PIXLR supports color replacement.
Using PIXLR for basic image editing tasks
Step 1: Go to PIXLR website.
Step 2: Add your photo using a URL or a file on your computer.
Step 3: In the left sidebar, select the Replace Color tool.
Step 4: Click the color box at the bottom to choose the appropriate color.
Step 5: Begin brushing the targeted area. At the top, you can change the tolerance level and brush size.
Step 6: Download the image with multiple saving modes by choosing File > Save.
MANY TOOLS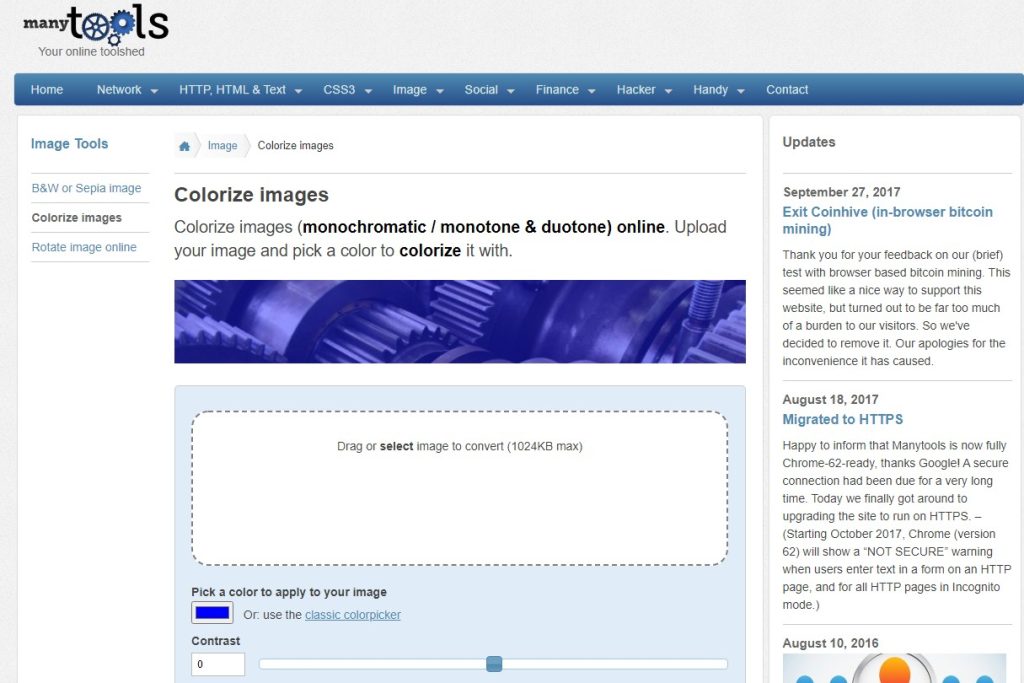 Unlike the previously listed color replacement websites that let you change a single color, the Many Tools is a simple website that lets you alter the color of the entire image. It's a straightforward website where you submit the image and choose the color of image.
Before using the final color, you can test out other shades. Additionally, you have the choice to adjust the image's contrast of the final color.
Using Color replace tool
Step 1: Go to Many Tools website.
Step 2: Select the image by clicking Choose File.
Step 3: Choose the color to use by scrolling down. The Duotone, Multiple, and Screen modes are available, and the contrast can be changed.
Step 4: To save the finished image, click Download.
Conclusion
These recolor images online image editors websites mentioned above is an outstanding software application that allows you to direct tool easily and quickly change the background color of your favorite photo in different available formats.
With this free website, you can even adjust contrast, do color balance, apply black and white photos, adjust color tone, add text to your photos and convert images with the many tools you can use.
This makes editing photos online a convenient process for anyone who wants to make their entire picture look different than they really are using the color palette or color box to replaced color.