Are you getting an application has not been installed on your LG Smart TV? Several factors can cause this issue such as a poor internet connection or wi-fi connection issue, temporary glitch, or outdated firmware of LG smart TV. To fix the LG TV apps not installed issue, you will need to perform several troubleshooting steps.
LG is a South Korean company that manufactures a range of electronic goods. The LG Smart TV range is one of their main products. Because they provide the finest quality and value, customers prefer LG TVs. Any setting or price range can use an LG TV. From their enlarged Ultra HD lineup to the greatest LED TV, NanoCell, to premium OLED. For your viewing enjoyment, LG offers a variety of high-quality audio and visual solutions.
LG TV Apps That Has Been Downloaded From The LG Content Store That Won't Install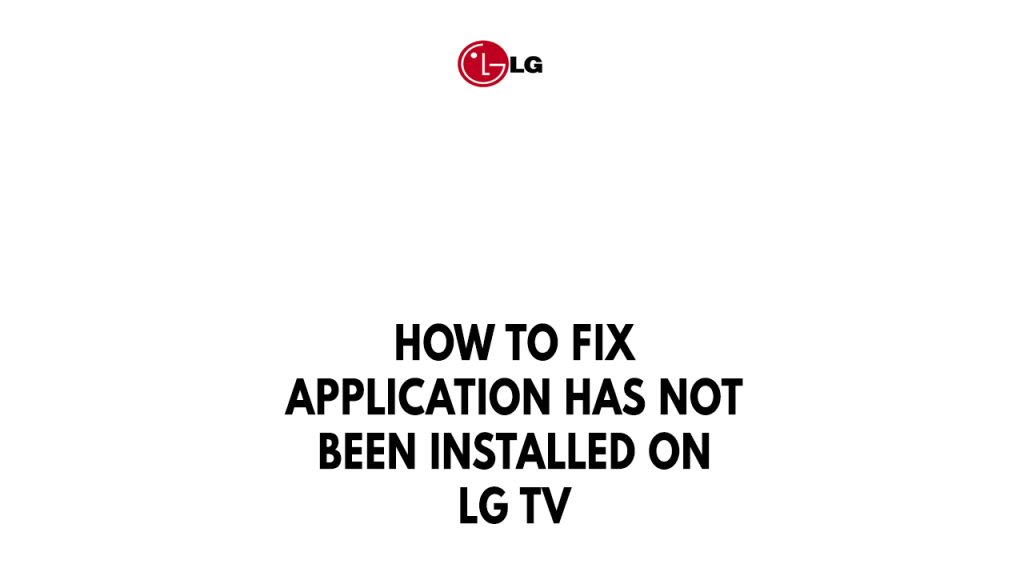 One of the issues you might experience when using your LG Smart TV is when you try to install apps but the LG TVs display application has not been installed error message. This can be a frustrating experience especially if you want to install applications on your LG TV.
Here's how to resolve installed error when installing apps on your LG TV.
Fix #1 Check internet connection
The first thing you should check is your network connection status. You must ensure that your connection is stable so that you can properly download apps on the LG content store. You can determine whether the installing apps issue is related to your network by doing a speed test.
Checking connection speed
Step 1: Open your browser on LG TV or smartphone.
Step 2: Type speedtest.net to have your connection speed check.
Step 3: Press the Go button. Pressing Go button will start the speed test.
Step 4: Wait for the results of the test to be completed. Find out how fast is your download and upload speed.
If your network connection is unstable, you can check if your network devices are responsible for the issue by doing a power cycle of your network devices.
Step 1: Unplug the power cords from the power socket on your Modem and Router. This will power cycle your network devices.
Step 2: Reconnect your modem and router to the power supply after a minute and turn on the devices.
Step 3: Wait for the lights to come on again.
To have a stable wi-fi signal with your internet connection. You can do these steps:
Step 1: While using LG TV, try to disconnect any other devices that are connected to the Wi-Fi router. This allows the gadget to utilize the maximum amount of bandwidth.
Step 2: Bring the LG TV closer to the modem. This will allow the devices to receive a significantly stronger reception. You can also connect an ethernet cable so that your LG TV will have a good connection.
After you have done the steps above, try to download apps on the LG content store and install the application and see if you get installed error message.
Fix #2 Power cycle LG TV
It's possible that the LG TV does not install apps because the tv crashed. To fix this you will need to restart your LG TV as this action will refresh it and fix most problems caused by a software glitch which is one of the most common reasons for the LG TV to not install the downloaded apps.
Power cycling LG TV
Step 1: Turn off your LG TV using LG TV remote.
Step 2: Unplug the TV from the power source.
Step 3: Wait for a minute then plug your LG TV back into the power source.
Step 4: Turn on your LG TV.
Step 6: Reconnect your LG TV to your Wi-Fi network.
Fix #3 Check LG TV storage space
If your LG TV storage space is running low and you have a lot of apps installed then there's a chance that you will experience issue of not being to install the downloaded apps on the LG content store because you have insufficient storage.
Fix #4 Clear cache apps on your LG TV
The issue can be cause by a corrupted cache data. The installed applications have a tendency to save frequently used data to speed up their operation, however this stored data can also become corrupted and result in problems like these. You will need to clear the cache of the affected app in order to resolve the issue
Clearing cache
Step 1: Go to the web browser and open its settings.
Step 2: Locate and select clear browsing data and hit ok.
Step 3: Go to home screen and select settings.
Step 4: Go to apps manager or application manager.
Step 5: Select an app from the list and go to storage option. Now clear cache from here.
Step 6: Follow the steps above to clear cache of every app you use.
Fix #5 LG Firmware updates
One of the reasons why your LG content store will have issues when you try to install app or third party apps is because of a bug in the current firmware version that is currently installed. LG TV owners should make sure that the latest firmware update is applied to fix any bugs found in old firmware.
Updating LG firmware
Step 1: On the LG TV remote control, select settings.
Step 2: Select all settings by scrolling down.
Step 3: Select the general option.
Step 4: Click on about this TV.
Step 5: Select check for updates from here.
Step 6: Install the most recent LG TV firmware version.
Try to checked if you are still getting the installed error message after you have updated to a newer version of firmware.
Fix #6 Change network settings
If you are still experiencing the issue then you can try to change the DNS settings in to Google DNS. On LG Smart TVs, app problems are frequently brought on by DNS servers. Apps that are refusing to open may appear in your Home Launcher Bar, disappear, or display error warnings. Changing the DNS settings may help you fix the issue with downloading and installing the app on the LG TV.
Changing DNS settings
Step 1: Press the home button of your LG remote.
Step 2: Click the settings icon on the upper-right corner.
Step 3: Select All Settings option at the bottom-right corner.
Step 4: Select Network Menu on the left corner.
Step 5: Choose Wi-Fi connection.
Step 6: Select Advanced Wi-Fi settings.
Step 7: Select Edit.
Step 8: Uncheck Set Automatically.
Step 9: In the DNS server box, enter 8.8.8.8.
Step 10: Click connect.
Fix #7 Factory reset to initial settings
If the LG TV app installation issue still occurs at this point then you can do a factory reset with your LG TV to reset to initial settings. This will resolve the issue you are encountering when you try to download and install apps on your LG TV.
Factory resetting LG smart TV
Step 1: On the TV remote control, select the settings button.
Step 2: Go down the page and click All Settings.
Step 3: Click Reset to Initial Settings under General.
Step 4: Confirm your the factory reset.