Is the Amazon Prime Video app not working on your Vizio Smart TV? Several factors can cause this issue such as a corrupted Amazon Prime Video app , poor internet connection, or an outdated software version, to name a few. To fix this, you will need to perform several troubleshooting steps.
Vixio is a popular American company that's best known for their various Smart TV models. They mainly cater to the budget consumer with competitively priced products however they do have some high end TVs that use OLED panels. Consumers who plan on having their very first home entertainment system should consider getting this brand.
Why is Amazon Prime suddenly not working on my Vizio Smart TV?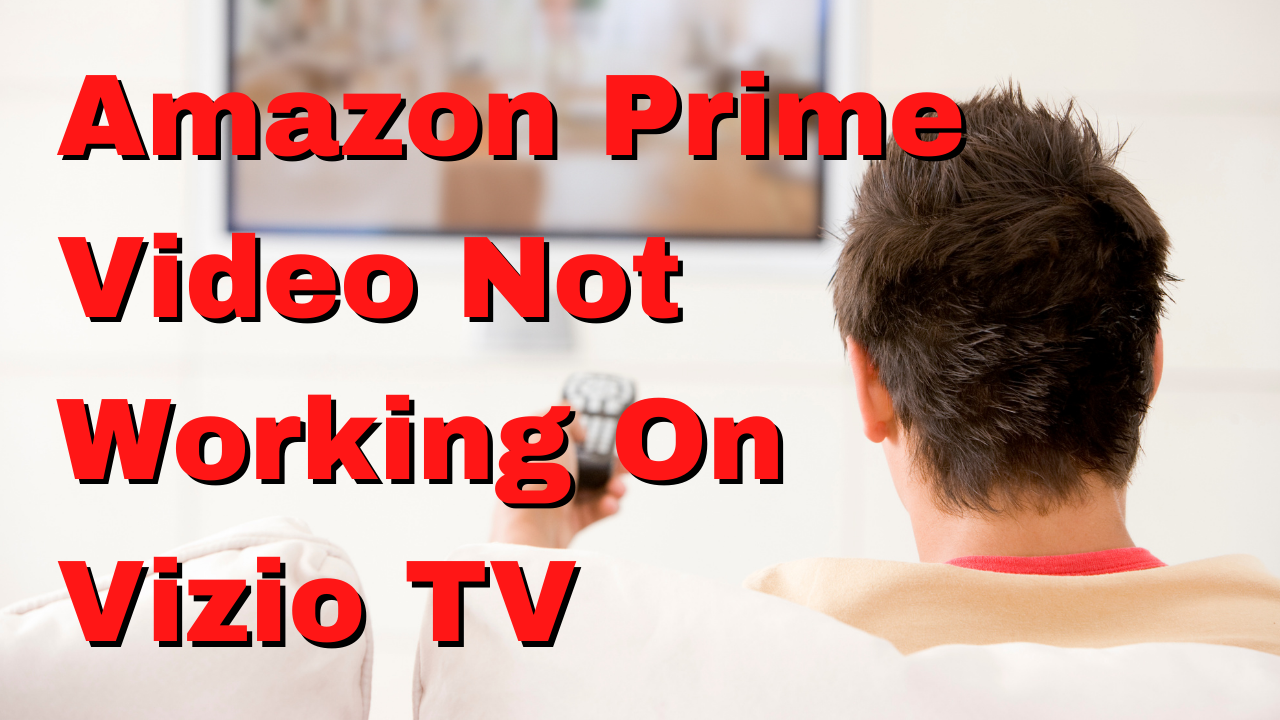 One of the that you might experience on your Vizio TV is when the Amazon Prime Video app fails to work. This can be a frustrating experience especially if you want to relax and watch your favorite TV show.
Here's what you need to do to fix Amazon Prime app not working issues on Vizio Smart TV.
Solution 1: Power cycle your Vizio TV
One common factor that can prevent the Amazon Prime Video app from working on your Vizio Smart TV is a software glitch. This can be due to a glitch on the app or even a glitch on the Vizio TV firmware. In order to fix this, all you just need to do is to power cycle your Vizio TV.
Power cycle Vizio Smart TV
Turn off your Vizio TV using the remote control.
Remove all the devices plugged into your TV.
Unplug the power cable of the TV from the power outlet.
Press the physical power button on your TV for about 30 seconds.
Wait for 10 minutes.
Connect the previously disconnected devices to your TV.
Plug the TV into the power outlet.
Turn on your TV using the Vizio remote control.
Try to check if the Amazon Prime Video app is now working on your Vizio TV.
Solution 2: Check the internet connection speed of your Vizio TV
A good internet connection on your Vizio Smart TV is required if you want to enjoy watching shows from the Amazon Prime Video app. If your Vizio TV is getting a slow internet speed then there's a possibility that app will not work properly.
What you will want to do first is to check the internet connection speed that your TV is getting from your home network connection.
Checking your internet speed
Open a browser on your Vizio Smart TV.
Go to speedtest.net. This is an online speed test tool that is free to use.
Click on Go. This will start the speed test.
In order for the Prime Video app to stream content you should have a stable internet connection. The results should match your subscription plan from your internet service provider.
Prime Video recommends a minimum download speed of 1MB/s for SD content and 5MB/s for HD content.
If you have a slow internet connection then you can check if this is caused by an issue with your networking equipment.
Turn off the Smart TV.
Unplug your Modem and Router from the power source.
Wait for a minute then plug your modem and router back into the power source.
Wait until the lights turn back on.
Turn on the Smart TV.
Reconnect your Smart TV to the internet.
Try to check if the Prime Video issue still occurs.
Here's what you can do to get a stable internet signal.
Try to disconnect other devices connected to the Wi-Fi router while you watch shows on Prime Video. This will allow the TV to use the maximum internet bandwidth.
Move the Smart TV closer to the router . This will allow the device to get a much stronger Wi-Fi signal strength.
If you have a dual band router try to connect the Hisense TV to the 5Ghz band instead of the 2.4.
Solution 3: Check the Amazon Prime Video servers
There's a possibility that Amazon Prime is not working on your Vizio Smart TV because the servers are offline. This can happen due to an unexpected outage or a scheduled maintenance. You can check the status of the server by using online third party tools such as DownDetector.
In case the problem is caused by issues on Amazon's end then you will need to wait for this to be fixed before you can enjoy using your Prime Video app.
Solution 4: Clear the Vizio TV Amazon Prime Video App Cache
One of the factors that can cause the Prime Video not working issue on your Vizio Smart TV is a corrupted app data. Clearing the app cache will usually fix this problem.
Clearing cache of HBO Max
Press the V button or the home button on your remote.
Select System from the menu.
Go to Apps.
Click System Apps.
Select Amazon Prime Video.
Click Clear Cache.
Press OK.
Open the app then check if you are now able to play streaming content.
Solution 5: Reinstall the Amazon Prime application
Vizio TV owners will usually experience Amazon video issues if the app itself is corrupted. In order to fix this you will need to uninstall the app then install a fresh version.
Reinstalling Amazon Prime Video
On your VIZIO TV remote, press the Home button.
Find Amazon Prime Video and select it from the Apps menu then tap and hold the center button.
Select Uninstall or Delete Amazon Prime Video from the pop-up menu.
Go to the apps section of your VIZIO Smart TV and search for Amazon Prime Video, then install it.
Wait for the app to download and install on your VIZIO smart tv, then connect with your login credentials.
Try to check if the Prime Video not working issue still occurs.
Solution 6: Get the latest firmware updates for your Vizio Smart TV
You should make sure that your Vizio TV has the latest software update installed to remove any existing bugs that might be present in the current firmware version of your TV which is causing issues with apps.
Updating Vizio firmware
Press the Menu button on the Vizio tv remote.
Locate the System tab and select check for updates.
If any update is available then download it.
After the new firmware has been installed try to check if the issue still occurs.
Solution 8: Perform Factory reset on Vizio TV
Sometimes a corrupted TV settings or a glitch in the TV software can cause this problem. In order to fix this you will need to perform a factory reset. This will allow you TV to go back factory defaults.
Reset to factory settings
Using the Vizio remote, navigate to the menu.
Go to Settings, then System, and finally OK.
Select "Reset TV to factory defaults".
If you do not have the parental code, when requested for a password, enter 0 0 0 0 0.
Choose "Reset" and hit OK.
Allow your television to switch off.
Once the restart operation has been completed you will need to setup the TV.
After the factory reset process has completed try checking if the Prime Video not working issue still occurs.
Frequently Asked Questions
Can I Watch Prime Video If I Travel Abroad?

Amazon Prime members are can still stream selected Amazon Originals titles while outside of their home country. The selection of titles you're able to stream on Prime Video may change however depending on what country you are at.

What to do if you can't sign in or sign out of Prime Video, or if you get error codes?

Make sure that you have the correct username and password details. If you are unable to sign out, browse to Account & Settings > Your devices on the Prime Video website. Then click Deregister next to the device you want to remove.

Can I sign in to my Amazon Prime Video account in multiple devices?

You can sign in to your Amazon Prime account on various devices such as your smartphone, other mobile devices, and Smart TV as long as you only sign in to five devices at the maximum.

Why do the videos I watch on the prime Video app keep buffering?

The shows you watch on Prime Video will buffer because of a slow or poor internet connection. Try checking the speed your Wi-Fi network is getting and make sure that it is fast enough to handle the bandwidth demand of the Prime Video app.

What to do if you see error code 5004 on Prime Video?

Make sure that the email address and password that you're using to log in with are correct.
If the issues persist, reset your password by going to the sign-in page and clicking Forgot your password?