Planning on visiting the Nordic country of Sweden this year? That's great! Scandinavian nations are some of the most beautiful out there, with so much history and culture to experience. However, as always, you'll want to make sure that you have a stress-free trip, as international travel is always more difficult to plan and adjust for. One ways to keep your trip stress-free is to make sure your phone data is taken care of.
Editor's Choice
Traveling to Europe and looking for phone and data connections? We recommend the Orange Holiday Europe prepaid international Sim card. Works in 30 of the largest countries in Europe.
MORE INFORMATION
For that, you'll need an international SIM card. It's far better than simply going with your carrier's current roaming charges, saving you hundreds, if not thousands of dollars. Not only that, but you'll be sure to get faster speeds than roaming could ever provide. Not sure which to pick up?
* If you buy through links on our site, we may earn an affiliate commission. For more details, please visit our Privacy policy page.
Here are out five favorites: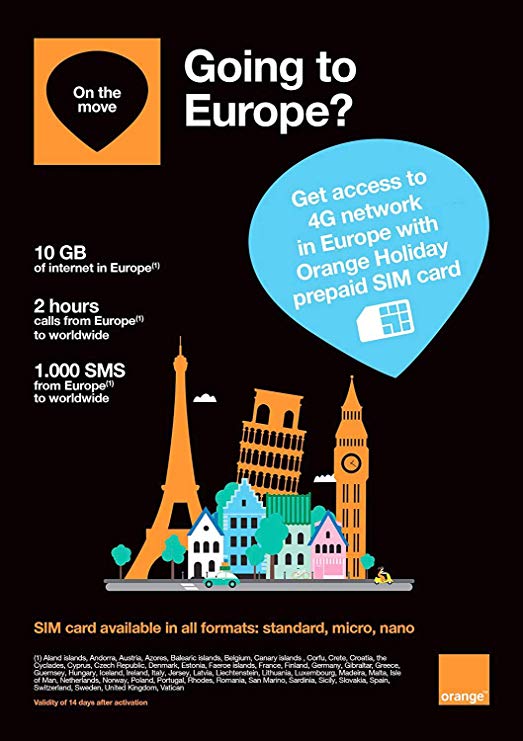 Our number one favorite option is the Orange Holiday SIM. Easily the best SIM card that you can buy for any sort of European travel, they provide tourists 4G LTE data across 30 popular Europoean destinations. You'll get fast, reliable data almost anywhere in Europe, but particularly around the larger cities, just like in the US.
Orange's Holiday SIM has a whole 10GB of data to use, 1,000 SMS messages, and two hours of talk time. That's way different than many local and international SIM cards, since many European options are going the data-only route.
The card only lasts 14 days after activation, but you can call them up or go online to add more days if you decide to extend your stay.

Next, we have the ThreeUK UK-Europe SIM card. Perfect for international travel all over Europe, this one is closest to how the Orange Holiday SIM operates. It gives you talk, text, and data. The SIM card comes with 12GB of data, 3000 minutes in talk time and 3000 messages to use while in Sweden for up to 30 days.
There are some restrictions on what you can do with this SIM card, which is worth keeping in mind. ThreeUK only allows you to use this with phones — you can't insert it into tablets or any other Wi-Fi device. You also can't stream video with this one either, nor use it as a mobile hotspot.
When you're running low on data, ThreeUK does allow you to refill, but at an extra cost, of course.
Mobal Europe Plus SIM
Coming up in second place, Mobal is another excellent performer for your Swedish vacation. Once you order the SIM card, they actually give you 1GB of data to use while in Europe; however, once that's used up, you'll have to pay for each 1GB used. That pits this as one of the pricier SIM cards, but that all depends on the amount of data that you use. In addition to paying for data (at $10 per gig), you have to pay for talk and text as well, which is 30 cents per minute.
That said, this SIM card ends up being a little bit pricier, and requires you to have your credit or debit card attached. When the end of the period comes. that credit or debit card is automatically charged for the amount.
The Internet with Legs SIM card is up next. This one is fairly limited than the last, as this one is exclusively data-only. That means you have to rely on your data for a lot of communication — through platforms like Facebook Messenger and WhatsApp — instead of normal radios for phone calls and texts. That overall means you're using more data. Depending on how much you use, that could make this SIM card a little pricier, based on how much you have to refill.
That said, the SIM card comes out of the box with 3GB of data to use while in Europe, but obviously, can be topped off with more data whenever needed. Data still sits at 4G LTE speeds, like many of the prior options.
One of the more unique things about this SIM card is that there's roaming in the United States for no extra charge. That's really nice, because it allows you to sort of take the SIM card for a test run before using it abroad.
Next up, we're looking at Keepgo. They will bring you fast 4G LTE speeds while in Sweden — and other countries. This one is the most ideal SIM card for those that don't need a massive amount of data, just a little bit to check in on and friends and family while abroad.
That said, if you plan on using a lot, Keepgo is the more pricey choice here. That's because, instead of offering you a chunk of data, Keepgo charges you per gig used. However, you do get a free 1GB to use after your purchase. Use up that data, and then anything after is $10 per 1GB.
This is a data-only SIM, which means you'll be relying more heavily on social media apps — like WhatsApp — for your communication.
Verdict
There are a lot of great international SIM cards out there, and there are far more to be found on Amazon and at other stores; however, we think the Orange Holiday SIM is one of the best you can get. Few SIM cards are like it, bringing you data, talk, and text. You can top off when needed, and even decide to extend your stay if you don't want to leave Sweden!
What's your favorite
international SIM card for traveling
abroad?
* If you buy through links on our site, we may earn an affiliate commission. For more details, please visit our Privacy policy page.