The Spanish culture is a fun one to experience. There's just so much to see within Spain, including great food to experience and people to meet. However, one of the big problems with international travel comes down to roaming charges. If you're headed out to Spain with your AT&T SIM card — or a SIM from any carrier in the US, really — you're going to end up with hundreds, if not thousands in roaming charges when you get back.
Editor's Choice
Traveling to Europe and looking for phone and data connections? We recommend the Orange Holiday Europe prepaid international Sim card. Works in 30 of the largest countries in Europe.
MORE INFORMATION
That's why you want to make sure you pick up an international SIM card for traveling to Spain. If you follow along with us below, we'll show you the five best choices for your Spanish travels, bringing you the cheapest way to use your phone abroad. Not only that, but these international SIM cards also provide you faster data than roaming ever will. Here are our favorites.
* If you buy through links on our site, we may earn an affiliate commission. For more details, please visit our Privacy policy page.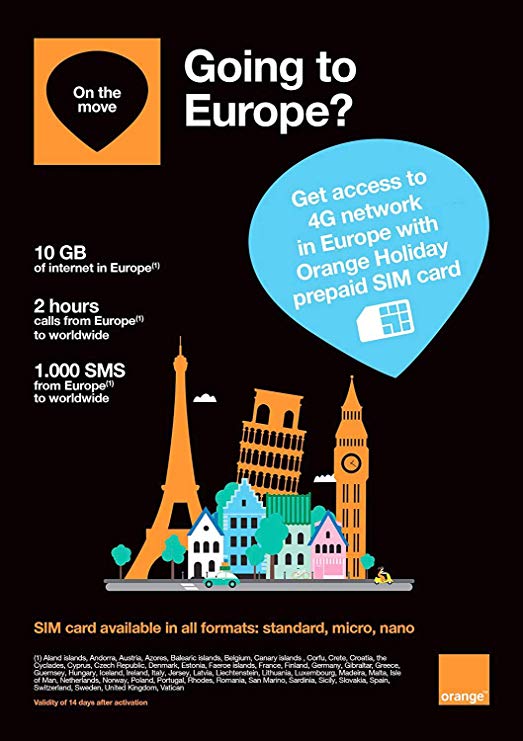 Our number one choice is the Orange Holiday SIM. Orange is a premier telecom provider in the EU, actually based out of France, but offering telecom services all over the EU. That's why the Orange Holiday SIM is so nice — Orange's Holiday SIM setup brings any GSM phone you have fast 4G data in Spain — and other EU countries — allowing folks to stay connected with friends and family, even while traveling.
This is one of the best deals that you're going to find as well, giving you 10GB of 4G LTE data that you can use for 14 days. There's two hours of talk time, and then another 1,000 messages available. Running low? No problem! Orange allows you to top off on your data easily.

Next up, we're looking at ThreeUK. This is a popular choice within the UK, but offers you plenty of fast and reliable data access in Spain as well. You'll get some pretty good coverage in Spain; however, ThreeUK offers a variety of SIM cards for international travel within other EU nations as well. This SIM card in particular gives you access to 12GB of data, 3000 minutes in talk time and 3000 messages.
When you're running low on data, you can easily top off and refill whenever.
Mobal Europe Plus SIM
We're big fans of the Mobal Europe Plus SIM. They give you 1GB of data to use, which should last you around eight days while in Spain. That's just an estimate, but Mobal allows you to top off as needed. In addition, you get access to unrestricted tethering. In the norm, there's a service charge attached to hotspots, but not with Mobal.
Mobal has plenty of other advantages as well. You can accept free incoming calls from people in over 130 different countries, including text messages. WHile those are free, outgoing calls and texts is where Mobal starts charging you. That said, they off competitive 30¢ per minute rates in all countries. Less expensive than roaming charges in the US, but still pricier than local SIM cards in the area.
ThreeUK really is a good provider when traveling through Europe, which is also why we like their Internet with legs Trio SIM card. It might have a little less data than the prior SIM card, but the advantage here is that this one will work with a smartphone, tablet, hotspot device, and other Wi-Fi enabled pieces of technology. You get just 3GB of data for 90 days; however, you can top off whenever needed.
The Internet with legs Trio is a nice SIM card, because they give you a "try before you buy" sort of option, giving you free roaming in the US to make sure it works with your phone.
Last, but certainly not least on our countdown, we have the Keepgo SIM card. s certainly better than US roaming charges, but the other four SIM cards are much better. You get just 1GB of data that stays valid for 1 year — and you can refill as you need it. Keepgo's SIM stays valid, you'll just need to make sure that you're refilling at least once a year. If you don't, the card expires, and you'll have to get a new one when you travel to Spain again.
It's worth noting that this one only works with GSM phones — and there's no talk or text data available.
Verdict
As you can see, there are a lot of great international SIM cards for Spanish travel. The best choice here is from Orange, providing you with the most value for money on your trip. However, both SIM cards from ThreeUK will bring you some excellent value for money and performance abroad, too.
Do you have a favorite
international SIM card for traveling
to Spain? Sound off in the comments section below!
* If you buy through links on our site, we may earn an affiliate commission. For more details, please visit our Privacy policy page.