You may play a variety of amazing drag racing games on your Xbox Series X or Xbox Series S. Xbox has a large selection of high-quality drag racing game genre, and no two games are alike. There are many drag racing game to choose from, whether you want a fun arcade game, first person racing games, something realistic, or a game where you gather players online and ride the best cars to reach the finish line first.
* If you buy through links on our site, we may earn an affiliate commission. For more details, please visit our Privacy policy page.
Microsoft has released two home video game systems, the Xbox Series X and the Xbox Series S. The consoles were released in 2023 as the Xbox console family's fourth generation, replacing the Xbox One. The Xbox Series X boasts more powerful technology that allows for larger display resolutions (up to 8K), faster frame rates, and real-time ray tracing, as well as a high-speed solid-state drive (SSD) to cut loading times. The Xbox Series S, which is less priced, has the same CPU but a weaker GPU, less RAM and internal storage, and no optical drive.
Xbox Series X and the Xbox Series S consoles are designed to work with practically all Xbox One games, controllers, and peripherals, including titles from previous Xbox consoles that are backward compatible with Xbox One. Microsoft made some first-party and third-party games accessible for both Xbox Series X/S and Xbox One at launch to support the transition between generations, using the "Smart Delivery" distribution system to flexibly optimize Xbox One games for either the Xbox Series X or Series S. The consoles also can use Xbox Game Pass, a gaming subscription service, and Xbox Cloud Gaming, a cloud game-streaming platform.
Why play Xbox drag racing games in your Xbox console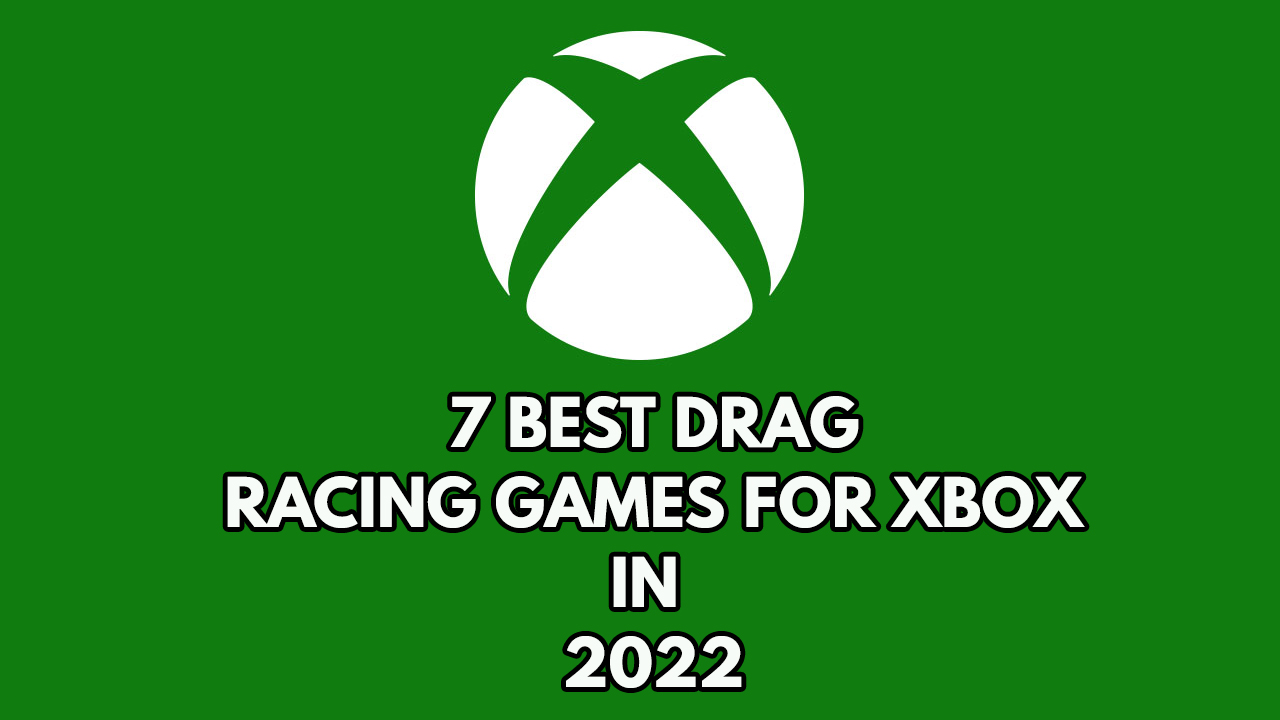 The new Xbox Series X console is ideal for playing drag racing game because it supports real 4K resolution and up to 120 frames per second, whereas the new Xbox Series can only support 1440p gaming resolution and up to 120 frames per second. If you have a 50-inch 4K TV with HDMI 2.1 capability, you will be able to play your favorite drag race game at a better frame rate at 4K resolution while ranking up your driving skills in career mode.
You may either subscribe to the Xbox Game Pass subscription, which gives you access to hundreds of games, including drag racing genre games, or you can buy the physical disc or digital download games.
Here are a few of the top drag racing game available for the Xbox.
Game Description
Forza Horizon 5 is a drag racing game set in a fictitious portrayal of Mexico. The video game has the biggest area in the Forza Horizon franchise, being 50% bigger than its previous Forza game, Forza Horizon 4, as well as the highest point in the Horizon franchise. An active caldera volcano, rainforests and beaches, historic Mayan temples, and towns and cities such as Guanajuato can all be found on the map. Players can freely explore the open environment while also competing in multiplayer races and completing the story mode. Both the game's cars and the player character can be customized to a great extent. Players can customize automobile liveries and tunes, as well as undertake engine swaps, drivetrain swaps, and body kit installations on specific vehicles. The game is the first in the series to feature ray tracing on vehicles.
A new weather system is implemented in the game, in which gamers can explore one side of the area and see a storm. Multiple climates would arrive in the game at approximately the same time because Mexico is such a large country with such a broad range of elevations. The four seasons are still present, but they would have an impact on the map's eleven distinct biomes. Dust storms, for example, will come throughout the dry season, whereas tropical storms will be present throughout the fall storm season. Another feature is in the jungle, where the environment now reacts to the weather, with leaves flying everywhere as an example.
Why you should get Forza Horizon 5
With boundless, entertaining driving action in hundreds of the world's best cars, lead magnificent journeys over Mexico's diverse and ever-evolving open world environments.
Discover a world rich in contrast and beauty. Discover lush rainforests, old cities, hidden ruins, stunning beaches, enormous canyons, and a towering snow-capped volcano.
Immerse yourself in a rich campaign filled with hundreds of tasks that reward you for participating in your favorite activities. Meet new characters and decide how their Horizon Story quests will end.
As Mexico's unique, dynamic seasons transform the world every week, take on awe-inspiring weather occurrences like towering dust storms and powerful tropical storms. Return for new challenges, trinkets, and awards, as well as new regions to explore.
With no menus, loading screens, or lobbies, team up with other players and enter the Horizon Arcade for a never-ending series of entertaining, over-the-top challenges that keep you and your buddies in the action and having fun.
With the new EventLab gaming toolset, which includes custom races, challenges, stunts, and new game types, you may create your own expressions of joy. You may now personalize your car in more ways than ever before.
---
Game Description
Developed by Team6 games Street Outlaws: The List video game, is a fasten your seatbelts and enter the world of American street race game! From a custom street rod to a race-ready farm truck, all of the cars – and their drivers – have one thing in common: a desire to go fast. It doesn't matter if you're not on "The List." The "List" features Oklahoma City's top ten street racing cars, and they are the finest of the best. Competition is ruthless, not only will these people go to any length to get on this list, but they'll also go to any length to stay on it.
Why you should get Street Outlaws: The List
Race well-known vehicles from the TV show
Hundreds of automotive parts that can be customized
Local multi-player split screen
Four game modes: Drag racing, Challenges, Tuning, and Quick Play
---
Game Description
Project CARS 3 is a racing video game sequel to CARS 2, released by Bandai Namco Entertainment and developed by Codemasters subsidiary Slightly Mad Studios. It was initially released on Microsoft Windows, PlayStation 4, and Xbox One on August 28, 2020. Project Automobiles 3 adds more customizable cars to the mix, with over 140 globe courses to race on. There are also 24-hour cycles, different seasons, and weather effects in the game. The career mode has been redone, and artificial intelligence has been improved.
Why you should get Project Cars 3
Over 200 top-of-the-line racing and road cars
More than 120 globe tracks
A diverse range of race conversion kits are available
Purchase and own a large number of automobiles
Add authentic performance parts to your car
Add racing and community-inspired components to your automobile liveries
Make your drivers unique
All-weather racing, 24-hour cycle, dynamic all-seasons
---
Game Description
Forza Motorsport 7 is the tenth edition in the Forza series, created by Turn 10 Studios and distributed by Microsoft Studios. With the most full, attractive, and accurate racing game ever developed, you can experience the thrill of motorsport at its most extreme.
Forza Motorsport 7 is a game that brings together different race types such as racers, drifters, drag racers, tuners, and creators in a community dedicated to all things automotive. Drive the automobiles of your dreams from a collection of more than 700 incredible vehicles, including the world's largest collection of Ferraris, Porsches, and Lamborghinis. Challenge yourself through 30 world-famous locations and 200 racetracks, where race conditions change every time you return to the track. It's all in stunning 60fps and native 4K quality in HDR.
Why you should get Forza Motorsport 7
Enhancements to Drift, Drag, and Time Attack
Three new game modes: Tag, Virus, and Pass the IT
Enhancements to the lighting, graphics, and shadows
Improved Drift Steering Angle and Scoring
A brand-new race shop
Multiplayer has been upgraded.
Enhancement of Force Feedback
New Multiplayer Gatherings
New Track Capacity
---
Game Description
Need for Speed Heat is a racing video game released by Electronic Arts in 2019. It was developed by Ghost Games and published by Ghost Games. It is the twenty-fourth installment in the Need for Speed series, and it marks the 25th anniversary of the franchise. Palm City is the setting for the game, which is an open world environment. The in-game world includes a variety of terrain, such as mountainous places and open fields. The game allows players to switch between day and night modes. During the day, players can compete in sanctioned races for cash, which they can use to buy new vehicles and upgrades. Players can earn REP by participating in illegal street race late at night.
Why you should get Need for Speed Heat
By day, compete for cash in race, drift, and off-road events in the Speed Hunter showdown.
With additional possibilities to design your stable of vehicles and personalize your identity behind the wheel, you may be more wild and outspoken.
To beat Need for Speed heat, you'll have to go out of your way to enrage the authorities monitoring Palm City during daylight hours; however, after midnight, the rules alter when a rogue task force arrives; suddenly they're on the hunt for you and your wheels.
---
Game Description
The racing video game NASCAR Heat 5 simulates the 2020 NASCAR season. It was developed by 704Games and released for PlayStation 4, Xbox One, and Microsoft Windows via Steam on July 10, 2020. NASCAR Heat 5, the official video game of the world's most popular stockcar racing series, puts you behind the helm of these fantastic racing vehicles and dares you becoming the champion of the 2020 NASCAR Cup Series.
All three NASCAR National Series, as well as the Xtreme Dirt Tour, are represented by official teams, drivers, and vehicles, racing on 39 actual circuits. The game has Quick Race, a new Test Session mode, and online and split-screen multiplayer.
Why you should get NASCAR HEAT 5
Test Session Mode is now available, allowing you to practice without AI, fine-tune your setup, and improve your racecraft.
Deeper career mode data – more precisely track your performance, such as average finish and average start.
Online race against up to 39 other drivers for the ultimate challenge.
Participate in the eNASCAR Heat Pro League for a chance to drive for a NASCAR team!
You can fine-tune the car to fit the circuit and your racing style with full car setup options.
---
Game Description
Codemasters developed and published Dirt 5, a racing video game. It was Codemasters' final video game as a standalone studio before being bought by erstwhile rival Electronic Arts. Off-road racing is the focus of Dirt 5, a racing game. Rallycross, ice racing, Stadium Super Trucks, and off-road buggies are among the game's disciplines. Players can compete in events in Arizona, Brazil, China, Greece, Italy, Morocco, Nepal, New York City, Norway, and South Africa, among other places. The game features a dynamic weather system and seasons that influence racing; for example, in New York, the player can only partake in ice racing events during the winter months. In addition, the game features a four-player split-screen mode.
Why you should get DIRT 5
DIRT 5 is a hub of off-road racing, style, and culture, where you can continually produce highlight-reel moments, thanks to new features, improvements, and a fresh approach.
Plan a trip around the world and race on over 70+ unique routes in magnificent, dynamic landscapes in ten different worldwide locales. Take on opponents, the terrain, and severe, ever-changing conditions from racing on the freezing East River in New York to gleaming beneath the Christ the Redeemer in Brazil to dazzling under the Northern Lights in Norway.
Get behind the wheel of a diverse and thrilling collection of vehicles. Conquer the most difficult terrain with boulder-busting machines, go to new locales with classic rally cars, or feel the force of 900bhp sprint cars. The ultimate off-road garage is completed by rallycross, GT, unlimited trucks, buggies, and muscle vehicles.
All eyes are on you to become the new star of an enhanced world of off-road racing under the mentorship of an icon. Earn sponsorships and one-of-a-kind goodies, conquer all locations, and face off against a formidable foe in our biggest-ever tournament.
---
Feel free to visit our YouTube channel for additional videos support and troubleshooting guides on various devices.
* If you buy through links on our site, we may earn an affiliate commission. For more details, please visit our Privacy policy page.