The Samsung Galaxy S6 Edge is not water-resistant, let alone water-proof. True. Many of our fellow bloggers out there tested the phone's threshold when submerged in water and the result is pretty impressive for an expensive, delicate phone that could last almost half an hour before showing signs of liquid damage. But there's no guarantee your phone could last that long before water gets into it.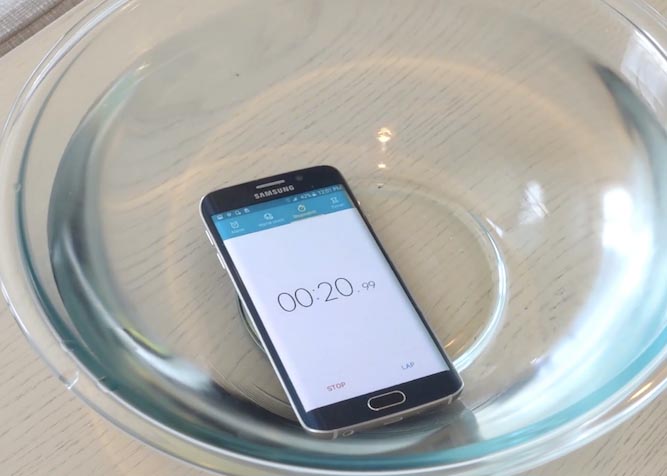 Here's one email from our reader who is seeking assistance because his Galaxy S6 Edge was dropped in porridge and he decided to "wash" it and then the device started to act crazy; it turns off on its own and won't turn on. While our reader did further testing on his device, he wasn't able to bring it back the way it was. Here's the actual message so you can picture out what the problem is…
"I accidentally dropped my phone in porridge, but it was working fine. I went to wash it, just the screen, I was conscious not to let the water in the SIM card slot or other slots. Had a back cover on too. I was washing it and it was ok, then suddenly the screen died. I thought I must have turned it off. But I didn't. And after I had washed it, it didn't turn on. I had a fair amount of battery left and I plugged it in just in case. While it charged, the charging symbol arose but suddenly in a blink of a second disappeared, with dim green lights or display or whatever you call it, slight on the top and bottom.
After a while I tried again, it turned on. It had 99% battery or something like that. Then I removed the charger and the phone turned off instantly. Then again after a while I tried, and it did turn on and when it reached the Samsung logo, it went invisible with slight green lights on the display at the bottom and top. Then again the logo appeared then again it disappeared, as same as above.
It turned on and when I approached for my finger lock, it turned off again. Hasn't turned on again yet. I'm freaking out here! And without being plugged it doesn't even start. And now it doesn't even start with the charger. And a thermometer appears just after it shows that my phone is 90% charged. I don't know what that means but I've left my phone in the sun, under a fan but it still doesn't work. I don't know how the water got in there if it did as I was conscious. And I've seen videos that show that the S6 Edge survived 20 minutes underwater. Can you please help me out here, your help will be much appreciated."
READ: How to fix Samsung Galaxy S6 Edge that won't turn on
Before we go deeper into this issue, if you have other concerns with your phone, visit our Samsung Galaxy S6 Edge Troubleshooting page as we've already addressed many problems since its release. Find issues related or same as yours and try the solutions we provided. If they didn't work for you, feel free to contact us as we are always willing to help you. Fill up this form and hit submit when finished. Just make sure you fill it up accurately because the more information you provide, the easier and more accurate our solutions are.
Apparently, water has found its way into the phone one way or another. And when liquid touches one of the electronic components inside creating a short circuit, you just wouldn't know the extent of the damage it would create. This kind of problem is not something that concerns the settings of the device, rather a serious hardware issue that needs immediate attention from someone (a technician) who has sufficient skill set to deal with it.
So, we suggest you send the phone in for checkup and repair.
Now, to give you an idea how bad water damage is, well, it's enough to totally render the device useless. More often, liquid will damage the power IC if the owner attempts to turn the device on. That is why we always suggest that whenever the phone is submerged in water and turned itself off, do not attempt to turn it back on until you are 100% sure there's no water inside. It is even better if you remove the battery after you fished out the phone out of the water. In this case, however, you cannot pull the battery out.
If one of the chips on the motherboard was damaged, there's no way a technician can replace it but even if he did, there's no guarantee the phone will work. Motherboard replacement is often the most viable solution to damages caused by liquid and it means you will have to pay almost the same as the price of a new phone.
But hey, we don't know what actually happened to the phone and if water caused the problem, we don't know as to what extent. As of this moment, all we know is that the phone won't charge and turn on. The dim light you're seeing is a sign that some circuits inside have been shorted. Needless to say, some of the components may still be wet.
READ: How to fix Samsung Galaxy S6 Edge that's not charging
Again, send the phone in for checkup and repair. Do not attempt to charge the phone again as we don't know if the battery was shorted or not. Lastly, leave the phone be; don't attempt to turn it on again. Let the technician do his job.
Connect with us
We are always open to your problems, questions and suggestions, so feel free to contact us by filling up this form. We support every Android device available and we are serious in what we do. This is a free service we offer and we won't charge you a penny for it. But please note that we receive hundreds of emails every day and it's impossible for us to respond to every single one of them. But rest assured we read every message we receive. For those whom we've helped, please spread the word by sharing our posts to your friends or by simply liking our Facebook and Google+ page or follow us on Twitter.