There are three common reasons why the #touchscreen on your phone, in this case the Samsung Galaxy Note 5 (#GalaxyNote5), won't respond to your touches. The first and the most common is hardware problem; there were reports of loose connection, damaged digitizer and the entire display panel is busted, which is often caused by physical damage.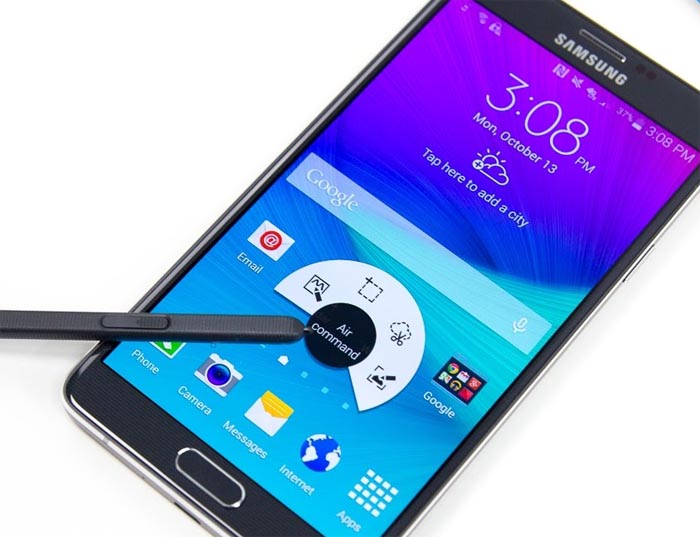 The second is a firmware issue, which is often characterized by a system crash. In this case, some services may have stopped affecting the general performance of the phone to the point that the service handling the touchscreen won't work.
Lastly, rogue apps that often crash or takes too much time to load may also cause the screen to be unresponsive for a period of time. There are also those that cause some areas to be unresponsive. Proper troubleshooting is necessary to know what caused the problem so it would be easier to fix.
Here are the issues I included in this post…
If you have other issues, visit our Note 5 troubleshooting page. Find issues related to yours and use the solutions we suggested. You may also fill up this questionnaire and hit submit to contact us directly.
---
Top-left corner of the screen doesn't respond to touches
Problem: Upper left hand corner "back arrow" does not function 85% of the time. If I reboot it works for awhile but eventually stops working. I went to Best Buy where I bought it and they did a "flash" reboot. (Uninstaller everything and then reinstalled everything again. Soft back button (upper left hand corner)worked  for about 30 minutes, then…nothing. I've Uninstaller Facebook and reinstalled…works , then it doesn't,  please help!
Related Problem: The top left corner doesn't recognize my touch. I bought this phone from Bestbuy. The first phone I got from them has the same issue, the in house Samsung guys saw the problem themselves and advised me to have it replaced so Bestbuy did. But now I'm stuck with the same problem with this new phone.  I have read on Drippler that there are some people who's experiencing the same issue. Does Samsung can do something about this? Thanks.
Solution: There are some apps that may cause this like screen filters and the likes. Also, it has been reported that the Facebook Messenger is often the culprit. So, if you have it installed your phone, disable it and if the problem was fixed, then it's up to  you if you uninstall it or not.
However, if you have no FB Messenger in your phone, then it must be one of your third-party apps that's causing this or it's a firmware issue. The next thing you should do is boot your phone in safe mode to temporarily disable all downloaded apps.
Turn off your Galaxy S6.
Press and hold the Power key.
When 'Samsung Galaxy S6 Edge' appears, immediately release the Power key and then press and hold the Volume Down button.
Continue holding the Volume Down button until the phone finishes the restart.
When you see Safe Mode on the lower left corner of the screen, release the button.
If the problem doesn't occur in safe mode, then it's obvious one of the apps is causing it. Finding the culprit may not be easy but you need to try; disable them one by one if you have to.
In case the issue still occurs, it's probably a firmware issue and for this, you need to backup all your data and do the master reset. Do the same if you couldn't pinpoint the app that's causing it.
Turn off your Samsung Galaxy S6.
Press and hold the Volume Up, Home and Power keys together.
When the device powers on and displays 'Power on logo', release all keys and the Android icon will appear on the screen.
Wait until the Android Recovery Screen appears after about 30 seconds.
Using the Volume Down key, highlight the option, 'wipe data/factory reset' and press the Power key to select it.
Press the Vol Down button again until the option 'Yes — delete all user data' is highlighted and then press the Power key to select it.
After the reset is complete, highlight 'Reboot system now' and hit the Power key to restart the phone.
Top-right corner of the screen won't work after a call
Problem: The top right of the screen will not respond to touch, i.e. can't drop down the menu to get to settings, etc. after each phone call.  Have to restart the phone and that part of the screen works until after I receive another phone call.
Solution: It's not a common problem but it happens across Android smartphones and not just to the Note 5. It is just a minor problem with the phone app or dialer. As of this writing, this problem has already been addressed especially for the Galaxy devices. So, the first thing you have to do is try to see if there's an available firmware update for your device and install it if necessary. Otherwise, just clear the cache and data of the dialer service and you're good to go. However, the problem may still come back in the future especially if you haven't updated the firmware.
From the Home screen, tap the Apps icon.
Find and tap Settings.
Under the 'APPLICATIONS' section, find and touch Application manager.
Swipe to the left or to the right to display the appropriate screen but to display all apps, choose the 'ALL' screen.
Find and tap Dialer.
Tap Clear Cache.
Tap Clear Data, then OK.
Screen flickers every time user launches any app
Problem: I upgraded my S3 to Samsung Note 5 in Nov 5 2015. After 3 weeks of using it, I started to notice the screen flickering. The screen does not flicker a lot. But it does every time I launch any app. I don't know why?. Please help. Regards.
Troubleshooting: We don't know for sure if the problem is caused by an app and if it is, we have to know if it's one of the pre-installed apps or third-party. So, to isolate the problem immediately, boot your phone in safe mode. Just follow the instructions I cited in the first problem.
Launch as many apps as you want just to test if the screen still flickers even if all third-party apps temporarily disabled. If so, then it's probably one of the pre-installed apps  that's causing it or worse, the firmware. You have no other option but to reset the phone. On the other hand, if the problem was fixed in safe mode, then all you need to do is find the culprit and uninstall it.
Backup contacts from a Note 5 with a non-working screen
Problem: I'm trying to back up all the contacts from the Galaxy Note 5 without the ability of the screen working. My gmail account is locked (*trying to figure that out). Is there a way to connect to my Galaxy 5 Note without having the ability to see my screen. Like an Mac app? Please help thanks.
Solution: If you're trying to backup contacts in your Gmail account, then why not log in to Google webmail service using a computer? It's easier that way and you won't have to find ways to make the phone work with it's screen not displaying anything.
But then of course, there's a way to do it the hard way and the first thing you should do is make sure the device is unlocked. You may use Samsung's Find My Mobile service to remotely unlock your device provided that it is connected to a network with an active internet connection.
Once unlocked, you can then connect it to your computer and use the company's Kies program to retrieve whatever data you don't want to lose.
Note 5 screen just went black and refuses to turn on
Problem: For some reason the screen in my Note 5 just went black and it won't respond when I try to turn it on. As much as I want to tell you guys what could have happened, I can't because I just don't know why it acted like this. What must I do? What could have caused it? Help me please.
Solution: It actually sounds like the system just crashed. If the screen goes black or blank without apparent reason, more often than not, it's the firmware that stopped responding and yes, the device may not respond to touches and other commands.
To get it out of that state, press and hold the Volume Down and Power buttons together for 15 to 20 seconds or until you see the phone is rebooting. This procedure is called force reboot and will perform the simulated battery disconnect without you removing the battery physically.
I hope it helps.
Connect with us
We are always open to your problems, questions and suggestions, so feel free to contact us by filling up this form. This is a free service we offer and we won't charge you a penny for it. But please note that we receive hundreds of emails every day and it's impossible for us to respond to every single one of them. But rest assured we read every message we receive. For those whom we've helped, please spread the word by sharing our posts to your friends or by simply liking our Facebook and Google+ page or follow us on Twitter.