Is your Steam Deck not syncing to cloud? Several factors can cause this issue such as software glitch, steam server issue, outdated Steam Deck, or corrupted Steam library folder. To fix this Steam cloud synchronization issue, you will need to perform several troubleshooting steps.
Steam Deck is a handheld device produced by Valve. On Steam Deck, you may play PC games. By logging into your Steam account, where your Steam Deck's library will be shown, you can access all of your purchased games. To gain a better understanding of a game's playability, you may also check its compatibility rating. You can dynamically filter any view in your libraries' libraries based on the compatibility rating if you're seeking for a certain game's compatibility. The full-size controls are well positioned for prolonged play sessions on the tablet, whether you use trackpads or thumbsticks.
Steam Deck Technical Specifications
Processor:
AMD APU
CPU: Zen 2 4c/8t, 2.4-3.5GHz (up to 448 GFlops FP32)
GPU: 8 RDNA 2 CUs, 1.0-1.6GHz (up to 1.6 TFlops FP32)
APU power: 4-15W
RAM: 16 GB LPDDR5 on-board RAM (5500 MT/s quad 32-bit channels)
Storage:
64 GB eMMC (PCIe Gen 2 x1)
256 GB NVMe SSD (PCIe Gen 3 x4 or PCIe Gen 3 x2*)
512 GB high-speed NVMe SSD (PCIe Gen 3 x4 or PCIe Gen 3 x2*)
Resolution: 1280 x 800px (16:10 aspect ratio)
Display size: 7″ diagonal
Brightness: 400 nits typical
Refresh rate: 60Hz
Touch enabled: Yes
Sensors: Ambient light sensor
Bluetooth: Bluetooth 5.0 (support for controllers, accessories and audio)
Wi-Fi: Dual-band Wi-Fi radio, 2.4GHz and 5GHz, 2 x 2 MIMO, IEEE 802.11a/b/g/n/ac
Channels: Stereo with embedded DSP for an immersive listening experience
Microphones: Dual microphone array
Headphone / mic jack: 3.5mm stereo headphone / headset jack
Digital: Multichannel audio via DisplayPort over USB-C, standard USB-C, or Bluetooth 5.0
Input: 45W USB Type-C PD3.0 power supply
Battery: 40Whr batteries. 2 – 8 hours of gameplay
microSD: UHS-I supports SD, SDXC and SDHC
External connectivity for controllers & displays: USB-C with DisplayPort 1.4 Alt-mode support; up to 8K @60Hz or 4K @120Hz, USB 3.2 Gen 2
Fix Steam Deck Not Syncing to Cloud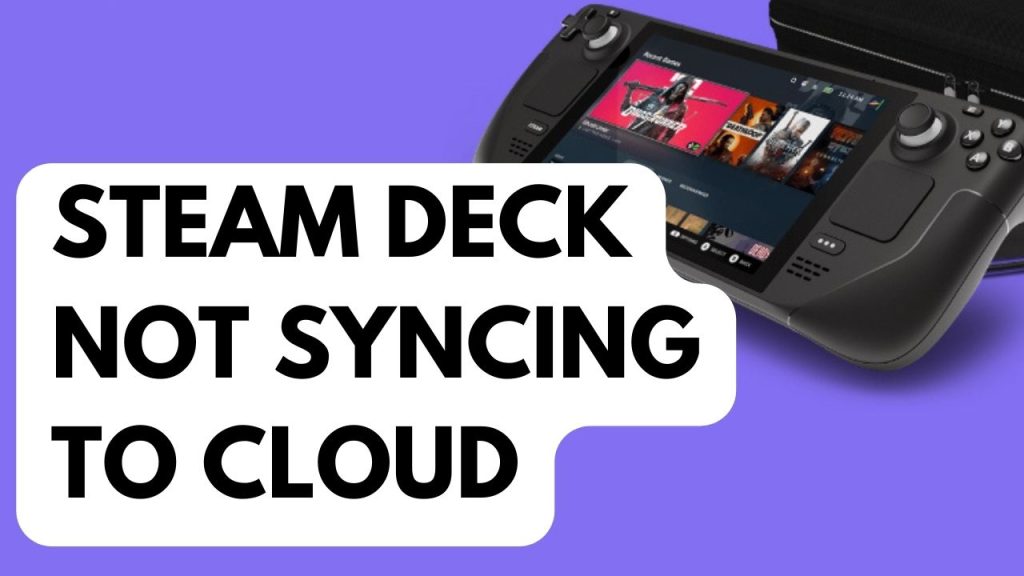 One of the issue you could encounter when using the Steam Deck is that the Steam cloud is not working on the device. This could be a frustrating situation especially if you cannot cloud sync.
Here's how to fix Steam Deck not syncing to cloud.
Fix #1 Restart Steam Deck
Any temporary bug that might be the root of the problem will be fixed if you restart Steam Deck because the device will be refreshed. If your Steam Deck is turned on but freezes, you can force a restart by holding down the power button for 10 seconds.
Fix #2 Enable Steam Cloud Synchronization Feature
The next thing to do is to check if you have enable steam cloud synchronization. The Steam cloud error message is because the Steam cloud is disabled. Turn on the feature if it is disabled.
Enabling Dynamic Cloud Sync on Steam Deck
Step 1: Press the Steam Button.
Step 2: On the Steam Menu, go to Settings.
Step 3: Select Cloud.
Step 4: Enable Steam cloud.
Fix #3 Check Steam Server Status
For any maintenance or downtime, you should also check the Steam Server Status. In the event that there is a problem with the server status, be sure to wait for them to fix the issue. The Steam Cloud feature won't function if there are any problems.
Fix #4 Update Steam Deck
The next thing to do is to update your Steam Deck. You may be experiencing Steam Cloud issues because you have an outdated Steam Deck firmware version. You can try to update to the latest version of Steam OS and see if it fixes the Steam Cloud error.
Updating Steam Deck
Step 1: On your Steam Deck, press the Steam Button.
Step 2: Go to Settings.
Step 3: Go to System.
Step 4: Check for any Software Update.
Step 5: Restart Steam Deck.
Fix #5 Update The Game
If the game is verified and its cloud synchronization does not work on your Steam Deck then you can try to update the game to the latest version and see if it will fix the issue. An outdated game might be the cause of the issue.
Fix #6 Repair Steam Library Folders
The next thing to do is to repair Steam Library folder if you keep getting steam cloud error. A corrupted Steam library folder might be the cause of the issue. It is recommended to repair Steam Library folder to fix the Steam Cloud issue.
Fixing Steam Library Folder
Step 1: Press the Steam Button.
Step 2: Go to Settings.
Step 3: Select Downloads tab.
Step 4: Select Steam Library folders button.
Step 5: Select Game.
Step 6: Select Repair Folder.
Try to check if save files will be uploaded to Steam Cloud.