Is your Steam Deck not charging? Several factors that can cause this issue such as a software issue, defective charger, or even the battery draining faster than it can be charged. To fix Steam Deck not charging issue, you will need to perform several troubleshooting steps.
The Steam Deck is a handheld gaming hardware created by Valve. Similar to the Nintendo Switch, the Steam Deck allows you to play while on the go or by connecting it to an external display. If they are purchased through the Steam store, even PC games can be played on this device. This is possible because to the proton compatibility layer. As the software is an open platform, users of Steam Decks can add any necessary programs, including new non-Steam games and different operating systems.
Steam Deck Technical Specifications
Processor:
AMD APU
CPU: Zen 2 4c/8t, 2.4-3.5GHz (up to 448 GFlops FP32)
GPU: 8 RDNA 2 CUs, 1.0-1.6GHz (up to 1.6 TFlops FP32)
APU power: 4-15W
RAM: 16 GB LPDDR5 on-board RAM (5500 MT/s quad 32-bit channels)
Storage:
64 GB eMMC (PCIe Gen 2 x1)
256 GB NVMe SSD (PCIe Gen 3 x4 or PCIe Gen 3 x2*)
512 GB high-speed NVMe SSD (PCIe Gen 3 x4 or PCIe Gen 3 x2*)
Resolution: 1280 x 800px (16:10 aspect ratio)
Display size: 7″ diagonal
Brightness: 400 nits typical
Refresh rate: 60Hz
Touch enabled: Yes
Sensors: Ambient light sensor
Bluetooth: Bluetooth 5.0 (support for controllers, accessories and audio)
Wi-Fi: Dual-band Wi-Fi radio, 2.4GHz and 5GHz, 2 x 2 MIMO, IEEE 802.11a/b/g/n/ac
Channels: Stereo with embedded DSP for an immersive listening experience
Microphones: Dual microphone array
Headphone / mic jack: 3.5mm stereo headphone / headset jack
Digital: Multichannel audio via DisplayPort over USB-C, standard USB-C, or Bluetooth 5.0
Input: 45W USB Type-C PD3.0 power supply
Battery: 40Whr batteries. 2 – 8 hours of gameplay
microSD: UHS-I supports SD, SDXC and SDHC
External connectivity for controllers & displays: USB-C with DisplayPort 1.4 Alt-mode support; up to 8K @60Hz or 4K @120Hz, USB 3.2 Gen 2
Steam Deck Device Not Charging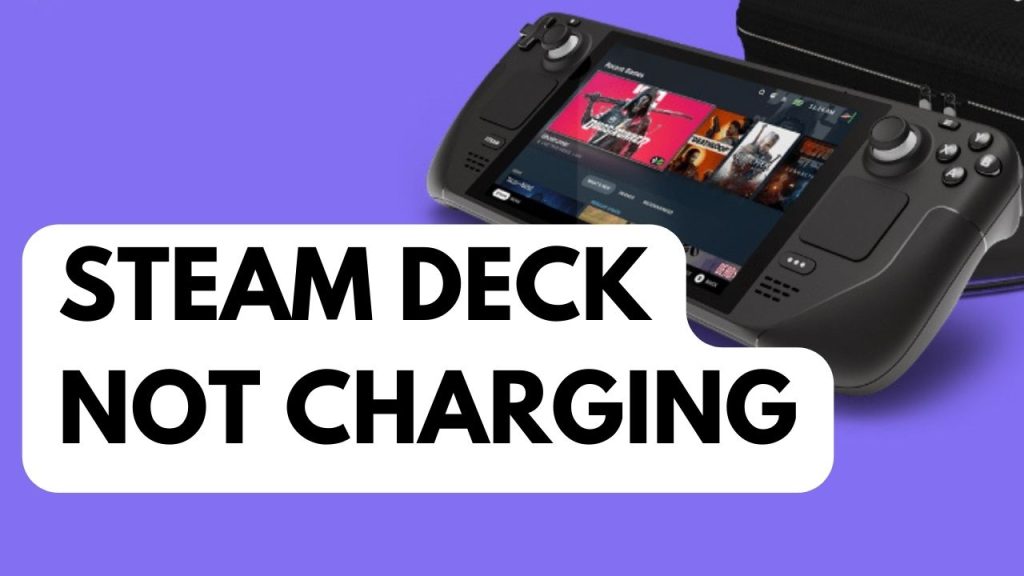 One of the issues that you might experience with your Steam Deck is when it does not charge or will not go to charging process. This can be an annoying issue especially if it's almost out of power and you want to charge it to continue playing.
Here's the troubleshooting guide for Steam Deck not charging issue.
Fix #1 Force Restart Steam Deck
The first thing to do when you have charging issues with your Steam Deck is to do a reboot with your power button. You could be experiencing a temporary software glitches with your Steam Deck. By doing a restart you refresh the Steam Deck's Steam OS and can fix charging issues.
Fix #2 Check Steam Deck Charging Port and Power Adapter
The Steam Deck or Charger may need to be checked if the previous method did not work for you. As you are aware, the Power Adapter and even the Steam Deck are strong, durable, but not impenetrable objects.
As a result, one of the two devices may have a number of damage-related points, which could be the cause of your inability to adequately charge your Steam Deck. Any defective gear can lead to a cascade of problems, and if your power adapter or Steam Deck are compromised, that's a serious problem.
Fix #3 Use Official Charger
Some Steam Deck users will buy a power bank or a third party charger that has USB C plug with charging cable with their new Steam Deck. If you want to charge your Steam Deck then it makes sense that you will by a higher wattage charger to connect to your device. If your Steam Deck stop charging then you can use the official power adaptor and see if it fixes the charging issue.
Fix #4 Clean Charging Port
There may be dirt, dust, or other objects lodged in the charging ports of many chargers, which is a frequent cause of charger malfunction. The system finds it challenging to deliver the charge from the electrical wall socket as a result. And as a result, the system is completely unable to charge.
There is a risk that your device has had dust collect in the charging ports if you haven't cleaned out your charger since you acquired it or haven't been keeping a clean, dust-free area to place your Steam Deck.
Fix #5 Battery Storage Mode
You can put your Steam Deck in to battery storage mode where it will totally shutdown your device which you will need to plug your charge on the Steam Deck so that will keep the device on charging.
Fix #6 Contact Steam Support
You can open a support ticket with Steam and explain the problem if you're still having difficulties with the charging issues. If your product develops a problem while it is still covered by warranty, Valve Steam will send a replacement or fix your gadget.