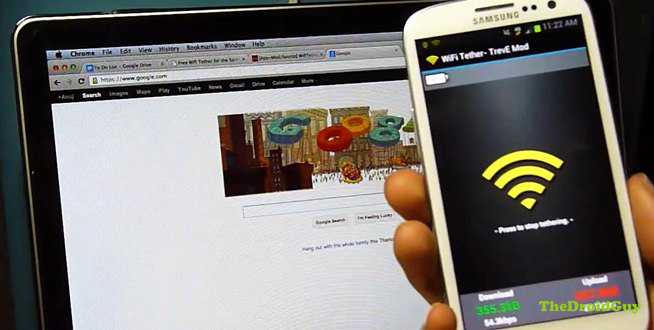 Welcome to the second part of this series! Smartphone users are more likely to encounter connectivity problems as many apps today almost always need internet connection. Our article today covers issues sent by your fellow readers so if you have your own connectivity woes, let us know about them by using the link provided below.
In the meantime, below are 7 issues and solutions for Samsung Galaxy S3 Wi-Fi or mobile data connectivity problems.
For those who are yet to read the first post, here it is: Solutions for Samsung Galaxy S3 Wi-Fi or Mobile Data Connectivity Problems [Part 1]
Problem #1: Samsung Galaxy S3 authentication error when connecting to Wi-Fi
Hello. Recently I am facing Wi-Fi authentication error on my Samsung Galaxy S3. I have been using this device since 2013 and never found this type of error. I cannot connect to any Wi-Fi access point and when trying it shows authentication error. I tried everything like changing the router password, forget password in my device and re-enter password, rebooting my device. After that I upgrading my device from android 4.3 to 4.4 and also done factory reset. Still no luck.
One thing that I can connect to another Wi-Fi hot-spot (from another mobile device) which has no password (open Wi-Fi).
Later I found in one article that some apps location permission deny can cause this type of problem and as far I remember, I have done some location permission denying on some apps. But I forget where I have done this changes.
Please help me to solve this problem. Thanks. — Bayzid
Solution: Hi Bayzid. We are not aware of any app restrictions that might cause authentication error on an S3 at this time. Authentication error usually happens if a device trying to connect to a router is using outdated information or credentials. In your case, this means that the S3 is giving incorrect credentials to the router, which then rejects them resulting to authentication error. You must troubleshoot both the router and your S3 to resolve the issue.
First, you have to make sure that there's no router-side problem. If you have other wireless devices, verify if they are connected to your network without issues. If they already are, proceed to the next step.
Reset the router to its default setup. This can be done by following router specific instructions so you must have your manual with you. If you don't have it handy, you can either call your internet service provider (for your line internet, not phone) or the router maker. Once the router has been reset, try to connect your S3 wirelessly without any security to see if that makes any difference. If it works without the error, that means some settings in your router may be the cause. Try to setup the router again the way it was and test the connection again. If the problem continues though, troubleshoot the phone.
You must do another round of factory reset before connecting to your wireless network again. To verify is other apps may be causing the problem, make sure not to install anything after a factory reset. If the connection's good, start installing your apps. Make sure to check how Wi-Fi connection works from time to time during the re-installation so you can pinpoint which app may possibly be messing up with the operating system.
Problem #2: StraightTalk Samsung Galaxy S3 mobile hotspot not working
Hi My name is Amanda and I own a Samsung Galaxy S3 with active service thru Straight Talk wireless and every time I try to connect to my mobile hotspot or try tethering so I can use my Wi-Fi hotspot to connect to the internet on my laptop with the wifi signal from my phone, I keep getting stuck with the message of "Please wait…verifying" and it never goes past that point. I don't know what to do? NEED HELP! — Amanda
Solution: Hi Amanda. If this is your first time trying to use mobile hotspot on this phone, you may need to contact StraightTalk to verify if your account has permission to do so. Mobile hotspot capability is account- and/or carrier-specific. This means that there may be some billing or account restrictions that prevents your phone from turning on mobile hotspot.
Problem #3: Samsung Galaxy S3 showing no service when using mobile data
Hi. I'm having problems with my phone (Samsung S3). it was functioning properly and I happened to connect to a Wi-Fi network after I have disconnected. It says there is no service.
Now what I understand is that the problem is not the SIM card because I've changed the SIM cards and on another phone it functions perfectly but the Samsung still says no service.
According to my research the problem is caused by some sort of radio signal which I can only access and switch off in Service mode of the Samsung.
My problem is that I have tried codes to access the Service Mode but it appears none of them work.
> *#*#4636#*#*
>*#*#7262626#*#*
The above codes are some of those I tried using. Another website says on new devices the codes have been disabled.
I was hoping you could share some knowledge on what I should do to fix my phone.
Hopefully Thanks.  — Innocent
Solution: Hi Innocent. Some network providers may lock users out from service code menu to prevent bricking the phone. They can also add their own specific service menu code on top of the default ones provided by Samsung so there's no telling what specific code you're looking for here.
If you have already tried using another SIM card, or if the old SIM card works fine with another device, that should tell you to have the phone checked or replaced because you have a hardware problem.
If you want to fix the hardware problem yourself, please use Google to find do-it-yourself (DIY) guides or seek the help of Android community from   XDA-Developers Android Forums.
Problem #4: Samsung Galaxy S3 internet-based apps won't work
Hi there. I'm having an issue with my Samsung Galaxy S3 mini and I haven't been able to find any answers to my specific problem.
The phone won't send or receive texts. When I type a text and press send the text completely disappears, rather than just sitting there not sending so I have no idea what is happening to the actual message. Apps that require a network connection won't work but Firefox does. The phone makes and receives calls fine. My wireless router detects the phone and I have tried it both connected to Wi-Fi and just using my mobile data. I have tried clearing the cache via the recovery menu as well as removing the battery and SIM and reinserting. I have not installed any new apps.
I inserted a new micro SD card but didn't use the phone for several hours and then noticed the problem so it may have coincided with that. I formatted, unmounted and removed the SD card but there was no change.
I really don't even know what to type into Google to find an answer to this problem and I find it so strange that Firefox still works while nothing else does.
Do you have any idea of what it wrong or any advice for what I should do?
Thank you! — Abi
Solution: Hi Abi. You may have a cache problem here. Try to delete the phone's cache partition first then observe how it goes for a few hours. If doing so won't fix the issue, you can also perform a factory reset. Don't forget to create a backup of your files before doing a reset though.
Problem #5: Mail app in Samsung Galaxy S3 won't work in Wi-Fi
Hi! I have a Samsung Galaxy S3 mini and for 2 days it started going crazy.
Whenever I connect my phone to Wi-Fi it suddenly restarts itself. Then, if I try using any application that requires an Internet connection it gives me the message "Unfortunately, WhatsApp/Yahoo Mail/ Maps/ Google Play etc. has stopped".
Right now I'm using the mobile data, because I couldn't open the mail application with the Wi-Fi turned on. I admit that my phone is almost full and I haven't made any factory reset yet. But my sister just received a S3 mini, empty and factory-reseted and she has the same problems.
Another thing is that at this time last year the same problems occurred. But they fixed themselves after a couple of weeks
I know this is not a new model and has poor performances, but it would be nice to fix it and not throw away. I do hope that you can help me.
Romina
Solution: Hi Romina. Just like in Abi's case above, you must clear the phone's cache partition first and see how it goes. If the phone's set of cache is outdated or corrupt, they can mess with how apps load and work in general. Forcing the phone to create a new cache by deleting the old one will not only improve app performance but will also eliminate any other app problem like crashing or freezing.
If nothing works though after you have deleted the cache partition, consider doing a factory reset. Now, a factory reset in itself will be useless if you will re-install the same set of apps afterwards. In some cases, rogue apps can affect how the phone work in general so try to be careful when installing apps. Lesser-known or unpopular apps are the usual cause for information security leakage as well as problems so please re-visit your list of apps and weed out possible risky ones.
Problem #6: Samsung Galaxy S3 unable to connect to Vodafone network
Hi. I came across your website and need your help. I have Samsung Galaxy S3 in the UK. Yesterday out of the blue it won't connect to my network at all. When ever I ring it says no network connection and if I manually select Vodafone it says unable to connect try later. Now other network SIM cards work in this phone and my SIM works in other phones so I really don't know what's happened. Cheers. — Oliver
Solution: Hi Oliver. Your best bet here is to call Vodafone and verify with them first if there's an account- or network-related problem affecting you or your area.
To try to check if an app is responsible for blocking your SIM card, you can boot the phone in safe mode. If you have any call or text blocking app installed, try  checking their settings to see if they possibly limits your phone to connect to Vodafone.
Problem #7: Bell Mobility Galaxy S3 won't connect to network
Hi there. I was given a new/unused factory unlocked S3. It was originally a Bell Mobility phone. When I insert my working Bell SIM card, the phone detects that the SIM is inserted but I get no mobile network signal (represented by a circle instead of the number of bars at the top of the display).  It has been upgraded to the latest version 4.4.2 for that phone using Wi-Fi and I verified that the IMEI is valid and not blacklisted. I also tried a wipe and factory reset.
Some other observations: when I do NOT have a SIM card inserted, the phone indicates no SIM card inserted, but I get random cycling of mobile signal from none->1 bar->2 bars, etc.  As soon as I insert a valid SIM, the mobile signal is forever set to none.  
Do you have any suggestions?  I am wondering if it is a mobile antenna problem?
Sorry…I forgot the mention the obvious:  when I try to place a call, I get the usual "no mobile network" and when I try to use the menu to scan for networks,  I get a generic "error scanning for mobile networks". Thanks. — Dennis
Solution: Hi Dennis. There must be a hardware problem in your phone as factory reset should have already eliminated any possible software limitations or restrictions. It may be the phone's network antenna or any other component. If you can invest a few more dollars, have someone check the hardware and see if they can do something about it. Otherwise, you may simply have to use it as an offline platform.
---
Engage with us
If you are one of the users who encounters a problem with your device, let us know. We offer solutions for Android-related problems for free so if you have an issue with your Android device, simply fill in the short questionnaire in this link and we will try to publish our answers in the next posts. We cannot guarantee a quick response so if your issue is time sensitive, please find another way to resolve your problem. 
When describing your issue, please be as detailed as possible so we can easily pinpoint a relevant solution. If you can, kindly include the exact error messages you are getting to give us an idea where to start. If you have already tried some troubleshooting steps before emailing us, make sure to mention them so we can skip them in our answers.
TheDroidGuy has social network presence as well so you may want to interact with our community in our Facebook and Google+ pages.