This post shows how to change or set the preferred ear for calls on the Galaxy S21. Read on if you need help customizing the Adapt Sound feature to change the default ear used for calls on your new Samsung smartphone.
Samsung Adapt Sound: Preferred Ear for Calls
The default ear that's set for answering calls in most Samsung smartphones is the left ear. That's likely the main reason why others are having trouble hearing during phone calls when placing the phone on the right ear.
Later Samsung Galaxy smartphones do sport a sound feature that will let you customize sounds. This feature first came with the Android 7.0 Nougat aka Android N rollout. And it's called Adapt Sound.
When enabled, Adapt sound will allow you to adjust or tune the media and call frequencies which you can hear and boost those that you cannot.
There is also an option for you to change the preferred ear for calls from the default left to right. Furthermore, you can tune and set the frequency according to your age bracket. As a result, you will get a more complete audio experience.
Depicted in this walkthrough is the process of customizing the Galaxy S21 adapt sound feature, particularly the default settings for preferred ear for calls.
Easy Steps to Set the Preferred Ear for Calls on the Galaxy S21
The Adapt Sound feature has been available on various Samsung mobile devices. If you own other Galaxy phones running on Android N or later, you can follow the same steps to customize the Adapt Sound feature or change the preset frequencies particularly the preferred ear for calls, according to your needs.
1. To get started, access the Apps viewer by swiping up from the bottom of the Home screen. While on the Apps viewer, tap the Settings icon.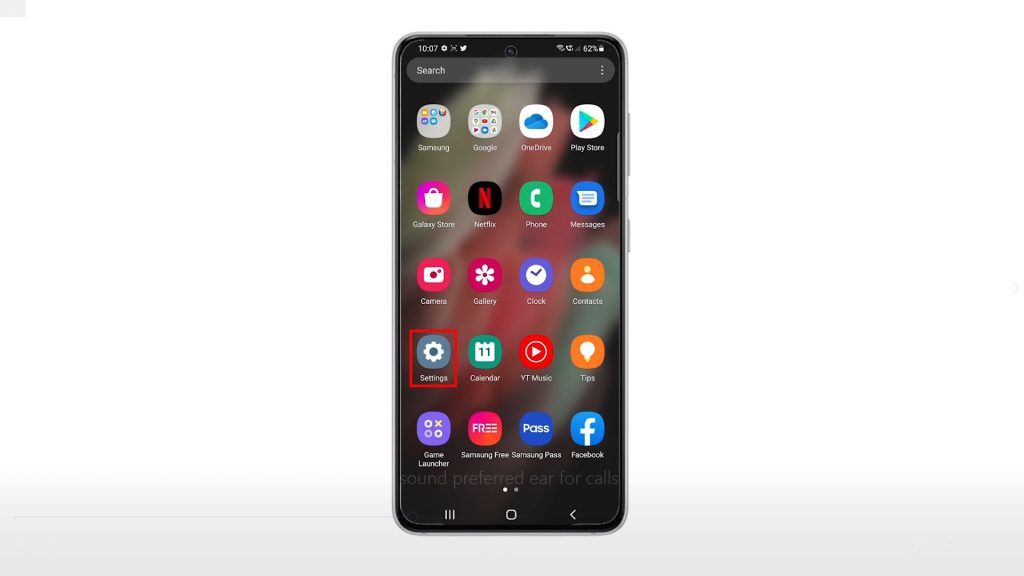 The main settings menu opens, highlighting a list of all basic and advanced features and settings.
2. From there, scroll down and then tap Sounds and vibration.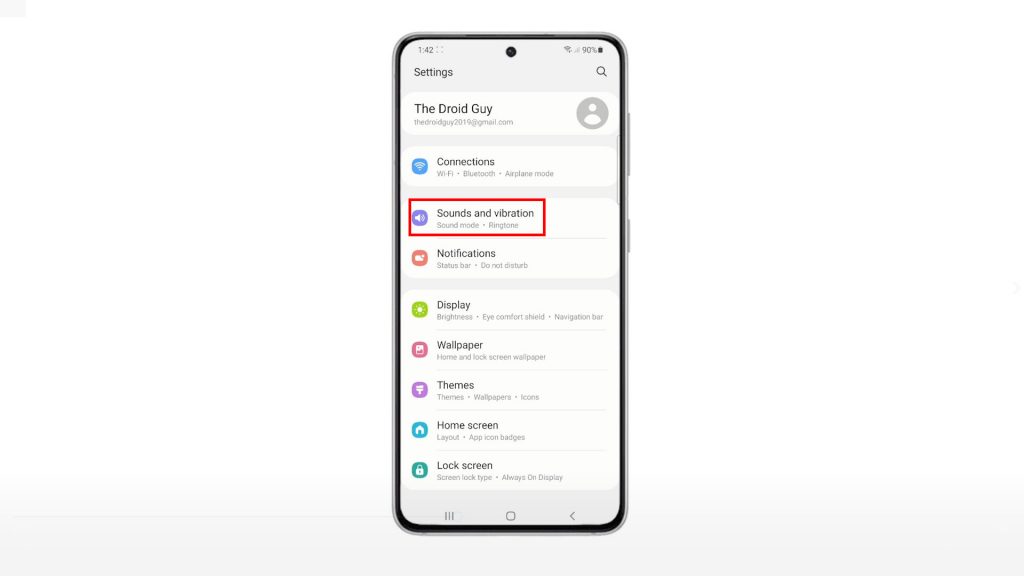 Another menu will launch with relevant sound features and controls.
3. Scroll down to the lower section. Then, tap Sound quality and effects.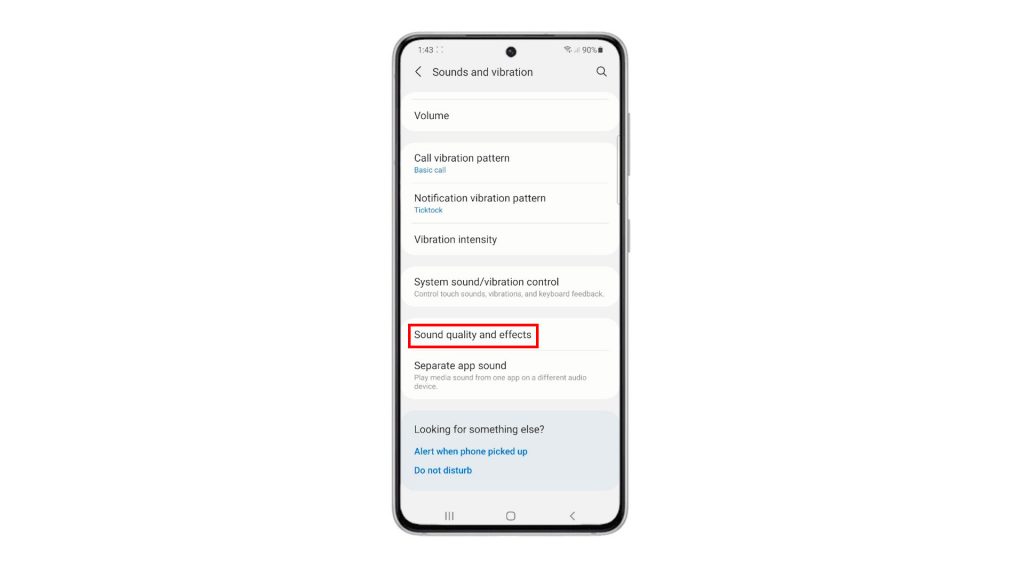 On the next screen, you will see another set of features to adjust sound frequencies for calls and media.
4. Tap Adapt sound to continue.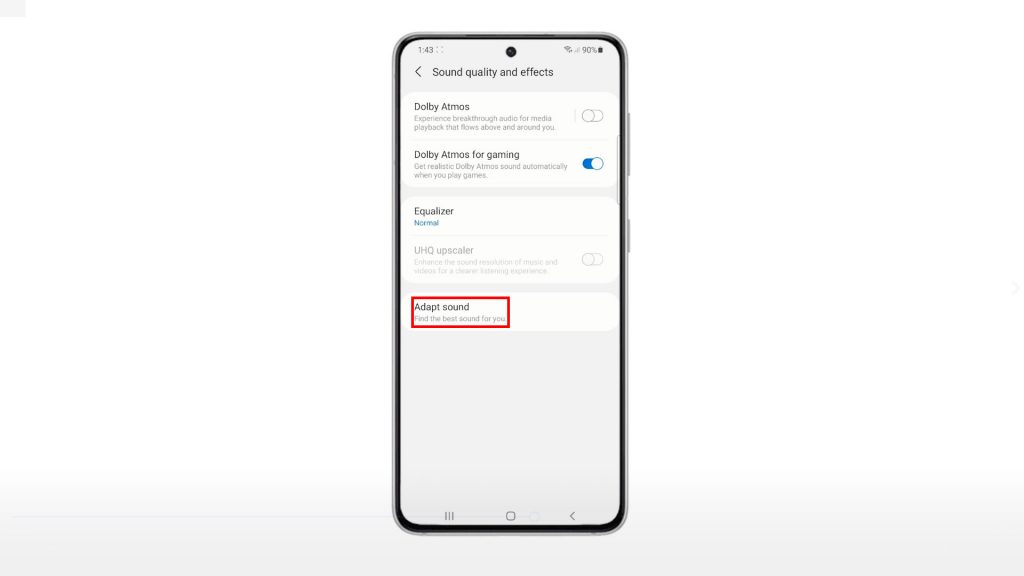 Another menu opens. On this menu, you will see the preset sound frequencies.
5. The default preset selection is set to Off or no boost. To change this, simply find and then select your age bracket by tapping the radio button before it.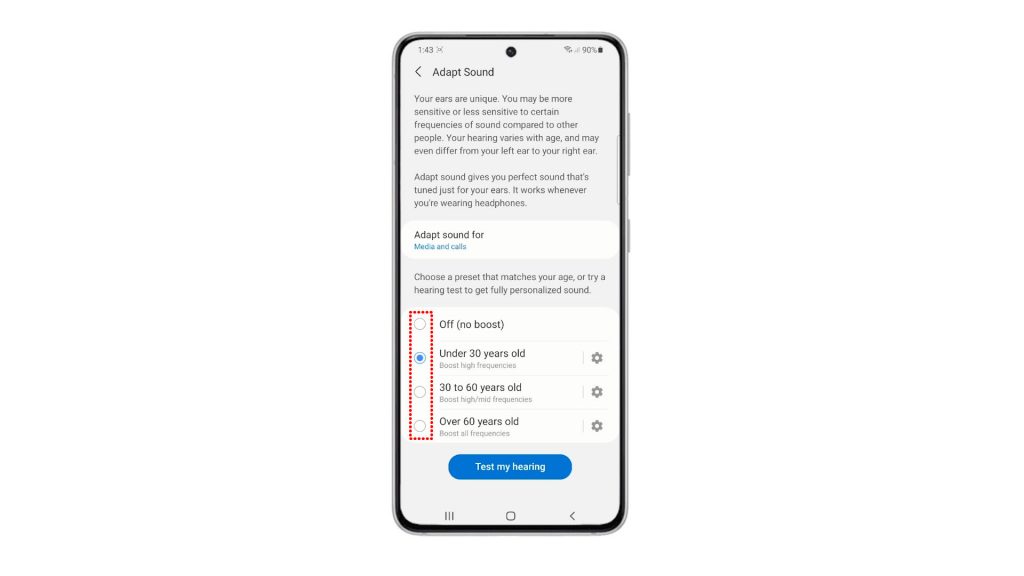 6. Once your age bracket is selected, tap the Gear icon or Settings icon next to it.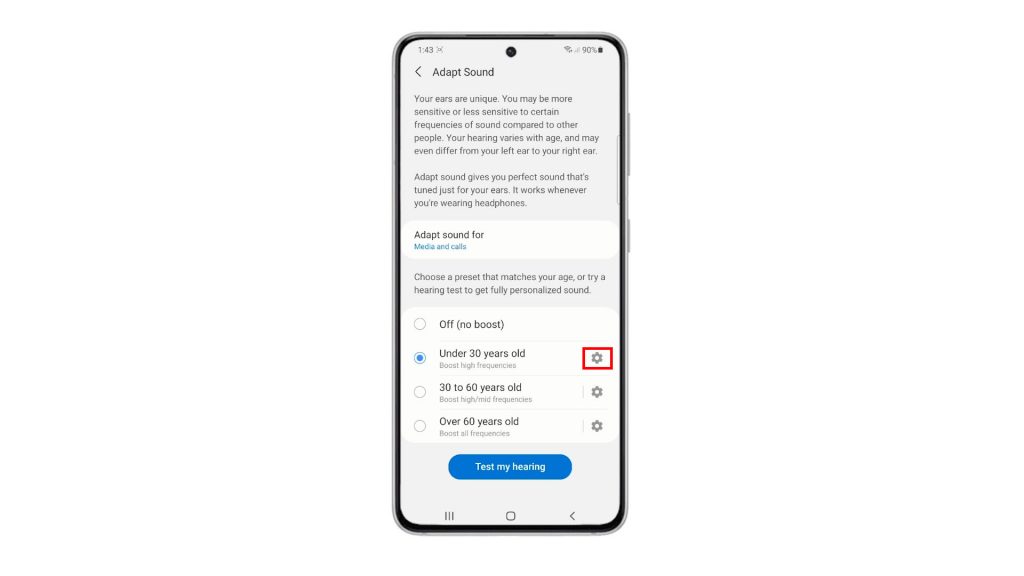 Doing so will launch another menu that contains the preview or the preferred ear for calls and sound preference.
7. To change the current settings, simply tap Preferred ear for calls and then tap to check left or right.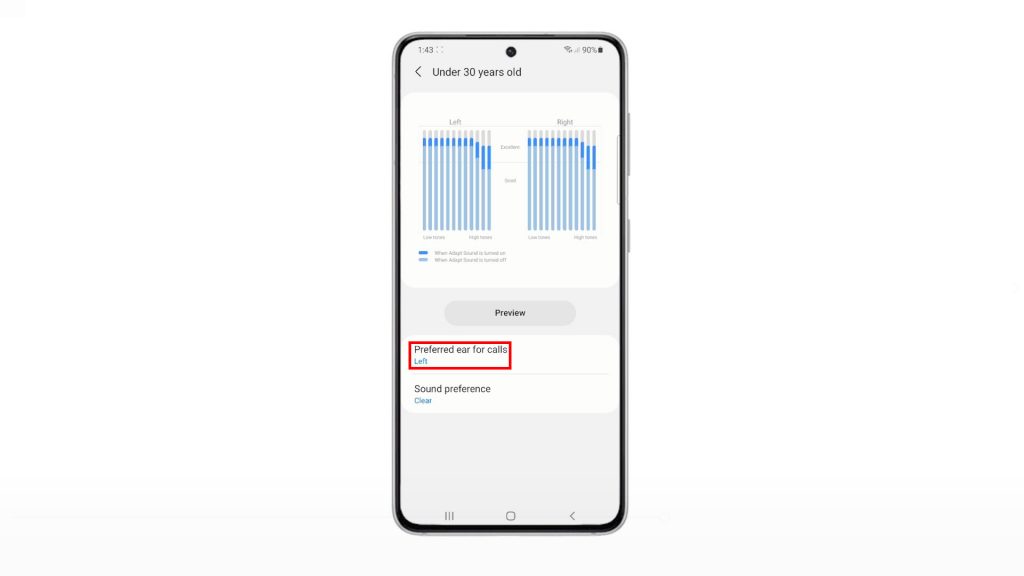 If you're more comfortable to use your left ear for hearing phone calls, then choose left. Otherwise, choose right. The recent changes will immediately reflect under the Preferred ear for calls section.
8. To change the default sound preference, tap Sound preference and then select between clear and soft.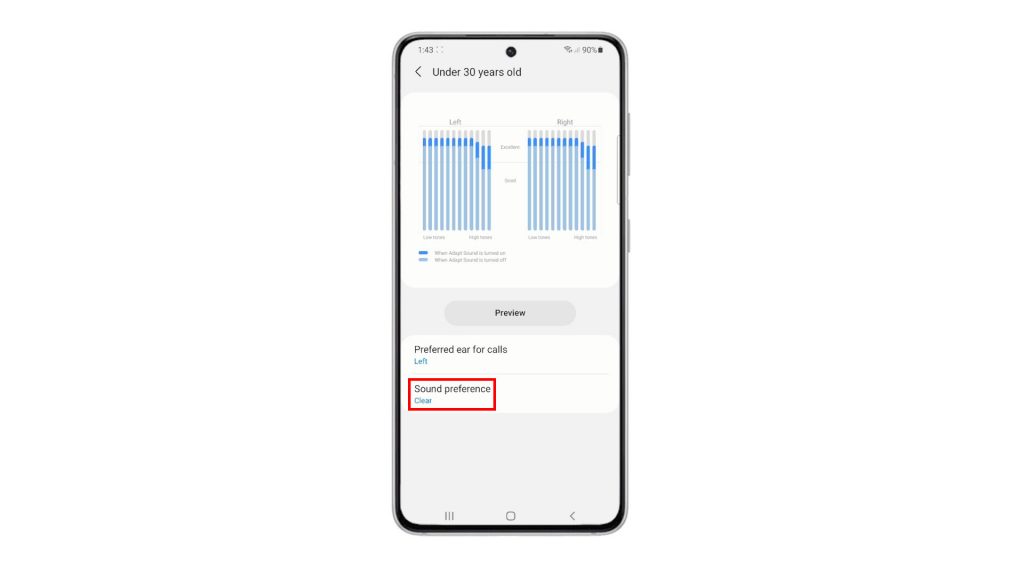 Once you're done making necessary changes, go back to the previous menu.
9. Should you wish to change the default Adapt sound configuration, just tap Adapt sound for and then tap to select any from the given options. You can set it to only media, only calls, or media and calls.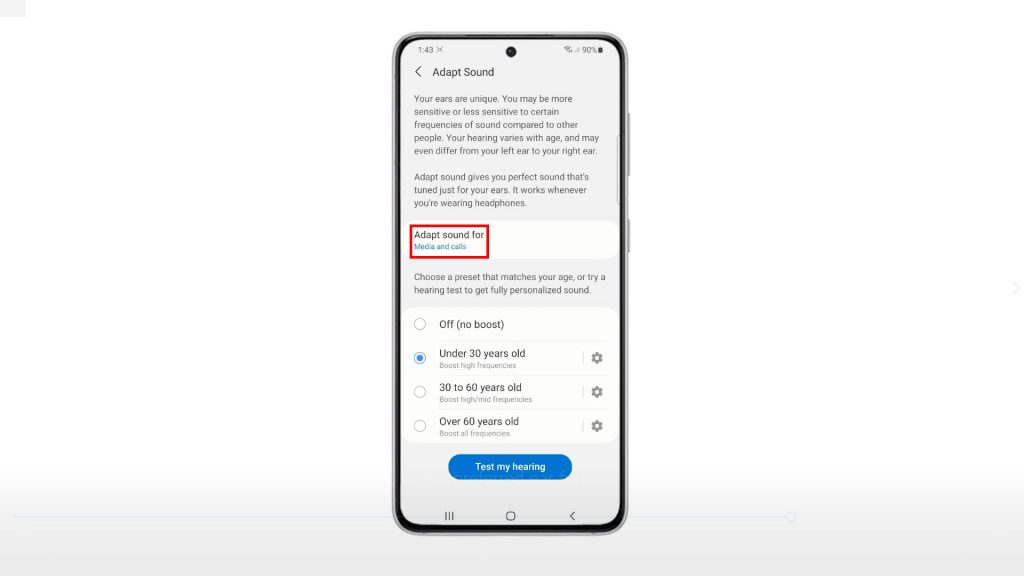 To adjust sound frequencies for other age brackets, just select the age bracket and then repeat the same steps to reconfigure the preferred ear for calls and sound preference values.
10. There is also a control for you to Test your hearing. Should you wish to give it a shot, just tap the Test my hearing button and then follow the rest of the onscreen prompts to calibrate your hearing.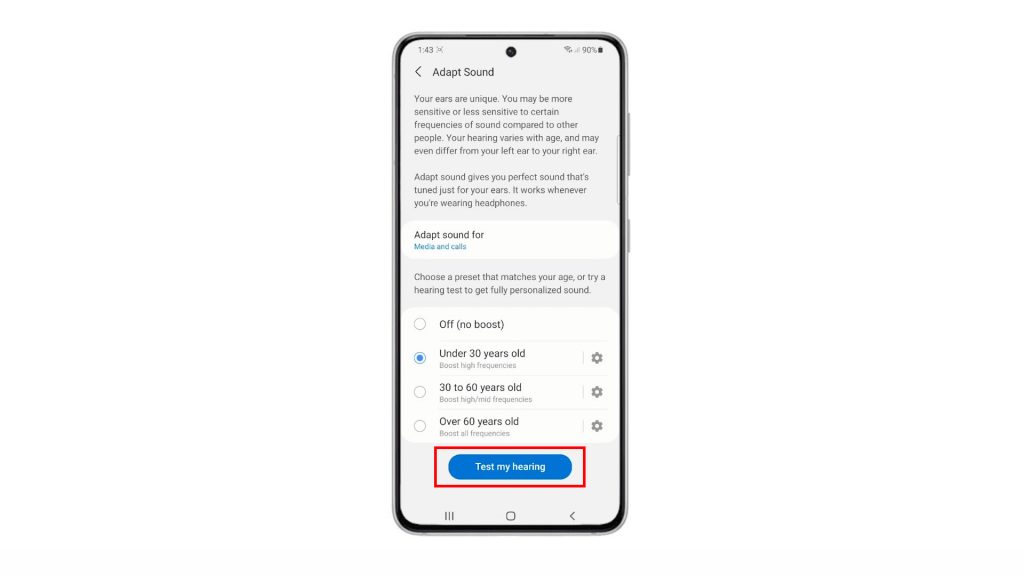 And that's all about customizing the Adapt Sound feature and changing the preferred ear for calls on the Galaxy S21 smartphone.
Quick Hints when Testing Sound:
Be sure to plug or pair your Galaxy S21 with your earphones. If you hear the bleeping sound, tap Yes or No or other relevant commands you see.
Also ensure that you are in a quiet place and have closed down all multimedia applications, when tuning or testing your sound.
Hope this helps!
More Video Tutorials
To view more comprehensive tutorials and troubleshooting clips on different mobile phones and tablets, feel free to visit The Droid Guy channel on YouTube anytime.
You might also want to read: