Almost a year after its initial release the #Samsung #Galaxy #S7Edge is still one of the best Android smartphones out in the market. The phone sports a glass and metal body with a curved display that makes it look and feel premium. Inside the hood the phone is using a Snapdragon 820 or Exynos 8890 chip combined with 4GB of RAM making it run apps smoothly. Then there's also the 12MP dual pixel camera that takes DSLR quality photos. Although this is a dependable device there are instances when certain issues can occur which we will be addressing today. In this latest installment of our troubleshooting series we will tackle the Galaxy S7 Edge resets, freezes when charged issue & other related problems.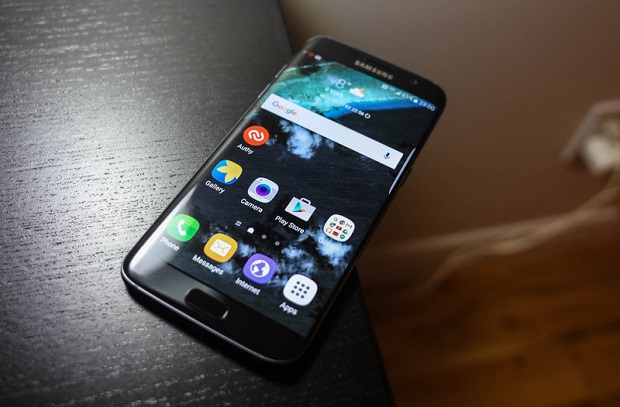 If you own a Samsung Galaxy S7 Edge or any other Android device for that matter then feel free to contact us using this form. We will be more than happy to assist you with any concern that you may have with your device. This is a free service we are offering with no strings attached. We however ask that when you do contact us try to be as detailed as possible so that an accurate assessment can be made and the correct solution can be given.  
If you would like to browse the previous parts in this series then check out this link.  
You may also reach us at our Facebook and Google+ social media accounts.
S7 Edge Resets, Freezes When Charged
Problem: Hi there.  I have had my Samsung Galaxy S7 Edge for about 8 months.  Over the last two months, I believe that there is malware on my phone.  These are the things that my phone has been doing that make me believe there is malware on it.  When I plug the phone in to charge, it will sometimes freeze.  I will then have to hold the power and volume down button to reset it.  The phone will often restart without me touching the power button or it will loop around to restarting, but not actually restart. This also makes the phone really hot. This can happen for minutes or until I manually reset the phone.  The battery does not last as long When I use Facebook and I try to read articles on certain news sites, it will take me to another page that says, "The page at "http.//s/playaed.com" says: DOWNLOAD AVAILABLE. Please upgrade your Samsung Galaxy S7 Edge to the latest version." I also get another message, "DOWNLOAD AVAILABLE" Please download and install the latest upgrade available for your Samsung Galaxy S7 Edge – redirecting in 10 seconds."  This only happens with certain news sites on Facebook. So there are certain sites where I cannot read the news so I have simply unliked them so they don't show up in my feed.   I have ran virus/malware scans and nothing has been detected anything.  Although I did not follow your instructions on how to factory reset the phone, I just did the factory reset by pushing the button in the settings options. I reset the phone  twice, but I still have the same issues mentioned above. Should I follow the instructions that you've mentioned instead on how to reset the phone to its factory state?  I've tried to go into my apps to detect which ones don't belong to me, but I can't tell since I think some of them are  part of the phone and I don't want to accidentally delete them. Any suggestions on how to fix my phone?  Thank you for your help.
Solution: Does your phone have a microSD card installed? If it does then ty removing it first as this can usually cause freezing issues on the device especially if the card has corrupt sectors. Once you remove the card observe if any of the issues still occur. If it does then you need to do a factory reset from the recovery mode. Take note that this will erase your phone data so make sure to have a backup copy before proceeding. Once the reset is complete don't install anything in your phone yet. Check first if any of the issues still occur. If the problem persists I recommend that you have this checked at a service center.
S7 Edge Is Unresponsive
Problem: I woke up and my s7 edge has a green flashing light but no on screen timer. i went to turn it on. When that didn't work i force rebooted the device (power and volume down) the phone rebooted. i started typing in my password. i typed in 2 characters then i might of accidentally pressed the back key on the keyboard. Then the screen froze and went completely black with no led indicator. the phone is fully unresponsive
Solution: What you will want to do first in this case is to make sure that the battery has charge in it. Connect the phone to a charger and let it charge for at least 20 minutes. Make sure that you see the charging indicator. You should also remove the microSD card if your phone has one installed.
If no charging indicator is present then do the following steps listed below.
Clean the charging port of your phone using a can of compressed air making sure that any dirt or debris stuck in the port is removed.

Try using a different charging cord and charger

If you have a wireless charger then try using it to charge the phone.
Once the phone has charged simulate a battery pull by pressing and holding down the power button and volume down button for at least 10 seconds. If the phone can successfully restart then I suggest you immediately backup your phone data then do a factory reset. If the phone does not restart then accessing the recovery mode then do a factory reset from here. Take note that this will erase your phone data.
If the above steps fail to fix the problem then you should bring the phone to a service center and have it checked.
S7 Edge FRP LOCK
Problem: Samsung S7 want get getting recognised to pc or laptop. I ignored the issues and continued using my rooted S7 for 6 months. Suddenly a week back phone stopped working. "FRP LOCK ON". However phone gets charged & i m able to access odin mode & also recovery mode but pc or laptop doesn't recognise the phone. I tried connecting to many pc & laptops. As as its FRP lock. I m unable to update phone even via otg. Factory reset & data wap all done. But phone nore reboots to boot mode nor any pc or laptop is recognising it. Pls help me fix it Mode no. SM-G935FD Binary custom.
Solution: It looks like your phone is suffering from two separate issues. First,it is not being recognized by any computer. Second, the factory reset protection has been tripped.
For the first issue here's what you need to try   
Clean the charging port of the phone using a can of compressed air.

Try using different USB cords to connect the phone to a computer.
If it still can't be detected then the problem could be caused by a faulty data pin in the charging port. You will need to have this checked at a service center.
For the second issue all you need to do is to enter the details of the last Google account that was logged in to the device. If you forgot this then you there is a way to bypass this which might be successful. Just search for the procedure over at Google.
S7 Edge Charging On And Off Using Charging Cord
Problem: My issue is that phone was charging on and off using the USB cable.  I used multiple cables and it would be fine for days / weeks then all of sudden it wouldn't charge using any of the various USB cables including the factory fast charge that came with the phone.  I can however charge the phone consistently with the wireless charging disc even though the USB cable does not work.  Is this a battery issue?  Do I need to get a new phone so can charge it using the USB?  Any help is appreciated.  Thank you.  Using Kernel Version 3.10.61-9756325
Solution: Most of the time this problem is caused by a faulty charging cord. This is because the cord gets easily damaged whenever it is constantly coiled and bent. If replacing the cord does not work then try cleaning the charging port of the phone using a can of compressed air. Dirt or debris that could accumulate in this port might be causing the problem.
If the issue persists even after following the steps listed above then this is very likely caused by a faulty charging port. I recommend that you have this checked at a service center.
S7 Edge LOcked Out Of Phone
Problem: I am locked out of my phone. The screen states:  "Your phone was restarted and needs to be unlocked with the password. You can use your fingerprint  the next time you unlock your phone" I have tried many passwords and am rejected each time. As a possible solution, I used the Google website "Android Device Manager" to lock and reset my password. The phone still will not accept the NEW password. Since I prefer Not to loose my photos, I still hoping to find a solution to the problem without doing a factory reset.
Solution: Try restarting your phone by pressing and holding the power button and volume down button for at least 10 seconds. Once this is done you will have to enter the password. Make sure to enter the correct one.
If you have set up the Find My Mobile feature of Samsung then you can go to the website https://findmymobile.samsung.com/ then unlock your phone from there.
Feel free to send us your questions, suggestions and problems you've encountered while using your Android phone. We support every Android device that is available in the market today. And don't worry, we won't charge you a single penny for your questions. Contact us using this form. We read every message we receive can't guarantee a quick response. If we were able to help you, please help us spread the word by sharing our posts with your friends.