The #Samsung #Galaxy#S7 is available in two storage options. One has a 32GB internal storage while another has a 64GB internal storage. The good thing about this model is that if you are running out of storage space then all you need to do is to simply add a microSD card on the phone. Just make sure that the microSD card has a rating of U1 or U3 not just to make it great for recording and storing 4K videos but also to prevent the bottleneck issue where a lower rated microSD card could slow down the phone performance. While adding a microSD card is as simple as inserting it in its slot there are instances when certain issues can occur which we will be addressing today. In this latest installment of our troubleshooting series we will tackle the Galaxy S7 can't access data from microSD card issue & other related problems.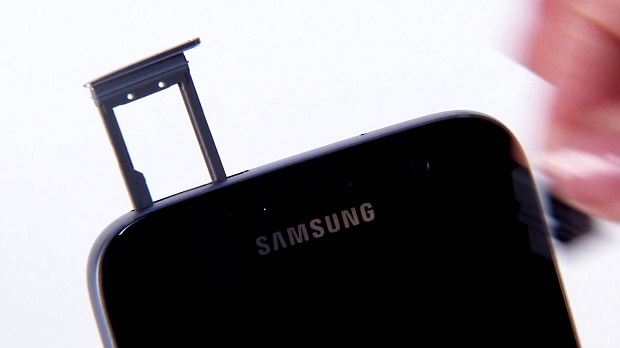 If you own a Samsung Galaxy S7 or any other Android device for that matter then feel free to contact us using this form. We will be more than happy to assist you with any concern that you may have with your device. This is a free service we are offering with no strings attached. We however ask that when you do contact us try to be as detailed as possible so that an accurate assessment can be made and the correct solution can be given.  
If you would like to browse the previous parts in this series then check out this link.  
You may also reach us at our Facebook and Google+ social media accounts.
S7 Can't Access Data From microSD Card
Problem: I want to access some of my data on my SD Card but I cannot retrieve it. I can only access it from my PC. What makes it worse is that I encrypted my SD Card. I cant view any of data from my PC because the SD Card has been encrypted. Now that the phone cannot read the SD Card I cannot decrypt the data. PLEASE HELP
Solution: Encrypting a microSD card adds another security layer to the data that is stored on the device. This makes it difficult to access the data when using another device. The problem right now is that the phone is unable to read the microSD card. There are various computer software available that can decrypt the contents of a microSD card however the effectiveness of such software needs to be checked first. If you want to proceed with this step then you will have to check which software can get the job done.
Another method is to address the problem as to why the phone is unable to read the microSD card and decrypt it. If this is a software related problem then I suggest that you backup your phone data then do a factory reset. After the reset try to check if you are now able to access the microSD card. If the problem is hardware related then you should have this checked at a service center.
S7 Not Reading microSD Card After Software Update
Problem: Since the recent software update on Samsung Galaxy S7 I no longer see storage and I know there was a working sd card there. I saw somewhere where there was no external sd card. I can't do a soft reset as the battery is internal and I can't get to it.
Related Problem: I have a samsung galaxy s7 with an SD card installed. I recently updated the operating system and now my phone shows that no SD card is installed. When I open the my file folder only the internal storage shows up and is says no SD card installed Can you help?
Related Problem: Hey i recently bought an s7. I initially installed the sd card and it worked instantly. Last night i activated my phone with sprint and now the devices says there is no sd card mounted. Ive taken it out and reset the phone a couple times but nothing seems to work. Any help would be appreciated
Solution: The first thing that you need to do in this case is to simulate a battery pull. To do this just press and hold on the power and volume down buttons for at least 10 seconds. Your phone should restart after this. Once this is done try checking if the phone can now detect the microSD card. If it can't then remove the card and let your computer read it. You will need a card reader to do this.
If your computer can't read the microSD card then it could already be corrupt. In this scenario you should just get a new card.

If the computer can read the card then reinsert it back to your phone.
If the phone still can't recognize the card despite the card being recognized by the computer then this issue could be caused by a software glitch. If this is the case then you should backup your phone data then do a factory reset.
S7 microSD Card Quit Working
Problem: I've had my SD card for about 5 months. A couple of days ago it quit working. I backed up the information to my computer and had Verizon Wireless do a hard reset of my phone. When I got home I put the SD card back in to reformat it but all the info seemed to be working ok so I left it. A couple hours later it quit working again so I went to format the SD card but when it got to 20% it said Command 14 volume partition disk… Help
Solution: It looks like the microSD card is already faulty. This is usually the case when this card develops some bad or corrupt sectors. Your best option right now is just to get a new microSD card.
S7 Not Accessing Data From microSD Card
Problem: Just upgraded from note 4 to s7 active. Swapped in 32g memory card from note 4 to s7. Go to gallery and sometimes it will show my 4 albums of pics, sometimes not. Even when it does it will freeze when I try to open album. Tried going thru my files as well. No go, phone freezes when trying to access memory card. Also mx Player will not access videos from card. Please help. Thank you for your time
Solution: It's either this microSD card has a slow access speed or it has developed some corrupt sectors. What you need to do in this case is to remove the card from your phone then let your computer read the card. You will need a microSD card reader to do this. Once the computer can read the card then backup its contents. Just copy everything stored in the card to a folder in your computer. Once this is done get a new microSD card preferably one that is rated U1 or U3 and use this card on your phone.
S7 Reads microSD Card As Corrupt
Problem: After removing my SD card and sim to retrieve my sim information. All sd cards inserted into my s7 are seen as corrupt. The cards can be read on other devices and computers. Also tried formatting sd card, factory reset phone, cleared cache, tried to format sd card with phone (gets stuck @ 20%). And am on latest firmware that it will let me upgrade to. Any suggestions?
Solution: This appears to be a hardware related problem already possibly caused by a faulty microSD card slot of the phone. I recommend that you have this checked at a service center.
S7 Stops Reading microSD Card
Problem: I just bought Samsung Galaxy s7 and I've been dealing almost every day with the issue that stops reading the SD card I put in it after a few hours. I already reset the device, reboot, formatted the SD card and just seems to work for a few hours. I'm already thinking to return it if still working like that. I lost some pictures and music.
Solution: Since you already performed most of the troubleshooting steps for this particular issue which doesn't seem to fix the problem then I recommend that you try using a new microSD card on your phone. This way you can check if the problem is caused by the microSD card that you are using. If the problem still remains then you should bring your phone to a service center and have it checked.
S7 Not Reading 128GB microSD Card
Problem: My issue is also my galaxy S7 not reading my 128GB memory card. I've done a factory reset on my phone and I've verified that all of my pics are still on my sd card using my computer so after all of this my phone is still not reading the card. Any fix on this?
Solution: Try using a different microSD card on your phone. If this card can be read then the problem is caused by the 128GB microSD card that you have. Try to backup the contents of the card then format it using your computer. Reinsert the 128GB card back to your phone then check if it can be read.
In case the phone can't read any microSD card inserted to it then you need to have this checked at a service center.
S7 How To Check microSD Card Contents
Problem: Hey how you doin? Got the new galaxy s7 after upgrade from s5. Says my sd card is full which it very well could be. I'm just wondering how do I check what's on the sd card so I can select what to delete and clear some space. Thanks a million
Solution: The S7 has a file manager app which you can use to check the contents of the microSD card. You can also delete files stored in the microSD card using this file manager app.
Feel free to send us your questions, suggestions and problems you've encountered while using your Android phone. We support every Android device that is available in the market today. And don't worry, we won't charge you a single penny for your questions. Contact us using this form. We read every message we receive can't guarantee a quick response. If we were able to help you, please help us spread the word by sharing our posts with your friends.