If you are looking for a high end phone with an excellent display then the #Samsung #Galaxy #S6 is a prime candidate. This device sports a 5.1 inch Super AMOLED screen that has a resolution of 1440 x 2560 pixels at 577ppi density. What this means is that images appear lifelike when viewed on the device. There are however instances when screen related issues on this phone can occur. This is what we would like to address in our latest installment of our troubleshooting series. If you are experiencing the Galaxy S6 screen turns off issue & other related problems then you should continue reading as we will be providing helpful tips on how to resolve the matter.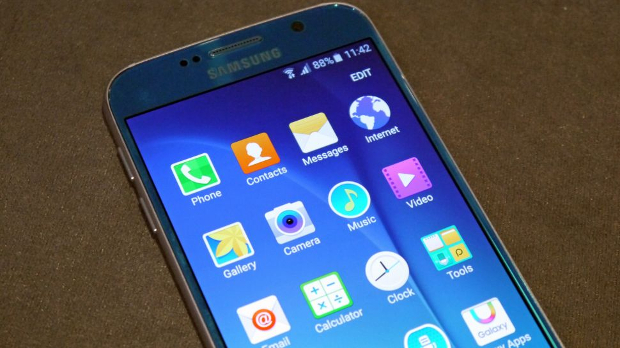 If you own a Samsung Galaxy S6  or any other Android device for that matter then feel free to contact us using this form. We will be more than happy to assist you with any concern that you may have with your device. This is a free service we are offering with no strings attached. We however ask that when you do contact us try to be as detailed as possible so that an accurate assessment can be made and the correct solution can be given.  
If you would like to browse the previous parts in this series then check out this link.  
You may also reach us at our Facebook and Google+ social media accounts.
S6 Screen Turns Itself Off
Problem: My screen turns itself off after a few seconds if I don't touch it.   How do I make it stay on all the time until I want it off and purposely do it?
Solution: This issue could be caused by a low screen timeout setting. Try changing the timeout duration by doing the steps listed below.
From the home screen, tap and drag the Notifications bar downwards.

Tap the Settings icon.

Scroll to and tap Display.

Tap Screen timeout.

Tap the required duration
The following timeout settings are available for you to choose from; 15 seconds, 30 seconds, 1 minute, 2 minutes, 5 minutes, and 10 minute.
You should also consider turning on the Smart Stay feature of your device. What this does is it allows the screen to remain on as long as you are looking at it.
Go to Menu

Select on Settings

Select on Display

Browse for the option called "Stay Smart" then check the box
If you are still having a problem with the display turning off after a few seconds then try starting your phone in Safe Mode. This way you can check if the issue is caused by an app. If the screen does not turn off immediately in this mode then find out what app is causing the problem and delete it.
If the issue still occurs in Safe Mode then I'd recommend you do a factory reset. Take note that you need to backup your phone data before doing this as it will be deleted in the process.
S6 Flashes Black When Used
Problem: I have a problem with which I do not know what else can I do. My phone repeatedly switching off without any reason and doesn't matter if on cord or not, even with 100% battery. Then when I want to switch it back on the screen is black, causing me to have to do soft reset all the time and hardly ever that works on the first try. Then when calling someone the phone is working but screen is black or flashing black. The same when I am on call on skype and decide to see my balance again flashing black or black screen. That's happening over and over again. I have done countless wipe cache partition, two factory reset but still have the problem. Is there please anything else I can do, is there any way how can I fix the software myself of does that have to be just through some IT people? Please help
Solution: Since you already performed a factory reset which failed to resolve the problem there's a possibility that this could already be a hardware related problem. If your phone is running on the latest software version and is still on its stock software then I suggest you bring your phone to an authorized service center and have it checked.
S6 Screen Is Black But Phone Is Working
Problem: Screen is black but phone seems to be working. Messages and calls coming through but can't see anything. I have tried rebooting using volume and power button. Any help would be appreciated.
Solution: If you are seeing a black screen on your device but the phone is still working then there's a chance that the issue could be caused by a damaged display.
Verify if this is the case by starting your phone in recovery mode. This is an environment separate from the operating system of your device and is useful in checking if the problem is caused by the phone software. If you are able to see the various options in recovery mode then the problem could be software related. I suggest that you perform a factory reset from this mode. Take note that this will delete your phone data so make sure to have a backup copy before doing this.
In case the screen is still black in recovery mode then you will have to bring your phone to an authorized service center and have it checked.
S6 Screen Won't Turn On
Problem: Screen went black one day, tried charging it never worked. connected to computer was still recognized. Bought a new LCD display and replaced it but screen still wont turn on.
Solution: Is your phone getting any notification sounds even when the screen is black? If it is then the problem could be caused by any of the following listed below.
Display assembly

Display cable connecting it to the board.

Display driver in the board.
If the phone is not getting any notifications then this could be a power related problem. Try charging your phone using a different charger and charging cord.
If at this point the problem still remains I suggest you bring your phone to an authorized service center and have it checked.
S6 Screen Keeps Flickering
Problem: My phone screen keeps shaking when charging and when the screen is off (after time out) it starts flickering and you can't help until you restart the phone. I have to make sure my screen is active all the time otherwise it keeps on flickering,and sometimes to the extent of being black all the day. Please help
Solution: What you need to do first in this case is to eliminate any software related issues that could be causing the problem. Before doing any troubleshooting make sure to backup your phone data. You should also make sure that your phone is running on the latest software version.
To troubleshoot this issue begin by doing a factory reset. This brings the phone back to its original condition when it was new. If the problem disappears after the reset  then it could be caused by corrupt data, a glitch in the software, a rogue app, or a combination of the three.
If after the reset the issue still occurs then this is most likely a hardware related problem already. If this is the case then I suggest you bring your phone to an authorized service center and have it checked.
S6 Screen Is Black And White When Wi-Fi Is On
Problem: No color after phone turns on to wifi black and white . Restart it and at first there's color then when wifi picks up it turns back to black and white please help mee!!!!
Solution: This could be a setting related issue. Make sure the phone is not running in ultra power saving mode. You should also make sure that the greyscale option is turned off under accessibility settings.
If the settings of your phone are good but you are still having this issue then proceed with wiping the cache partition of your phone from the recovery mode.
One last troubleshooting step that you can do should the above steps fail is a factory reset. JUst make sure to backup your phone data before doing this.
S6 Back Recent Tab Keys Don't Light Up
Problem: On my new Galaxy s6, the back key and the recent tab keys don't lite up anymore. They are completely gone, and I've tried everything to get them back. I dropped the phone in the snow for a maximum of 30 seconds and picked it back up and dried it off. The keys haven't lite up since. Also, the home key/fingerprint scanner isn't letting me scan my fingerprint anymore. It keeps coming up with an error message and saying it isn't able to scan it.
Solution: It;s possible that this issue could be caused by water damage. Try checking first if the phone software is involved by backing up your phone data then doing a factory reset. If after the reset the same issue occurs then I suggest you have your phone checked at an authorized service center.
Feel free to send us your questions, suggestions and problems you've encountered while using your Android phone. We support every Android device that is available in the market today. And don't worry, we won't charge you a single penny for your questions. Contact us using this form. We read every message we receive can't guarantee a quick response. If we were able to help you, please help us spread the word by sharing our posts with your friends.