What's the use of Samsung Galaxy S6 Edge's (#Samsung #GalaxyS6Edge) stunning display if it doesn't sound off when you play a music track or a video?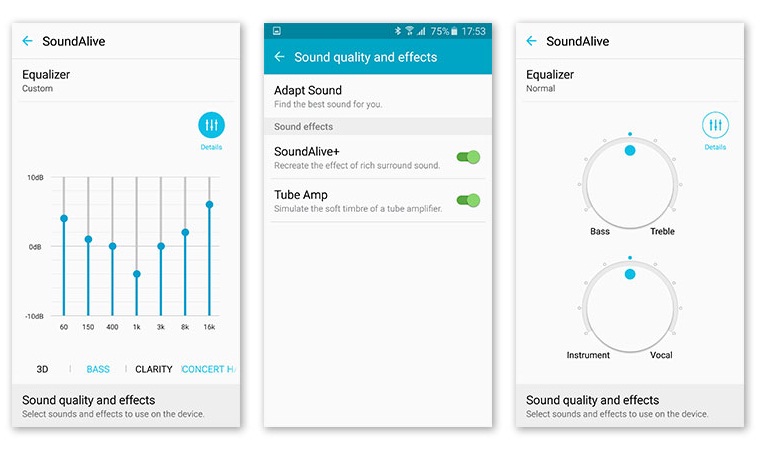 In this post I will tackle some of the most common problems with the phone–no audio. While this issue can be attributed to a faulty hardware, there are also times the firmware is culprit especially if the problem occurred after an update.
Read on to know more about this problem but if you were trying to find a solution to a different problem, check out the troubleshooting page we setup for the S6 Edge. Try the solutions we provided for problems related to yours and if they won't work, then feel free to contact us. Just make sure you provide all necessary information as well as a close description of the problem.
Here are some of the audio related problems we received…
Galaxy S6 Edge has no media sound, GPS has no voice guidance
Problem: Hi my media sound is not working. While using GPS no voice with directions, I have pushed up and down volume and there is no sound coming through… what to do?
Troubleshooting: The first thing you need to do is verify if your phone can play audio through its speaker because if not, then that's the reason why it doesn't have the voice guidance. You may…
Record your voice and play it back to know if it sounds off.
Play a music track.
Play a video with volume set all the way up.
If the phone didn't sound off to any of that, then there's a problem with the speaker. Make sure the phone wasn't muted or something and if it occurred after an update, then there may be some caches and/or data that were corrupted. You need to rule out this possibility by wiping the cache partition first and doing the master reset after.
Wipe Cache Partition
Turn off the device.
Press and hold the following three buttons at the same time: Volume Up key, Home key, and Power key.
When the phone vibrates, release the Power key but continue to press and hold the Volume Up key and the Home key.
When the Android System Recovery screen appears, release the Volume Up and Home keys.
Press the Volume Down key to highlight 'wipe cache partition.'
Press the Power key to select.
When the wipe cache partition is complete, 'Reboot system now' is highlighted.
Press the Power key to restart the device.
Master Reset
Press and hold the Volume Up, Home and Power keys together.
When the device powers on and displays 'Power on logo', release all keys and the Android icon will appear on the screen.
Wait until the Android Recovery Screen appears after about 30 seconds.
Using the Volume Down key, highlight the option, 'wipe data/factory reset' and press the Power key to select it.
Press the Vol Down button again until the option 'Yes — delete all user data' is highlighted and then press the Power key to select it.
After the reset is complete, highlight 'Reboot system now' and hit the Power key to restart the phone.
If both procedures failed to fix the problem, then have the phone checked by a technician.
Galaxy S6 Edge Videos lag when played on Facebook
Problem: Good afternoon. The problem occurs when trying to play videos via Facebook.  They start to play then after 5-8 seconds the video lags, but the sound continues. The visual then never catches up with the audio and is completely out of sync. All other videos played on other apps are fine, this seems to be a common problem. Any help would be much appreciated.
Troubleshooting: First of all, I will assume that you are using the Facebook app. There are two very important factors to consider why the video playback lags…
speed of internet connection
quality of the video
Assuming you have a fast internet connection and you've verified the video you were viewing has a good quality, then the next thing you should check is if it happens to every video or to just a few. If it happens to all videos, then the problem is with the Facebook app itself.
In this case, you need to try to clear the cache and data, update it, uninstall and reinstall it. The key here is trial and error; if clearing the cache and data didn't fix the problem, try to update the app and if the problem remained, then uninstall and download a fresh copy from the Play Store.
However, if it happens only to some videos, there's still a chance clearing the cache and data will fix it but then you need to verify further the quality of the videos.
After doing all the hassle of finding the culprit and you haven't found one, try to reset your phone and see if that makes a difference.
Clear Cache and Data
From the Home screen, tap the Apps icon.
Find and tap Settings.
Under the 'APPLICATIONS' section, find and touch Application manager.
Swipe to the left or to the right to display the appropriate screen but to display all apps, choose the 'ALL' screen.
Find and tap the app that has issues.
Touch Clear cache to delete its cached files.
Touch Clear data and then OK to delete downloaded data, login information, settings, etc.
Uninstall App
From the Home screen, tap the Apps icon.
Find and tap Settings.
Under the 'APPLICATIONS' section, find and touch Application manager.
Swipe to the left or to the right to display the appropriate screen but to display all apps, choose the 'ALL' screen.
Find and tap the app that has issues.
Touch Uninstall.
Galaxy S6 Edge volume adjusts automatically
Problem: So I don't know if I'm the only one who has faced this concern, but my volume has a mind of its own. When I'm using media volume it will randomly either go silent and lower completely or it will jump up a few notches. Sometimes even turn up when I don't have it on. Inconvenient for headphones and public places as you can probably imagine. Is this issue resolvable? It's a huge concern I have. I'm getting tired of jumping out of my skin when the volume on my music suddenly blares. Also I wanted to note its not a gradual increase or decrease. It's instant. Please help me out if you can with some wisdom! thanks!
Related Problem: The volume keys controlling itself on its on I turn the volume up a few seconds it turns the volume way down I turn the volume back up a few seconds to turn the volume back down this happens when I have Bluetooth headphones in. I also installed a Bluetooth volume adjuster and that app did not work so I uninstall that app.
Troubleshooting: While Samsung didn't acknowledge it as a bug, the new equalizer feature on its flagship may seem a little problematic especially when the owner uses Spotify. Many have been reporting about the volume that automatically adjusts itself up and/or down while playing music or any kind of media.
If this problem happened to you and you were using the stock Music app, then try disabling or turning off SoundAlive to disable the equalizer; open the Music app > go to Settings > tap the switch to Off.
Do the same thing if the phone does it while playing music using Spotify.
However, after disabling the equalizer and the problem remained and you happened to have AVG on your phone, then uninstall the app as it often triggers this problem.
These are the only ways we know work. For further troubleshooting, call your provider or Samsung.
Galaxy S6 Edge speaker not working
Problem: I just got my Galaxy S6 Edge a week ago and I just noticed that when I play music or videos, it doesn't sound off even with its volume turned all the way up. I tried to troubleshoot it only to find out that it may be a problem with the speaker. Tried copying an mp3 file from my other phone. The file is a music track and it plays fine with my other phone but when I copied it over to my Edge, the screen shows it's playing but it doesn't sound off. Headphones aren't plugged in and there's no icon for it on the notification bar so it's not it. What should I do now?
Answer: The phone is pretty new and I'm sure you don't want to deal with this problem everyday for the entire duration that you own this phone. So, I suggest you get the phone replaced while you're still eligible for a brand new replacement. Don't waste any more of your time troubleshooting because a brand new phone like the S6 Edge should be working properly and without problems out of the box.
Connect with us
We are always open to your problems, questions and suggestions, so feel free to contact us by filling up this form. We support every Android device available and we are serious in what we do. This is a free service we offer and we won't charge you a penny for it. But please note that we receive hundreds of emails every day and it's impossible for us to respond to every single one of them. But rest assured we read every message we receive. For those whom we've helped, please spread the word by sharing our posts to your friends or by simply liking our Facebook and Google+ page or follow us on Twitter.