I was surprised to have received requests for help from our readers who own a #Samsung Galaxy S6 Edge (#GalaxyS6Edge) because their problems are actually very easy to fix and it's not really problem but a misconfiguration. According to them, the phone can no longer be detected by the computer as a media device. As a result, they can't transfer their photos, videos, music and other media files.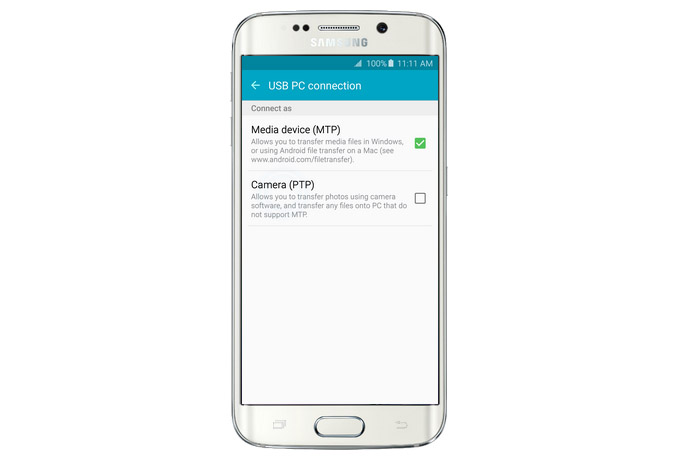 Read on to learn how to fix this problem and other issues I included in this article. Here's the list of the problems, you may click on the link to jump to a specific issue…
For those who have other issues, visit our troubleshooting page and find similar problems. You may then use the existing solutions. If they don't work or if you can find something similar to what you have, then fill up this form to contact us. Provide us with necessary information about the problem and we'll help you fix it.
PC no longer detects Galaxy S6 Edge, can't transfer photos and music
Problem: I have been having difficulty for the past two weeks attempting to get my phone and computer to cooperate and I was hoping you could help. Prior to two weeks ago I would plug my phone (using its original cable) into my computer and on my phone I would click something to the effect of to share content from my phone via media or camera to my computer. Once I completed that I was free to interchange music pictures etc. For the past two weeks when I plug my phone into my computer nothing happens other than my phone begins to charge. What I mean by nothing happens is there is no sounds from either my phone or computer upon plugging in (because I do believe there was a dig of some sorts prior to these two weeks) or unplugging, there is no appearing of any sort of icon on the bottom left icon widget bar on my computer or next to my local C Drive under the folder of MY PC.
There is also no option on my phone for choosing which setting to connect to my computer with. I have tried multiple times over the past two weeks to repeat my previous successful endeavors including restarting both pieces of technology, downloading the USB drivers for my computer and smart switch for my phone. I have tried plugging in another USB into my computer prior and post download of the USB driver and it still works, I have tried plugging in my phone to another computer (a mac) and it shows USB installer options. I have tried activating the USB debugging and still no success. I am unaware of how to proceed, if assistance is possible I would very much appreciate it.
Related Problem: Hi Droid guy, I am writing in regards to below issue:
When I'm connecting my Samsung Galaxy S6 Edge to PC, the phone is recognized by the computer but can't copy/paste any .mp3 from PC to phone. I can view and transfer the pictures from phone but no files from PC to Samsung. USB debugging on/off is not solving the problem.
I am using a Lenovo T440p (Windows 7) business laptopt and Samsung is a SM-G925F model. Many thanks, Albert.
Related Problem: Hello, I have spoken to Samsung and tried using USB debugging mode, safe mode, updating my drivers, updating windows 10, changing cables, changing ports, deactivating firewalls and anti-viruses and nothing will get my phone to appear on my PC. I just want to access my files so I can put music on my phone nut the phone only charges and does not appear as a media device. Any help would be appreciated.
Solution: I am sure it's just a mis-configuration or something was changed in your device. Follow these steps:
Try using the original USB cable and connect your phone to your computer.
Once connected, touch the notification bar and drag it down.
Touch "Connected as a media device" so as to display other USB options.
Choose the type of connection you need to transfer files over to your computer.
Assuming you had all drivers installed, the computer will automatically detect the device.
I think this is all you need.
Galaxy S6 Edge suffered liquid damage and keeps rebooting every 15 seconds
Problem: Water damage and reboots every 15 seconds. Would like to get my data copied, somehow. Was able to get to android menu to clear cache etc. Also, could able to get to safe mode..but phone restarts every 15 seconds. Appreciate any help. Thanks, Anand.
Answer: Apparently the phone is messed up and at this point, it's difficult to determine whether the phone can still be fixed without visiting a technician or not. But try plugging the phone to charge to see if it can stay on enough for you to backup all your data. If not, then you need a technician to perform general cleaning procedures on your phone.
Galaxy S6 Edge charging port acting up, device heats up so bad while charging
Problem: My sons and I have had our phones for 5 months and I need them to last 2 years. I don't know how that's going to be possible since the charging port is acting up already. I plug in the phone and it goes in and out of charging mode. The charger get so hot you can not touch it. And my sons charger started to melt. Any help is appreciated.
Suggestion: I am sorry but I cannot ask you to troubleshoot devices as messed as yours. You need to have it checked by a technician immediately as it's dangerous. If it's true that your phone gets so hot while charging, there's always a tendency the phone will create fire or the battery explode. I'm not trying to scare you or something but I batteries do explode when charged improperly. It's a self-evident truth as I witnessed it with my own eyes that the battery I was charging manually exploded without warning and believe, the explosion it created was the kind that will shatter your fingers. So, seek help from a pro.
S6 Edge stopped charging fast without apparently reason
Problem: I noticed that my phone stopped using the fast charging feature and is now using cable charging. It started two nights ago and I've tried using other USB cables with my phone charger adapter which support fast charging but it's not still working. What should I do , do I need to get a new charger or does the problem come from my phone.
Answer: There's no on/off switch for fast charging but there are requirements the phone should meet. Make sure the screen is off while charging and then verify the phone doesn't heat up when plugged in. You may try booting the device in safe mode and charge from there. If it still doesn't work, try turning it off and plug it in and if still no, you need a technician to fix it for you.
S6 Edge stuck in boot loop, won't charge
Problem: My phone (which I got on 5/12/2015) is stuck in the boot cycle. if I do a soft reset it just pops up "Samsung galaxy s6 edge- powered by android." and sits there without changing. if I plug in my charger and do a soft reset it shows the battery gauge with a lightning bolt but never my charging status. As such, I can not turn my phone off then back on in safe mode since I cant get it to turn on, to turn it off again.
Related Problem: My Galaxy S6 Edge is in like a permanent reset loop. It started earlier today just randomly. It will power on then it will boot up like normal and then after about a minute of it being on  the device will reset if self, when it comes back on it does the same thing. I have tried reseting it and turning it off for a while and neither of those have worked. I called Samsung and they couldn't really do much.
Answer: I always say that when telling us the problem of your phone that seem to have occurred mysteriously, tell us every that could have happened and resulted to the problem because it's a waste of time on our part to assume things.
If your phone keeps restarting, does it vibrate after it turns off or just before it turns on? If so, then the power button is stuck. If you can't fix it by pressing it many times, then have someone fix it for you.
S6 Edge won't charge via USB cable but charges wirelessly
Problem: My phone won't charge from the USB port but will charge wireless. I bought a new charger so the charger isn't the problem either. I need help please and thanks.
Answer: Check the USB port on your device and see if there's a pin or two that's bent. If there is, use a toothpick to straighten it out because that's what causing the problem. Also remove the lint or debris if there's any. If there's no issue with the pins, you have no other option but to backup your data if you still can and do the master reset.
Turn off your Samsung Galaxy S6 Edge.
Press and hold the Volume Up, Home and Power keys together.
When the device powers on and displays 'Power on logo', release all keys and the Android icon will appear on the screen.
Wait until the Android Recovery Screen appears after about 30 seconds.
Using the Volume Down key, highlight the option, 'wipe data/factory reset' and press the Power key to select it.
Press the Vol Down button again until the option 'Yes — delete all user data' is highlighted and then press the Power key to select it.
After the reset is complete, highlight 'Reboot system now' and hit the Power key to restart the phone.
If all else fails, seek help from a tech.
S6 Edge stopped working, won't charge, no sounds
Problem: Hey my Samsung GALAXY S6 Edge which I have had for only a few months completely stopped working won't charge turn on no sounds screen does nothing and this happened while in my pocket!! I've taken care of my phone well n can't seem to figure out the issue… Any feedback would be greatly appreciated. Thank you!
Answer: System crash. That's what I think happened to your phone. To fix that, all you have to do is press and hold the Volume Down and Power keys together for 10 to 15 seconds and the phone should reboot normally.
Galaxy S6 Edge won't charge wirelessly
Problem: Purchased Samsung wireless charging pad EP-PG920I. Will not charge. Went out bought Samsung wireless charging pad EP-PN920B still will not charge. Both pads light up when plugged in with USB. I assume it must be my phone. Techs at Bestbuy have no idea. Your help is welcomed. Thanks!
Answer: Try repositioning the device over and over and if it still won't charge wirelessly, try one more charging pad and if still no, then have the device checked. More often it's a hardware problem and there's nothing we can do about it.
S6 Edge charges at an unbelievably slow pace
Problem: My Galaxy S6 Edge is charging at an unbelievably slow pace.  I have done a soft reset /hard reset / low battery dump / and tried 3 different chargers.  It's charging at a rate of around 5% per hour. I wiped the data from the phone and restored to factory to eliminate third party apps but have found no solution. Any ideas? Thanks in advance.
Answer: The fact that it still charges slow after the master reset is evident it's not a firmware issue but probably a battery problem. Since it doesn't have a removable battery, or if you try to remove it you'll void the warranty, you have no other choice but to send it in for repair.
Connect with us
We are always open to your problems, questions and suggestions, so feel free to contact us by filling up this form. This is a free service we offer and we won't charge you a penny for it. But please note that we receive hundreds of emails every day and it's impossible for us to respond to every single one of them. But rest assured we read every message we receive. For those whom we've helped, please spread the word by sharing our posts to your friends or by simply liking our Facebook and Google+ page or follow us on Twitter.