The #Samsung #Galaxy #S6Edge is one of the trio of smartphones of the S6 line that the South Korean company released back in 2015. What makes this phone unique is that it makes use of a 5.1 inch Super AMOLED display that curves around both sides of the phone. This curve not only makes the phone beautiful but it also adds certain functions to the device as certain apps can run on the edge part of the screen. Although a lot of people are using this phone as their reliable daily driver without experiencing any issues there are still instances when certain issues can occur which we will be addressing today. In this latest installment of our troubleshooting series we will tackle the Galaxy S6 Edge battery drains while charging issue & other related problems.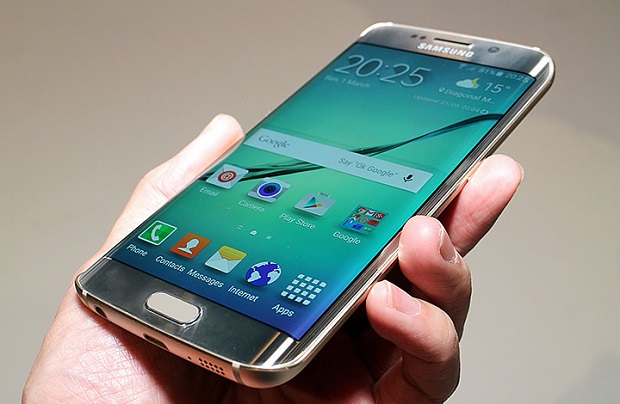 If you own a Samsung Galaxy S6 Edge or any other Android device for that matter then feel free to contact us using this form. We will be more than happy to assist you with any concern that you may have with your device. This is a free service we are offering with no strings attached. We however ask that when you do contact us try to be as detailed as possible so that an accurate assessment can be made and the correct solution can be given.  
If you would like to browse the previous parts in this series then check out this link.  
You may also reach us at our Facebook and Google+ social media accounts.
S6 Edge Battery Drains While Charging
Problem: Hello, about a week and a half ago my galaxy s6 edge decided to stop working. Aside from all the other problems I have with it, the newest one is the worst. I put it to charge one day and it was dying while charging. It stayed at 12% for a little while and then it gave out entirely. The cable is fine (I've charged other devices with it) and my laptop won't detect it. I think the charging port is faulty, I had to press it in hard while hitting all the buttons and it turned on for three seconds, but I moved and it died again. It won't turn on anymore, please help me out.
Solution: It looks like the battery is not getting the needed power for it to charge. What you will want to do first in this case is to make sure that the charging port is free from any form of dirt or debris by cleaning it using a can of compressed air. Once this is done try using different charging cords and wall chargers to charge the phone. If the problem still persists then this could already be caused by a faulty charging port. You will then need to bring the phone to a service center and have it checked if this is the case.
S6 Edge Freezes Takes Too Long to Charge
Problem: So I'd been having issues with my phone for about a week or so, the screen would freeze with a line across it and make a crackling static noise. It would then freeze and I'd try to turn it off and eventually the screen would go black with the buttons on top still on. Then came the battery issues, it was taking a ridiculous amount of time to charge, about 6 hours for a full charge and then it would deplete extremely rapidly. Mind, you, I use my phone almost all the time everyday. It was also having overheating issues which I was used to, in fact I used to use it as a heater for my back when it got hot. But then all the problems started happening at once and my phone with charge, power on and be on for less than 15 minutes before it overheated and turned off with no "overheating" warning and would not power on until it was completely cooled. The last time I was able to use it with just the "freeze, line across the screen and static" problem was the 22nd. The 23rd is when I had the issues with it overheating "like to the point of burning" and the "freeze…." issue. The 24th it refused to turn on and even heated up when it was plugged into a ridiculous temperature and no charging sign on the screen, I decided to leave it alone after I pulled up the black charging pad on the mainframe and bent the ribbon cable slightly on the cord connecting to the right of the charging pad (honestly i think that's what made it never turn on and get hot but it doesn't appear damaged. Flash forward to today and I've replaced the battery and the camera (the site I ordered parts for had a deal so I thought why not). The phone was originally heating up on the bottom left hand of the back camera and when I got out my old battery it appears to be slightly melted on the left side. I sealed everything up, and when I put the device to charge it got hot on the left hand side. I had decided not to glue on the new back I'd purchased and was able to unscrew the mainframe and found that the logic board, specifically those first four gold piece on the left are overheating. The new battery and all other components are not affected but it wont turn on. I don't want to buy a new phone and want to recover my memory so is there anyway to fix this? Sorry for the long message but this is a very specific issue. Also the "freeze issue" got worse after I updated software it seems so I'm not actually sure what is my current software as it was rarely on after it updated.
Solution: What you will want to do first in this case is to make sure that the new battery which you bought is working. If you have a multimeter with you then you can use this to check if the battery has sufficient charge. Once you have made sure that the battery is not causing the problem then We could be looking at a defective power IC or a short circuit somewhere in the phone motherboard since you mentioned that the board is overheating. The best way to proceed in this scenario so that you will be able to recover the data in your phone is to bring this to a service center and have it checked.
S6 Edge Gets Stuck In Boot Loop
Problem: Hi i had a problem where my galaxy s6 edge just died when i switched it on it started up as normal for a few seconds then it died again and went into the boot loop so i tried to soft reset and switch it off but nothing wanted to work i had to wait for the battery to run out. I put it on charge then it started on its own and when back into the boot loop so i tried to go into recovery mode and it went in but when i went down to factory reset it just got stuck on the factory reset option and didn't want to reset or switch off at all had to wait for the battery to run out again, did that whole process a few times and every time is the same. I downloaded odin3 v3.12 and g925f v7 nougat firmware from sammobile to flash my phone because it went into download mode. I followed all the instructions to the letter and my phone started to download but when odin shows the big green pass my phone shows downloading and it doesn't go passed 99 % i left it like that for 12 hours and just stays like that so i had to restart my phone by pressing vol down+home+power buttons that's the only way my phone restarts, then my phone shows installing up to 32% then shows erasing then it say no command with a dead android bot. How can i get my phone to complete the flashing download and i did try the whole process about 3 times and every time odin passed but phone goes up to 99%. Please help and thank you for all the good work
Solution: What you should do right now is to check the factors listed below that could be causing the problem.
Try flashing your phone using a different USB cord. This allows you to check if the current USB cord that you are using is causing the problem.

Try connecting your phone to a different USB port in your computer.

Download a fresh version of Odin and a fresh version of your phone's firmware file then use this to flash your phone.

Try using a different computer to flash your phone.
If the above steps fails to fix the problem then this might already be caused by some faulty component inside the phone. You will need to bring the phone to a service center and have it checked if this is the case.
S6 Edge Reboots On Its Own
Problem: I am using Samsung S6 Edge. It's getting restarted / rebooting by its own. I tried doing volume up key + power button + home key. No use. its rebooting till the battery is drained off. now a screen with android symbol and saying installing updates is also coming, but that also sometimes and not in every reboot. Please help.
Solution: What you should do first in this case is to connect the phone to its charger then check if the phone still reboots. If it doesn't then we could be looking at a faulty battery issue in which case you will need to bring the phone to a service center and have it checked.
In case the issue persists then proceed with the following troubleshooting steps listed below.
Check if an app you installed is causing the problem by starting the phone in Safe Mode. Check if the issue still occurs in this mode. If it doesn't then it could be caused by an app you downloaded. Find out what app this is and uninstall it.

Try wiping the cache partition of your phone from the recovery mode.

Backup your phone data then do a factory reset.
S6 Edge Screen Is Flashing
Problem: My phone was running fine while watching Youtube but then suddenly the bottom half of it went white. I switched it off and then switched it on and the white part that was there before is now flashing. The top half of the screen is just black so i can't access ANYTHING on it.
Solution: Before doing any troubleshooting make sure to charge the phone first. Once the phone has charged simulate a battery pull by pressing and holding both power and volume down buttons for at least 10 seconds. Your phone should restart after this.
In case the issue still persists I recommend that you start the phone in recovery mode then do a factory reset from here. Take note that the reset will erase your phone data.
If the above steps fails to fix the problem then you need to bring the phone to a service center and have it checked as this could already be a hardware related problem.