The #Samsung #Galaxy #S6 is the first flagship model of the South Korean giant that is a complete design change from its predecessor. No longer relying on plastic parts, the phone now uses a metal and glass body making the device look and feel very premium. On the inside the phone sports an Exynos 7420 chip partnered with 3GB of RAM making apps work smoothly. The other impressive features of the phone include a 16MP camera and a 5.1 inch Super AMOLED display among others. Although this phone is being used by a lot of people as their reliable daily driver there are instances when certain issues can occur which we will be addressing today. In this latest installment of our troubleshooting series we will tackle the Galaxy S6 only charges when off issue & other related problems.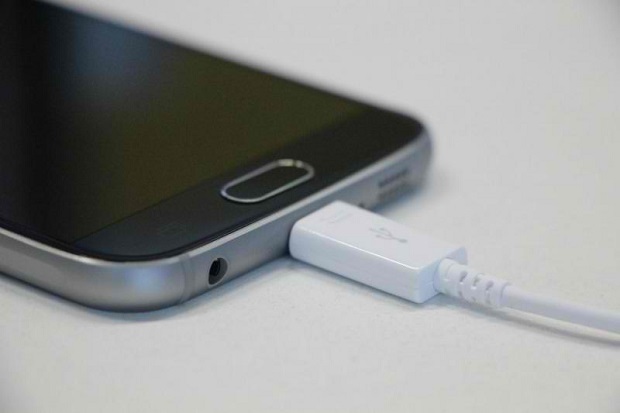 If you own a Samsung Galaxy S6 or any other Android device for that matter then feel free to contact us using this form. We will be more than happy to assist you with any concern that you may have with your device. This is a free service we are offering with no strings attached. We however ask that when you do contact us try to be as detailed as possible so that an accurate assessment can be made and the correct solution can be given.  
If you would like to browse the previous parts in this series then check out this link.  
You may also reach us at our Facebook and Google+ social media accounts.
S6 Only Charges When Off
Problem: My phone was on charge earlier in the day, i noticed it wasn't fast charging which never really happens so i switched to different plug sockets around the room but it was still just *cable charging* which takes hours, i got home and placed it back on charge except this time it wasn't recognising that it had been plugged in, i changes the leads to brand new samsung ones as well as the adaptor and changed to another plug socket but still no luck, i switched off my phone, plugged my charger back in whilst the phone was switched off and it came up with black screen with a large battery symbol in the center with a lightning bolt in the middle, this appears for about 3 seconds then it will just switch off again, so it recognises my charger kind of, only when switched off but when on i still have no luck, i have to wirelessly charge it which again takes hours!!
Solution: If your phone can charge wirelessly without any problems then there's a possibility that the issue is caused by a faulty charging port. Try cleaning this port first using a can of compressed air making sure that any dirt or debris stuck in the port is removed. If the issue remains then you will have to bring your phone to a service center and have it checked.
S6 Won't Charge
Problem: My phone went to 0% and now it wont charge. I plug it in it shows the battery icon then it goes away…sometimes it charges in a car but rarely, maybe with a computer. i tried different chargers even in my dad's house and nothing. sometimes it charges for like 3 seconds but it goes away. Pls help they replaced the charging unit in my phone for 3 times already and it still breaks.thanks
Solution: For this particular problem you will need to perform the troubleshooting steps listed below.
Clean the charging port of your phone using a can of compressed air. Make sure to remove any dirt or debris that might be present in the port since this can cause charging problems.

Try using a different charging cord and wall charger to charge your phone.

To check if a software glitch is causing this problem you should backup your phone data then do a factory reset. Once the reset is complete check if your phone is able to charge.
If the issue persists even after performing the steps listed above then I suggest that bring your phone to a service center and have it checked as this could already be caused by a faulty power IC or defective charging port assembly.
S6 Stuck In Boot Loop
Problem: Hello, My GFs Samsung S6(Verizon carrier)  has been stuck in a reboot loop for about a month now. It has been doing this on various charging options (outlet,wireless, pc charging). The farthest is gets in the loop is to the Verizon startup screen and freezes there. I am unable to share the latest version of Android it is running as it will not start up as mentioned. I have tried the soft reset options and have no luck with them. The main thing she would like to do is to recover any pictures/media that is on the phone before replacing it.  If there is anything else I can do please let me know.  Thanks.
Solution: You won't be able to retrieve any data from the phone at the current state that it is in right now. What you should do first is to get it out of the reboot loop without erasing the phone data by performing the steps listed below.
Try to do a simulated battery pull by pressing and holding both power and volume down buttons for at least 10 seconds. Normally, your phone should restart after this.

Wipe the cache partition of your phone from the recovery mode. This process will not erase the phone data.

Connect your phone to its charger then check if it turns on. If it does then you should backup the phone data. The problem could be cause by a faulty battery in which case you should have it replaced.

Start your phone in Safe Mode. If you are able to start the phone this way then proceed with backing up the phone data then do a factory reset.
If the above steps fails to fix the problem then you will need to bring your phone to a service center and have it checked. There might be an internal component that is failing to work which is causing this problem.
S6 Will Not Hold A Charge
Problem: My Samsung galaxy s6 phone will not hold a charge. The battery will be at 0% and shoot up to 50% in less than a minute. When I take it off the charger, it automatically shuts down and will not turn back on. I have done the factory reset and now, the phone will not even turn on. I took the phone to my carriers store they, of course, told me that I need a brand new phone though I've only had it for two months. I believe it might be an operating system or firmware issue, which is why I did the factory reset and nothing has come of it.
Solution: For this particular problem you should try connecting your phone to its charger for at least 20 minutes then check if it turns on with the charger still connected. If it does then the phone might already have a faulty battery which you will need to replace.
If the phone does not turn on then the problem could be caused by a faulty internal component such as the power IC. If this is the case then I suggest that you bring your phone to a service center and have it checked.
S6 Keeps Rebooting After Nougat Update
Problem: Hey, My phone keeps rebooting every minute after updating to 7.0 and I am going to use this guide https://thedroidguy.com/samsung-galaxy-s6-troubleshooting . But first kindly tell me if there is way to secure the data in this current position because a proper connection cannot be established beet the phone and the laptop as the phone reboots every minute. Kind regards.
Solution: If you phone keeps on rebooting then there is no way that you will be able to retrieve the data stored in it. You will need to troubleshoot this problem first before you can backup your phone data. Just make sure that you don't perform a factory reset as this will erase your phone data.
S6 Stuck In Safe Mode
Problem: Good day, I restarted my phone and for some reason it restarted in safe mode which was not my intention.  It then says "to disable safe mode restart your phone now" which I've done.  But then it just restarts in safe mode again. Please help me how to disable safe mode as i've tried doing this a few times already but it keeps restarting in safe mode again. Thanks
Solution: Try doing a simulate battery pull first by pressing and holding the power and volume down buttons for at least 10 seconds. Your phone should restart after this. If the problem still occurs then I recommend that you backup your phone data then do a factory reset. If after the reset the phone still starts in Safe Mode then bring your phone to a service center and have it checked as it might have a button that is stuck causing the phone to always start in Safe Mode.
S6 Battery Charging Slowly Gets Drained Faster
Problem: Hello. I have a Samsung Galaxy S6. I got it in October of 2015. The battery has been charging slower and dyeing quicker. Recently, the charging cable thing will not fit into the charging port(?) on my phone correctly. It seems too loose. Now, whenever I plug it onto my phone charger it turns off and wont turn back on for a while. I tried another charger and it works fine. Should I be worried?
Solution: Since you purchased this phone in 2015 then it has already undergone several charging cycles. Once a battery has reached a certain amount of charging cycles ( usually 300) then its performance will degrade. This is why you are now experiencing longer charging times and lower usage times. Replacing the battery with  new one will fix this particular problem.
Regarding the charging problem this might just be caused by a faulty charging cord since you mentioned that the issue did not appear again when you tried a different charger.
S6 Stuck In Samsung Logo
Problem: I installed the update on my galaxy s6. It started crashing so I visited your website and wiped my cache. It kept crashing. Visited my carrier and they could not fix it. Visited a Samsung store and they reinstalled the update and factory reset my phone. Still nothing. Off the charger, it will not boot in any mode. When plugged in, it will not boot in any mode. It will bring up the Samsung logo. Before the update, I never had a battery issue or power issue.
Solution: This could already be a hardware related problem caused by a faulty internal component. What you need to do in this case is to first check if a software glitch is causing the problem by flashing the phone with its updated firmware file. You can download the firmware file from the Sammobile website.
If flashing the phone fails to fix the problem then you should bring this to a service center and have it checked.
Feel free to send us your questions, suggestions and problems you've encountered while using your Android phone. We support every Android device that is available in the market today. And don't worry, we won't charge you a single penny for your questions. Contact us using this form. We read every message we receive can't guarantee a quick response. If we were able to help you, please help us spread the word by sharing our posts with your friends.